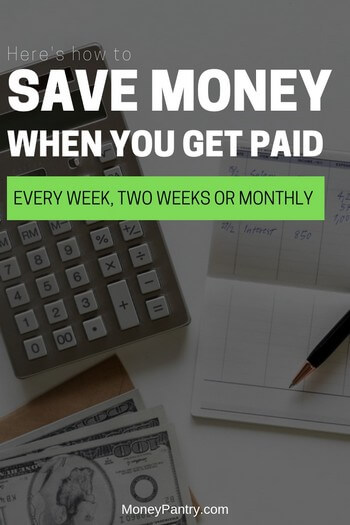 "I get paid weekly but my bills are monthly,
Knowing how to save money when you get paid every week, every two weeks or monthly is a skill.
Everyone knows the importance of following a budget and saving money especially on a tight budget.
But, when you get paid weekly, bi-weekly or perhaps once a month, budgeting and saving seem much more difficult.
After all, a lot of bills go out on a monthly basis. Plus, it can seem like by the time the week's up, after grocery shopping and other expenses, your paycheck is gone.
You're practically broke!
Need Easy Extra $300+/Month for Free?
KashKick
: Get paid directly into your PayPal for watching videos, surfing, shopping and more.
Join KashKick Now!
Panel Payday
: Earn up to $75 per survey. They also pay up to $50/hr for mystery shopping.
Join Now!
InboxDollars
: Paid over $57 Million to members to watch videos, take surveys, shop and more.
Get $5 instantly!
Branded Surveys
: Get $1 instantly just for joining for free. Plus get paid within 48 hours by PayPal!
Join Branded Surveys
iPsos iSay:
: If you have to only sign up for one paid survey site, go with Ipsos (high paying survyes)!
Join iPsos Now!
Swagbucks
: Get paid to watch videos, shop online, take surveys and more.
Join now & get $5 instantly!
Thankfully, there are some things that can be done to lessen the burden of weekly or biweekly paychecks while having monthly bills.
How to Budget on a Weekly Paycheck
We've put together a quick, easy to follow guide on how to budget and save money on a weekly paycheck.
1. Look at your bill dates and expenses
When you get paid once every week or two weeks, one of the most important things that you can do is track your bills and expenses.
You need to know exactly what date your bills go out, look at how much you spend on food each week and track other weekly expenses – like coffees, movies and magazines, for example.
By doing this, you not only determine how much you need to save for them, but you also give yourself a concrete deadline for saving.
Track your bills and expenses with pen and paper, or create or download a weekly budget spreadsheet.
Alternatively, use a money management app like Mint.
2. Create your budget
Budgeting when you get paid weekly is a little bit trickier, but it is possible – it just takes a bit more finagling.
And, it also varies depending on your financial situation – the way that you budget depends on your particular needs and circumstances.
Budgeting isn't one size fits all and there's no template that's going to work for everyone.
The first step: Check what needs to come out of each paycheck
Now that you have a schedule for your bills, like the cable, car payments, mortgage, and electricity, and weekly expenses, it will be easier for you to make a budget.
The first step is to look at the schedule you made and the day that you receive your paycheck each week. This allows you to see which paycheck will cover what bills.
After you've done that, there are two ways that you can budget on a weekly paycheck:
1. Allocate money from each paycheck
Consider allocating money from each paycheck to certain bills.
For example, if your water bill is due in the first week of the month, then that will come out of your first weekly paycheck of the month.
Again, this is why making a weekly schedule for your bills and expenses is so important.
Of course, you'll also need to save a portion of your paycheck, each week or month, depending on your financial situation.
Don't get stuck living paycheck to paycheck
When you use the method of budgeting above, make sure that you don't get stuck in the rut of living paycheck to paycheck.
When you budget for each weekly paycheck, unexpected or infrequent expenses, like a bi-yearly insurance payment or car repairs can really trip you up.
This is why having money in a savings account is so important.
If you have a week where no bills are due, and you just need to pay for your basic expenses, like groceries and gas, take advantage. Save money for the weeks where you have a lot of payments due.
For the weeks where payments exceed your weekly paycheck – so you might have your mortgage payments and car payments coming out of the same check, savings are necessary!
2. Look at your income/spending monthly
Another way to budget when you get paid weekly is to look at your income and spending from a monthly perspective.
This might seem strange when you get paid weekly. However, it's so much easier to analyze your spending over the course of a month, rather than a week – as a result, budgeting and saving are a whole lot simpler.
Here's how to do it:
Total what you get paid weekly.
Multiply your weekly income by 52.
Then, divide it by twelve to get your monthly income.
For example:
$600 per week x 52 = $31200
$31200 / 12 = $2600
Of course this isn't concrete.
Some months you might earn more or less, but it gives you a good estimation of how much money you bring into your household each month.
Then, look at what expenses and bills you pay within a calendar month, get a total for them and create a monthly, rather than a weekly budget.
Then, plan to pay all of your bills within this monthly budget.
Again, these are just two ways that you can budget on a weekly paycheck. But, when it comes to budgeting what works for someone else might not work for you – it's all about making adjustments and creating a budget that suits your particular needs.
Here are a couple of other articles on budgeting that you can take inspiration from:
Once you get more savings, which we tell you how to do later in this article, you really want to make the effort to separate cash flow, so what you see in your bank account, from budgeting, which is your plan for your money.
3. Pay down your debts as soon as possible
When you have a lot of debt, saving money can be difficult.
Work on getting rid of your debts as soon as possible. It makes managing money on a weekly paycheck much easier and you'll be able to save more.
Cutting back on things like the cable subscription and eating out and using coupons when you shop can help you to save money that you can put towards paying off your debts.
4. Save & cutback wherever possible
When you get paid weekly, it's important to have savings to fall back on if an unforeseen expense comes up – after all, cars break down and pets get sick!
If you want to make sure that you're not left short between paychecks, then you need to save money.
And, the best way to do that is to:
Increase your income
Decrease your spending
Decrease your spending
Decreasing your spending and lowering your bills gives you some extra cash to save.
Here's what you should be doing:
Look out for coupons,  discounts, promo codes and other money-saving deals
Whether it's for food, baby items or cosmetics, coupons and promo codes can save you so much money over the course of the week or month, as can many other money-saving deals.
So before you buy anything, make sure that you look to see if there's a coupon for it.
Check out the following articles for places to find them:
Shop around
If you want to save money, then you need to make sure that you shop around and compare prices for everything that you buy.
Simply checking the price of the same item at a few different stores could save you hundreds of dollars each month!
Be smart with grocery shopping
When you get paid weekly or biweekly it's important to be smart when you go grocery shopping, or you could find yourself a little short on cash between paychecks.
So, in addition to using coupons and comparing prices at different stores, you should also check out these posts:
They'll help you to save money each time you shop.
Transportation
Transportation costs can really eat up your budget fast, leaving you short.
This is particularly the case when you own a car. So, consider switching up your mode of transportation.
Try the bus instead of the car or walking instead of taking the bus.
You'll save money which you can put into your savings account.
Limit the bills and expenses you can
"How do I manage my bills when I get paid weekly?"
Recurring expenses can really put a dent in your weekly paycheck.
While, there are some bills and expenses that you can't really avoid, like the mortgage/rent, for example, you can try to limit certain ones, like cable, magazine subscriptions, and cell phone plans.
These recurring expenses, whether they're weekly or monthly can add up, taking cash out of your weekly paycheck that you could be saving instead.
So, consider what you really need. Could you do without cable TV? Could you switch to a cheaper cell phone plan?
DIY
If there's a task that you can do yourself, then do it. Don't pay someone to do it for you. It's a waste of money.
Instead of paying someone to cut your lawn this week, do it yourself and put the money from your weekly paycheck into your savings account instead.
Save money on your utility bills
While you can cut out the cable TV bill, you can't cut out the utility bills – but you can lower them.
Check out our post on how to lower your water bill and our article on how to save money on your electricity bill.
You can then put the money you save on your bills into your savings account.
Shop on Amazon
Before you buy anything, always check Amazon to see if you can get a better deal on it. Amazon often lists things at low prices – plus there are sales, discounts and coupons on offer too.
You should definitely check our article Amazon Hacks That Will Save You a Ton of Money. Plus we also have a post on how to get free shipping when you shop on there, even without a Prime membership!
Increase your income
When your earnings equal your outgoings, saving is going to be near impossible.
Sure, you can cut down, as mentioned above, but if your unavoidable bills are equal to what you earn, then there's nothing you can do to save cash.
You must increase your income.
You could work towards a promotion at work or train in a new career. But, you could also consider more unique ways to increase your income, like:
Grocery shopping: Shipt pays you to buy and deliver groceries for people. If you already visit the grocery store frequently anyway, it's an easy way to make some extra money. We have a full post on becoming a Shipt shopper here.
Advertising on your car: A company called Wrapify pays you if you let them put ads on your car. All you need to do is drive around like usual, and you get paid! Check out our post on Wrapify here for more details.
Selling videos: Newsflare pays people for videos, even those filmed on a smartphone. Check out our guide to Newsflare here.
You could also consider taking up a second job online, like:
Editing
Graphic design
Virtual assistant
Or you could sell stuff, whether that's photos or clothes.
There are tons of ways that you can make money from home, and we've compiled many of them in the articles below:
When you increase your income, you give yourself more money to put into your savings account, without stretching your budget too thinly each week.
Bottom Line
Follow the steps above, take the time to plan your budget, and don't be afraid to make adjustments as you go to see what best works for you.
Budgeting and saving is a little more complicated when you get paid every week, every two weeks or even once a month but it is possible.