A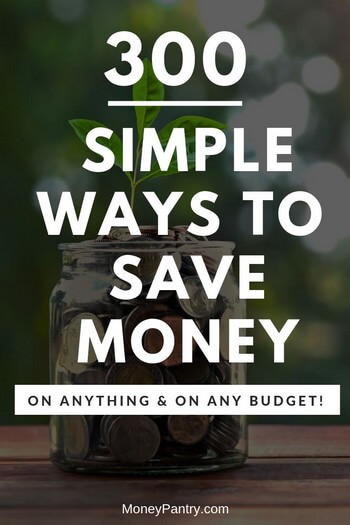 re you asking yourself how to save money on your current budget?
Everyone needs to save, but the process of getting started can be quite overwhelming. That explains the results of the 2016 GO Banking Rates survey that 69% of Americans have less than $1,000 in their savings accounts.
And if you are on a low income or tight budget, it can be really hard to save up or even have a small emergency savings fund.
But it's not all doom and gloom. Even on a tight budget and low income, there are ways to save money.
Listed in this post, we have over 200 money saving tips to help you out. This list was written with everyone in mind, so you can find things that apply to men, women, families, couples, young college students, teenagers and older people.
Of course, you don't have to follow every single one of these. However, even just picking a few to follow will help you achieve better financial security in the long run.
Need Easy Extra $300+/Month for Free?
KashKick
: Get paid directly into your PayPal for watching videos, surfing, shopping and more.
Join KashKick Now!
InboxDollars
: Paid over $57 Million to members to watch videos, take surveys, shop and more.
Get $5 instantly!
Branded Surveys
: Get $1 instantly just for joining for free. Plus get paid within 48 hours by PayPal!
Join Branded Surveys
First Opinion
: Get paid up to $10 per survey and $300 per virtual focus groups!
Join Now!
Swagbucks
: Get paid to watch videos, shop online, take surveys and more.
Join now & get $10 instantly!
How to Start Saving Money
There are a few basic yet very important things you need to do if you are serious about saving your hard-earned cash.
Do these first so you can get a good head start.
Make a Budget (and Stick to It)
The first step to making a budget is tracking your expenses and income.
This is really a no brainer. In order to save you need to know how much money is coming in and how much money is going out.
Tracking doesn't have to be complicated. All you need is a pen and paper. Make two columns. On the left side, list all your income sources and the total. On the right side, list all your monthly and flexible expenses (mortgage, car insurance, health insurance, food, gas, etc).
Once you know exactly how much income and expenses you have, make a plan and stick to it.
Consumer.gov has a great article on how to make your first budget. Read that before you get started.
Build an Emergency Fund
When it comes to saving money, the very first thing you should do is creating an emergency fund. You never know when your car gonna break down or the air conditioning unit or hot water heater is gonna stop working.
How much should your emergency fund be?
The more the better obviously. Some say it should at least be $10,000. But we live in the real world. Most of us don't even have that much in our savings account much less an emergency fund.
If you are on a very low income, aim for at least $500 to start with. You can always add to it later on. If you have a bigger salary, put more into your emergency fund.
Save 20% of Your Salary Automatically
One of the easiest ways to save money is to make it automatic. Open a savings account and put a percentage of your paycheck into it automatically. Make it so it comes off your paycheck automatically so you don't even have to think about it. It's much easier to save money when you don't even see it coming off your paycheck.
How much of your salary should you save?
It all depends on your income and expenses. If you have a high salary and can afford it, save 20-30% or more of it. If you are on a lower salary, aim for whatever you can. The point is to set it and forget it. No matter how small that percentage is, it adds up over time.
Wanna make it easier?
Use one of these apps that help you save money automatically.
Food & Groceries Savings Tips
One of the most expensive and unavoidable expenses you face every day is food. We all need to eat but trying to do so cheaply can end up unhealthy or miserable.
Here are a few tips to help you lower the food bill without sacrificing quality.
1. If your supermarket has a deli, go about 10 minutes before closing. You might find roasted chicken for a discounted price or other meats that can be eaten right away or used for sandwiches.
2. Many expensive and cheap grocery stores have a back area where you can find the veggies that are deemed too "ugly" or bruised for the regular displays. Check these out for discounted prices. You can also ask a salesperson if they give a discount on some bruised fruits you found.
3. You probably have been told that cooking at home is cheaper than eating out. This isn't totally true. If you are cooking at home, you need to make sure you cook meals that are actually cheap. Choose ingredients that are in season and meats that aren't overpriced.
4. Keep your alcohol consumption to a minimum. You don't have to stop drinking, but try to keep it to about once every two weeks or once a month.
5. Did you know that shopping at a farmer's market can actually be cheaper? You can get fresh vegetables and support your local economy. To find your nearest farmers' market, check out this directory.
6. Instead of buying coffee at your local coffee shop during work breaks, buy yourself a $10 thermos and bring coffee or tea with you. You'll save money because it is cheap and reusable! And don't forget to check out this post to learn where to get free coffee.
7. Even if you don't drink coffee, you can invest in a refillable water bottle. Drinking lots of water is good for you and can also help you from buying sodas or snacks you don't need.
8. When you go out to eat, you can save money by simply ordering water with your meal. It's healthier than soda and makes eating out a bit more affordable!
9. On the same topic of water, bottled water is almost 300 times the cost of rap water according to Business Insider. You can save tons by avoiding bottled water! Consider drinking water from the faucet from home to save money. If you don't like the taste or don't trust tap water, you can invest in a nice filter to make it healthier.
10. Most grocery stores come out with giant ad packs in their newspapers. Usually, on Sundays or Wednesdays, you'll find tons of coupons from your local stores. Those are great for finding free coupon inserts. Scan these for lots of deals. If you don't get a newspaper, check the store website for ads.
11. We aren't going to tell you to not eat out, though that is much cheaper in the long run. However, sometimes you need to get some fast food because you don't have time to cook meals. To save money, try to eat at places that you know have a dollar menu, such as McDonald's or Taco Bell. You can actually get a very healthy chicken sandwich from McDonald's for only $1.
12. If you do decide to go eat out, use the free Seated App to earn free gift cards for every dollar you spend.
13. This may sound silly at first since you are trying to save money, but you should subscribe to the email newsletters of the stores you shop at most. This is because you can get exclusive offers and coupons for those places, which can, later on, save you money. Just be sure to only buy the things you need!
14. Buy used or discounted gift cards to the places you shop at regularly. If you get a $25 gift card for $20, you basically just got $5 off a purchase! You can check discount gift card sites like Raise and Cardpool for the discounted cards.
15. To make eating out cheaper, try skipping the overpriced appetizer. This helps you afford a better meal, plus restaurants usually give you free chips or salsa to eat anyway.
16. If you're going to eat out, pick a place that doesn't have servers. You'll still get to enjoy eating at a restaurant without having to worry about a tip. Remember, the wait staff are in the same position as you and probably need to save money as well. Don't skip the tip when you can just eat somewhere else!
17. Sign up for a grocery store loyalty card. Many of them have them and they can save you money by automatically applying discounts to your purchases. No coupon clipping needed!
18. Many people love coupons, which is understandable. However, sometimes the generic version is still cheaper than the discounted price of something main brand.
19. Don't be afraid to check out store brand food if it is cheaper. Usually, the store brand is made with the exact same ingredients as the more expensive, main brand stuff.
20. Sometimes stores have sales on items that already have coupons. When preparing a shopping list, see if you can find some of these products for super discounts.
21. Plan out meals in advance so you don't make impulse purchases at the grocery store. You don't want to buy a lot of food and then realize you can't cook any recipes with it!
22. Base your meal plans around what you already have in the pantry as well as what's in the store for sale. That way you don't have to keep buying extra ingredients for new recipes when you might be able to use three or four things you already own for something else.
23. Plan to use up leftovers and avoid waste. If you're making more than enough dinner to feed the number of people eating, immediately pack up leftovers for lunches.
24. Learn the value of food in your area. If you memorize the prices of the things you regularly buy, you'll start to quickly notice what is a good deal. Then you can buy things in bulk when you know they are at their best price.
25. Consider shopping at places other than the conventional grocery store. Farmers markets, discount stores, and even surplus stores can have food available at cheaper prices. The downside is it might take longer to find what you are looking for.
26. Don't grocery shop while hungry! This is the simplest tip to follow. When you shop for food on an empty stomach, it is harder to stick to your shipping list because you want to make impulse purchases.
27. If you have a dollar store near you, check out their stock for spices, eggs, milk, and dry goods. Just remember to check the price per ounce to make sure you are actually getting a good deal. You can also use these online dollar stores for some purchases.
28. If you show at a farmer's market, visit later during the day, perhaps an hour before closing. The vendors are more likely to offer discounts during this time because they want to get rid of their extra stock.
29. Ask the staff of your favorite grocery store when they markdown meats and produce. They aren't going to judge you, they are there to help. Plus, you can avoid paying full price on something that was going to be discounted anyway!
30. Always have a backup meal in your house to prevent you from eating out. It could be a frozen meal, frozen pizza, or just leftovers. Anything to keep you from wasting money on a meal that might even be that filling for you!
31. Be flexible with your meal plans. If you want to make pasta and meatballs, but beef is expensive while the chicken is cheap, bite the bullet and have pasta and chicken instead.
32. You should know that buying in bulk is cheaper, but obviously, it is hard to afford bulk of hundreds of items. Instead, try limiting the amount of bulk you need. For instance, if you have recipes that need beans, its cheaper to buy 3 pounds of pinto beans instead of 1 pound of black beans, 1 pound of garbanzo beans, and so on.
33. If you have a yard, try growing your own fruits and veggies. If you have windows in your apartment, you can try indoor gardening. We'll discuss ways you can save money with gardening later.
34. If you are trying to eat healthily, don't spend tons of money on nutritional books. You can use free public health resources like My Plate to help guide your nutrition decisions
35. Frozen fruits and vegetables are a cheaper alternative to get healthy food into your diet. Plus, it can store for months without worries.
36. You've probably heard of SNAP, the United State's food stamp program, but did you know they have a free nutrition education system called SNAP-Ed? You can get free advice and lessons that help you eat good food on a tight budget.
37. Check out this free cookbook by Leanna Brown called Good and Cheap. It can help you eat meals at only $3 a day!
38. Check out Youtube for cheap recipe ideas and tutorials. We suggest this budget-friendly video by Tasty and this video on healthy meals under $1.50 per serving by HealthNut Nutrition.
39. Tired of eating the same recipes over again? If you can't afford tons of ingredients to switch things up, try adding different spices. You can get tons of cheap dried spices for as low as a dollar that can last for months.
40. Next time you go to Taco Bell, load up on their free hot sauce packets. Then next time you cook something simple, add a packet. You'd be surprised how this free method can change simple dishes like scrambled eggs or rice.
41. Another way to flavor up your dishes is with bullion cubes. These little squares can make a basic dish delicious and the best part is that a jar only costs a few dollars!
42. When you cook at home, you probably know that recipes can require dozens of ingredients. However, many of these can be substituted for things you already own. Check out this list to find easy substitutions so you might not have to go out and buy extra things you don't need.
43. Soups are a great way to use extra food scraps, like leftover meat and vegetables, for cheap. They are cheap to make and healthy too.
44. When you cook, make big portions and freeze or save leftovers to be eaten for the rest of the week. This saves money because you only had to buy ingredients for one recipe.
45. This one really helps college students! Are you dealing with a situation in which you don't have access to most kitchen appliances? Here is a handy guide to help you make healthy food at home when you don't have a full kitchen or stove.
46. We know that people always accuse millennials of spending too much money on avocado toast. This simple meal can actually be quite healthy and cheap to make at home, so we won't discourage it! Instead, check out some cheap avocado toast recipes you can make at home. Most of these cost only $3 instead of the $15 you'd pay at a restaurant!
47. There's no shame in needed assistance. If you feel that you need emergency food for yourself or your family, don't be afraid to reach out to a food pantry or soup kitchen. They are there to help you! Here's a guide of anti-hunger resources for each state in the U.S.
Saving Money with Gardening
Believe it or not, gardening is more than just an outdoorsy and fun hobby for people with big yards to do. Whether you are an apartment dweller or someone out in the country, these gardening tips can save you money and may even help you earn money too!
48. Are you interested in harvesting free food around your town or city? Check out Falling Fruit, a community-run guide for edible resources all around the world.
49. This is another community project that aims to give people free fruit all around the United States. Check out the trees and bushes people have kindly planted in your area. Maybe even plant some yourself to give back!
50. If you don't have the space to grow a garden in your yard and can't do indoor gardening, you can join a community garden. These usually have a fee associated with them but its much cheaper to get produce from it as your community and you are working together to farm. Here's a list of U.S. gardens! 
51. My Urban Garden is a 30-minute film by a Canadian gardener sharing frugal ideas for people who live in an urban setting and need to grow food.
52. Live on a farm? You might want to check Farm Hack, an open-source project for farmers who don't want to go into massive debt over equipment and tools. You can learn how to DIY and hack anything you need here.
53. Check out these 101 free permaculture designs that can help you make the perfect garden for free. A lot of these designs can help you cut down on watering too, so it saves you money!
54. Don't bother hiring a landscaper to change your yard for a garden when you can do it yourself. Here's a free guide to change a lawn to make room for a garden and habitat.
55. Once you have a garden going, you'll probably get a lot more food than you can handle. Don't let it go to waste! Here's a guide on Home Canning that can save you tons of money on food.
56. Don't have a yard? Don't worry. Here's an in-depth tutorial on indoor gardening. Best of all, it's written with the goal to keep it as cheap and financially efficient as possible.
57. "For me personally, I rotate my veggies every 3 to 4 months or after they have stopped fruition. So usually I have one plant in full fruition, one beginning fruition, one ending as well as one tub of fresh seedlings. This makes it to where I have enough variety and volume of veggies to eat at any given time," said this Reddit commenter.
58. Before spending money on overpriced seeds from Lowe's or Home Depot, check out your local Dollar Tree. You can sometimes get packs of 3 for only $1.
59. Here's a great tip about EBT and seeds. "If you have EBT, the food portion can pay for seeds. I found this out by accident years ago. I was buying groceries and had bought some seed packets for my container garden. The cashier rang them up with all of my food and I ran my card. It paid for everything. Both of us were surprised," said a Reddit commenter.
Home Savings Tips
This is another major expense that everyone could benefit from saving on. Here are the major tips we found to save money on your housing costs.
60. Sometimes you need a short-term place to stay that isn't as expensive as a hotel. A short-term living option is living with family and friends until you have a stable home to move into. The major benefit is that this is usually free or at least low-cost, however, the negatives of this may come from the people you are moving in with.
Another short term option is using your vehicle as a shelter. This is particularly good if you live in a van or have an RV. You can't do it forever but it is cheaper than staying in a hotel until you find a stable home.
Some other short term options for shelter are living in a Hostel or camping at state parks. These work best if you know you have a place you can move into soon.
61. So what if you need long-term housing for cheap? There are several programs offered by the Department of Housing and Urban Development to help you. Each program has its own set of requirements, so check out their sites for more information at HUD.gov or benefits.gov. You can also call toll free at 800-569-4287.
62. The US Department of Agriculture provides housing assistance for rent. Check out their page for information on housing loans and repair loans and grants.
63. If you are a college student who needs a place to stay, your college likely has programs you don't know about that can help you. Ask a professor or faculty member for help. If your school has a counseling department, they might be able to give you resources too.
64. Before signing a lease, make sure to read the agreement. I know the technical jargon can give people headaches, but what if you are agreeing to something you didn't know was in the contract? You can save yourself a lot of money in the future if you carefully inspect your lease agreement.
65. If you are a tenant, you have legal rights. This depends on what state you live in, but generally, all landlords are legally required to cover repairs and provide basic housing needs. Don't let them make you pay for something when it might legally be their obligation!
66. Get a roommate. It's common advice for a reason. You can save a ton of money by splitting your bills and living space with someone else. If you don't want someone living in your house for months at a time, you can also rent out a room as an Airbnb for a short period of time whenever you need money.
67. Use to get free clean energy and ave money. Yes it's real! Go to Arcadia Power to get started right away.
How to Save Money on Clothes
There are actually a number of ways you can save money on clothing.
Here are the best tips we found.
68. The number one best thing you can do for your clothes is actually read the care labels. Wash your clothes in cold water and don't use a ton of detergent. Dry your clothes on low heat or hand them out to dry. This saves money on utility but also makes your clothes last longer.
69. While it may be tempting to buy the cheapest clothes you can, it's actually better to have a few quality items than a million pieces that don't go together. Try to buy items that go together and you think will last for a long time.
70. When you shop, buy neutral tones that can be paired with different items without anyone noticing. Neutral colors can go with anything, making each item versatile.
71. If you work in an office setting, you probably know that suits and formal business clothes are expensive. To make them last longer, change out of them right away so they can stay nice looking and last longer.
72. If you have time to reassess your wardrobe, you might want to look into creating yourself a capsule wardrobe. This is basically a small selection of clothes you've curated that go together no matter what pieces you wear together.
This saves on space but also money. You only have to buy a small selection of clothes and then you never have to expand it because every item works together perfectly. Use a capsule wardrobe formula like this one for men and this one for women.
73. Resell the clothes you are done with. This can be done online or at your local thrift store.
74. Speaking of local thrift stores, you should definitely visit them as much as possible. Buying used clothes is a great way to cut down on clothing costs, especially because most items in thrift stores are still in good condition.
75. Check out apps and sites that let you sell clothes. and online stores like thredUP, Poshmark, and Tradesy. You can buy brand name clothes from these sites for prices much lower than retail. Check out this post for a list of other apps to sell clothes online.
76. Have kids that grow out of clothes fast? Don't bother spending tons of money on a wardrobe that won't last long. Buy it from kid-focused thrift stores or other used clothing places. It's much cheaper and easier on the wallet.
77. Learn how to patch, hem, and sew. If you have these basic and easy skills, you can repair and alter the majority of your clothes at the low cost of a needle and thread. That's way cheaper than hiring someone to alter for you! Here's a video on hemming to get started.
78. It's easy to go overboard on basic items. You don't need more than a week's worth of socks and underwear. You definitely don't need 20 t-shirts. Don't buy more than you need. Plus, this helps cut down on laundry too which helps save even more money!
79. If you can't think of 3 outfits you can wear with an item, don't buy it. That's money wasted for something you can't even wear with whatever you own.
80. Wanna save 100% on clothes? There are legitimate ways to get free clothes. try some of them!
Save Money on Phones and Internet
In this modern-day, having the internet and phone is basically mandatory. Here are tips to make it more affordable.
81. Check WhistleOut to see if you are getting the best deal on your phone plan. You can use this information to find something more affordable or strong-arm your company to match the better price.
82. You might be eligible for a subsidized Telecom Service phone. These are discounted phones and internet access to households who have income within a certain threshold. Find out if you can get these benefits here.
83. Pre-paid phone plans are now much cheaper than contracts and, believe it or not, some services actually have better signal than the main brand companies.
Check out providers such as:
84. If you can afford it, buy your phone outright instead of going with the installment plan. You'll save money long term.
85. If you need a new phone, check out refurbished phones online before buying something brand new. Refurbished phones are inspected to make sure they work and sometimes go through extra checks that new phones don't go through.
86. Some companies allow you to have unlimited data and the ability to create your own hotspots, which is basically a portable WiFi signal. This means you can get your phone and internet in one without having to pay a ton of money for a router and internet bill.
87. If you are on food stamps or Medicaid, ask your local internet service provides for discounts for households on government support programs. Some companies will give you a discount!
88. This tip isn't for the faint of heart. Cancel your internet or phone. You can use free WiFi from places like Starbucks or McDonald's. There are free calling apps and software you can use on your laptop, effectively eliminating the need for a phone. The downside is you can only access your WiFi when a nearby business with free WiFi is open.
89. Before getting starry-eyed at the newest tech, think about what you actually need from a phone. If you have a phone where you only use 2 GB of memory, you probably don't need a $700 phone with 64 GB.
90. AT&T Internet is $10 a month for 5/mbs for EBT recipients and low-income families. Check out their site to see if you qualify.
91. If you need to use WiFi but don't want to rent an office or work at a place that tempts you to spend money, go to a library. You won't feel pressure to spend while you work and it's a quiet place with few distractions.
Entertainment Savings Tips
When trying to save money, a lot of people tend to cut out the fun stuff. However, you don't have to make yourself miserable.
Here are some cheap ways you can save money on entertainment and still have fun.
92. Similar to the clothing swaps that some people do, get a group of friends together and start a DVD, CD, or book swap. You can exchange all kinds of things to enjoy and get to experience some of the stuff your friends like.
93. If you have some friends you really trust, consider sharing payments on a joint streaming account.
It's a lot more affordable to split payments for services like:
Hulu
Spotify
Netflix
Shudder
94. Do you have a problem with splurging on lots of entertainment?
Try this next time. When you want to buy something like a $60 video game, put away the same amount in your savings and act like it doesn't exist. If you can part with $120 ($60 for the game and $60 in your savings) then you know the purchase is absolutely worth it to you. If can't part with the money, then you'll realize maybe you don't need it.
95. This may seem lame at first, but libraries are honestly a great source of entertainment even if you don't read a lot.
You can:
Get books, movies, and video games
Borrow things like CD players and tablets
Use free WiFi and library resources
Let your kids attend special kid-friendly events
Check for free tickets to local museums
Join an official book club
96. Check your newspaper for city-wide events which are usually free to attend. You can find parades, concerts, firework shows, educational events, and bands.
97. If there is a university or community college near you, sometimes there are free shows you can go to. Often they have art exhibits, student plays and concerts, speaker events, and more. You might score free food too!
98. Check out free trials on subscription services. If you can get 30 days free from Shudder, that's a month of getting to watch horror movies for free! Just remember to cancel the service before you get charged.
99. Art doesn't have to expensive. See if you can find a resell or recycle shop to buy supplies for cheap. Check out these free tutorials to get started.
100. Board games are a low-cost way to have fun and socialize. You can often find many board games at places like the Salvation army too.
101. Camping can actually be extremely cheap and fun. You can camp for free at state and national parks. All you'll need is food, reliable transportation, and some tents.
102. Why not pick up a new hobby for fun? Learn a skill on sites like Code Academy or Khan Academy. Plus, you might even earn some money off your skills later on!
103. Hiking is a super cheap activity that is also good for you. Get some good hiking shoes, water, and a healthy snack. You can find tons of free-entry parks to get started at.
104. Want to play video games without paying? The Internet Archive Arcade lets you play free old school games whenever you want. You can get bundles of popular games from Humble Bundle and pay whatever price you want. Check out our article on the top free video games too for more ideas.
105. Pick up a skill like knitting or crochet, which only requires yarn and some needles. The bonus is that what you make can easily be used for gifts.
106. There are many services out there that will let you learn a language for free. Check out this Reddit for resources and ideas to teach yourself!
107. Did you know meditation can actually help improve your mental health and your ability to focus? Best of all, it is free. There are a lot of guided meditation videos on YouTube. Here's one we found that's quite popular!
108. Why not learn photography? If you have a smartphone, you can already get started learning the basics and there are apps out there that will help you edit your photos. Once you start getting the hang of it, you can consider getting real photography equipment and selling photoshoot sessions.
109. Podcasts are the perfect way to keep yourself entertained for free. There are thousands of genres out there and you're sure to find one for something you are passionate about.
110. Writing is also a really great way to keep yourself entertained. It's completely free to do and there are so many resources to help you learn. Even if you feel like you aren't good at it, it's a nice way to de-stress and focus on something imaginative.
Save Money on Books
If you are an avid read, you know buying books can get expensive really quick. Use these tips to save without having to cut back on how much you read.
111. Download free ebooks! Check out our article on 45 best sites to download free ebooks to get reading material.
112. Install the free OverDrive app and use it to get free Kindle books from your local library.
113. Use the free Libby app to borrow Audio Books for free from your local library, instantly!
114. Got a kid how loves reading? Save some cash by getting free books for kids.
Save Money on Gym & Exercise
Getting in shape doesn't require an expensive gym membership or a personal trainer. You can actually work out from home without buying anything!
Here are our tips.
115. You can find cheap exercise equipment and videotapes at thrift stores.
116. Many YouTube channels exist now that give you free walkthroughs of workouts.
117. Yoga mats can be bought for cheap at a sports store. Clear a space at home and do some bodyweight exercises. Check out this free tutorial.
118. In many towns, there are a lot of free sports spots in parks. You can try pick up basketball or tennis!
119. Learn to love taking walks and go on foot as much as you can. This works best in spring and autumn when the weather isn't too intense.
120. If you need to get a gym membership, try to find a contract-free one and ask about low-income payment options.
121. Some gyms have the benefit of showers, so you can technically save some money on your water bill by showering at the gym.
122. Avoid signing up at the gym during holidays, especially after News Years when gyms raise the prices.
Save Money on Travel
Do you feel like you can't afford to take a vacation?
Here are some tips that might help you get that weekend getaway that you want.
123. Next time you book a hotel or flight that you know is underbooked, call and ask if they could upgrade you for free. You'd be surprised how many people have gotten this from a nice customer service representative!
124. On any road trips you take, bring plenty of food and water so you aren't tempted to stop for fast food. Buy water in bulk and get sandwich stuff like a loaf of bread and peanut butter. It can easily last a whole trip!
125. This is invaluable for long trips: laundry bars. You can save so much money by simply washing your clothes with a laundry bar instead of using up quarters in a machine.
126. If you can do so safely, sleep overnight at a hostel or in a car. There are many businesses that may let you park your car in the lot for you to sleep and also rest stops have sleeping areas.
127. Fill your gas tank in mid-sized towns. The prices are cheaper than the middle-of-nowhere gas stations you find by the highway.
128. Use an app like Gas Buddy to route to the best-priced gas stations near you.
129. Make sure your tires are full before you travel. You lose fuel efficiency if your tires are low.
130. If your car is unreliable, become an AAA member. It's much cheaper than paying hundreds of dollars on road-side assistance and towing.
131. Check car rental sites for deals if you are going on a road trip. While it may seem odd to spend money on a car, think about this: would you rather pay $25 for a few days or put 1,000 miles on your car for a single vacation? In the end, it might be better to keep your own car at home.
132. Use a tool like Scott's Cheap Flights or Skyscanner to find cheap flight tickets.
133. Try signing up for frequent flyer programs of airlines. You probably won't get any special statuses but you can get email notifications for ticket sales.
134. National forests allow dispersed camping if you're 100 feet from water and within 150 feet of roads.
135. If you have family or friends who are long distance, try staying with them instead of a hotel.
136. A cheaper alternative to hotels is Airbnb. They are fun, unique, and more private than a giant building full of strangers.
Save Money on a Wedding
The average cost of a wedding in the United States is $30,000, according to Money Under 30. This is obviously unaffordable for most people.
Here are some tips to cut that cost down and have a wedding on a budget so that your future relationship will be financially stable.
137. This isn't something most people want to consider, but courthouse weddings are the cheapest type you can get. A judge can officiate the ceremony in front of a few witnesses. All you need to do is apply for a marriage license and make an appointment.
138. Backyard weddings are becoming very popular for good reason. If you have a wedding in the backyard of your home, you don't have to spend a ton of money on the venue. Of course, this only works if the weather is good.
139. Keep your cost low by serving a simple dessert such as store-bought cakes or ice cream sundaes. Serve food you can buy in bulk rather than paying a caterer for something fancy.
140. Find a wedding dress at a thrift store.
141. Buy a cheap white dress from a women's clothing store and then DIY it to make it look fancier. This person took a $13 dress and turn it into something beautiful for much cheaper than the cost of a wedding dress!
142. Check sites like PreOwnedWeddingDresses, Wedding Recycle, and eBay to buy a dress online.
143. Find a cheap black suit and white button-up and black tie for the groom on eBay, at local thrift stores, or even a higher-end online resale shop.
144. Only invite who needs to be there. Keep it to family and very close friends. This saves on costs of invitations, food, and more.
145. Check event halls at schools, churches, and non-profits for a cheap reception place.
146. If you must cater, do it through a local restaurant rather than having plated meals.
147. Have a family member or friend make your cake if you need too. You can also get a small fancy cake made just for the cutting ceremony, then hand out sheet cake to the guests.
148. Don't hire a DJ. Make a playlist on your phone and connect it to some rented commercial speakers.
149. Don't hire a florist. You can save money by getting fake flowers, buying a bouquet from a grocery store, or skipping flowers altogether.
150. Use digital invitations on a free service like Facebook.
151. Use Pinterest to find cheap and easy DIY decorations.
152. Instead of party favors, you can donate $50 – $100 to a local charity in honor of your union. This makes your guests feel happy and you save money on having to buy customized knick-knacks for them.
153. Try to get into contact with the photography department of your local community college. There are lots of student photographers who would like wedding photography experience and won't charge as much.
154. Consider taking a road trip for your honeymoon or renting out an Airbnb at a city within driving distance.
Save Money on Dates and Romance
Trying to win the heart of someone without breaking your bank? That's the right way to do it!
Here are some tips to help you out.
155. Don't go out to eat when you can make a romantic dinner at home. Get some candles, music, and a dessert to seal the deal.
156. Rent or borrow a movie, make some popcorn, and get some blankets. It's more comfortable than a movie theater and cheaper too.
157. Take your date to a museum on one of their free admission days.
158. Go to a park and take a walk on a pretty day. This works especially well if you live near a beach or lake. You could even have a picnic!
159. Instead of buying gifts, try writing a hand-written love letter.
160. If you live with your partner, do something unexpected and kind for them. You don't have to show your love by spending money when you could help them with their chores or make them a meal.
161. If you don't want to spend a ton of money on flowers and chocolates, make your own chocolate-covered strawberries. All you need is a bag of chocolate chips and some washed strawberries. It's cheap and romantic.
162. Print out a good photo of you and your partner and get a dollar store frame for it. This is a thoughtful gift that can be done quickly and cheaply.
163. Check out Pinterest for DIY romantic gifts and fun and free date ideas, which are usually much cheaper than spending a ton of money going out.
Save Money on Pets
Having pets can be expensive but here are some ideas that can help you keep it financially viable.
164. Check Pinterest for DIY pet toys, beds, and more. It's usually cheaper to make these items that spending money on something your pet is likely to destroy in a few months anyway.
165. If you want a pet that's inexpensive, try one of these:
Butterflies
Canaries
Fish
Rats
Spiders
Sea Monkies
Geckos
Hermit Crabs
Just make sure you research these pets before getting one!
166. Here are national organizations that will give assistance to pet owners, according to the Humane Society.
167. Call your local veterinary schools and ask if they can provide reduced-cost care. You can also call local vets and ask if they have sliding scales for prices.
168. Follow your vet on social media and watch for special discounts that are posted. You can also ask an employee if they know of any upcoming deals.
Note: As a dog/animal lover, I just want to say, if you are wanting to get a dog or cat, please adopt one. There are thousands of great dogs and cats at animal rescue centers and shelters that could use a good home.
Save Money with Apps
What if you could keep extra cash in your bank with just a few taps on your phone?
Here are some tools to help you out. These are free apps that you can use to help you save money, budget, and manage debt.
169. ClearCheckbook – Keeps track of purchases and lets you categorize purchases.
170. Fudget – Lets you enter money earned and money spent. Simple and effective.
171. Habitca – Gamify your budget to make finances fun.
172. Mint – One of the most popular budgeting apps out there.
173. Google Opinion Rewards – Earn money from Google by answering surveys.
174. Coinout – Get random rewards after showing the app photos of your receipts.
175. Ibotta – Earn cashback from buying certain items at select grocery stores.
If you are interested in more money-saving apps, we have several articles including:
Save on Moving Costs
Moving is already expensive, especially if you are buying a house.
Here are a few tips to keep costs down and save money when moving.
176. Instead of using professional movers, borrow a pickup truck from your friends and family to make things cheaper.
177. Toss, donate or sell stuff you don't need before you move so that you don't have to rent a larger van for stuff you didn't want anyway.
178. Instead of buying packing supplies, save up items like boxes and newspapers in advance. You can use newspapers and towels to wrap up delicate stuff and not spend cash on useless bubble wrap.
179. Bring empty boxes from your workplace if there are any. Ask friends who have recently moved or post a request on your social networks.
180. If your billing cycle doesn't line up with your move date, either contact your billing companies or cut off your services early so you don't have to pay an extra month.
181. When packing, nest small items within larger items, like bowls inside pans, so that you don't need to buy as many boxes.
182. Need help carrying boxes and furniture? Don't hire a moving company if you can convince your friends and family to come help you. Just remember to buy them pizza or something to make up for it!
183. Save your canned goods and other non-perishables for your new place. Then you won't have to buy as many groceries.
Save Money on Gas and Transportation
As gas continues to rise in price, people need to save money on their transportation.
Here are some tips to help you out.
184. Get preapproved for a car loan so that you can get a better interest rate. This also helps you know what kind of vehicle you can actually afford.
185. Did you know when you make monthly insurance payments, you end up paying more? Consider switching to a bi-annual payment. You'll have to budget ahead for it, of course, but in the long run, you'll be paying less.
186. If you can, switch to riding a bike during nice weather. Put a basket on your bike so you can go shopping with it too.
187. Properly inflated tires can increase the fuel efficiency of your vehicle by over three percent.
188. "Ex-used car salesman here: don't buy the extended warranty. Instead, put the cost of the warranty into an interest-bearing account which you can liquidize quickly in the case of a car repair. Doing this makes you money and still offers you the protection of having cash on hand for vehicle repairs in case," shared one Reddit reviewer.
189. Buy used cars. It's a better deal and a lot less expensive.
190. If your city has a good transit system, use that instead.
191. Use gas saving apps like GasBuddy to find cheap gas.
192. Alternatively, look into using ride-sharing apps to carpool with people.
Some popular apps are:
193. If your grocery store has a loyalty card, you might be able to exchange your loyalty points for gas cards.
194. Don't rely on the dealership you bought your car at. They tend to over-charge. Shop around locally for the best prices.
Save Money on Bills
Follow the tips below to lower your monthly utility bills and more.
195. "It amazes me what discounts you can get on certain utilities just by calling in and asking. I have called my cell phone, cable and internet, and plenty of others and asked what kind of discounts they have. Loyal customers, new promotions, there's always stuff they can give. It might not be much, but it's less you have to pay," said one Reddit commenter.
196. Dump the expensive cable bill for Netflix which only costs $9. Plus you get 30 days free when you first sign up for a free trial.
197. Close your blinds during the summer to keep the house cool. The sun can increase the temperature of the house which in turn makes your air conditioner run longer. This can cost a ton of money if you aren't careful!
198. Sometimes to save money you have to spend. Replace your old appliances to energy-efficient appliances whenever you can. This can save you thousands of dollars over time because it makes your house use less energy.
199. Pay off your credit card every single month before it can accumulate interest. It's a lot easier to keep yourself out of debt when you aren't dealing with high interest rates.
200. Have trouble spending your bill money on things you shouldn't? Try the envelope system, which forces you to keep your cash untouched before bill day. You can read all about it here.
201. Pay for homeowners insurance with a 0% credit card check offer. The 1 or 2% fee is often much less than the $5 to $8 per month service charge the insurance company charges.
202. Turn your water temperature down on your water heater. It might make your showers colder, but your wallet will thank you.
203 Turn your water value to only 2/3rd to 1/2 open instead of full open. Your water pressure will go down but your water bill will be lower too.
204. Scan your credit card bills for monthly charges you either had forgotten about or didn't know of.
205. While having a cool house in the summer is nice, it's expensive. Set your thermostat as high as you can stand it, such as 78, in the summer. Likewise, keep your heat in the winter around. Don't let it get colder than that because your pipes might freeze.
206. Don't use the dishwasher until it's absolutely full so you don't run it a lot. This makes you use less water.
Family Savings Tips
Having kids is one of the most expensive things a couple can do.
Here are some tips to help your family live affordably.
207. Daycare costs can be extremely expensive. You might want to consider comparing the cost of daycare versus having one parent stay home. Even if one parent has to stay home, there are plenty of careers that can be done from home. You might even get to start your own online business.
208. There are tons of devices created to help parents take care of their kids. However, remember that you don't need all of that to raise children well. Keep things simple to save money and then, if you really need something, invest.
209. Cloth diapers are an environmentally friendly and cheap way to save money. Because they are reusable, you don't need to buy diapers over and over again. You can end up saving thousands of dollars on diapers.
210. It's actually easy to make your own baby food. You can buy the ingredients in bulk and save a ton of money instead of buying the over-priced small portions from the store. All you really need to do this is a blender to get the food smooth and easy to swallow.
211. Everyone wants to spoil their kids during the holidays, but that might not be affordable. Here's an easy four gift rule that's affordable and will make everyone happy.
Buy your kids:
Something they want
Something they need
Something to wear
Something to read
212. It's important for kids to have some extracurricular activities to do after school. However, it can be expensive when they get stuck in dozens of different classes and activities. Try to let them pick only one thing, be it an art or a language or musical instrument, and then invest in that so they can get very good at it. This keeps them from getting spread too thin and helps your wallet too.
213. We've talked about thrift stores for kids before, which are great when you have children who are quickly growing out of their wardrobe but did you know you can get thrifted toys and baby supplies too? You can save a lot of money on strollers, diaper bags, reusable formula bottles, clothes, and more just by buying used.
214. Babysitters can be pricey. If you can't get your family to do it for you, why not do a babysitting swap with other moms in your area. One family can watch your kids while you and your partner can have a date night. Then, you return the favor next weekend. It's a cheap way to help yourself out and other parents.
215. Every kid wants to have an all-out birthday party. There are ways to go overboard without hurting your wallet. Make your own cake, search for DIY activities, or even set up a fun movie night.
216. Skip spending tons of money on movie tickets and look for free things you can do with your kids. Libraries also tend to have kid-friendly activities.
217. Did you know you can visit many museums totally free? There are many a museums across the country with free admissions. Here's a list of free museums near you.
Tips to Save Money at Home
Here are some tips to help you save money around the house. You'd be surprised where you can cut costs without making many changes to your lifestyle!
218. Make your own laundry detergent instead of buying it. This lets you pick the scent of your cleaner too or, if you don't like scents, skip it altogether!
219. Buy generic brands and bulk of non-perishables like toilet paper, paper towels, shampoo and conditioner, hand soap, and so on.
220. Next time you eat out at your favorite Chinese place or other restaurants, save any of the plastic take out containers they give you. Now you have free Tupperware! You can even save your old peanut butter and jelly jars for storage.
221. Don't buy paper towels. Instead, get a pack of cheap wash clothes and use those to clean. Washcloths can be cleaned and reused instead of thrown away. Keep your fast food napkins around if you really need a paper product to clean stuff up.
222. LED bulbs can save you over $3,000 over their lifespans, according to The Simple Dollar. If you can replace all your lights with LED, that can save you a ton of money!
223. Don't buy your cooking equipment from the store when you can thrift it. Pots, pans, and silverware end up at thrift stores all the time. Also check the dollar store for things like utensils, pot holders, and more.
224. Some maintenance tasks at home can fall through the cracks. However, you need to remember to do basic things like clean the gutters and change air filters because, if ignored, it can cause more expensive problems down the road.
225. Join a repair cafe and learn to create, repair, and teach others to repair. Knowing how to fix basic things around your house is an invaluable skill.
226. Want to get your PC fixed? Before going to a place with expensive technicians, use Google to find a solution. You never know how a simple virus scan or defrag will help.
227. Make sure your windows are sealed around your frames. You don't want your expensive air to flow outside!
Save Money on Beauty and Hygiene
Some people, especially women, worry that they have to cut out their beauty routine to save money. If you want to do that, it's fine, but you don't need to.
Here are some tips to help you out.
228. Use a site like Rakuten to save money on beauty products from companies like Sephora or Ulta.
229. Learn to cut hair and do it for your family. If you don't feel confident enough for that, check out a nearby beauty college for cheaper prices.
230. A study done by the New York City government showed that 42% of women's products cost more than men's despite the product doing the exact same thing. Sometimes buying something that doesn't have pink packaging can actually save you money.
231. Bar soap is cheaper than liquid soap and lasts way longer!
232. Instead of shaving cream, switch to a shaving bar. It lasts longer and its much cheaper compared to the limited uses of a can.
233. Use this tutorial to get the extra product stuck at the bottom of your shampoo bottles and more.
234. Are you a fan of expensive makeup brands? Check out these cheap dupes that are the same as the premium stuff.
235. Before buying a full-sized product of something you haven't tried before, try to use free samples or travel-sized products first. That way you aren't spending a ton of money on something you might not even like.
236. Use Coconut Oil as a makeup remover. It's cheaper, healthier for your skin, and lasts a long time.
237. Read this post to learn how to get free beauty samples.
Save Money on College
Feel like you can't afford a degree? Here are a few tips for getting one affordably.
238. Check for free scholarships. Here's an article we did with over one hundred scholarship opportunities.
239. Contact your local college and ask if they have support for low-income students. You might get financial aid!
240. Attend a community college. The classes are generally smaller than universities, they're cheaper, and they less scholarship competition.
241. Fill out the FAFSA as early as possible, as in most states its a first come first serve basis.
242. Don't waste money on a degree that isn't worth it. Check the average income of the fields you are considering.
243. Here is an incomplete list of schools with commitments to support low-income students. You might want to also explore this site for more help for low-income aspiring students.
244. Before applying and paying the application fee, call the school and ask if they will waive the fee for low-income students.
245. See if you can pass out of requisite college courses using CLEP exams. This saves you so much money because you won't have to pay for a bunch of required classes and textbooks, while still getting your college credit.
246. Textbooks are expensive and if you are trying to save money in college, finding cheap versions of your textbooks online is an easy way to get started. Google the name of your textbook with the words "free PDF" to see if there's a downloadable free version out there.
247. Apply for jobs on campus. Often you can get student employee benefits as well as payment, plus you won't need to spend extra gas money if you're already living on campus.
General Savings Tips
These are general tips that don't fit in the categories above. Many of these are general savings tips to help you with your future.
248. Try out this savings plan developed by someone on Reddit. The general idea is that you, and your partner if they wish, pick two days a week where you can't spend any money.
249. Having money in savings is good, but you should also invest in your future retirement.
Here are the best apps to use for investing:
250. Bring snacks and drinks with you when you run errands. Especially useful if you have kids. This prevents the need to buy fast food when you or your family gets hungry.
251. Ever noticed the desperate scramble to get money in time for the holidays? Start saving for Christmas and Birthdays all year round so you can afford to splurge a little when it counts.
252. Trade jobs with neighbors and friends. This can be simple things like babysitting, watching pets, and mowing yards. You can save money by doing a trade like this instead of hiring people to do these things for you.
253. When you go grocery shopping, check the back of your receipt. Sometimes stores put ads and coupons on the back that can save you a few dollars here or there.
254. Talk to a financial advisor if you have a lot of debt. You might be able to consolidate multiple high-interest debts into one low-interest payment.
255. While buying things on sale is good, don't spend money on something you didn't need in the first place. It doesn't matter if a $60 item is $50 off if you have to spend $10 you didn't need too.
256. When you are tempted to dip into savings, remember this phrase: Don't spend your emergency funds on emergency funs.
257. Have trouble with overspending online? Change your passwords to the name of whatever you are saving up for or a budget you commonly look at. You'll rethink a purchase if you have to type "dreamvacation2021" in the password box.
258. Start an accountability partnership with a friend or significant other. You can both remind each other to be financially responsible and stick to each other's goals.
259. Check out this map of tool shares where you can share power tools with other people. Great if you need to renovate without spending a ton.
260. Have at least six months worth of living expenses set aside in case of a medical or financial emergency. This prevents you from needing to take on massive debt.
261. According to financial experts on CNN, you should set 15% of your income each year aside for retirement.
262. Before buying something, Google what you want to buy with the word "DIY" added at the end. You might find it cheaper to make it yourself.
263. When you want to splurge on something, think of how many hours it takes of working on your wages to afford the item.
264. Have money automatically taken out of your paycheck to be put into savings and/or retirement. In the United States, many employers who do direct deposit will let you fill out a form that says what percentage can go into your checking account and savings account.
265. Have a separate account that you put your weekly spending money it. Use it for food, gas, going out, or whatever else you need. If you run out, force yourself not to dip into savings. This teaches you to stay on a budget.
266. Any time you get a $5 bill, put in an empty wine bottle. It's easier to save a small amount like this and it adds up fast. The reason you put it in a wine bottle is because the only way to get the money out of the bottle is to break it.
267. "I set "zeros" in my account that I'm not allowed to go under. Basically, when I reach certain nice even numbers, I decide that's my new "zero." So say my checking account has $6,952 in it. At that point, my "zero" might be $6,000. Once I get over $7,000, then $7,000 is my new "zero." This method also gives me moments where I feel okay about spending money–because the extra money above my "zero" is my spending money. So if I've got a few hundred bucks over, I feel pretty good and can buy myself little treats," said one Reddit commenter.
268. Before any purchase over $25, take a picture of it with your phone. Then, come back to it a week later. If you still want it, you can go get it, but chances are at this point you'll have already forgotten about it.
269. "Not for everybody, but I do plasma donation. I make about 440 dollars a month that's tax-free and doesn't count as income. It's not a great deal of money, but I use that for my phone bill, cable bill, electric and water. In effect, I now don't pay any bills out of my primary income. Yes, it takes time. I have to wake up a few hours early to do it before work. Oh, and having a needle stuck in your arm for an hour isn't for everyone. Still, I find it nice to spend about three hours a week laying down and reading a book. It's not too shabby, really. Plus I know it's saving lives, and that's pretty awesome," said one Reddit commenter.
270. Make a budget to help you keep track, or else you'll never figure out how to save. You actually save money when you keep track of your spending. Check out our article about free budgeting apps. Also this out for budgeting advice and this for free budgeting templates.
271. Ever overspend when you get your paycheck? "To reel spending in, I scale everything down to numbers that I have a much more realistic sense of. As opposed to "I just made $2,000, I can spend $150 going to that nice restaurant that everyone's talking about" I visualize only having $20 in my pocket and ask myself if I really ought to be using $1.50 on something inconsequential. Anything above $1000 just feels like a well of money to me so thinking in numbers that I have a real-world connection to helps the budgeting process," said a Reddit commenter.
272. Use your extra gift cards before the money on them expires. If you can't shop at that store, sell the gift cards online.
273. Live before 10% of your income and you'll always feel rich when you look at your bank account.
274. Once you get your annual raise, save the difference in a savings account and live on the same salary.
275. Carry a checkbook register to write down everything you spend in a month. It makes you more aware of what you are actually buying.
276. Learn to identify a want and a need. You want a new television but you definitely need toilet paper.
277. Always try to buy something used first.
278. Check your newspapers for coupons and extra savings.
279. Research an electronic before you buy. Just because one is expensive doesn't mean its better.
280. Write to companies on social media and sign up for their newsletters. They might send you free products, coupons, and samples.
281. Use Honey when shopping online. It automatically searches the web for promo codes that can save you money.
282. Take your loose change to a CoinStar.
283. Resell old books that you know you aren't going to read.
284. If your work has a 401K match, maximize that. If they don't, set up an IRA.
285. Pick the debt you have with the highest interest rate. Apply any extra money you have to it every single month. When that debt is paid off, apply all your extra money to the next highest interest rate account. This saves you money in the long run because you won't be paying that high interest forever.
286. Use something like Turbo Tax, Tax Slater, or Credit Karma to file your taxes for free. The IRS Free File is another service free to anyone with a gross income under $66,000.
287. "Set up a high yield savings account at a bank. Put whatever you can into it to start. Then, week 1, put $1 into it, then week 2, put $2 into it, week 3, $3, so on. If a week comes when the amount is too much for you to be able to afford do $1 and start again from there. Once you get a good chunk in that savings account you'd probably want to transfer some of it to something like an IRA," said a Reddit commenter.
288. Even if you only have three spare dollars to put into savings, you should do it. It may feel bad, but remember that money builds up. Think about it this way: would you rather have $0 in savings or $3?
289. Cancel your extra subscriptions and try to only keep one.
290. Don't be too proud to look into benefit programs that can apply to you.
291. Make a list of needed items and luxury items. Then go through your luxuries and decide which ones are worth having. You don't have to cut them all out, but if you are subscribed to four different streaming services that you never watch anyway, maybe it is time to unsubscribe from some of them.
292. If you get rewards for using a credit card, pay for everything on that and then at the end of the month pay it all off before interest is charged. This is a fast way to earn credit and you'll get rewards back. Just make sure you don't spend more than you can afford.
293. Leave cards at home. It is more tempting to use a card when you're out than it is to use cash.
294. If you don't already have it, download your bank app to keep track of what you spend while you are out and about.
295. If people ask you what you want for Christmas or your birthday, ask for gift cards. You can use those towards food and needed items to cut down on your expenses for a short time.
296. Sometimes, you can extend a free trial by simply changing the date on your device (smartphone, laptop, computer, tablet, etc). Just go to your setting and change the date so you can get another month of the free trial.
297. Save money on Amazon by using these genius Amazon hacks.
298. Use these money hacks to save even more money.
299. On a low income and can't find a way to save money? Earn some extra money so you can have more to save. Check out this list of ways to make free money online.
300. Save 100% on a lot of things by getting them for free. How?
Read these posts:
Final Thoughts
Hopefully after reading all of these tips, you'll be saving tons of money in no time. Remember, reading it is one thing, but actually enacting on it is another.
If you want even more ways to save, check out the hundreds of articles we have on our website to help people achieve financial security.
Are there any tips here that you really liked? Do you have any advice on how to save money that you'd like to share? Let us and our readers know your thoughts in the comments below!