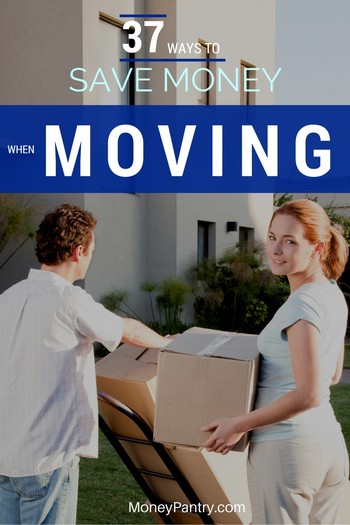 Moving is a hassle and an exciting venture at the same time!
It can also be costly, which is why you need to consider everything so you can save yourself money when the moving day comes.
Whether you're moving out of town or state, moving from a house to an apartment or vice versa, moving to your very first home, or it's your first time moving out of your parents' house, the process can be very stressful and expensive indeed.
According to statistics from the American Moving and Storage Association, the average move within a state costs about $2,300, and for moves out of state, it costs around $4,300.
If you're not careful, your move could end up really costing you.
How to Make Moving Cheaper
Fortunately, we've put together a list of really simple things that you can do to save money when moving.
Need Easy Extra $300+/Month for Free?
KashKick
: Get paid directly into your PayPal for watching videos, surfing, shopping and more.
Join KashKick Now!
Panel Payday
: Earn up to $75 per survey. They also pay up to $50/hr for mystery shopping.
Join Now!
InboxDollars
: Paid over $57 Million to members to watch videos, take surveys, shop and more.
Get $5 instantly!
Branded Surveys
: Get $1 instantly just for joining for free. Plus get paid within 48 hours by PayPal!
Join Branded Surveys
iPsos iSay:
: If you have to only sign up for one paid survey site, go with Ipsos (high paying survyes)!
Join iPsos Now!
Swagbucks
: Get paid to watch videos, shop online, take surveys and more.
Join now & get $5 instantly!
1. Plan for your move and budget step by step
This is the most important thing you can do.
If you organize your move and make a budget that factors in all costs, fees and expenses, you won't find yourself shocked when it comes to the end of moving day.
The best way to prepare yourself, especially when it comes to organization and making sure you considered everything is to use a simple moving checklist.
You can create one for yourself fairly easily, or you can use one of these…
Free moving checklist
2. Moving budget calculator
There are tons of free budget calculators and spreadsheets specifically designed for estimating the cost of moving. Use one to get an estimate of how much it will cost you to move so you can better prepare yourself financially.
Here are a few free moving budget calculators and worksheet templates:
3. Move at the right time
Generally speaking, moving midweek or mid-month is cheaper.
Also, moving between September and May and avoiding the summer months tends to cost less too.
4. Plan the cutoff for your utilities carefully
Don't end up paying for an extra month of bills when you don't need to. A lot of companies don't prorate your bill.
So carefully select your shut down dates.
5 Notify service providers
From the security company to the lawn service, if you get any type of regular service at your household, then you need to notify them of your move.
You don't want to have to pay for your old lawn to get cut!
6. Sell some stuff with the house
Things like the TV antenna, shelving systems and flag poles are a hassle to move. Consider leaving them behind.
Many prospective buyers will appreciate these little extras you've included in the house, and they add value.
7. Think about what furniture you really need
The last thing you want to do when you get to your new place is realizing that all that furniture you lugged there doesn't fit.
Measure your new place to determine whether your furniture fits the space. If it doesn't, get rid of it.
One really great option that will put some much needed cash in your pocket is to sell furniture that you know you can't take with you.
Remember, moving companies charge based on factors like weight and the number of vehicles provided, so the less stuff you move the better!
8. Don't hang onto stuff you don't need
We can all fall into the trap of keeping things we don't use.
We tell ourselves "I might need it one day", but in reality, we probably won't.
If you haven't used something in a year, then get rid of it.
The less stuff you have to take with you, the easier and cheaper the moving process will be.
9. Consider the really heavy items
If you hire movers, really heavy items, like fitness equipment and tool tables cost a lot to move. After all, weight equals money.
Consider getting rid of heavy or bulkier items – often it can be cheaper to simply replace them.
10. Sell your stuff
There's no better time than when you're moving to sell your stuff. Anything you don't need, from old books and magazines to Movies, DVD's, even an old wedding dress, can be sold for some extra cash.
You can put the money towards moving costs.
11. Donate and get a tax reduction
Consider donating stuff you don't need to charity. Keep the receipts and you might be able to claim a tax deduction.
12. Check out the dollar store for moving supplies
The dollar store is a great place to find moving supplies.
You can pick up markers, tape, and plenty of other items you'll need for your move. Even new boxes can be found there occasionally.
13. Be resourceful with the boxes
Boxes – we all need them to move and they can be pretty pricey. Avoid paying for them – moving companies charge a lot for them.
Be resourceful. Look for free boxes in places like liquor stores, university mailrooms, the office, grocery stores and other local businesses – all you need to do is ask.
Or, check out Craigslist or Freecycle.
14. Do it yourself
Why pay movers when you can do it yourself?
Sure it takes effort, but it's an experience and it's much cheaper!
Plus, it's pretty satisfying to say you moved yourself!
15. Consider renting a truck or van yourself
If you've got a lot of stuff to move, consider renting a truck or van, rather than hiring movers, sometimes it's cheaper.
16. If you need a van or moving truck consider your options
Moving yourself is cheaper in most cases, but if you need to hire a van or a truck to move, it could cost you more than hiring movers.
Compare the price of movers versus the price of renting a vehicle and see which one is cheaper.
17. If you really have to hire movers, do some of the work upfront
The more the movers have to do, the more you'll pay – after all, most get paid by the hour.
So pack up what you can yourself and make everything easily accessible for the movers.
18. Shop around for movers
Don't go with the first moving company you get a quote from. Shop around and get at least three estimates – more if you can!
That way you can choose a company that suits your budget.
19. Consider using a Portable Storage Unit
If you do decide to hire a moving company, you could save a lot by renting one of those portable storage units like PODS.
You give 'em a date, they drop the container in your driveway on that date. You then can take your time filling it up in the next few days/weeks. When you're ready to move, call 'em up and they'll move the container to your new location where you can also take your time unloading everything.
It is a lot cheaper than hiring movers, and you can take your time when loading/unloading since you can keep the unit for as long as you need (though you don't want to keep it for too long since they charge based on the number of days you keep the unit.
20. Pick movers carefully
Moving takes a lot of care and responsibility – after all, it's all of your furniture and cherished belongings. Unfortunately, not all movers respect this.
Go for a reputable, professional moving company, with a good track record. Read as many reviews as you can before deciding on a company.
21. Don't be enticed by a super low estimate
A moving estimate isn't concrete – so don't assume that the company with the lowest rate is the best one.
Moving companies charge you based on factors like weight, distance and how much time the move takes.
If you get an estimate that is significantly lower than others, then be cautious. Again, read reviews.
22. Ask about fees
Some moving companies sneak in extra fees, so take the time to ask about additional costs.
23. Store smaller items inside of larger items
This saves you so much space and money because you have to get fewer packing materials.
24. Use socks to protect small items
This is a really simple trick, but it works!
Place small items inside socks to protect them, or wrap the socks around those items. Socks provide cushioning that keeps your stuff safe during the move.
25. Use garbage bags to pack soft items
You shouldn't pack up all your stuff in garbage bags, as they tend to rip easily.
For clothes and bedding, however, garbage bags are ideal. They're much cheaper than boxes, so they'll save you money when moving.
26. Avoid using newspaper to pack
As a packing material, newspaper, in theory, sounds pretty good.
In reality, though, it's a different story. The ink from the paper easily rubs off and can ruin your stuff.
27. Protect your mattress with an old sheet
Leave an old fitted sheet, or two, on your mattress when you move it. It will protect it and stop it from getting dirty during the move too.
28. Mark fragile Items
Marking fragile items might take a bit of time upfront, but in the long run, it can save you money.
If you know which boxes contain fragile items, you or the movers will be more careful, and you won't have to pay to replace things.
29. Use linens and blankets as packing materials
Another useful trick to save money on packing materials is to use blankets and linens instead.
They work great for keeping stuff safe. Plus, you're taking them with you to your new place anyway.
30. Ship books via USPS
Did you know that it can actually work out cheaper to ship your books via USPS? Really!
Books are pretty heavy and can really up the weight of your move, which if you're working with a moving company, can increase the cost significantly.
31. Use coffee filters to protect dishes
A simple and cheap way to keep small dishes safe is with coffee filters.
32. Keep the heavy stuff at the bottom
Don't just dump everything into a box. Put the heavy items on the bottom and the light things at the top.
Take the time to pack carefully – you'll keep your stuff safe and you won't have to pay to replace it later.
33. Don't pack stuff too tightly
Packing items too compactly can lead to breakage. Be especially carefully with fragile items – give them room to breathe.
34. Keep track of moving expenses and keep receipts for them
If you're moving for work, then you might be able to deduct some of the costs associated with the move.
35. Sell boxes when you're done with them
Check out companies like Boxsmart and BoxCycle.
You could make some money out of the move!
36. Don't go overboard decorating your new place at first
When you get to the new place, resist the urge to try and fill every room with new stuff.
Take the time to unpack and settle in what you've brought with you first.
37. Visit the dollar store for everyday household items
When you get to your new place, you'll need cleaning supplies, and a few everyday household items, like toilet paper.
The dollar store is a budget friendly place to get those things.
Bottom line
Moving to a new place is exciting, but it's also one of the most stressful things you can do.
You can make it a bit easier on yourself financially by following the tips above. Of course, there will be expenses that you might not be able to avoid, but you can still keep costs down and save a little money when moving.