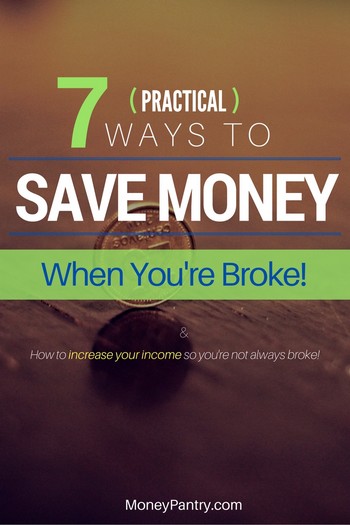 Saving money is hard as it is, but doing it when you are poor, broke or unemployed?
We all know that saving money even on a tight budget is something we should be doing. But, it really is hard. And it's not a matter of being young and dumb to save. When you don't really have much left over from your paycheck each month, saving money can seem impossible.
According to a recent Google Consumer Survey for personal finance website GOBankingRates, 62% of Americans have less than $1,000 in their savings accounts and 21% don't even have a savings account.
And for most people, it's not that they overspend or overindulge, it's that they don't have anything left to put aside after paying the bills.
After all, if there's nothing left in the bank at the end of the month, how are you ever supposed to save anything?
So, what can you do?
Need Easy Extra $300+/Month for Free?
KashKick
: Get paid directly into your PayPal for watching videos, surfing, shopping and more.
Join KashKick Now!
Panel Payday
: Earn up to $75 per survey. They also pay up to $50/hr for mystery shopping.
Join Now!
InboxDollars
: Paid over $57 Million to members to watch videos, take surveys, shop and more.
Get $5 instantly!
Branded Surveys
: Get $1 instantly just for joining for free. Plus get paid within 48 hours by PayPal!
Join Branded Surveys
iPsos iSay:
: If you have to only sign up for one paid survey site, go with Ipsos (high paying survyes)!
Join iPsos Now!
Swagbucks
: Get paid to watch videos, shop online, take surveys and more.
Join now & get $5 instantly!
Fortunately, even if you feel like you're broke, there are still ways that you save money each month, and in this article, we'll reveal them.
1. The first step: Analyze your finances
The first thing you need to do before you start saving is to take a close look at your finances. Add up your utility bills, track your spending, and take a good look at all of your monthly expenses – big or small.
You see, you can't start saving money until you know where your money is currently going.
You need to track your expenses for about a month to get a clear picture of where every dollar is going.
So, review your bank statements, look at your weekly spending, and track your utility bills – don't leave anything out.
After you analyze your finances you can identify your problem spending areas – and once you do that, you can start seeing places where you could maybe cut back a bit.
It will be much easier for you to create a budget and you will be able to determine how much you can realistically afford to save each month.
2. Create a feasible budget
Okay, so you've tracked your spending and you know where your cash goes each month and you've got a clearer idea of what you can save each month.
Now, it's time to make a budget.
When it comes to budgets, there's no one template that everyone can follow.
Budgeting doesn't work like that – there's no cookie cutter, one size fits all approach that works for everyone.
It's a personal thing.
So, when you're creating a budget, make sure that it meets the following criteria:
It's realistic: Don't make your budget too drastic. If you've never saved before, then don't jump right to funneling a big chunk of your cash into a savings account and end up leaving yourself short. And don't restrict your spending too much that you end up miserable. Keep your budget realistic and you're more likely to stick with it.
It's sustainable: A good budget is one that's sustainable. Okay, so cutting back drastically might be feasible for a week or even a month, but after a while, it can become tedious. So, make sure your budget is sustainable.
It fits your family's needs: Everyone's family is different – so don't expect to read about someone else's budget online and be able to make it work for your family. Take inspiration from others, but make sure that your budget is catered to your family.
Once you have created your budget, expect it to change a little in the beginning. You might need to make slight adjustments until you get it right.
3. Reduce the bills you can
While there are some bills that you just can't cut out – like the water and electricity, you'll find many monthly bills that you can lower.
And, once you do lower these bills, you leave yourself with more cash to put into your savings account each month.
So, take a look at any monthly bills that you could cut out completely or reduce.
Here are a couple of areas to consider:
Cable TV
Cable TV is expensive. According to statistics, the average American spends $99 per year on their cable bill!
That's a lot of money.
So, consider giving up cable. It's pretty easy nowadays, as there are so many cheap and free alternatives to cable TV.
Cell phone
Now, we're not suggesting that you cut out your cell phone completely, but you should definitely consider switching to a different plan.
We've got a detailed post about cheap cell phone plans. It lists some of the least expensive cell phone plans out there – some of them are even free!
So, take a look and consider switching – you could save yourself hundreds each year.
Magazines
Magazine subscriptions might seem small, but they can add up. In fact, statistics show that in 2015, Americans spent more than $1.3 billion dollars on digital magazines.
If you feel like you're broke and have no money left over each month to save, then cutting out even something as small as a magazine subscription can really make a difference.
Both digital and hard copy subscriptions can cost you. So, cut down on the number of magazines you get each month – if you can cut out all magazine subscriptions and stop buying them altogether.
Instead, try the following alternatives:
Visit magazine websites
A lot of magazines, like People, for example, post news and stories on their websites. So, rather than paying for the magazines you like, visit their websites instead.
A few other examples include
So, do a quick Internet search for your favorite magazines, and consider reading the website online.
Check out free magazine websites
Online there are actually websites that let you read tons of well-known magazines for free.
Really!
Here are a few that you should check out:
Get your news online
Whether you enjoy tech, fashion or news magazines, you can find just as many stories, articles and news pieces on websites.
So, quit the magazines and get your stories, articles, and news online instead.
For example, rather than subscribing to US Magazine for the celebrity news, check out websites like TMZ or the Mail Online – they post just as much celebrity news, and often it more up to date. Or, if you enjoy a mix of stories and articles, then check out CNN or LifeHacker.
If you like craft magazines then check out Big DIY Ideas.
Whatever subject you're interested in, try doing a quick Google search to find blogs and websites on the topics you like.
Visit your local library
Did you know that your local library could be a great place to find hard copies of magazines? Really.
Many libraries stock magazines, so take a look – it's a great way to get your magazines for free.
4. Gym membership
Exercising is incredibly important. Not only does it keep you in good shape, but it also prevents health issues, like diabetes and is a great stress buster. So, it's definitely something that you should be doing.
But, a gym membership can be pretty pricey. In fact, the average gym membership can set you back $58 per month!
That's a lot of money – money that could be going into your savings account instead.
Now, you definitely shouldn't give up exercising, but do it outside of the gym instead:
Buy a yoga mat and practice yoga at home.
Do some bodyweight exercises in your living room.
Jump rope in your back yard.
Do some pull-ups at the park.
Go on a hike with a weighted backpack.
There are tons of ways that you can exercise, without going to the gym. Heck, there is even a way to get paid to exercise!
There are some bills that you can't cut out, but as you can see, there are many that you can. After all, do you really need to pay $99 per month for cable when you have a Netflix subscription?
Probably not!
4. Start small with savings
When you make the decision to start saving, you'll be excited, and you'll want to start cutting expenses and saving as much as you can.
But, while giving yourself a really big savings goal each month might look good on paper when it comes to actually depositing that chunk of cash into your savings account it's another story altogether.
When you feel like you're broke, the idea of saving can seem impossible. But, the key is to start small. Cut down on things to save money, as mentioned above, and then put some of that money into your savings account.
You don't need to jump straight into saving tons at once. So, think about your financial goals, whether it's to save enough for a new car or to pay down your debts.
And, just save a little at a time – this gets you into the habit of saving money, even if it's only a small amount.
5. Stop paying fees and save the cash instead
When you don't have a lot of money, it's easy to get behind with the bills – but, when you don't pay bills on time, you run the risk of paying late fees, which further impacts your finances and certainly doesn't help when you're struggling with cash.
So, make sure that you do everything you can to pay your bills on time – that way you'll avoid paying late fees.
Another thing you should do is avoid ATMs that charge fees – if your bank charges fees on its ATMs then consider switching.
6. Eat at home
According to a survey conducted by Visa, the average Americans spend $53 a week getting lunch in restaurants and takeout.
That's a staggering $2,746 per year!
So, if you're broke, you definitely should make your lunch at home and take it to work with you. It will save you a lot of cash over the course of the year.
Also, consider cutting down on takeaways for dinner, and eating out in restaurants in general. People often get into debt due to eating out too often. It might seem easy to make excuses to eat out, like being too tired for example – but it's best to cook meals at home yourself.
If you're a bit short on time, then consider making meals in advance over the weekend and then freeze them for later – you can then use them during the work week.
There are plenty of websites online where you can find recipes, like Yummly for example.
7. Be a smart shopper
While utility bills and mortgage payments obviously have a big impact on your finances, there's another area that affects your finances – shopping.
Whether it's food or cosmetics, the tips below will help you to be a smart shopper and save you cash in the process.
Use coupons
You might not think that a coupon for 5% off would make much of a difference to your finances, but over time, small savings can add up.
Even if you only save a few dollars each time you go shopping, that's still extra money that you can put into your savings account.
So, if you feel like you're broke and you want to give your savings a boost, then you should definitely use coupons.
And with so many great coupon websites and coupon apps, it's just crazy to shop without coupons.
And if those websites and apps aren't enough, check out our recent guide on how and where to get coupons which includes 21 weird and unusual places you can find coupons.
Look out for sales
Keep an eye on sales and buy in bulk when a product you regularly buy goes on sale.
It may seem like over spending but in reality, you save money in the long run.
Of course, this only applies to stuff that you know you are going to use. You don't want to buy a few dozen of something only to have it sit in the pantry and go bad.
Compare prices
Comparison shopping saves you money. It's a fact!
Before you buy something, take the time to compare prices. You might find that red wine, for example, is much cheaper at Trader Joe's than it is at Costco. So, take the time to compare prices and shop around.
Again, these seemingly small savings can really add up, giving you much more money to put into your saving's account.
Switch to generic products
A really easy, but effective way to save money is to choose generic brand products, rather than name brand products.
Do this with food, cosmetic and cleaning products, as well as anything else you buy frequently.
If a particular item has a generic brand equivalent, then opt for it and save yourself some cash.
Increase your income
Here is the thing…
If your monthly bills are the same or even more than what you bring home as income, there is no way you can save.
It's just not possible.
In that case, you have two options for saving.
1. Lower your expenses.
We already talked about that. That should be done no matter what.
But what if even after lowering your monthly expenses, your paycheck is still the same or less than the sum of your monthly bills?
That's where your second option comes in…
2. Increase your income!
Increasing your income is the best long term solution.
Now you could go out and get a second or part-time job. But for a lot of us, that's not an option.
The good news is that there are a lot of simple and easy ways you can earn extra money online and from home.
Here are a few articles you should check out:
The good news is these options can help anyone to earn extra cash. Whether you're bored, broke and unemployed or have a job but need more cash, theses options can help you make some money so you can put some of it towards that all-important savings account.
Final word
Here is the thing…
Saving money is hard. It's hard to create that all-important habit.
But when you're broke, it goes to another extreme level. You feel like everything is stacked up against you. That there is no way you can save even a dime.
But it's doable.
It will take discipline. It will take sacrifices. It will take not going out to eat every week.
You have to cut back on things. You have to make a budget and actually stick to it. You have to nickel and dime your way to savings.
But, it is worth it!
When that "it's not gonna happen to me!" emergency strikes, you don't want to be one of the 63% Americans who don't even have $500 saved for emergencies.
You'll be glad that you did what you could to save yourself some money despite being broke and poor.