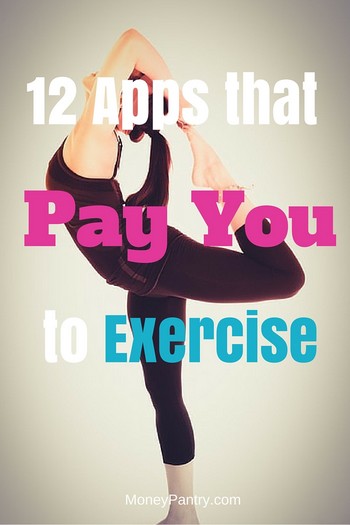 Exercise aids weight loss, lowers your stress levels and increases your lifespan, but many people struggle to find the motivation to do it.
Like most people, you may want to increase your fitness levels or lose a little weight, but you simply don't have the incentive.
Even with all of the diet planning and workout tracking apps available, it's still hard to get up off of the couch and get to the gym.
Fortunately, nowadays there are apps available that actually pay you to exercise.
Here is how you can make money exercising by using these apps…
HealthyWage is a really convenient app that helps you to lose weight and rewards you in the process.
With this app, you'll first need to set-up an account, and then undergo a verified weigh-in. After that, you set a time-sensitive weight loss goal and then you place a bet with your own money.
Essentially, you bet to win money for weight lost within an allotted timeframe. If you reach your goals and win the bet, then you'll be rewarded with money via PayPal or Amazon credit.
With HealthyWage, you can participate individually or as part of a team.
This popular app, which has been featured on Good Morning America, The Today Show, Fox News and in a number of other mainstream media outlets, is a powerful weight loss tool. It adds a timeframe for weight loss, as well as a competitive edge, and gives you a huge incentive to stick with your fitness goals.
Pact is a diverse health app, which allows you to make weekly health goals, or 'pacts' and earn money if you achieve them.
All you need to do is sign up and then make a pact. With this app, you can make a wide variety of pacts, like veggie pacts, gym pacts and food log pacts.
If you follow your healthy eating or exercise plan, then you will be paid cash rewards, by other users that did not meet their goals. That means that if you don't stick with your pact, you will actually lose money – which is a huge incentive to keep up with your healthy living goals.
Generally, rewards range between $0.30 and $5 per week.
Since DietBet started, it has paid out more than $6,761,605, and users, according to DietBet, can earn incentives of upwards of $1000, meaning you could use this app to earn some good money.
All you need to do is join the site, and then you can either set up a fitness challenge of your own or join an existing one.
According to DietBet, 90% of its users lose weight through using the app.
If you'd like to make a difference and do something good, while boosting your fitness levels and losing weight, then Charity Miles is the app for you.
With this app, you earn money for charity through exercise.
If you cycle, you'll earn 10 cents per mile, and if you walk or run, then you'll earn 25 cents per mile.
With this app, you can earn money for a wide range of charities, like The Nature Conservancy, Wounded Warrior Project, Habitat for Humanity and Stand Up To Cancer.
You earn money up to the group's first $1,000,000 sponsorship pool.
If you collect Bitcoins, or if you'd like to start, then FitCoin is the app for you.
With FitCoin, you are rewarded for working out with Bitcoins.
To use this app, which is free, you simply need to set up an account, and use a workout tracker, like Fitbit, to measure your workouts.
Using workout data, like your pace and distance, the app will calculate a FitCoin value, which is the amount of Bitcoin you've earned from simply working out.
Simple, but effective, if you want a real incentive to workout, then try Fitstudio.
It's a fitness tracker app that is produced by Sears/Kmart.
To use it, all you need to do is create an account, and then sync it with a fitness tracking app, like Fitbit or MyFitnessPal.
With this app, you are paid $5 for every 15 miles you walk or run or for burning 5000 calories within a week.
GOODcoins is a truly unique app, which rewards you for meeting your fitness goals.
With this app, you are awarded GOODcoins by doing things like walking, running and cycling for 30 minutes a day.
You can use these points only for positive purposes, like treating yourself to sustainable, eco-friendly products from the GOODcoins store, or donate them to your favorite charity.
8. Higi (Previously Earndit)
Earndit, actually isn't a fitness app itself, instead it's a service that partners with other devices and apps, to reward your fitness efforts with points. It's a free service, which you link to apps, like Fitbit, Nike+ and MapMyFitness, and Earndit will reward you for your workouts.
The service will automatically update the points you earn. You can participate in challenges, which can be a week or even a month long. You will get 10 points for each mile you run.
Points can be redeemed for prizes and other rewards, like discounts.
As part of the Walgreens' Balance Rewards for Healthy Choices program, by simply tracking your fitness efforts, you could earn Balance Reward Points.
When you redeem your points, they are converted to Redemption dollars. These redemption dollars can be deducted from your purchases at Walgreens, meaning you can save money on hundreds of everyday items.
All you need to do is sign up to the Walgreens website and download the app, which is available for iOS and android devices. You can connect the app with a fitness tracker, like MyFitnessPal or MapMyFitness or just log your activity manually.
The more steps you take and the more distance you cover, the more BR points you will earn. You get 20 points per mile, and you can also earn points for tracking your blood glucose levels, your weight, sleep and blood pressure. But, it's important to note that there is a cap of 1000 points per month.
AchieveMint is a website/service, which allows you to gain points using the health and fitness apps that you already use.
All you need to do is connect your Fitbit, or other exercise app, to your AchieveMint account.
You'll earn points for tracking your weight, your water intake, sleep, your dietary pattern and how many steps you take. 50,000 points converts to $50, so it does take a while to get paid with this app.
WellCoin is an app that allows you to earn Wellcoins for healthy choices.
You simply log the healthy things that you do, and you'll be rewarded.
You can redeem the points for discounts on products, which is a bit less flexible than the rewards offered by other apps.
12. Nexercise
Note: Nexercise has become Sworkit and no longer offers rewards.
Nexercise is an app that focuses on motivation and positivity and believes that healthy living is a mindset.
Nexercise is one of the most popular fitness apps, and it's been featured on a wide range of media outlets, like the Huffington Post, Reuters and Shape Magazine. With the app, you will earn points simply from exercising, and get support from other users.
You can redeem the points you earn for credit at CVS, Amazon and a number of other online stores.
Takeaway
If you feel like you need a little extra push to get healthy, then consider trying one of these apps.
The cash incentive alone is a great motivator, and the fact that most of these apps require you to track your healthy activities means that you'll be much more likely to keep up with your fitness goals.