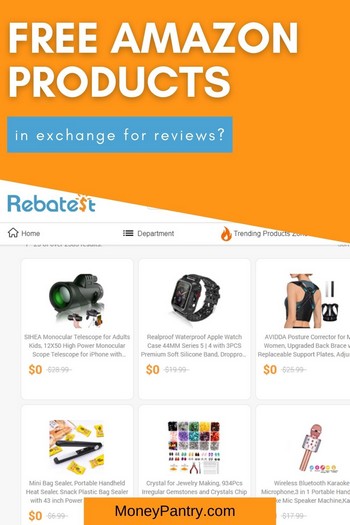 Today's post is a Rebatest Review that covers everything you need to know about how the site works.
Now, I shop online a lot and I mean A LOT. It's not because I buy a lot of stuff either – it's just that I find shopping online, well, just more convenient.
Sure, I like going into stores occasionally to have a browse of what's there, but for the most part, I do my shopping online.
In fact, I'd say that I make 95% of my purchases online. I shop for food online, clothes, cat food, and more.
And I'd say one of the sites that I use the most is Amazon. I shop there for shampoo, books, makeup, skincare products, cat litter and much more. I'm a member of Prime, so I like that I get fast, free delivery on most items.
Now, if you're anything like me, and the millions of other people in the world who shop online, then you'll definitely want to use cashback sites.
Need Easy Extra $300+/Month for Free?
KashKick
: Get paid directly into your PayPal for watching videos, surfing, shopping and more.
Join KashKick Now!
InboxDollars
: Paid over $57 Million to members to watch videos, take surveys, shop and more.
Get $5 instantly!
Branded Surveys
: Get $1 instantly just for joining for free. Plus get paid within 48 hours by PayPal!
Join Branded Surveys
First Opinion
: Get paid up to $10 per survey and $300 per virtual focus groups!
Join Now!
Swagbucks
: Get paid to watch videos, shop online, take surveys and more.
Join now & get $10 instantly!
Cashback sites give you money back on what you spend. Most often, this is a percentage amount. So, you might get 10% back when you shop at Sephora, for example.
Sometimes cashback is offered as a dollar amount, like get $5 back when you spend $50 or whatever.
Now, there are tons of cashback websites and apps out there, like Mr. Rebates, Rakuten, and TopCashback, many of which we've covered here on Money Pantry.
Rebatest takes cashback to a whole new level. It's actually a product testing site that gives you 100% cashback on your Amazon purchases.
You read that right.
Rebatest says that you can get up to 100% cashback if you share your honest opinion and testimonials.
But is this too good to be true?
Well, in this post, I'll answer that question and more.
I'll cover…
How Rebatest works.
The amount of money you can get.
Whether or not Rebatest is legit.
How Does Rebatest Work?
Rebatest is a product testing and cashback website. It gives you up to 100% cashback on Amazon and all you need to do is provide your opinion and testimonials.
In this section, I'm going to give you a step-by-step guide for using this site to get rebates.
Step One: Sign up
The first step is to sign up for Rebatest.
In order to sign up you must be:
In the US or UK
At least 18 years old
Anyone who meets the above requirements can sign up.
The site is free to join and doesn't charge any fees.
Now, what's interesting about the site is that it is offering a $50 sign up bonus or £30 if you're in the UK.  It's not as simple as just signing up and getting the money though. You have to sign up and complete 10 tasks to receive the $50 or £30 bonus.
You can sign up for Rebatest here.
Step Two: Find the products you want
Okay, so once you've signed up, you can start searching for products. Like I said before, the site is offering cashback for Amazon products. As you likely know, Amazon offers items in a TON of different categories, so you'll be able to find lots of different things on Rebatest.
Categories available on the site include:
Health & Beauty
Babies & Kids
Electronics
Clothing & Jewelry
Sports & Outdoor
Home & Garden
Travel & Vacation
Handmade
Office
Pet Supplies
It's easy to search for the items you want. You can do this in one of two ways:
Simply enter the name of the product you want into the search bar. This will come up with lots of different items. If you want to search for something in a particular category, you can do it. On the left of the search bar, click on "All" and you'll get a dropdown menu. It will list all of the categories on the site, like Health & Beauty and Home & Garden.
Click on the department you want. On the homepage, hover over "Department" in the navigation bar. This will give you a list of departments. Click on the department that you are looking for.
Step Two: Apply for the product you want
When you find an item you're interested in, you'll need to apply for it.
You see, Amazon sellers list their products on the site, and then you apply to test them. You'll need to wait to get the seller's approval.
To apply, you just need to click on the product you want. Then, you'll be taken to the product listing page. Next, click on the orange "Appy Now," button.
Step Three: Purchase the product
The next step, after the seller approves your application, is to purchase the product.
Here's how it works:
Once you're approved, click on the "Buy Now" button, and you'll be directed to the Amazon page.
Then, simply purchase the product as you normally would on Amazon. You'll pay the full price, and get the product shipped to you as you normally do when buying stuff on Amazon.
Finally, you'll need to go back to your Rebatest account and submit your order number. You must submit your order number within 4 hours.
Step Four: Submit your trial report
Okay, now that you have got the product, the product testing part comes into play. You'll need to test it out and give your feedback in a trial report. The website recommends you wait 3 days to write the trial report after the order number is approved by the seller.
To give your trial report, you'll need to click on "Write a Report," in "My Application."
The trial report only needs to be short and will only take you around 5 minutes or so to complete.
It contains four parts, including:
Product brief introduction
Pros and cons
Suggestion & conclusion
The product photo
You need to make sure you leave a helpful and relevant trial report. You must also make sure that it is not too short – less than 20 words is too short – or your trial report may be refused by the seller. And it must offer your genuine opinion (positive or negative).
Step Five: Get your rebate
Once the seller has approved your order number and trial report, the site will send you a rebate. You'll get the rebate to your Rebatest account within 48 hours.
Then you can withdraw the money to your PayPal account. Now, it's important to note that you will need to leave one verified review in order to be able to withdraw your money.
Other Features of the Site
While the main focus of the site is to test products and get rebates, there are a couple of other features on offer.
1. Refer a friend
The website actually offers a referral program where you can earn money when you refer friends to Rebatest. It's a pretty easy way to make some extra money if you know someone who would also be interested in getting rebates for the stuff that they purchase on Amazon.
Refer a friend who finishes at least one review for a rebate order, and you'll get a $5 bonus. Both you and your referrals are eligible to earn a reward of $5 cash for each Qualified Referral that you refer.
2. Participate in site activities
The site also has a number of activities that you can do to earn Contribution Points, which are needed to apply for product testing opportunities. For each month, the site offers different activities that users can do to win a bonus of up to $100.  This includes things like giveaways and a Contribution Points Wall.
At the time of writing, there was a giveaway on the site where you could earn $20 for a TIKTOK post that gets the most likes.
Contribution points can also be used for completing actions.
Here are some examples:
Successfully complete an order and leave a review: 200 Contribution Points
Add your Amazon profile link for the first time: 50 Contribution Points.
Add your PayPal account for the first time: 50 Contribution Points.
Daily login: 10 Contribution Points
Newsletter Subscription: 50 Contribution Points.
Is Rebatest Legit?
Okay, so now for the important part…
Is Rebatest legit?
Or is it just another scam?
Well, I always like to see what other users think of a site before I give my opinion on it. Generally, aside from trying out a site myself, I'll always head on over to Google to hunt for a Better Business Bureau profile or a Trustpilot page. Both sites offer a good indication for me as to whether or not a site is actually legit.
Now, Rebatest doesn't seem to have a profile on the BBB at least at the time of writing anyway.
It does have a page on Trustpilot though.
It has 168 reviews and a 3.9-star rating. This is a rating of "Great."
When I was browsing through the company's page though, I did notice that there was an alert from Trustpilot, which read:
"We're currently investigating this company and the reviews on this page."
I'm not sure exactly what this means, but perhaps Trustpilot is investigating the legitimacy of the reviews left. So, whether or not that "Great" rating that Rebatest has on there is actually legit is not clear.
What did the Trustpilot reviews have to say?
Now, as for what the reviews from Trustpilot actually had to say, there was a mix of positive ones and negative ones.
One reviewer said:
"Total scam. Protect your privacy guys. This site might just be phishing your precious info."
Another person said something similar, writing:
"SCAMMMMMM!!!!!!!!!!!!! Run for your life from this scam."
A few people complained that they did not get the full cashback amount to their PayPal account. But I do know that Rebatest mentions a 4.4% PayPal charge quite clearly on its site. So, it's pretty transparent about the fact users won't get 100% of their cashback.
Now, there were also positive reviews of the site on Trustpilot.
One user says:
"Amazing. So happy that I get to try and keep free products. Its all sorts of products, which i can actually use and all for free. There is a small fee for transaction but that's very less maybe a $ or 2. Thank you Rebatest. At first i was very skeptical thinking it was fake, but it is not."
Another reviewer wrote:
It took some time to get into a groove with the rebate process. Works great now. While I've had issues. I am impressed at the customer service. My issues are always resolved.
So, overall, the reviews were pretty mixed.
I did also notice that, according to Trustpilot, Rebatest hasn't replied to negative reviews for the past12 months. So, it seems like the company is perhaps ignoring some legitimate concerns from its users.
You can check out the site's Trustpilot profile here.
What about reviews on other sites?
I also read up on user reviews from Quora and Reddit. On both sites, opinions of Rebatest were mixed.
One user on this Quora page wrote:
"The jury is still out, for me. I just joined around a week ago. I've bought and reviewed 3 items, and I've been credited with rebates for 2 of them so far… Bottom line: you're not really getting free stuff. You're getting free stuff minus sales tax, shipping, and Rebatest's Paypal tax."
On Reddit, where opinions were also mixed, some people praised Rebatest.
One user on this Reddit thread, says:
"I stumbled upon this site around a month ago and was cautious to begin with. But I have successfully had my money back for all the products I have tested (minus PP fees)."
Other users aren't so positive though, so again the reviews of Rebatest on Reddit are pretty mixed.
Why Would Rebatest Give Me a Rebate?
So why exactly does Rebatest give out huge rebates, like a 100% cashback in some cases?
Well, it's simple really.
Amazon is a huge platform and there are thousands of products on there, right? So, if you are a seller, it can be hard to make your product stand out among the competition, and to get people to, you know, actually buy it!
One of the things that makes products on Amazon stand out is reviews.
I know that one of the first things I look at when I'm shopping on Amazon is the reviews. I mean, if a product has negative reviews, it puts you off buying it.
You likely look at Amazon reviews before you purchase something to. Many people do. That's why sellers want to be putting out good products.
Brands need people, like you, to test out their products and provide honest feedback. That way, they can improve and develop products.
So, Amazon sellers offer a limited number of new products every month on Rebatest.
Since your feedback is valuable, sellers are willing to give away items at a huge discount or even for free in the case of 100% cash back rates.
They can improve their products, and, as a result, hopefully get better reviews for their products in the future.
How Much Money Can I Make with Rebatest?
How much money you receive depends on the number of items you test and the cashback percentage that's offered.
Now, it's really important to note that you aren't actually, "making money," with Rebatest.
Instead, you use your own money to purchase items on Amazon and the site gives you a rebate for it. This means that you are getting the product for free or at least at a discount.
In terms of how much money you can get, I saw lots of offers for 100% cashback. It's important to note though that the site pays through PayPal, and you're charged a 4.4% fee. This means that you don't get the full amount of cashback advertised.
Rebatest Pros and Cons
Okay, so let's take a look at some pros and cons of Rebatest.
Pros
I'll start out with the good aspects of the site.
Wide range of products available
What I like about the website is the fact that it offers so many different products. You're not stuck with just one category here. So. if you're looking for a few different items in multiple departments, then it's good to know that you can find them on offer on the site.
Up to 100% cashback available
Most of the time when a site says, "Up to" 100% cashback, it means that you'll find a few cashback offers for 100% and the rest will be far less. You may have noticed this yourself on cashback sites.
With Rebatest, however, there were tons of cashback offers available that gave you a 100% rebate. So, it's good that you can get such large rebates!
Available to US and UK customers
A lot of sites are only available to those in the USA, so it's good to know that the site accepts users in the UK too. This means that the site is accessible to more people.
Cons
Okay, so now let's cover what I don't like about Rebatest.
You don't get all of your cash back
When you visit the Rebatest homepage and see all of these 100% cashback offers, you think, great!
I can get all of my money back here, and I can essentially get a ton of stuff from Amazon for free. Sweet, right?
Well, not exactly. I said at the start of the post, is the site too good to be true. And in this instance, it is.
The thing is, you have to purchase the product on Amazon yourself, using your own money. And then you get a rebate. But, there's one pretty big caveat.
You don't get all of your money back!
This is because Rebatest pays you via PayPal. And there's a 4.4% PayPal charge. So if you got a $100 rebate, you'd actually only receive $95.6% of your money back.
Now, that's still a 95.6% cashback rate, which is pretty great. It's just something to be aware of. Rebatest does mention this fee on its site.
Another thing that can push down the true cashback value that you get is sales tax and shipping costs, both of which are not covered by Rebatest.
Make sure you factor in the PayPal fees and any other fees or tax into the rebate, so that you know how much money to expect to receive back.
The process and site is clunky
I found the website was pretty clunky. There was a lot of information for users on there, which was good, but the actual design was a little messy.
For example, there was a scroll bar on the bottom, because the width of the site did not adjust for my computer screen. It's not a huge deal, but it's still a little annoying.
Also, I found the process of actually writing reviews a little clunky. It was like get this link from that page and open this window and click this, and it was just a little bit more laborious than it should have been.
The reviews are mixed
The fact that the reviews are mixed, along with that alert from Trustpilot, was a bit of a cause for concern for me. But, then again, I do know that most companies, even super popular and legit ones, have at least some bad reviews. So it's not a surprise to find Rebatest has a few of its own.
That being said, some people did seem to have a bad experience with the site.
Is Rebatest Worth it?
This is a tough one because some people had a great experience with the site. They got their cashback fine and everything was great. For others though, they felt like the site was a scam. So, it's really a toss up here. I would say that if you are going to use Rebatest, make sure that you start out with a cheap product. This will allow you to test out the site and how the cashback process works, without having to invest much upfront.
Hopefully, this Rebatest review has helped you to decide whether this is the site for you!