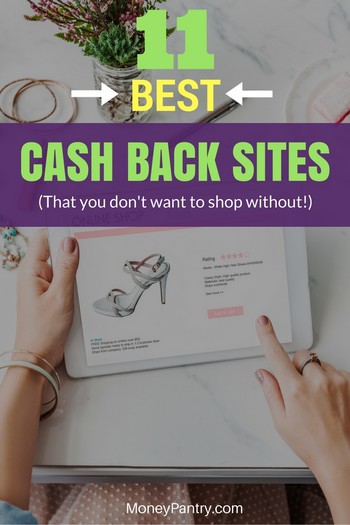 What's the one thing that all shoppers have in common?
We all love getting cash back.
With the traditional (for lack of a better term) rebate programs that some companies offer, you have to pay full price for the item, then you have to send in your receipt (or in some cases register your purchase) or some kind of a proof of purchase and the company sends you back $x as your rebate, a few weeks/months later.
It's essentially free money.
Want $5 Free?
Join InboxDollars for free. InboxDollars pays you to watch videos, search, shop, take surveys, and more. They have paid out $57 Million so far!

But there are a few downsides with that kind of rebate programs:
Rebates are offered only on certain items.
You have to send in your receipt or register your purchase within certain time frame.
And you have to wait weeks/months to get the money.
I don't know many people/take who took advantage of rebates. It's just to much hassle.
Wouldn't it be better if you could get rebates on everything you buy?
Wouldn't it be great if you could just shop as normal and get rebates without having to mail things in?
It would be! And that's the idea behind cash back sites.
Cashback websites make it so easy to get paid for shopping online:
All you have to do is log into your cashback site of choice.
Click on the retailer you want to shop from and do your shopping.
Their tracking system will record everything and credit your account with the promised percentage of cashback.
Withdraw your cash back earnings.
That's all to it!
With it being so easy and painless to use, to me it's just crazy not to use a cash back site. It's like rejecting free money with no strings attached.
How do cashback sites work?
Cash back sites are the middle man of the internet.
They work out deals with online retailers where for every customer they send in, the retailer gives them a commission.
And in order to entice people to go through them instead of going directly to the retailer's site, they offer cash back using some of that commission money.
The amount of cashback offered varies based on the item, its price, and the cashback site you use.
That last factor, yes the "cashback site you use" factor, is why you should find and shop through the ones that give you the highest percentage cashback on items you buy.
So what are the best cashback sites?
To me, the top rebate sites have a few qualities:
They have a big list of merchants you can shop from.
They give you more cashback than other sites.
They make it easy to withdraw your earnings.
They give you cashback on everything you buy from a store and not just a few big items.
So, I did some research and found the following sites to be the best ones based on the criteria outlined above.
Note: While most of these sites are based in the USA, some do operate thus accept members from a few other countries such as the U.K., Canada,  and Australia.
Get Free Gift Cards! Join Springboard America and get paid for taking surveys. By the way, they enter you to win $1000 just for signing up.

1. Swagbucks
Swagbucks is one site that I think everyone should have bookmarked. This site allows you to earn cash and free gift cards for doing just about anything online.
From taking surveys, searching, and completing offers to watching videos, playing games, and of course shopping.
You earn what are known as Swag Bucks. Every 1000 SB equals to about $10.
You can either withdraw your earnings to your PayPal account, or you can redeem 'em for gift cards from top companies like Amazon.com, BestBuy, The Home Depot, Walmart, Target and many more.
And if you join now, they'll give you a $5 sign up bonus free.
2. eBates
eBates is a name that epitomizes the cashback idea!
They have even been featured on The New York Times, CNN, Good Housekeeping and the Wall Street Journal numerous times. They even have ads on TV.
eBates has a huge list of stores (about 2000) you can shop and get cashback from.
The offer some of the highest cashback percentages in the industry – as high as 40% for select stores.
According to the site, they have paid more than $100 million cashback to their users so far.
They are currently offering a $10 sign up bonus for new members.
3. Mr. Rebates
Mr. Rebates is one of the oldest rebate sites around.
The also offer big cashback. For example, at the time of this writing, you can get 7% cashback on Amazon.
What I like about Mr. Rebates is that they have a low cash out threshold of just $10.
Once you reach $10 you can request a payment. And you have three options when it comes to getting paid:
And they give you a free $5 sign up bonus just for joining.
4. QuickRewards
QuickRewards is not very well-known but has a very loyal user base who love the site and the way it treats its users.
It's a site like Swagbucks. Not only you earn cashback, you can also earn free money and gift cards by taking surveys, watching videos, doing offers, visiting websites and more.
I have been using this site for years and I have always been amazed at how quickly they process payments. There were many occasions where I received my PayPal payments within 15-20 minutes of putting in a withdraw request.
They only accept members from the U.S., UK, and Canada.
5. FatWallet
FatWallet was originally launched as a coupon website back in 1999, but incorporated cashback a few years later.
FatWallet has more than 1,600 online retailers you can shop and get cashback from.
Not only that, it also offers more than 20,000 coupons.
This is one popular website with more than 3 million active users.
According to the site, they have paid more than $45 million in cashback to their users.
6. MyPoints
MyPoints is another reward program that also has cashback offerings.
MyPoint has been around for a very long time (since 1996 to be exact) so it has thousands of online stores in its program.
You earn anywhere from a few points to a few hundred points per dollar for every purchase you make through them.
Here are a few current numbers:
Earn 7 points per dollar spent on Amazon.com
Earn 12 points per dollar spent on Macy's.com
Earn 4 points per dollar spent on BestBuy.com
Earn 10 points per dollar spent on JCPenny.com
700 Points gets you about $5 in cash or gift cards.
You can withdraw your earnings in a few ways:
Cash (PayPal)
Gift cards (from hundreds of stores)
Redeem for travel miles
7. MainStreetSHARES (formerly BigCrumbs)
MainStreetSHARES is a new site that was created on the back of an old trusted cashback site, BigCrumbs.
They are changing how this whole "cashback shopping" thing works.
Not only you earn cashback fro shopping, but you also earn a share of the company/store you shop from.
I'll let them explain:
We are a community of members who earn cash back from our shopping at top online stores. We also receive a share of total company profits each month, earn commissions when our referrals shop, and receive a payout when MainStreetSHARES is acquired.
The extensive partnerships (they have thousands of online and off-line participating outlets) and the excellent features of the website makes it a must use cash back site.
8. Pennyful
Pennyful is another oldie but goodie site.
They have around 1300 participating stores.
Here are some of the cashback percentages currently offered:
Macy's: 1.5%
Kmart: 3.5%
The Body Shop: 6.0%
Direct TV: $55 cash back
OverStock.com: 55.0%
They also offer a free $5 sign up bonus to new members.
9. Shop at Home
Shop at Home is another popular one.
They offer some of the highest cashback I have ever seen.
Here are a few current offers:
Amazon.com: 14%
JCPenny: 9%
Walmart: 6%
One great feature of SAH is that during the holidays they offer extra cash back.
For example, currently they have this:
Extra $5 when you spend $150
Extra $10 when you spend $250
Extra $15 when you spend $350
And this is on top of the normal cashback you get for shopping through them.
And to top it all off, they give you a $5 sign up bonus.
You can cash out when you have $20 in your account (which shouldn't be that hard to do considering that you earn the first $5 as soon as you sign up!
10. Coupon Cactus
Coupon Cactus is a massive site with an even bigger list of participating stores. So, virtually any store you can think of, they have it in their program.
They have a very user-friendly navigation system which allows you to drill down by category, store names, etc.
What I love about Coupon Cactus is that not only you earn cash back, you also save money because they give you the latest and best available coupons for any online store you are shopping from.
For example, at the time of this writing, they have a 15% off on Target purchases on top of the normal 2.50% cashback.
There are two payment options as you can opt to receive your cash either by check or direct credit into your PayPal account. You have to have at least $10 in your account before you can withdraw.
And yes, they also offer a sign up bonus – $3 to be exact.
11. iBotta
I have written about iBotta recently in our "Rebate Apps Like iBotta" post.
iBotta is not your usual cash back site. It is an awesome money saving app that earns you cash back on the go.
There is one thing iBotta offers that none of the other ones offer…
It lets you earn cash back on even the basic stuff – milk. bread, ice cream, vegetables, etc.
Here is how iBotta works:
They have a list of cash back rebates for hundreds of products. Let's say you want to buy bread at the store. You unlock/activate the bread rebate, then you go to the store and buy that bread. After that, you simply take a picture of the receipt and iBotta will credit your account.
You can transfer your cash into PayPal, Venmo or redeem for gift cards.
Sign up and install the app now to get a free $10 bonus.
So, who's the winner?
You!
No matter which one of these sites you use, you win. But choosing one as the best one is not a good idea. You cut yourself off from potential money saving opportunities.
You know why?
Because the rebates and cashback offers by participating stores differ from site to site.
Let me explain…
While Swagbucks may give you 10% cash back on X and 5% on Y retailer, Coupon Cactus may give you 5% cashback on X, but they give you 10% on Y retailer.
So, to make sure you get the highest amount of cash back for any given store, join a few of these top sites and when you want to shop, check with all of them to find the highest and best cash back percentage.