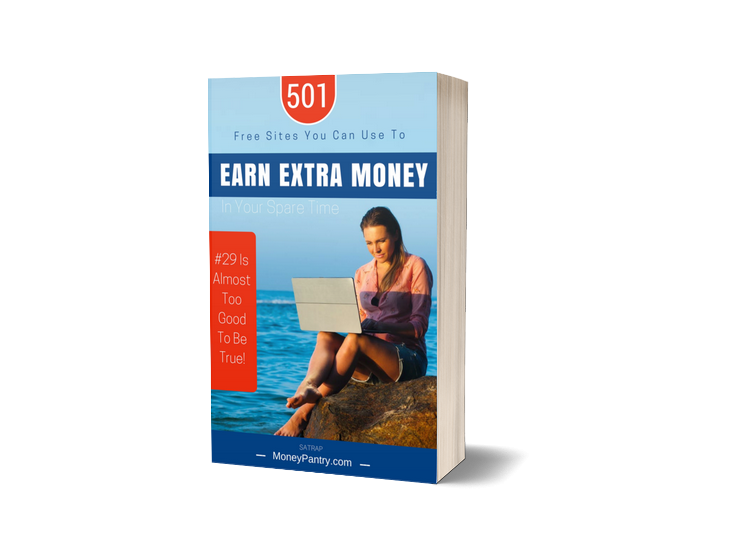 Would you believe it if I told you that there are…
Companies that will:

Pay for your junk mail?
Pay for your used cooking oil?
Pay you to play video games?
Pay you to be a mock juror?
Pay you for watching TV?
…?
There are tons of companies, websites and apps out there that pay you for almost anything you can think of.
From simple stuff you already do, like:
Visiting websites
Watching video
Shopping
And even playing games
To activities and things that you never thought you could get paid for, like:
Your hair
Used cooking oil
Listening to music
And even being a mock juror!
The only problem…
Finding them!
It would take you hours, if not days to go through hundreds of thousands of blog posts and articles to find all these awesome money making options.
But you don't have to do that!
You don't even have to spend 10 minutes.
I've done the work for you!
And I put the result of all that research into an easy to digest eBook titled, "501 Free Websites You Can Use To Earn Extra Money In Your Spare Time".
It's like your own little resource where you can access (anytime & anywhere) a list of hundreds of legitimate companies that pay for you all kinds of crazy stuff.
It is available exclusively on Amazon Kindle store.
What readers are saying…
What people are saying about the book:
"I rarely give a book five stars. This book received five stars for getting right to the point (no long intro). It provided a wealth of information that most of us didn't know. If you are looking for a career change, or for money to pay the bills, the information contained within could solve your money challenges. Don't let this one slip by."
-Bygalactifieron
"There is lots of great information in this book. Many, many links are available. There is a great amount of information packed into this one book."
-Kathryn L. Cookon
"This book is a great resource for anyone who wants to make money online. There is something there for everyone."
-Amazon Customer
"No way would I have found some of these websites. Timesaver, good job lots of help for newbies like me."
-Faith Bradshaw
Let me know what you think
After reading the ebook, I would appreciate it if you would please take a moment to review it on Amazon. It would help get the word out about all these free money making resources. Thank you very much in advance.