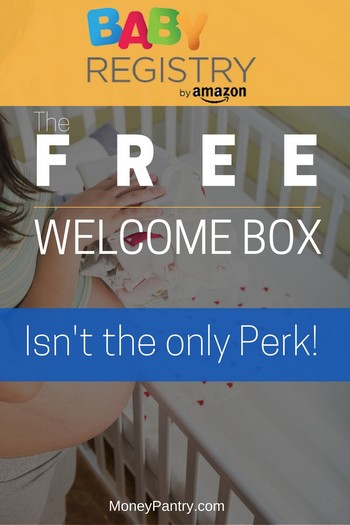 Setting up a baby registry is a great idea for all parents.
And with the free Amazon Baby Registry and all its perks and benefits, including a free welcome box packed with goodies, it would be crazy not to sign up.
A registry is a service provided by many stores, which allows you to place items you want onto a list that you or your friends and family can purchase from.
Having a baby can be costly.
After all, you have to buy new furniture, like changing tables, strollers, and clothing, and also new everyday items are added to your weekly shopping list, like diapers, baby wipes, and baby shampoo.
In fact, according to a report from the USDA, during the first year of their baby's life, the average middle-income family spends around $12,000 on child-related expenses.
Need Easy Extra $300+/Month for Free?
KashKick
: Get paid directly into your PayPal for watching videos, surfing, shopping and more.
Join KashKick Now!
InboxDollars
: Paid over $57 Million to members to watch videos, take surveys, shop and more.
Get $5 instantly!
Branded Surveys
: Get $1 instantly just for joining for free. Plus get paid within 48 hours by PayPal!
Join Branded Surveys
First Opinion
: Get paid up to $10 per survey and $300 per virtual focus groups!
Join Now!
Swagbucks
: Get paid to watch videos, shop online, take surveys and more.
Join now & get $10 instantly!
That's why it's a good idea to set up a baby registry, as many retailers will give you a discount or even freebies for doing so.
Plus, you can use your baby registry to get some of the things you'll need for your new arrival from your friends and family at the baby shower event.
It can save you so much money, and if your friends and family decide to purchase items from the registry, it means that you get the things that you actually need as gifts, rather than stuff that you won't use, or don't have the need for.
There are many stores and retailers out there that allow you to set up a registry – from big retailers like Target and Walmart to even specialized stores like Babies R Us and Pottery Barn.
But, Amazon Baby Registry is one of the best registry services out there.
After all, Amazon is one of the world's most popular retailers and offers one of the biggest selections of products.
How to register with Amazon Baby Registry
It's really easy to create a baby registry at Amazon. All you need to have is an Amazon.com account.
Here's what you need to do to register:
Visit the Baby Registry homepage on Amazon.com.
Click on the "Get Started" button.
At this stage, you'll be asked to enter your Amazon.com account login details.
Once you've done this, you'll be taken to a new page, which includes a form.
Fill out the form. All you need to do is enter basic information, such as your name, email and expected arrival date.
You can also add a co-registrant if you want to. This person will also be able to edit the registry. A co-registrant can be added when you first register or once your registry is established. You can read more about co-registrants here.
When you're creating your registry, you also have the option to choose who can see it. You can choose to make it public, which means that anyone can view it. Or, you can make it shared, which means that only people with a link can see your registry. Or, you can make it private, meaning only you can see it. If you want your friends and family to be able to view it, then you'll need to make it public or shared. You can change the visibility of your list at any time. So, don't worry about which option you choose when you first register.
You'll also see a section called "A little bit more about you". In this section, you can enter further details, like the gender of your baby, and a greeting message to your friends and family that you want to display at the top of your registry.
This section is optional. So, you don't have to enter any additional details if you don't want to. But, make sure that you do click on the drop down next to where it says "A little bit more about you". There are a few options that you'll want to check and uncheck in this section, depending on your preferences, like the option to get gift alerts when items are purchased.
There's also an option to join Prime, which you should certainly consider. We talk more about this below.
So, once you've entered all of your details, and have checked or unchecked the options you want, click on the "Create my Baby Registry" button.
It can take up to six hours for your registry to become searchable. So, don't worry if it doesn't come up when you initially search for it.
How it works
Using and navigating Amazon Baby Registry is pretty easy.
This is another reason why it's one of the best places to set up a registry.
Below is a quick outline of how it works:
Add items to your baby registry
What's great about the Baby Registry at Amazon is that all items that are for sale on the platform can be added to it.
So, think about the types of products you want to list on your registry. Then, search the Amazon.com website as you normally would.
Then, click on the product you're interested in, and visit the item's product detail page.
Once you're on that page, click on the "Add to Baby Registry" button. This can usually be found on the right side of the page.
Once you've clicked on this button, the product will be added to your registry.
If you want to change the quantity of an item or delete any items, then just visit your registry.
Add items from other sites to your baby registry
What's great about the registry at Amazon is that you can also add items to your registry from other websites.
All you need to do is use Amazon Assistant, previously known as the Amazon 1 Button App.
Amazon Assistant allows you to add items to your registry from any website that you visit.
It's an easy to use browser extension.
Simply visit the Amazon Assistant homepage, and then download the extension.
You can download it by clicking on the "Install now for [name of the browser you're using]" button at the top of the page. Or, scroll down to the bottom of the page for more download options.
Once you've downloaded Amazon Assistant, a button will appear on your browser's tool bar.
If you see an item you want on another website, then you can add it to your registry using the toolbar.
Add a gift card
Products aren't the only thing that you can add to your registry.
You can also add gift cards.
Just go to the Amazon.com Gift Card page and login to your account if you aren't already.
Select the gift card value that you want and then click on the "Add to Baby Registry" button on the right side of the page.
Purchase items in your registry
Once your registry is set up and you've added all of the products that you want, you can start purchasing items from it.
You can also share your registry with your friends and family too.
As we mentioned above, when you first create your registry, you can choose to set its visibility to public, private, or shared.
If you chose private when you first set it up, then you'll need to change this to either public or shared in order for others to be able to buy things from your list.
This is easy to do:
Visit your main registry page.
Go to the "Manage your Registry" option, and then click "Edit Privacy Settings".
Then, choose the privacy setting that you want.
If you'd just like to share your list with your friends and family, then go for the shared option, and then provide them with a link to the registry. The public option allows anyone to search for and view your registry.
View purchased items
When you, a family member or a friend purchases an item in your registry, that item should move to the purchased section.
Products normally appear within the purchased section within a few hours of purchase.
It's important, however, to note that the person, whether that's you, a friend or a family member, who buys a product needs to do so using the "Add to Cart" button within the Baby Registry.
If you, a friend or family member, order the item through the product detail page instead, then it won't appear as purchased in the registry. So, make sure you select the "Add to Cart" option from within the registry,
And, be sure to let friends and family know that they have to do the same.
Also, unless you unchecked the option when you created your registry, you should also receive gift alerts when items are purchased.
Amazon Baby Registry Perks
Okay, so now you know how the Baby Registry at Amazon works, you're probably wondering why you should consider setting one up.
Well, aside from the fact that Amazon.com is a huge platform, a trusted retailer, and features pretty much every product you could think of, there are tons of other reasons why it's definitely a good place to set up a registry.
Creating a registry at Amazon offers a number of benefits (including freebies!).
Free returns
You'll be glad to know that Amazon offers free 90-day returns on most items.
If there's an item you or someone else purchases from your registry, and it doesn't quite fit your needs, then you can return it for free, after nearly three months of receiving the item.
Get access to a huge variety of products
What's great about Amazon.com is the wealth and the variety of products available.
There really is a reason why it's one of the most popular retailers in the USA.
On there, you can find everything you need for your baby, like bottles, toys, strollers, cribs and much, much more. In fact, Amazon claims that it features millions of products and "Earth's biggest selection".
Many other stores that offer a baby registry service don't really have a complete selection of items.
For example, some stores might offer lots of furniture and bigger items, like changing tables, rocking chairs, strollers and cribs, but they don't offer smaller everyday items, like baby food, wipes, and diapers. But, Amazon offers it all, which is just one of the benefits of setting up a baby registry with the retailer.
Create a universal registry
Amazon might offer a huge selection of products, but if you do happen to find a specific item that you want, which isn't on Amazon, you can still add it to your Baby Registry at Amazon.
As we mentioned above, you can use the Amazon Assistant extension to add products you find at other stores to your Amazon registry.
This means you can create just one, easy to manage registry, which makes things even more convenient.
Get a discount (get 10% off!)
Amazon's completion discount is arguably the biggest benefit of setting up a registry with the retail giant.
This discount is only available to the primary registrant.
When you set up a baby registry at Amazon, you can get a 10% discount on selected items sold by Amazon.com.
Here are the rules for this discount (in place at the time of writing):
This discount is only available for items in the Baby, Beauty, Grocery, Drugstore, Toys, and Maternity Departments.
You can only redeem this offer once, on select remaining items.
Amazon allows you to get 10% off an order up to $5,000, which is pretty impressive. But, there's a maximum discount of $500 in place.
The completion discount starts 60 days before the arrival date for your baby that you entered when you created your registry, and it expires 180 days after this date.
It does not apply to any order that you place with 1-Click.
When your completion discount becomes available, Amazon will let you know. You'll see a message at the top of your registry, around 60 days before your baby's arrival date.
To see which items are eligible for the discount, click on this message. This takes you to the Completion Discount View, where you can not only view eligible items, but you'll also be able to add them to your shopping cart. When you reach the checkout, the discount is automatically applied to eligible items.
You can learn more about the completion discount here.
Conveniently manage your registry
With Amazon Baby Registry, managing your registry is easy.
Not only is the Amazon platform easy to navigate, which means adding and purchasing items from your registry is quick and simple, but you can actually manage your registry on multiple devices.
So, this means that when you're out of the house, you can still manage our registry on your mobile device.
The chance to win prizes
When you create a registry at Amazon, you get the chance to win prizes.
Amazon sometimes runs sweepstakes that you can enter to win money and other prizes for your registry.
For example, at the time of writing, Amazon Baby Registry has a Britax Sweepstakes available.
You can enter this sweepstakes for a chance to win $2,475 for your baby registry.
Free shipping
Another reason to create a registry at Amazon is that it could save you a lot of money in shipping fees.
Shipping fees can be pricey.
And, over time they add up.
If you don't want to spend a good portion of your budget on shipping fees, then set up a registry with Amazon.
For orders over $49, you get free shipping.
More benefits for Prime Members
As a regular Amazon.com account holder, you get access to many benefits when you create a Baby Registry. But, you'll get access to even more benefits, if you're also a Prime member.
Prime is a type of membership that Amazon offers, for a set monthly or annual fee.
As a Prime member, you can get free delivery on all Prime-eligible items (more on free delivery below).
A Prime membership also gets you access to Prime Video. This is Amazon's streaming service. It includes tons of TV shows and movies.
There are many more benefits to being a Prime member, which you can read about here.
If you have a Prime membership, which, at the time of writing, costs $10.99 per month, and you set up a Baby Registry, you'll get more benefits than a regular member.
Here's what Prime members who create an Amazon Baby Registry get:
Free welcome box
Amazon.com will give you a Welcome Box full of freebies, just for creating a baby registry.
This is a great way to get your hands on some free baby products – and who doesn't love free stuff?
Prime members who create a baby registry and have over $10 of purchases from their registry are eligible to get a Welcome Box.
This $10 purchase can be made by you or someone else who you've shared the registry with.
You can learn more about the Amazon Welcome Box here.
Free shipping with no spending minimum!
As we mentioned above, as a Prime member, you get free shipping!
And, there's no spending threshold in place that you need to reach to get free delivery either.
All orders that include Prime-eligible items qualify for free shipping, regardless of whether the order total is $5 or $500.
So, while as a regular Amazon.com account holder you get free shipping on items in your baby registry, you have to spend $49 in order to qualify.
As a Prime member, you always get free two-day shipping on eligible items, regardless of the order total.
Get access to limited-time offers
Aside from holding sweepstakes, Amazon offers Prime members access to additional rotating limited time offers.
For example, at the time of writing, as a Prime member, if you set up a baby registry, you can get a free parenting eBook and $10 off Prime Now.
What's handy is that Amazon delivers these money-saving offers right to your inbox.
So, you'll need to visit your registry settings to make sure that you are opted in to receive emails.
A bigger completion discount
While a regular Amazon account gets you a 10% completion discount, Prime members get a 15% discount.
The completion discount for Prime members works the same as it does for regular members, and the same rules are in place.
So, it's only a one-time discount and it can only be used on selected items, etc. But, you get an extra 5% discount added on top.
Access to Amazon Family
All Prime members get access to Amazon Family.
It's a program that offers tons of discounts and other benefits.
Discount on diapers
Amazon Family gives you a 20% discount on diapers that you order with Subscribe & Save.
Subscribe and Save is a handy feature of Amazon that gives you a discount when you opt to buy a product at regular intervals.
If you subscribe to an item, Amazon will automatically send out the item to you each month, or at any interval you chose.
You'll get free delivery, plus you don't have to remember to buy stuff that you use frequently, so you won't run out of anything!
Subscribe and Save is ideal for items that you buy frequently, like diapers, baby wipes, shampoo and baby food.
Learn more about Amazon's Subscribe and Save.
Free diapers and wipes
With Amazon Family, if you have a baby registry set up, you could get free diapers.
If your registry's total purchase amount reaches $1,000, then you get $100 to redeem on diapers and wipes.
Learn more about this offer here.
Exclusive deals
As a Prime member, you get access to all of the benefits of Amazon Family, including exclusive family-oriented coupons and deals.
You get plenty of coupons for items, like laundry detergent and diapers, which will help you to save money while raising a family.
Closing thoughts
Overall, Amazon Baby Registry is a great registry service, which offers tons of benefits and a plethora of freebies.
Plus, the fact that it offers such a wide variety of items, and allows you to add items from other websites to your registry too, makes it even better.
If you're thinking about setting up a registry soon, then you should definitely consider choosing Amazon.