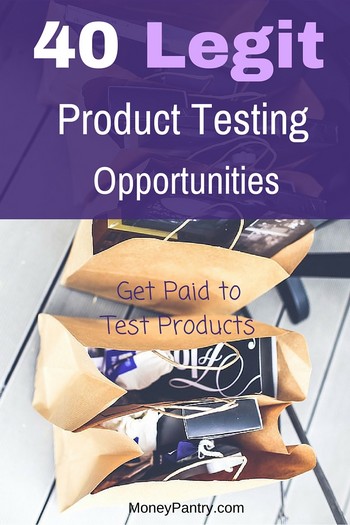 There are many companies that give out free products to test, like Walmart,
Most of us don't know how and where to find these product testing opportunities.
Sure, there are some review and survey sites where you get paid to try products through trial offers.
But we're talking about companies that give away totally free products to try.
Want $5 Free?
Join InboxDollars for free. InboxDollars pays you to watch videos, search, shop, take surveys, and more. They have paid out $57 Million so far!

You don't get paid for testing (although getting free stuff to me is like getting paid,) but you can get almost anything for free.
40 Legit companies that give free samples to try
If you're looking for legit product testing opportunities, these companies are known for giving free samples and products to consumers:
This is a company that sends you all kinds of products to test for free.
The best part is that they will pay you if you are willing to answer a few questions, basically reviewing the product you just used.
Note: It seems like they changed the rules and don't actually pay testers for the follow-up surveys. Thanks to Tonya, Taylor, Rebecca, and other readers who brought this to my attention. I was just reporting based on my personal experience a while back when they indeed used to send follow-up surveys and you'd be paid if you took those surveys.
You can become a member of their Recipe Club® where you get the chance to not only receive free products and samples to test, but you also get coupons and special discounts.
This is an exclusive Advisory Panel for the Good Housekeeping products.
By becoming a member of the Marie Claire Velvet Rope Club you'll have the opportunity to test and share your opinion on everything from the newest 'it' bag to your favorite shade of lipstick.
Members are also given exclusive access to special offers, insider events, sweepstakes, and more.
You can get all kinds of food and snack related products to try out.
Join to get free cleaning products made by Tide.
If you're into fashion, this company will send you beauty and fashion products to test.
You also get the chance to win prizes as well.
If you're a teacher, Mead is for you.
You can join the RedBook panel to give feedback on books, stories, and also test products.
The best responders are rewarded with prizes such as Luxe beauty products.
Need Extra Cash for Free? If you like getting paid for surveys, and are going to join only one site, I would recommend you choose Ipsos-iSay. Ipsos is the most fun and well-paying panel. Give it a try to see how you like it. It is free anyway!

You can actually pick a product from one of their leading brands, they will send it to you.
You can normally try out new samples every two weeks.
Read my review of PINCHme for more details.
As a member, you will get to voice your opinion about their products.
You'll also have the chance to evaluate brand-new products, and even give feedback about InStyle itself!
Join for free to get free samples and products to test.
14. Kraft First Taste
Update: It seems like they have discontinued the First Taste program.
As a Kraft First Taste member, you'll have the opportunity to test new products.
You'll also receive exclusive savings, product news and more.
By joining their community you will have the chance to test new products for free, participate in surveys, and even appear in AllYou magazine or their website AllYou.com
Join and get the latest tips and information for moms and moms to be, along with samples.
This is from the BSM Media where only moms can participate.
Another one for the ladies. They do send lots of samples and products to try.
Join SheSpeaks and participate in polls & giveaways, plus make and share reviews & recipes.
You also get to try free products and give feedback.
They give you samples and free stuff for parties.
MAP is a place where you can share your thoughts about food with General Mills.
You will have the opportunity to not only get totally free stuff, you also influence the look, taste, and experience of General Mills and Small Planet Foods products.
Join Brillo Connection to receive offers, advice, and freebies from their team of household specialists.
If you're a runner, this is for you.
Yes, by joining you get to become a Nike product tester.
Prefer NB over Nike? Here you go!
You get to test a variety of food and beverage products that the company makes.
They actually compensate participants. Compensation for participating in tests conducted at one of their facilities ranges from $30 to $100.
Compensation for tests done in your home typically ranges from $10 to $15.
You can try all kinds of stuff for free.
Share your opinion about anything from relationships to new products.
By joining you are entered into a $100 Gift Card sweepstakes as well.
The maker of all kinds of beauty products, L'Oreal has a Consumer Participation Panel where you get to test products they make, including Hair Care, Cosmetics, Skincare, Suncare, and more.
If you like Snuggle products you will like The Bear Den panel.
Membership is free and gives you access to product testing opportunities, special offers, announcements, and so on.
Roku is looking for both new and established users to participate in their beta test program.
You will be able to test new software features and channels.
You get to test the latest Microsoft products like games and software.
Same as NB testing program, but Reebok actually compensate you with free products once the test is over.
This is a panel specific to games. You get to play new games before anyone else does.
I mentioned this site in my list of Amazon Review Sites. You get to test Amazon products.
You get the stuff for free but you have to leave a review on Amazon for each product you receive.
This is from Johnson & Johnson, the company behind some of the most recognizable health care products.
By joining the panel you'll receive invitations to participate in product tests, focus groups, discussion forums and online surveys. (Thanks to Leann for the heads up.)
This is a panel by the lady who runs HomeSchool.com.
You join the panel and she will email you whenever there are products available for testing. Needless to say, the product will be related to homeschooling.
38. MarketReaderPro
This is a major market research company that has both product testing and paid survey opportunities. They also send out free samples.
---
Note:
The list originally contained more companies, hence the #40 in the title. But a few companies have since shut down their product testing panels, so I removed them.
---
About Product Testing USA (my short review)
A lot of you guys have been asking about Producttestingusa.com and whether or not it's a legit site.
I thought I'd give it a try to find out.
I went to the site and proceeded to sign up. I filled out the first page of the form where they asked for my name and email address.
Then on the second page they started asking for my address and phone number.
I thought that was kind of weird.
Sure, to send you products they need your address, but normally when you sign up for this kind of sites, they let you sign up with an email and password, then you can log in and fill out your profile.
Another thing is that normally they won't ask for your phone number.
I thought "oh well, maybe it's just part of their system." so I continued to the 3rd page.
And that's when I knew this was a mistake.
The 3rd page was full of those "Yes – No" options with a dozen of offers for you to sign up for (freebie sites, coupon sites, etc).
To me, that's a sign that this is not a REAL product testing site.
They just sell your info to other companies and maybe send you a free sample or two. But I don't really know for sure since I stopped there and didn't continue.
At the same time, one of our readers, Tracy, who had commented a while back about the site, joined the site and came back to share her experience. And her experience is basically aligned with my thoughts. See Tracy's comment here.
So based on that, I personally don't think ProductTestingUsa.com is a real legit product testing company. Keep in mind that this is from my very limited interaction with their website and that of Tracy's experience.
If anyone has used the site and is getting actual real products, please let me know and I will reconsider giving it a full try, but until then I suggest you stay away from this site.
Final words
Please feel free to leave a comment below if you know of any other legit company that does offer product testing items for free and I will add it to this list.