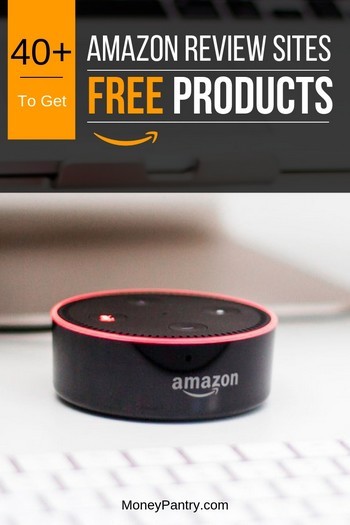 Reviews are everything on Amazon.
Reviews are what sell products!
I have never bought a single product on Amazon that didn't have a review, and I am sure I am not alone. Most people use Amazon reviews as one of their main tools for considering whether to buy a product or not.
So it's easy to see why reviews can make or break an Amazon seller's business. And that is why companies give away their products for free or with deep discounts to shoppers in exchange for their reviews.
I have talked about getting free products from Amazon through the Vine program before.
Want $5 Free?
Join InboxDollars for free. InboxDollars pays you to watch videos, search, shop, take surveys, and more. They have paid out $57 Million so far!

Today we are going to talk about third-party review sites that basically exist for one reason only–to connect Amazon sellers looking to get reviews on their product listings with Amazon shoppers who would like to get free products.
It's almost like getting paid to review products!
Important Update
Unfortunately (or fortunately, depending on what site you are on), things are changing.
Due to Amazon's latest policy change regarding product reviews, many of these sites have been forced to change direction. Some still continue to operate but under different rules, and some are completely halting their program. I will do my best to keep up and update this page. Please let us know in the comments if you do find changes on any of these sites.
How Amazon review sites work
Let's say I am an Amazon seller and I want to get some reviews on my product(s) in order to drive up the sales. Finding buyers individually and contacting them would be time-consuming and tedious. Not to mention, you can't be sure if the people who you send your product to for free will even leave a review.
Now, let's assume am an Amazon shopper and I want to get free products. But I don't know which sellers out of the thousands of sellers on Amazon will give me their product for free in exchange for my review. I could contact them directly, but this would be time-consuming and again, who know who many will actually give me their product.
That's where these Amazon review sites come in.
They create a site where sellers looking for reviews and shoppers looking for free stuff can find each other quickly and easily.
You sign up for the site, then you get notified when there is a new review opportunity, or on some sites, you can login and see available products you can apply for to review.
There are 2 ways in which you can get the product once you get approved to review it:
The seller will ship the product to you directly.
The seller will give you a promotional code that you can use to get the product for free or heavily discounted. In this case, you will actually go through the process of buying the product on Amazon, but when you get to the checkout page you enter the code.
Who pays for shipping?
Please do keep in mind the shipping costs. Some sellers will ship the product to you for free, some will require you to pay for it.
Of course if the product is over $35, you get free shipping from Amazon anyway.
And for Prime members, you get free shipping on anything that is sold/fulfilled by Amazon.
If you don't like the steep $99 a year Prime membership fee, you can always try it for free for 30 days.
Top 5 Amazon review sites
I am going to start with the top 5 sites first.
Why are these the top 5?
Need Extra Cash for Free? If you like getting paid for surveys, and are going to join only one site, I would recommend you choose Ipsos-iSay. Ipsos is the most fun and well-paying panel. Give it a try to see how you like it. It is free anyway!

Not every Amazon review site has the same number of products and review opportunities. Some may have a few per month, some a few per week, and some may have products you can review daily.
So, based on my personal experience, and those of others who I read on forums and blogs, these few sites have the most opportunities when it comes to getting free Amazon products in exchange for reviews.
Update: AMZ is now Vipon. Thanks to MaryKs for the heads up.
The types and variety of products here would blow you mind away!
I like this site a lot because you can request to review as much as 20 items at one go. Granted, it is unlikely you get to review all you asked for; this is surely to be expected.
I would often allow myself 2-3 days if I hit jackpot with my request. When I don't hear from them, I simply replace my earlier requests with a new batch of products.
The products on display at Product Elf is impressive (perhaps only second to AMZ) and they do an amazing job to keep their website updated almost on daily basis (so the freshness is always there – in term of product variation and look and feel of the web page).
But I especially like the fact that items displayed here are not restricted to those that tend to be fashionable or the fad of the days.
I have managed to review and get some of the "not so mainstream" products here. This practice is a departure of other review web sites that so incline to push the usual types of merchandise before you. And they are big on supplements as well.
One downside here is that they tend to mix it up here! Sometimes you find fabulous deals that save you a lot but there are also lots of what I call cheap deals. I mean, 50% off is great but then it is not great saving when you apply them to those that cost little (like 5 bucks) in the first place.
As you are about to get on to the world of reviewers, you probably going to hear a lot about Snagshout. It enjoys a massive followings among the reviewers.
The thing I don't like about Snagshout is their one product policy.
This means that at any one time, there is only one product for you to order, test, and review. You can't do two or more together and you can't start your next review before the Snagshout team verified your review.
On the whole, it is not bad in term of product choice.
This is among my favorites. There are tons of products to choose from and my observation is that this Giveaway Service often features products that are in the range of $60 or even higher (retail value).
Another amazing feature here is that you often come across promotion codes that offer 100% discount. That means the products are offered at no cost.
They send emails almost daily, so there are a lot of products you can review.
But…
in my experience, the majority of the products are small crappy stuff that I wouldn't normally need/buy. But it could be different for you. You may indeed need/use those products.
Other significant players in the market
There are also other, smaller, sites that you can use to get free Amazon products in exchange for your reviews.
Although some of these may not be big at the moment, they are growing, and before you know it, some of them may have way more products that the ones listed above. So do sign up for as many of these sites as you can. They are all free anyway.
6. All Star Reviews Update: no longer exists (Thanks to our reader, Melody, for the update)
Upon registration, you will start to receive offers via email.
After the first signing up, you will be rewarded with a DealCoin, which can be used to exchange for the product of corresponding value. As you embark on your review job, you'll continue to be rewarded with a DealCoin with every completed assignment, i.e. those individual assignments have to be verified by the Amazing Deals Group. And then you go for another review.
From what I see, they are not interested to recruit more reviewers right now.
9. Amazon VIP Deals Update: No longer available
You have to register into their mailing list and wait to hear from them.
This site offers free registration and immediately after you can go to their website and check out what available products you can participate straight away (look for that DEALS button).
They will notify members on what appropriate projects available for review.
This site makes it easier for members by not requiring them to fill a discount code. But when such requirement is mandatory, click on the product of interest and ask for that discount code. There is an "agree" button to click after you are done.
Upon registration, the website will award you with 200 deal tickets that can be useful for immediate redemption or discount codes. Your deal tickets will accumulate after you put in more and more reviews!
The amazing variety of products here means that I can afford to pick and choose on what makes great reviews on my end. The selection process is almost immediate, which is good as it means no waiting. Naturally, the products being featured here are expected to move fast and you need to regularly scrutinize your e-mail so as not to miss out on a nice product.
15. EtekCitizen Update: No longer working (Thanks to Kelly for the update.)
EtekCitizen likes to give away their products free. The only catch is that all products being featured are just from one particular brand: EtekCitizen. Due to this limitation, I would often browse the products first at Amazon, instead of their site. If there is any item from them that catches my attention, I would then go back to EtekCitizen for a review opportunity.
I haven't personally used this one, but I have seen other people talk about it. They have a one page website where you simply submit your email address and when they have products available for review you will get an email.
Again a variety of products to be offered free. State your interest in any one of them and if you got your seller interested, he or she will get in touch via e-mail with the necessary coupon.
Here the site more or less serves as a placeholder for you to indicate your intent to review products. Once an opportunity arise, the website will contact appropriate members for potential review work.
Compared to the earlier one, this Honest Society function more as an online community, where members are encouraged to offer their honest and unbiased opinions. The products featured on the review list can be quite a mixed bag, ranging from electronics to audio, to cosmetics. In return, you get the stuff free or at a 90% discount.
This website has the uncanny resemblance to Amazon Review Club (see above). If it is not from the same owner, it is likely to be to work from the same web developer.
Jungle Launch has an interesting concept where it actually consolidates multiple Amazon sellers in their collective effort to enhance the visibility of their products in the market. This arrangement certainly works well for me as I can be exposed to a great variety of products without going many places to look for them. Again the reward is free products or super fantastic discounts.
This company is highly involved in products research and development. And under their KabelDirekt Premium User program, they often solicit qualified members to provide feedback. And contributing members will be rewarded with free products.
23. No Kidding Coupon Club Update: No longer available
You can accumulate points here to be exchange for coupon codes, which can be as high as 99%.
The required registration is easy. Get to their website and scroll all the way down until you find a place to fill in your e-mail address and click join. Promotion codes will be sent via e-mail and your prize for your review is free OZ Naturals product. Update: This site no longer offer 100% free products in exchange for reviews, instead you get heavily discounted products. You can get (full-size) products for  $1.95. Thanks to Ann for the update.
Here you wait for e-mails to alert you on the latest promotions.
The collection of products here is great and their price range varies a lot, starting from products that worth $0.01, but they don't give away free.
Review Loop is through invitation only.
The site positions itself as a professional review panel. They very likely are interested if you are some kind of publisher, experienced product reviewer, social media influencer, or blogger. You state your interest in the site and their marketing experts will contact you, subject to their screening and scrutiny.
29. Reviews for Free  Update: No longer working
Here is more than free products for review. I also like the fact that this particular website has mixed it up by also offering points in exchange of posting, commenting, and simply being active on the site. The points can subsequently be used for gift cards redemption or to enter contests.
This is new kid on the block. Launched just this year, it promises free registration and a multitude of products choices. If they deem you suitable for any particular review work, they will notify you through e-mail.
One site that seemingly never run out of deals. The website owner manages to strike an exclusive arrangement with just Amazon Sellers so it is particularly focused in that respect. On daily basis, the deals flow through your e-mail at 10am PST.
From what I gather, they are lots of people who were really disappointed with the no response action as they pile in their requests for products reviews.
You may want to apply here for trial free products on your mobile devices.
First sign up, indicate on the products of interest and they will get in touch with e-mail if they deem you appropriate for any review work.
This site pays particular attention on public feedback with regards to new and existing consumer products. The products would be shipped to you at absolutely no cost.
Here the membership requirement is more stringent in the sense that you should have an active buying habit within Amazon.com, and have a credible history of reviews. The main products are often the new products under promotion. And you get to bring them home free for your review.
As the name implies, the focus is on Toilet Tree products. At the point of writing, they claim that their membership number is adequate and not looking out for more. But they use to recruit new members on weekly basis. So just fill out the form and they will get in touch if they see you as a good addition to their pool of members.
This website spreads reviews collected on multiple channels (Amazon, personal blogs, etc). If you are successful with your application, you can claim a free product on exhibition at Amazon site.
The product range is impressive and registration is easy. But unlike some other review sites, this one does not indicate upfront the kind of discounts you are entitled to. It will be mailed to you upon successful request approval.
There is no shortage of deals and price point can start as low as $1, so be sure to take up multiple review jobs if you hope the reward to be any decent.
41. Launchpad Update: No longer working.
The site claims they work with a large growing list of Amazon sellers and that they have over 30,000 product reviewers.
You have to signup for the site (which is free), then you'll be added to their reviewers database. Sellers can access this database to pick reviewers to review their product(s).
Blue Ribbons Review is an Amazon review promotions site that gives people the opportunity to receive products at low to no cost in exchange for an honest review about it.
You have to sign up, create a profile, and submit a request to review any of the products they have on the list.
If you are accepted to review a product, you would receive the merchandise, and as trade you'd submit your commentary with an attached picture or video.
Product Testing Group is a platform where buyers and sellers are brought together to introduce and try out products in return for honest and unbiased feedback.
More than what your average coupon can do, discounted products (some even free or very close) can be seen in automotive, beauty & health, clothing, electronics, household goods, toys, and more.
Signup is free for testers and it's easy to apply.
Promo.LaunchZon is a curated community of high quality reviewers who receive access to premium products.
They partner with leading brands to bring you incredible products at highly discounted prices, from 85-100% off!
One more way to get free/discounted Amazon products: Ask sellers directly
You don't necessarily have to join those review sites in order to get free or discounted products.
You can go direct to sellers.
But…
you can only do so with a credible Amazon Rank (under #200,000).
Inevitably, you would be required to have more than just a handful of reviews before you go pitching the sellers.
Once you have enough of those reviews, you can contact the sellers directly and offer them a review in exchange for a free product. And since you already have a good history and track record of being a top reviewer, seller will gladly give you their product for free.
To contact a seller directly, click on their name (right under the product title on the product listing page) and you will be taken to their official "seller's page" where you can find out how to contact them (normally there is a "contact this seller" button.
Tips: Doing Amazon product reviews successfully
Here are a few tips to help you get the most out of your experience.
– Sign up for as many review sites as you can
If you want to increase your chance of getting more free stuff, then sign up with as many of these sites as you can.
They are all free to join, so you really have nothing to lose but a few minutes of your time.
– Get a dedicated email address
If you do decide to sign up for more than just one or two sites, then I'd suggest you register a new email address just Amazon review sites. That way you can keep everything in one place and make it easier and faster for you to check for new opportunities, instead of having to weed through tons of other personal emails to find emails from review sites.
-Write detailed reviews
If you look at reviews on Amazon, you'll notice usually the ones on the top (that say something like "X number of people found this review helpful") are the ones that are detailed and long.
Sellers also like detailed reviews, so you are likely to get more products if your reviews are detailed and long.
-Be honest
Sure, every seller wants to get positive feedback, but selling your soul for the sake of a few free products isn't the right way to go.
Give the product a try, then give it your honest opinion.
Although this may seem contradictory to what you are doing here, and you may think you will end up with less products, in the long run it actually work out better.
Why?
Because when shoppers read your reviews, they will up vote it if they feel like you're being honest and detailed.
And once you have enough top reviews under your belt, that's when you hit the jackpot. That is when product owners will actually directly contact you and give you free stuff in exchange for your review.
Plus, it will be easier for you to get into the Vine program.
-Become a Prime Member if you can
Notice that Prime is not a pre-requisite.
However, this could be a nice and necessary option if you figure your review work is for long haul (imagine all the shipping fees that got saved).
The other reason for Prime membership is that the bulk of review work entitles you to free Prime shipping.
Think about it, it is going to be $4-$10 on shipment every time you review an item without Prime.
If you are not sure, I say go ahead and sign up. Since Amazon offers Free 30-day Prime trial, you can always cancel it if you think this does not work for you.
Just do it inside the 30 days or the billing cycle will kick in (again the full annual charge is $99).
Bottom line
Use the product and give it your honest review.
Don't give 5 stars so you can make the seller happy and hope you get more free stuff.
That's just not right!
Save