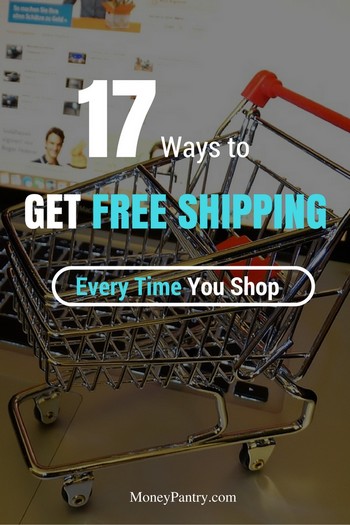 According to research, 70% of Americans shop online.
Shopping online is great. It's convenient, it saves you time, many times it's cheaper and you can often find things online that you wouldn't in-store.
But, the big caveat with online shopping is the cost of shipping.
I'm an Amazon junky, and before Prime, I had to pay a lot for shipping costs. But not everybody has Prime membership and Amazon isn't the only place we shop online.
Whether you shop on eBay, Target, Walmart, Forever 21, IKEA, or any other online store, shipping costs can add up – especially if you shop online often, and can put a big dent in your budget.
So, what can you do?
Need Easy Extra $300+/Month for Free?
KashKick
: Get paid directly into your PayPal for watching videos, surfing, shopping and more.
Join KashKick Now!
InboxDollars
: Paid over $57 Million to members to watch videos, take surveys, shop and more.
Get $5 instantly!
Branded Surveys
: Get $1 instantly just for joining for free. Plus get paid within 48 hours by PayPal!
Join Branded Surveys
First Opinion
: Get paid up to $10 per survey and $300 per virtual focus groups!
Join Now!
Swagbucks
: Get paid to watch videos, shop online, take surveys and more.
Join now & get $10 instantly!
Well, there are a lot of stores with free shipping and there are also a few hacks you can use to avoid paying shipping cost.
We've compiled a list of simple ways to get free shipping.
So if you're wondering how to get free shipping, check out the tips below.
1. Look for a Chat Box
Nowadays, a lot of stores online offer live customer service through a chat box. This box is usually located in the bottom corner of the page.
You've probably noticed it on a lot of the sites that you've visited.
But, did you know that this little box can help you to get shipped costs waived?
It's true.
Start the chat with the customer support member – then simply ask them if there's a way for you to getting free shipping on your purchase.
Often, they give you a code to use.
This doesn't always work, but you'd be surprised how often it does.
A lot of brands simply want to close their sales – even if that means offering a discount.
2. Meet the Minimum Threshold for Free Shipping
Stores that offer entirely free shipping as a standard, without you having to be in some sort of loyalty program are rare.
But, there are tons of sites out there that give you free shipping if you meet a minimum spending threshold.
So, if you need to buy a few items anyway, then purchase them all at the same store so you meet the free-shipping threshold.
While you might find the idea of needing to buy more to spend less on shipping a bit counterintuitive – it's actually a good idea in some cases.
For example, let's say the cost of shipping is $5.99. And, to be eligible for free shipping, you need to spend $25, but you've only spent $23 – so, you add a $2 pair of socks to the order. You get shipping for free, and the cost of the socks was less than the cost of shipping – so you've saved $3.99.
A lot of stores, nowadays, offer free shipping after you spend a certain amount – so a quick Google search will come up with plenty.
Big Stores That Offer Free Shipping after Spending X$
Here are a few stores that provide this deal to get you started:
Target: If you spend more than $25 at Target, then you get free standard shipping. This applies to all orders. Target sells a really diverse selection of products, so it's pretty easy to meet the minimum spending limit.
DSW Shoes: At DSW Shoes you get free shipping on all orders that are more than $35. And, as most of the store's shoes cost more than that anyway, it's super easy to meet the free-shipping threshold. Exchanges and returns are also free too!
Home Depot: Home Depot provides free shipping to your home on orders that are more than $45.
Hallmark: Hallmark is another store where you can take advantage of free shipping. All you need to do is spend $50 or more and you'll qualify for free delivery.
Amazon: Amazon offers free shipping when you spend more than $49. But, the order must include eligible items. So, make sure that you only add items to your basket that are eligible.
If you're not sure what to add to your order to qualify for free shipping or you can't find eligible items, don't worry. You can use a tool to find the items for you.
There are a few tools out there that look for products on Amazon that get you to the free-shipping threshold.
One of the best is FillerItem.com.
Here's how it works:
Enter the amount that you need to spend to qualify for free shipping – this is how close you are to Amazon's $49 free-shipping cutoff.
Hit enter and it comes up with a list of products in the price range that you need to spend that qualify for free shipping.
This tool saves you a lot of time searching through products to get you to the free shipping threshold.
There are a couple of other websites that offer a similar service, including:
3. Pick up the Item in Store Instead
Did you know that you can often get free shipping if you skip the home delivery option and you pick it up in store instead?
Many companies allow you to have your order delivered to a local store for free.
Retailers offer this deal, as they don't have to pay a shipping company to send the order to your home. Instead, these retailers can just use their usual shipping capabilities to bring the item to one of their stores.
There are several stores that do this, including:
Amazon now also offers a similar service – but, instead of delivering your items to a store, they're delivered to an Amazon Locker.
You choose a locker in your area, Amazon delivers the item there and you pick it up. If you get your item delivered to an Amazon Locker you can get free delivery – but this is not the case with all items.
You might think that having to visit a store in person defeats the purpose of shopping online – but, many times, items that are available online aren't available in your local store.
And, often, there are exclusive online sales and offers that you can use that you wouldn't otherwise get if you shopped in-store.
So, it's often worth having your items shipped to a local store instead.
If you find yourself ordering stuff from Amazon every month, or even every week, then you should definitely become an Amazon Prime Member.
You get access to things like unlimited:
Streaming of movies and TV shows through Prime Video.
Access to over a million songs through Prime music.
Secure photo storage with Prime Photos.
But, best of all, you also get access to a number of free shipping options:
Two-day shipping on eligible items to addresses in the U.S.
Same-day delivery in eligible zip codes.
Two-hour delivery or scheduled delivery on more than 10,000 items with Prime Now. Plus free delivery from local stores. (Available in eligible zip codes only)
One-hour delivery from restaurants with Prime now in eligible zip codes
You don't have to meet a minimum spending threshold to get this free shipping either.
And, as a Prime member, delivery is free on most items – just look for the Prime logo with a tick next to it. This means the item is eligible for free delivery.
Amazon Prime costs $99 per year or $10.99 per month.
Now, you might think that it's not exactly free shipping when you have to pay to be a Prime member.
But, if you shop on the platform frequently, then you'll save way more than the monthly cost of the membership.
For example, the average seller's shipping cost for items in many categories, like Electronics, Kitchen and Housewares, and Toy & Baby is $4.49.
So, even if you only order three items per month, you save the amount in shipping charges that you spend on your monthly membership and you've saved an additional $2.48.
Amazon offers a free 30 day trial of Prime. So, you can try it for free to see how much you save on shipping.
Another service that works in a similar way to Amazon Prime is ShopRunner.
As a ShopRunner member, you get unlimited free two-day shipping and returns across hundreds of stores and thousands of brands.
If you don't do much of your online shopping at Amazon, then ShopRunner is a great alternative – as it offers free shipping for a wide variety of different stores.
Here are just a few examples:
Niemen Marcus
Staples
Ralph Lauren
And, the website is always adding new retailers.
Here's How it Works:
You check the website for participating stores – this is easy as they are listed on the homepage.
You shop at a participating store and select ShopRunner eligible items.
Finally, choose the ShopRunner option at checkout and get free 2-day shipping.
If you don't like the item you ordered, then you can also return it for free with ShopRunner.
Items that you find through ShopRunner.com and in the mobile app are usually always eligible. But, if you're shopping at one of its participating stores, then just look for items that have the ShopRunner logo on the product page.
Also, keep in mind that with some stores you will need to meet a minimum purchase amount in order to qualify for ShopRunner benefits.
Like Amazon Prime, ShopRunner offers a free 30-day trial – so you can give the site a try and see if it's a good fit for you.
With FreeShipping.com you get access to coupons and free shipping at more than 1000 retailers – you also get other benefits, like price protection and extended warranty services.
The free shipping on offer from FreeShipping.com differs from other similar services like Amazon Prime and ShopRunner.
With this site, you get a free shipping rebate – rather than flat out free shipping.
Here's how it works:
Visit the site's homepage and find the retailer you want to shop with. You can enter the name of your desired retailer into the search bar. Or you can visit one of the site's sections, like "Most Popular brands" and select a retailer there.
You can also click on "See all Retailers" to see a complete list of participating stores.
Once you've chosen a store, click on the "Visit Store" button on the retailer's page.
Purchase your items as you normally would – but make sure you're using the same window that opened when you clicked the "Visit Store" button.
Then, click on the "Rebates" button to see the site's Rebate Center – and complete and submit an online shipping rebate form.
Send the site documentation, as proof of purchase – this can include receipts, packing slips or an order confirmation.
Then, you can claim a rebate of up to $10 on shipping charges.
With the site, you also get other benefits, like cash-back on your shopping and coupons.
It costs $12.97 to become a member of FreeShipping.com. But, you can get a free trial of the site.
There are a few important things to keep in mind if you're considering becoming a member of FreeShipping.com.
Firstly, always make sure that you make your purchase through the same browser window that opens when you click the "Visit Store" button – otherwise, you won't be eligible for a shipping rebate.
Secondly, you can only claim up to $500 in shipping rebates each membership year – so make sure you do the math to see if the membership is worth it.
Another service that offers free shipping is FreeShipping.org.
This website provides thousands of free shipping codes and coupons. All you need to do is visit the homepage, and you'll see tons of coupons and discount codes –  some of them for free shipping.
The site also has a "Stores with Free Shipping" section. In this section, you can search through the site's alphabetical listing of stores.
Then, when you find your desired retailer you can see what shipping discounts are currently on offer with that store.
You can also sign up to get email alerts when a brand has new coupons.
Overall, it's an easy to use site. And, while you might not always find a coupon for the store you're shopping at, it's always worth taking a look anyway.
Another site that is similar to FreeShipping.org is FreeShippingDay.com. This website also offers coupons for free shipping.
On the site, you can search through hundreds of online retailers, and find coupons for free shipping.
Some of the stores you can find coupons for include:
Amazon
Best Buy
com
Bloomingdale's
Kmart
Target
Clinique
And, there are hundreds more. Conveniently, the site lists the retailers it has coupons for on the homepage. So, take a quick scroll through and see if there's a retailer that interests you.
Tip: If you're looking for a specific merchant, use the Find feature on your browser – press CTRL+F and the find window will appear. Then, enter the name of the retailer you want to purchase from, and hit enter. If the retailer is on the site, the Find feature will highlight it.
9. Look for Stores with Free Shipping
Not many stores, nowadays, offer completely free shipping.
Most stores nowadays require you to hit a minimum spending threshold in order to qualify for free delivery.
But, while they are rare, there are a few merchants out there that will give you free shipping, without you having to meet a spending minimum.
Here are a few of them:
10. Check out Generic Coupon Sites
Sites like FreeShipping.org and FreeShippingDay.com specialize in free shipping coupons. But it's always worth checking out more generalist coupon sites – as often, you can find some pretty good coupons for discount shipping.
While you can't always rely on these sites for coupons, it's always worth taking a look at these sites – you just might happen to find a coupon for the store you're shopping at.
Here are some popular coupon sites:
There are dozens of websites online that offer coupons – so check out this post and this post for more coupon resources.
11. Subscribe and Save
If you find yourself buying the same items over and over again, like shampoo or coffee for example, then consider buying those items from a site that offers a subscribe and save program.
Two big retailers that offer these programs are Amazon and Target.
Amazon
With Amazon's Subscribe and Save program you save money on recurring expenses.
Here's how it works:
Visit Amazon, login to your Amazon account and find a product that you purchase regularly. Then, on the product page, click on the "Subscribe" button.
After this, Amazon automatically sends you the product each month.
You get a discount of up to 15% on the item, as well as free shipping.
As you can see, that's a pretty great deal. Not only do you get items shipped to you for free, but, thanks to the discount, you also don't have to pay as much for those items.
And, they're sent to you automatically each month, so you don't have to worry about running out of anything.
Target
Target also offers a similar program – called Target Subscriptions.
Here's how it Works:
Visit the target website, and sign into your account.
Find the item you want to purchase – note that not all items are subscription eligible.
Then, select the "subscribe to save" option.
Choose your delivery frequency, add the subscription to your card and then proceed to checkout
With this program, you get 5% off of all orders, as well as free shipping.
You get an email prior to each delivery – this confirms the cost of the order. And, it gives you the option to skip the delivery.
So, again, it's a great way to save money at Target and on recurring purchases and get free shipping in the process.
Subscribe and save programs can save you a lot of money over a long period if you already buy these items each month anyway.
Walmart offers its customers discount shipping through the Shipping Pass Program.
With this program you get:
Free two-day shipping on eligible items – there's no minimum spending requirement either.
Free online and in-store returns.
You can try out Shipping Pass for free for 30 days too – so you can test it out and see if it's worth it for you or not.
After the free trial, you pay a yearly membership fee of $49.
13. Follow Brands on Social Media
Social media isn't just a place to socialize with friends and family or keep up to date with the content your favorite sites are posting.
It's also a great money saving tool.
Brands often post exclusive deals, discounts and coupons to their social media profiles.
Here are just a few brands that offer discounts through their social media accounts:
So, make a list of your favorite brands and then check out their profiles on Twitter, Facebook and other social media platforms. There won't always be free shipping offers and coupons on there, but it's always worth taking a look.
14. Join a Store Loyalty Program
One of the best ways to get free shipping is through a good old fashioned loyalty program. Many retailers offer these programs to reward their customers and keep shoppers loyal to their brand.
There are dozens of other retailers out there that offer loyalty programs – so think about your favorite brands and check if they offer one.
Here are a few loyalty programs that can net you free shipping.
Bloomingdale's: Bloomingdale's runs a program called the Loyallist rewards program As a member of this program, you get free shipping on all online orders.
And, you also accrue points for every purchase that you make. When you get to 5,000 points, you get a $25 reward card.
Neiman Marcus: With the Neiman Marcus Neiman InCircle loyalty program, you get free two-day shipping on all online orders.
And, like with Bloomingdale's loyalty program, you also earn points for the purchases that you make at Neiman Marcus.
The brand's loyalty program has member levels – referred to as circles. As a new member, you are in Circle One. Then, the more you purchase the more points you earn and you move up to Circle Two when you hit a certain spending threshold.
Free shipping is only available to members in Circle Two – check out this page for more info on membership levels.
Best Buy: Best Buy offers a rewards program called My Best Buy. As a member of this program, you get free shipping on purchases of $35 or more.
You get access to exclusive deals and earn points on your purchases as well.
This loyalty program also has membership levels. When you spend more than $1500 at the store in a year – you become an elite member. And, as an elite member, you get free two-day shipping on all purchases – no minimum spending required.
Dell: Dell offers a rewards program called Dell Advantage Rewards.
As a member, you get access to free second business day shipping on all orders.
Like with most loyalty programs, you also get access to other rewards, like exclusive deals and promotional codes.
15. Consider a Store Credit Card
A lot of merchants nowadays offer their own store credit cards.
Often, these cards can be used anywhere, but you get the most benefits when you use it to make purchases at the retailer's own store.
Gap Visa Card: The Gap Credit Card is a Visa card that you can earn rewards with at Gap and with other retailers.
And, if you earn 5,000 points in a year – that equals about $1,000 – you'll be upgraded to Gap Silver status. With a Gap Silver account, you get free shipping on eligible purchases. Learn more about this card here.
When you sign up and make your first purchase with this card, you get 15% off. Then, for every $1 you spend at Gap you get 5 points and 1 point per dollar for anything you spend elsewhere.
Target: Another retailer that offers a store card is Target. With the Target RedCard, which is available as a debit card or a credit card, gives you free shipping on all purchases.
It also provides you with a number of other benefits – like 5% cash-back on all purchases.
Remember, if you are going to use a store card, pay it off in full each month. Otherwise, you end up paying a lot of interest and that really defeats the purpose of getting free shipping and cash back in the first place.
Another trick is to install a browser extension, such as PriceBlink to automatically discover site-specific coupon codes, such as free shipping, when you land on any retailer site.
It saves you the time of having to search for coupons and discount codes yourself.
Bonus
17. Get Free Shipping for Holiday Shopping
No one wants to pay shipping fees for all that stuff you buy for the holidays. But you have to, right?
Not if you shop on December 16th!
Why December 16th?
Well, December 16th is the annual Free Shipping Day. And a lot of big and small online retailers participate in it.
On that day, no matter what you buy and how much you spend, you can get free shipping from participating stores. So keep an eye out as we get closer to that day so you can find out the participating retailers.
To see a list of participating stores (which gets updated constantly) check out FreeShippingDay.com.
Note: Free shipping day changes each year. It doesn't always fall on December 16th. But for 2016, it is on December 16th.
Final Word…
While there aren't as many retailers out there that offer completely free shipping nowadays, there are still tons of different ways that you can avoid shipping costs.
As long as you're willing to put in a little effort, there are many methods that you can use to ensure you rarely if ever, have to pay for shipping again.
Save