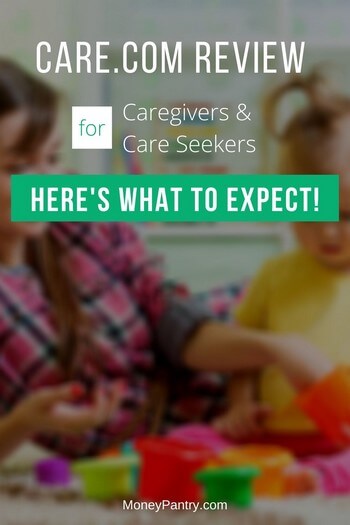 I wanted to do a Care.com review for a while since it has become one of the most popular platforms to find baby sitting jobs as well pet sitting, and caregiving.
If you've ever looked into hiring a babysitter, caregiver, or pet-sitter, you may have heard about Care.com.
It's an incredibly popular website for people looking for caregivers.
You also may have heard about the site if you've ever wanted to work as a caregiver.
Lots of people use the site to find work.
In today's post, I'm going to cover how Care.com works, what care seekers and caregivers can expect from it and whether or not the site is worth your time.
Need Easy Extra $300+/Month for Free?
KashKick
: Get paid directly into your PayPal for watching videos, surfing, shopping and more.
Join KashKick Now!
InboxDollars
: Paid over $57 Million to members to watch videos, take surveys, shop and more.
Get $5 instantly!
Branded Surveys
: Get $1 instantly just for joining for free. Plus get paid within 48 hours by PayPal!
Join Branded Surveys
First Opinion
: Get paid up to $10 per survey and $300 per virtual focus groups!
Join Now!
Swagbucks
: Get paid to watch videos, shop online, take surveys and more.
Join now & get $10 instantly!
What is Care.com?
Care.com is a website that connects caregivers with families who are seeking their services.
The company was launched in 2007 in North Waltham, Massachusetts, meaning it's pretty well-established.
The site has more than 32 million members across 20 countries. Care.com gets 6.4 million unique visitors each month, with a new job posted on there every 30 seconds. So it's pretty popular.
Caregivers can post their services on the site and get in touch with families they think they could help. Families can post their caregiving needs on the site, whether they're looking to hire someone on an ongoing basis or just for a single date night. They can contact caregivers nearby who they believe would be a good fit.
It's an interesting concept that makes finding a care a whole lot easier for families and opens up more work opportunities for caregivers.
For care seekers: Types of help you can hire
While Care.com might be more associated with babysitters than anything else, you can actually hire lots of different caregivers and help, like:
Nannies
Senior care specialists
Pet-sitters
Housekeepers
Tutors
You can even find people to help you to run errands. So the site really is useful for finding caregivers in lots of different categories.
For caregivers: Types of work available
Many caregivers use Care.com to find work. It opens up lots of opportunities and you can few tons of job postings on the site.
Here are the types of work caregivers can find:
How much does Care.com pay?
If you are considering working with Care.com to make money taking care of your own family members, you might be wondering how much you can actually make.
Obliviously, the exact pay depends on the job and the need of the client. But to give you an idea, here are the average salaries based on some of the more popular positions:
Childcare Provider: $16.15 per hour
Babysitter/Nanny: $13.84 per hour
Housekeeper: $15.58 per hour
Tutor: $13.67 per hour
Caregiver: $13.97 per hour
And according to Indeed.com, the average Care.com hourly pay ranges from around $12.65 per hour for Personal Assistant to $18.00 per hour for Household Manager.
Other Features
There are a few more features that Care.com offers. These are useful for both caregivers and care seekers alike.
Rate calculators
If you're just starting out as a caregiver, it can be though to know what to charge for your services. Just as it can be tough to know how much to pay someone for their services if you're looking to hire a caregiver.
Handily enough, the company provides you with useful rate calculators. You can use these to calculate an appropriate rate based on factors like services, experience, zip code, and hours per week.
The site offers a rate calculator for each job type as well, which is so useful.
Here are the rate calculators:
Informative blog posts
Care.com has a huge range of articles and guides that cover a variety of care topics.
The site's resources are broken down into four categories:
Child Care
Senior Care
Home Care
Pet Care
You can view all of the site's guides and articles here.
This can be really useful for both caregivers and care seekers.
Care.com Memberships
The site has a few different membership types. You can sign up to the site for free, but it's pretty limited in terms of what you can do.
Here are the Care.com membership types:
Family Basic Membership
Families looking to hire help can choose the basic membership option. This is free.
Family Premium Membership
You can get access to more features with a Premium Membership. You can pay for it for one month, three months, or twelve months. The cost of each works out differently:
$39 for one month.
$57 for three months, which works out at $19 a month.
$132 for twelve months, which works out at $11 a month.
Background Checks
You can pay to run background checks on people who you hire. Depending on how in-depth of a background check you want to run, it can cost as much as $300.
Caregiver premium membership
This membership type is for caregivers. A caregiver premium membership costs $20 a month. You can also choose to pay for extra services, like providing a background check or paying to appear at the top of people's lists.
Like I said above, the free membership is very basic. While basic memberships include job posting, searching and getting applications from local caregivers, if you actually want to get in touch with candidates or employers who reach out to you, you need to pay for the site's premium membership.
The site auto-renews your membership without notifying you.
How Does Care.com Work?
So now you know what Care.com is and how much it costs, you're probably wondering, how does it work?
Below, I'll cover how it works for caregivers and care seekers. So just go to the section that's appropriate for you.
For care seekers
You can use Care.com to find caregivers near you, as I mentioned above.
Here's how:
Visit Care.com.
On the homepage, under where it says, "I need a caregiver," click on "Find Care."
Then you'll be asked who is going to need care and you can choose from "My Kids," "My Parents," "My Pets," or "My Home."
Once you've chosen the right option for you, you'll need to filter results by things like whether you want a babysitter to be college educated, for example. Or whether you want a candidate to be CPR trained or how many years of experience you want your caregiver to have.
You'll also be asked about whether you are looking to hire ASAP, within a week, within a month, or if you're just browsing.
Once you've made all your selections, the site will ask you to enter your name, zip code and email to create your account.
When your account is created, you can start browsing caregivers in your area. Like I said above, if you just have the basic membership, you may find that candidates get in touch with you, but you can't contact them back. So you'll need to pay for a premium membership if you actually want to get in touch with potential caregivers.
For caregivers
Okay, whether you're looking for babysitting work or tutoring jobs, Care.com can be useful for you.
With the site, you can search for caregiving jobs in multiple categories, from pet-sitting to babysitting, as I mentioned above.
So if you're a caregiver, here's how you can find work on Care.com:
Visit Care.com.
On the homepage, under where it says, "I want a care job," click on "Find Jobs."
You'll then be asked what kind of services you offer. So you can choose from things like, "Babysitter or Nanny," "Senior Care & Nursing," "Tutor & Private Lessons," and "Housekeeping."
At this stage, you'll only be able to choose one option. But don't worry if you want to offer more than one type of service. You can add more services once you create your larger profile.
Once you've selected an option, you'll be asked whether you're an individual or small business.
Next, you'll need to enter your name, address and email address to create your account.
There are no requirements to join the site. But you'll need to make sure you're qualified for the position you're interested in. The site will ask you to state your experience and references for the position.
You will also be asked to provide any proof of certification, background checks, and any related documents. The customer care team will approve your paperwork to make sure you're uploading legitimate documents.
Now you'll be able to set your rates, choose your availability and browse jobs near you.
Make sure you include a recent photo of yourself and any references you have to help you to land work on the site.
Customer service
If you need assistance on the site, you can get in touch with the customer service team. You can contact Care.com by phone at 1 (877) 277-3115.
The customer service team is available from Monday to Friday from 8 am to 6 pm EST.
Is Care.com Safe?
There have been concerns raised over the safety of Care.com, both for caregivers and care seekers.
In March 2019, the WSJ published a report of Care.com, citing that the website says families are responsible for ensuring background checks are performed, with sometimes tragic outcomes, like theft and assault.
You can read the report from the WSJ here.
Of course this is somewhat of a worry.
In May, 2019 the WSJ reported that the site had plans to up their vetting process.
Now, the website has something called a CareCheck. Caregivers who complete this background check will have a CareCheck badge on their profile, which displays the date the CareCheck was run.
However, the site still recommends that families carry out their own background checks.
Care.com has a useful article on background checks, which you can read here.
While there are some safety concerns. The site does try to provide useful information on safety in its Safety Center. These articles can help you to ensure that you choose the best candidate and they offer guides on how to stay safe during the interviewing process.
Care.com Reviews & Ratings
Okay, so now you know how the site works, you're probably wondering what Care.com's users have to say about the site.
After all, the best way to know if a site is legit or not is to read about other people's experiences with it.
In this section, I'll cover Care.com's ratings and reviews on:
Trustpilot
Sitejabber
Better Business Bureau
Trustpilot reviews
Okay, let's start out with Trustpilot. You only need to have a quick glance at the company's page on there to see customers are not happy with the comapny.
The site has an abysmal 1.2 stars, which is a rating of "Bad."
So that's not a good start. Delve into the reviews a little and you'll see lots of complaints.
The most common complaint I saw about Care.com was that it keeps charging people for their membership, even after the person cancels it.
One user says:
"I canceled my membership and they continued to bill me. I canceled the credit card and they jumped on my new one! Despicable. Untrustworthy"
There are many reviews like this, and one customer even said that they had to block and change their card to stop the site charging them.
Another user claims they were charged even without signing up for a paid membership:
"Charged for Premium without my knowledge. If you sign up for the basic membership and give them your credit card, they will automatically upgrade you to a $27/mo. Premium Membership without notifying you and start charging your card in perpetuity. When I called them to stop this and asked for a refund. They said they were refunding my credit card (never happened) and downgrading my membership to the free basic (never happened). Don't use this site."
Overall, it's not good.
You can read Care.com reviews on Trustpilot here.
Reviews on Sitejabber
Next up is Sitejabber, and on there it's a pretty similar story to what you find on Trustpilot.
Care.com has a whole 1.2 stars.
Again, people complain that they are being charged, even after they cancel their membership.
Also, there were quite a few caregivers who complained that their accounts were closed for no reason.
One user says:
"I started an account recently, went through the process, got verified, applied for jobs, and then all of a sudden a get an email that my account was closed, with no reason given (just a list of possible reasons, none of which apply to me) and no recourse available. After researching on Consumerist.com, I found a lady who was kicked off while interviewing nannies. Apparently, ANYONE can file a complaint and Care does not research, they just kick you off. I hadn't even had an interview yet! Really disgusted at this."
So again, it's not good!
You can read reviews of Care.com on Sitejabber here.
Care.com Better Business Bureau Profile
When you view the company's profile on the BBB, it's a little contradictory.
The customer reviews are bad, just like they are on Trustpilot and Sitejabber.
Care.com again has a 1-star rating on the BBB.
Again, there were complaints and reviews saying that the site charged people even when they'd canceled their membership.
One user even said that they had safety concerns about a caregiver they hired through Care.com:
"PARENTS BEWARE: Care.com is where the criminals go. TWICE serious felons were unknowingly allowed into OUR HOME as caregivers. Do your own background checks, and please consider one of the many alternatives."
Sadly, I did see similar stories in other reviews of caregivers who turned out to be criminals or who behaved unprofessionally.
Despite the 250 negative reviews and complaints on the BBB, Care.com has an A+ rating from the BBB. I find this pretty perplexing (especially considering that there aren't that many work at home sites with A+ BBB rating) and can't actually see why Care.com would warrant this rating given the huge number of negative reviews there are of the site.
You can view Care.com's BBB profile here.
Care.com Pros and Cons
Okay, so now you know how the site works and what its customers have to say, let's take a look at a few pros and cons that can help you to decide whether or not to use the site:
Pros
Here are the pros of this company.
It's super easy to use
The site is incredibly easy to navigate. When you sign up, choosing options is quick and easy.
You get access to a database of professionals
If you're looking for caregivers, Care.com allows you to search them all in one place. It's a huge marketplace for care, with millions of users.
There are tons of caregiver jobs on there
Whether you're looking for work as a pet-sitter or a tutor, it can be a good resource for finding work.
There are tons of resources available
If you're new to caregiving and have questions, the site's resource center is incredibly valuable.
Cons
Now, let's take a look at the cons.
You have to pay to get in touch with people
The site says you can create a free account, but that's about as far as it goes.
You can't actually chat with candidates or employers who reach out to you, without paying for a membership.
So if you're not going to get consistent work from the site or you only need a babysitter occasionally, the cost of membership may not be worth it.
The site is not clear on pricing
The company doesn't really have any details on its site on exactly how much its memberships cost.
In fact, you can't view the cost of memberships, without creating an account on Care.com.
Most sites that charge a subscription fee like Netflix or Spotify have a side by side comparison of their membership types and how much they cost. I couldn't find this for Care.com. This lack of transparency is not ideal for people who're trying to decide whether or not to use the site.
There are some less than ideal caregivers on there
While Care.com is home to legitimate caregivers, there are some less than ideal candidates on there. As I mentioned above, people have hired caregivers only to realize they have a criminal record.
It's very badly reviewed
When you look at the Care.com reviews online, it's really not good. The reviews are so bad about the company that it's concerning.
Care.com Alternatives
With all the bad reviews of Care.com out there, you may be wondering if there are any other sites like Care.com.
Although Care.com is a popular caregiver marketplace, it's certainly not the only site of its kind out there.
Here are some alternatives to consider.
With Bambino Sitters, you can find babysitters and babysitting work in your neighborhood.
If you're looking for a babysitter, then you can see who your friends recommend or who the neighborhood loves. Then you can select the sitter you want and pay them directly through the app.
If you're a babysitter, you can connect with parents near you – all you need is one recommendation to get started. Then, you'll be instantly visible to families in your neighborhood.
You can get availability requests directly from families who have job opportunities.
Here's where you can get the app:
GreatAuPair.com is another site to consider. It has helped connect 2.5 million au pairs with host families. It's been around since 2001, so it's pretty well-established.
What's great about the site is that it screens all potential au pairs, so you don't have to worry about conducting a background check or that the caregiver you hire isn't legit.
With UrbanSitter, you get access to a network of background-checked sitters and nannies nearby.
If you're looking for work, you can find everything from date night babysitting jobs to vacation babysitting work. The best part is that the site doesn't charge you for signing up, sending messages, or booking a caregiver. So it's cheaper than Care.com as well.
Here's where you can get the app:
Also, there are lots of resources online for hiring caregivers.
The AARP has a useful post on how to hire a caregiver, so have a read of that here.
Childcare.gov has a guide to ensuring safe and healthy child care, which you can read here.
Is Care.com for You?
Hopefully, this Care.com review has helped you to decide whether or not to use the site.
I think Care.com, despite being a popular site, just has too many bad reviews.
Sure you expect it to have some bad reviews. That's a given with any product or service since you can't please everyone.
However, Care.com is negatively reviewed across multiple platforms, with the same complaints appearing of being charged despite canceling the membership and dubious caregivers featured on the site.
So it really does seem like the company has many issues, which I think makes it a site to miss if you're looking to hire a caregiver.
I would suggest one of the above alternatives instead.
Have you ever used Care.com? Let us know about your experience with the website in the comments section below.