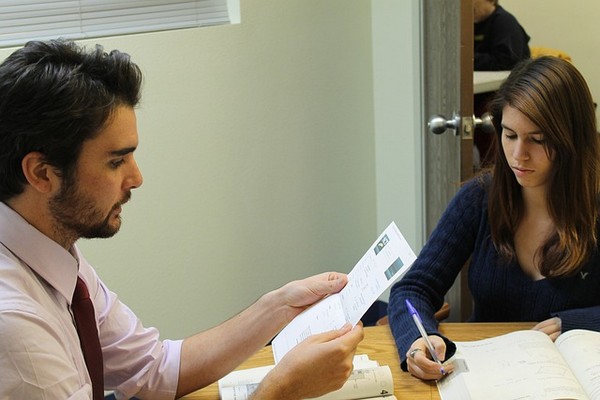 If you have the desire and the knowledge and expertise to teach, you could actually make good money as a tutor.
Whether your subject is Math, Science, Art, Foreign Languages or whatever else, there are tons of options for you to earn extra money.
A tutoring business could be the perfect work from home job you've been always looking for.
You get to help students with their learning, while setting your own hours and rates, giving you the freedom to do what you enjoy and be your own boss.
And best of all, this is one of those jobs that don't require a degree (in some cases).
You may be wondering how to go about setting yourself up as a tutor. You could use the traditional methods of advertising, or go online, or better still, do both.
Need Easy Extra $300+/Month for Free?
Panda Research
: Join Panda Research and make more money for doing surveys and offers.
Earn up to $50 per survey!
InboxDollars
: Paid over $57 Million to members to watch videos, take surveys, shop and more.
Get $5 instantly!
Daily Goodie Box
: Want free stuff? DGB will send you a box of free goodies (Free Shipping - No Credit Card).
Get your box now!
RewardFish
: Earn FREE gift cards for things you already do, shop, quizzes, surveys, etc.
Join RewardFish
First Opinion
: Wanna get paid for every single survey with cash or direct deposit? This is for you!
Learn More!
Swagbucks
: Get paid to watch videos, shop online, take surveys and more.
Join now & get $5 instantly!
Here are a few steps to get you started:
Becoming a Professional Tutor Online
While there is nothing wrong with the traditional methods of advertising – putting fliers up on noticeboards, and so on, there is a much wider audience and a bigger potential customer base that you can reach using the internet.
The following websites may help you get more online tutoring jobs and increase your income:
You will need to submit a resume and a cover letter in order to apply to TutorVista. Available openings are listed on TutorVista's teaching jobs section.
It may be more difficult to get accepted on this site, but if you are successful, it could lead to a semi-permanent position where you can start earning once the hiring process is completed.
You can find out all you need to know about setting up a profile and getting hired at their Service Providers section.
You start by creating a profile and specify your skills. You can then search potential jobs, which include tutoring, and submit proposals for those that match your skills.
If an employer hires you, a large part of the transaction, such as delivering status reports, submitting work, generating invoices and receiving funds, can all be done on their platform. The site also allows users to leave and receive feedback, thereby helping you improve your reputation.
This website has an application process, which can be found here.
There are no fees to apply, but you could be facing a wait of up to three weeks for the screening process. You will have a higher probability of being accepted if you are able to tutor several subjects.
You can list any services on this site which you are willing to do for a $5 payment. You create a 'gig' and then share it. If your gig is ordered, Fiverr notifies you and you provide the services.
Once the work is completed, Fiverr keeps $1 and credits your account with $4. You can then withdraw the money to your PayPal account. Check out their homepage to find out more about how this site works.
Once you have signed up for a Craigslist account, click on the 'create posting' link, and place your ad under the lessons & tutoring category. You can easily create an ad with a title and description of services you offer as a tutor.
Be mindful when wording your ad so that you have a higher chance of showing up on searches.
Advertisements are listed depending on the date posted, so it may be a good idea to delete and re-post your ad on a regular basis.
Starting an Offline Tutoring Business
You don't have to only rely on online tutoring jobs, you can look for clients offline and still work from home.
Here is a quick guide on how to do it:
1. Decide where you'll teach
The very first thing you need to do is determine your availability, and decide where you will be tutoring. Some students come to your home while others prefer you to go to their home.
You could arrange to meet mature students at the local library or at a cafe. You may also want to consider offering group tutoring for two or more students.
Here is a guide from UNCW on tutoring that you may find helpful.
2. Choose your subject
Decide which subjects you will be able to teach.
Even though you don't need to be certified as a teacher, it will boost your credibility as a tutor to have qualifications and experience in the subjects that you decide to tutor in.
3. Work out your pricing
Work out a fee schedule that reflects the level of difficulty in the subjects that you will tutor. Try and find out what other tutors in your area charge. They will be your competitors.
Some subjects may have a large number of tutors, while others that are more specialized, like physics or chemistry, may have only a handful in your area.
The fewer tutors there are on a given subject, the more you will be able to charge, so if you can tutor the harder, more advanced subjects, the greater your income will be.
While it is important not to charge a fee that's too high for students to afford, it is equally important not to undersell yourself by pricing too low. Even though it is tempting to quote a low price hoping to get more students, a cheaper rate may give the impression that you are not as good as the other tutors who charge much more.
4. Work out a cancellation policy
People may not realize that cancellations and late attendance are a cost to your business. As such, it is advisable to work out a policy for cancellations.
A reasonable cancellation fee can be charged to deal with last minute cancellations, and a strict time policy can be implemented for tutoring sessions, so that if the student turns up late, the duration of the session does not get extended.
You may even consider declining to continue teaching students that constantly cancel or turn up late. Make sure that your students know your time is valuable, and should be treated as such.
5. Promote your business
Now that you have the ground work done, it's time to advertise your services.
You can advertise by distributing fliers, placing advertisements online (for example in Craigslist) or in newspapers, and using your network to get the word out that you're offering tutoring services.
Make sure your ads are placed where your potential students or their parents can see them, like noticeboards in libraries, on campus, grocery stores, laundromats, and cafes. You could check with schools whether they will let you put up fliers at the school.
One of the things you will need to decide is whether or not you will mention your rates in the advertisements. Some are not in favor of this, as the price is fixed and non-negotiable once it's in print, and if your prices vary depending on the subject and level of difficulty, it may be too much information to fit in one advertisement.
However, others may encourage stating the rates upfront on the basis that people are more responsive to advertisements when they know what the charges are. It comes down to your personal preference so give both methods a try and see what works best for you.
It is also very important to remember to include your qualifications and experience in the advertisements.
Keep a resume and a few references on hand. Potential students or their parents may want more information about your qualifications and experience. It is natural for parents to be careful about who their children are taught by, but don't accommodate unnecessary requests, such as someone asking for your SSN to do a background check since this will make you vulnerable to scammers.
6. Don't forget the tax man!
If you earn above a certain amount per year, you will need to file taxes as a self-employed individual.
That's all there is to it. Once you start building your reputation as a capable, knowledgeable tutor, you will get referrals flowing from satisfied students and parents.
How Much Money Do Tutors Make?
It really depends on many different factors such as the subject, your skills and, of course, your geographical location.
For example, a private math tutor usually makes more money than a social studies tutor.
Depending on your skills and expertise, you could either make a living out of tutoring or worst case scenario, you could make enough to help with a few bills.