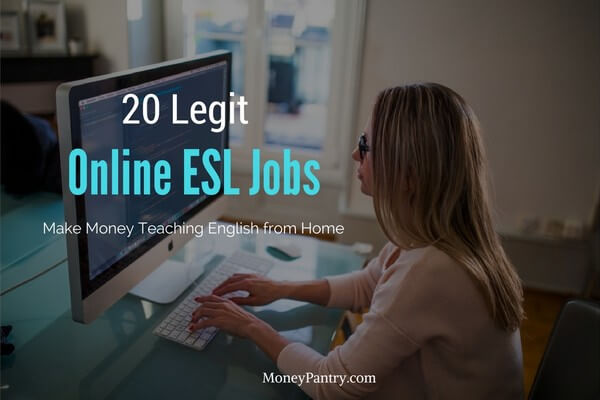 Are you considering teaching English online?
If so, you might be wondering where to even begin in your search for a legitimate ESL teaching job.
And, it's no surprise really – with the sheer number of sites out there that claim to offer great opportunities for ESL professionals.
But, don't worry…
We've saved you the time and effort – and the stress! – of trawling the Internet for job leads.
We have compiled a list of 20 places you can find ESL teaching jobs online.
Need Easy Extra $300+/Month for Free?
KashKick
: Get paid directly into your PayPal for watching videos, surfing, shopping and more.
Join KashKick Now!
InboxDollars
: Paid over $57 Million to members to watch videos, take surveys, shop and more.
Get $5 instantly!
Branded Surveys
: Get $1 instantly just for joining for free. Plus get paid within 48 hours by PayPal!
Join Branded Surveys
First Opinion
: Get paid up to $10 per survey and $300 per virtual focus groups!
Join Now!
Swagbucks
: Get paid to watch videos, shop online, take surveys and more.
Join now & get $10 instantly!
And, as it's estimated that more than 1 billion people are currently learning English worldwide – there are plenty of jobs available.
So, take a look and you never know what opportunities you might find!
ESL Job Boards
When it comes to finding ESL tutoring jobs online, one of the best resources is ESL job boards. Sure, you can use general job search engines, but using a dedicated site saves you time and frustration.
These boards connect recruiters in the education industry with teachers – meaning you don't have to scour the web yourself to find opportunities.
As they're updated frequently, ESL jobs boards offer a good supply of online job postings – so they are a great place to find new leads.
Started in 1997, TEFL.com is one of the longest established and most popular English teaching job websites.
It is one of the world's biggest real-time ESL job boards. So, it offers a really extensive selection of English teaching jobs.
Many of the site's job postings are for location-based positions. But, it also posts a plethora of online teaching opportunities.
Visit the job seeker's section of the site to search for current openings. Where it says "Type of Position" on the job search form, select the option "online" from the drop down menu.  This brings up a list of English language teaching jobs that are based online, rather than location-based.
The site updates its job database daily – so make sure you check back for new opportunities.
Dave's ESL Café is another long established ESL teaching job board. This popular website was launched in 1995, by Dave Sperling – hence the name of the site – a traveler and multimedia consultant.
Now, the website is one of the most popular resources for English teaching jobs. It connects students and teachers from around the world.
The site has three main jobs boards:
You can find online ESL teaching jobs on all of these boards. The only downside is, there's no way to filter job listings on the boards to display online-only jobs.
Tip: An easy way to find them is to click CTRL + F and then in the search bar of your browser, type "online" and hit enter. This will highlight any use of that word on the page.
You can also post your resume to the site. Potential employers can view it and consider it for any positions they may have open in the future.
Another great place to find jobs as an English language teacher is ESL Jobs. This job board posts new jobs every day – so there are always new opportunities available.
While this job board does offer a smaller selection compared to the previous sites, it's still worth checking out.
Most of the jobs on the site are location-based. But, there are online jobs posted occasionally.
ESL Jobs has a section just for online jobs – this is a really handy, time-saving feature. So, check out the online jobs page for opportunities.
You can set up job alerts for the types of jobs that you're interested in. And, these alerts are automatically sent to you.  This is one of the best features of the site.
ESL Jobs World is another excellent resource for ESL teaching jobs. And, it's really easy to use!
Essentially, all you need to do is upload a copy of your resume to the site's database. This shows your availability to employers.
And, when it comes to applying for jobs, you already have your resume ready. So, applying for positions on the site's job boards is a really quick process.
ESL Jobs World posts a lot of location-based positions. But, it also offers quite a good selection of online ESL teaching opportunities. It even has a section just for online positions.
So, upload your resume, and check out the online jobs sections – you might find an opportunity that suits your needs.
You can also create personalized email alerts – these notify you about job opportunities that fit your criteria.
Teachlingo is a website that offers ESL/TEFL jobs. So, if you're looking for English language jobs online, it's a great resource.
Here's what you need to do:
Create a Profile: Your profile needs to include your experience and requirements, as well as a professional looking photo of yourself.
Upload a CV: This makes applying to jobs easier and shows potential employees your experience, skills and qualifications.
Create a Video: Create and display an introduction video if you want to increase the number of offers you get.
After you have completed the steps above, you can start searching for jobs that fit your requirements.
The website allows you to filter and sort the results to those that best suit your needs – rather than just offering you a big list of jobs to sort through, as many other jobs boards do.
What's best about Teachlingo is how quick and easy it is to apply for a job. You can apply to an open position with just a single click.
Recruiters receive your application, as well as your profile and CV, instantly.
And, potential employers can also use filters to search for teachers on the site that could be a match for the job openings they have.
So, if your profile and CV are uploaded to the site and you match an employer's requirements, then they can send you a job offer straight to your inbox.
TESOL (Teachers of English to Speakers of Other Languages) International Association is a professional organization for teachers of English as a second or foreign language.
And, it also features a job board that lists ESL teaching jobs.
Often, these jobs are location-based. But, you can also find online positions too. So, add this site to your list of resources and check back for opportunities.
ESL Employment is a website that lists jobs and career opportunities for English language teachers.
The website has a section just for online English teaching jobs. And, it's updated quite frequently. So, make sure you check back every now and then for new opportunities.
Online Schools
Aside from ESL job boards, one of the best resources out there for online ESL teaching jobs is online schools.
Nowadays, there are tons of online schools that focus on teaching ESL courses.
And, these schools, of course, need teachers to teach their students.
Here are a few online schools that offer ESL teaching jobs.
8. Learnlight (Formerly I Speak U Speak)
Learnlight, formerly known as I Speak U Speak is a website that connects language teaching professionals with thousands of students across the world.
It offers an online language training program to students in more than 100 countries. And it needs teachers to coach these students.
As a teacher at Learnlight, you get ongoing training, support and feedback from the site's global team.
As one a teacher at Learnlight, you're responsible for:
Providing effective teaching sessions to students from around the world
Creating personalized programs for students that suit their particular needs.
Offering valuable written feedback to students after each session
Monitoring your students' progress
Communicating effectively with students and coworkers
In order to become a teacher at Learnlight, you must meet the following requirements:
Hold a foreign language teaching qualification, such as TEFL, TESOL, CELTA and ELE.
Have at least two years' experience in teaching language.
Be proficient in the language that you plan to teach.
Have the ability to work at least 10 hours per week.
Be able to commit to a fixed schedule for at least a year.
Have an internet connection that has a speed of at least 10Mbps.
Own a laptop or desktop computer
Have a headset and webcam.
Although it's not required, it is preferred if you have a business background and are at an advanced level in a second language.
Lingoda is an online language school that teaches students English, German, French and Spanish in group and private classes.
All of the school's courses are taught online, through virtual classrooms and Skype.
In order to be a teacher at Lingoda, you need to meet the following requirements:
Have a passion for languages.
Love to teach.
Enjoy working with international students.
Be a native speaker in the language that you plan to teach.
Have basic computer skills, such as proficiency with Skype and PowerPoint.
Unlike other online language schools, Lingoda does not require you to work a set number of hours. It offers flexible working hours, and you can take on as much or as little work as you want.
Teaching opportunities are available 24/7. So, you can work when it suits your needs.
As a teacher at Lingoda, you earn €8.50 per hour.
EF English First, which used to be known as English Town, is an online English school. The school, which offers E-learning for adults, requires native-speaking teachers to educate its students.
It's a pretty big online school, which has more than 15 million users.
If you want to be a teacher at EF English First, then you need to meet the following requirements:
Be a native English speaker.
Have the ability to teach at least 15 hours per week.
Be a university graduate or be in your last year of university study.
A minimum of a 40-hour TEFL certificate or equivalent ESL qualification.
Own a desktop or laptop.
Have access to a high-speed, stable internet connection.
In addition to meeting the requirements listed above, the following are also desirable:
Previous teaching experience
The ability to speak Portuguese, Russian, or Spanish
If you're interested in a position at Lingoda and meet the requirements above, then send in an application, along with a copy of your resume and certificates.
As a teacher at EF English First, you teach adult students in groups and one-on-one. All lessons are taught using cutting-edge technology in the site's online classroom.
While you do have to work a minimum of 15 hours per week, you can set your own schedule.
You also receive training when you're first hired and undergo ongoing training too.
Open English offers online English courses to more than 500,000 students primarily in Latin America.
The website hires practicing ESL and TESOL professionals. As a one of Open English's teachers, you provide teach students English through the site's virtual learning portal.
The site provides its services 24 hours a day. You can self-assign sessions.  This means that you can choose when you want to work, and how much work you want to take on.
With Open English, you have a lot of freedom when it comes to scheduling sessions.
You are encouraged to use your own experience and methods to teach students. But, the site does also give you access to a database of educational material that you use in the lessons.
To become a teacher at Open English, fill out this application form.
EnglishKey is another online education company. As one of the site's English language teachers, you teach non-English speakers using live video streaming.
EnglishKey offers part-time positions. But, this could lead to a full-time job after three to six months of working with the site.
Each class is an hour long and includes two students – English Key provides all of the teaching materials.
You are paid by the hour, and the amount you receive is based on your experience.
If you want to become a teacher on EnglishKey, you need to meet the following requirements:
Be a native English speaker.
Have the ability to speak slowly and clearly.
Be able to teach a minimum of 10 hours per week – preferably during the evening hours and/or during the day.
If you schedule your hours, then you must keep that schedule for five months.
Own a computer that is less than four years old and has working audio and video.
Have a headset and webcam.
Be computer literate and comfortable using video conferencing software, like Skype.
Have a reliable, high speed Internet connection.
Have a quiet space to teach from – absolutely no ambient noise must be heard during the teaching session.
While the site states that prior teaching experience is preferred – it's not required.
Speaking a second language is also not required. But, the site gives preference to applicants that can speak Spanish or Portuguese.
As a new teacher on the site, you receive training. When you become more experienced as a tutor, you may be offered additional roles, like mentoring students and training new instructors – these roles offer additional compensation.
Englishunt is another education company that offers English language programs online. The site hires instructors to teach English through live phone and video classes.
If you want to teach video programs, then you need a teaching certification and a four-year degree from an accredited institution. A teaching certificate is not required for the live phone classes – and no prior teaching experience is required.
But, you must have at least a two-year degree from an accredited institution.
As one of the site's instructors, you teach a varied English curriculum to students of all ages. Primarily, you will teach students of college-level or higher – and most classes focus on test-prep curriculum.
Classes on the site are fairly short – ranging from just 10 to 20 minutes each.
All of the programs have a set curriculum and materials that you can use. You do not need to speak another language to teach.
And, best of all, you can set your own teaching hours, depending on your availability.
Language Development Systems is an education company. It provides online English language classes to students in South Korea and China.
In order to be eligible for a position with Language Development Systems, you need to meet these requirements:
Have a four year college degree.
Be familiar with programs like MS Office and Internet Explorer.
Be a native English speaker.
Have knowledge of English grammar.
A teaching degree or English degree and previous teaching experience is also preferred, but not required.
Italki is an educational technology website.
It's designed to connect students looking to learn another language with online teachers.
There are more than 1.5 million students on the site and over 3000 teachers of 100 languages – including English.
The site hires native English speakers to teach students English in an online classroom.
Here's how it works:
Once you're approved, students can search for you in the italki Teacher listings.
A student will contact you through Italki and book an online lesson with you.
You carry out the lesson via Skype or other free VOIP software.
Italki handles everything else, like marketing, scheduling, student management and payment.
A good aspect of Italki is that you can choose when and how often you want to teach. All you need to do is set your availability and students can schedule lessons for those times.
Italki pays teachers in credits that can then be exchanged for cash – you can find out more about payments on its website.
iTutorGroup is an online education platform. It's one of the largest English-language learnings institutions in the world.
To become a teacher at iTutor group, you need to complete the site's application process – this takes about an hour.
And, you'll need to ensure that you have a working webcam and headset, and you have a wired, not wireless internet connection.
Here's how the application process works:
Create an account and receive a username and password.
You complete a proficiency test to determine the quality of your English.
Tell the site a little about your qualifications and background.
You then need to record a video that demonstrates why you are a great fit for the job.
In order to be a teacher at the iTutor Group, you need to meet the following the criteria:
Have a TESOL/TEFL Certification (or be willing to obtain it in the future).
A university degree or ESL teaching experience.
Have great communication and presentation skills
Be willing to commit to a weekly work schedule.
Have the ability to speak slowly and clearly to people who can't speak English.
Be computer literate
Have a laptop or desktop PC.
Be able to use Internet explorer.
Have a wired internet connect, and a headset
Have a quiet place to work. No ambient noises, like the sounds of phones, radios and fans, should be audible in the room during a teaching session.
Most of the students you teach through iTutor Group are aged between 22 and 65 years old. But, you teach students of all ages, including children.
One of the best aspects of the iTutor Group is that it allows you to set your own hours.
Other Places
Aside from ESL job boards, and online English language schools, there are plenty of other places online that offer ESL teaching jobs.
You just need to know where to look. These resources offer some fantastic opportunities for new and seasoned English language teachers.
UpWork is a global freelancing platform. On the site contractors can hire freelancers to complete a range of projects, from writing to designing.
But, it also provides great opportunities for people looking for ESL teaching jobs.
In fact, the platform has a whole section for English teaching jobs.
Some of the projects pay hourly, and some pay a fixed rate – you can filter the job results by job type, and other criteria like client history.
The jobs on UpWork are updated very frequently, so it's a great place to find new leads.
You might think of Craigslist as just a place to buy and sell stuff – but, did you know that it can also be a great place to find teaching opportunities?
It's true.
Recruiters, and other organizations and individuals often post ESL teaching jobs on the site – because posts on Craigslist reach a pretty broad audience.
You might be wondering where on earth to start looking – after all the site is huge and offers listings for pretty much every city in every country across the globe.
So, here's a great tip – look in the countries and cities where there is a big demand for English language instruction.
Here are a few examples:
Buenos Aires
Caracas
Colombia
Copenhagen
Mexico City
Rio De Janeiro
São Paulo
Seoul
Shanghai
Singapore
Tokyo
Of course there are many other places throughout the world where there is a demand for English language teachers – and a quick Google search will yield many of them.
Once you choose a city, it's time to search for teaching opportunities.
It's best to search for keywords like:
"ESL teaching"
"ESL teachers"
"English teachers"
"Teach English"
"English language teacher"
"English instructor"
Try a few different keywords and you should find some great opportunities.
Once the results come up, use your browser's Find feature (CTRL+F) and type the word "online" into the box. This will highlight jobs that are online, and saves you time wading through a sea of results.
Indeed is a popular employment search engine website that you've most likely heard about.
The website actually has a section dedicated to online ESL teaching jobs. So, it's definitely worth checking out.
Looking through the job listings on the site is pretty easy – as you can filter the results by criteria, like job type and estimated salary.
Flexjobs is another employment search engine website that's a good resource for ESL educators.
We actually reviewed Flexjobs a while back.
The website has a section for telecommuting and online ESL teaching jobs. It is updated fairly frequently, so check back for job opportunities.
Final Word
If you're looking to get into English teaching online, the places listed above are fantastic resources for job opportunities.
Whether you're just getting into the field of English teaching, or you're looking to move from a brick and mortar classroom to a virtual one, then consider applying for a position as an online ESL teacher.