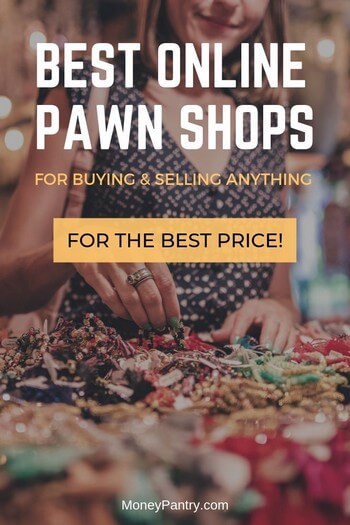 Looking for the best online pawn shops to sell stuff or buy stuff for cheap?
In this article, we will let you know where to find the best ones online, how to buy or sell to a pawn shop, and how to find the best ones near you.
Pawnshops in the United States numbered 11,000+ and growing in 2012 and constituted a $14.5 billion industry in 2011, according to PRWeb. There's a lot of money to made and saved when you sell or shop at a pawn shop. Below, we'll show you some of the reasons why.
Why Buy from Pawn Shops?
Pawnshops aren't like your local thrift stores!
Here's the thing…
Pawnshops have a bad reputation for underpricing when you're selling something to them and inflating prices when you're buying the exact same item from them.
Need Easy Extra $300+/Month for Free?
KashKick
: Get paid directly into your PayPal for watching videos, surfing, shopping and more.
Join KashKick Now!
InboxDollars
: Paid over $57 Million to members to watch videos, take surveys, shop and more.
Get $5 instantly!
Branded Surveys
: Get $1 instantly just for joining for free. Plus get paid within 48 hours by PayPal!
Join Branded Surveys
First Opinion
: Get paid up to $10 per survey and $300 per virtual focus groups!
Join Now!
Swagbucks
: Get paid to watch videos, shop online, take surveys and more.
Join now & get $10 instantly!
With that kind of reputation, you might be wondering why you would even want to shop at a pawn shop rather than go to a big convenience store or even an online thrift store.
The fact is, even with negative things like that, pawn shops are still some of the best places to buy stuff for cheap.
Here are a few things you may not know about shopping at one of these.
All-in-one shopping
You can find a lot of what you need in one place. Pawnshops carry electronics, tools, collectibles, firearms, and jewelry. Usually, you can find this stuff a lot cheaper than the retail prices at other stores. Plus, you can also find one of a kind stuff you simply won't get other places.
Haggling
Almost all pawn shops have negotiable prices. You just have to ask a cashier or talk to the owner about lowering the price. This is especially good if you are trying to get a hold of jewelry and don't want to go to a big jewelry store where they can charge thousands of dollars.
Protection Plans
Many pawnshops offer a merchandise protection plan that lasts about a year. You don't have to worry about it breaking just because it's pre-owned. The store has you covered. That's a lot better than some retail prices that may not cover a faulty product after 30 days.
 Collectables
The other main reason that people use pawn shops is to get collectibles. People will often sell their rare items to these places, which is great if you are searching for a specific older gun or baseball card. You never know what you will find.
Why Sell to Pawnshops?
So we've covered buying, but why would you want to sell at one of these places?
There are a few key reasons.
Finding a market
Sometimes you find yourself with a valuable item that you just don't know where to sell it. You could try putting it on a site like eBay, but there's a good chance that random people might bid low and then you only make $30 on something that could be worth $100 or more.
Pawnbrokers know how to find markets for particular items. They also make sure they know the real value of collectible items. You might not want to deal with the hassle of tracking down an expert who may or may not even purchase what you are selling. In these cases, you might want to just sell to a pawn shop.
Quick Money
This is a good option if you need money right now as you get cash quickly (in most cases, instantly). You are likely to sell your items under market value because pawn shops want to make a profit, but you also get your money right away. If you need cash right away for an emergency, this might be the best way to do it.
Loaning Pawn
One thing you can do at a shop is pawn an item as a loan. They give you money, you give them the item, and then you have a limited time to pay back the money and get your cashback.
The downside is that if you don't pay off the loan in time, you forfeit the item. However, if you do fail to pay you don't have to worry about it affecting your credit score!
Bonus tool for sellers!
If you are worried you're going to get a low-ball offer, we have a tool that will help you. Use Pawnbat to figure out an estimate of what your item is worth before you take it to a shop. You can input just about anything, even the weight of gold or silver jewelry, to find out how much its worth.
Top Online Pawn Shops
The following are the best pawn shops you can use online for both buying and selling.
You can get around twenty percent more cash by pawning through YouPawn. It can be done in four easy steps.
Step one: submit details about the item you wish to pawn.
Step two: get an instant quote based on your details.
Step three: Ship your item with a free shipping label that will be provided to you.
Step four: Recieve your cash electronically.
This company is basically just a giant online business that collects items from all over America from people like you. You can buy items too for much cheaper than retail. They have thousands of listing and add a few hundred every day. Be sure to come back and check for more stuff because it does sell quickly!
Though the name implies this is a jewelry company, you can actually buy all kinds of pawned goods from this site. They sell musical instruments, jewelry, power tools, electronics, and more. The downside of this site is there is no easy way to pawn your own stuff.
This is another site that lets you pawn used goods. There are lots of electronics and jewelry in there, along with many other types of products. The site itself seems to be a little older than the others listed on here but it still works well. The only downside of this one is that you can't buy pawned goods on it.
Pawnshops Near Me
If you don't want to use an online shop, there are probably many near you.
Here are some ways to find pawn shops near you.
This site lets you post items and then let pawn shops around you bid on them. This helps you figure out what the best deal you can get is. Then all you have to do is take the item to the best place to get cash. It's that easy.
This site is simple to use. All you do is tell them the city and state you are in. Then they will find the nearest shops to you. No uploading items or accounts necessary.
Yellow Pages is a popular directory for finding any kind of shop. This also works for pawn shops, as all you have to do is type in your search and your city or zip code.
A lot of people think of Yelp as a place to find nice restaurants to go too. However, you can also use it to find other places like, you guessed it, pawn shops.
Commonly Asked Questions
If you've never been to one of these types of shops, you probably have a lot of questions.
Here are some commonly asked questions, and our answers, to help you get started.
What can I pawn for 500 dollars?
When you pawn something, you obviously want some decent money fast.
Here are items that commonly sell for around $500:
Gaming computers
High-end laptops
HD TVs
4k TVs
Riding lawn mowers
Old cars (title must be in your name according to the law)
Gold, silver, diamond, and platinum jewelry
Motorcycles
Musical instruments
Firearms (almost must be registered under your name)
What do pawn shops pay for the most?
Generally, they will pay the most for jewelry with silver or gold, high-end electronics, and musical instruments. It's important to note that even broken gold jewelry is valuable because it can be melted down for the gold. Also, Nikon and Canon cameras sell for a lot too.
What can I pawn to get $100?
You might not have items that can sell for five hundred dollars, but you likely have something that could sell for one hundred.
Here are some suggestions we have found sell around that price:
Flat-screen TVs
Game consoles
Tablets (especially Apple ones)
Mountain bikes
Golf clubs
Jewelry
Kitchen appliances in good condition
Technical equipment for niche fields
Home appliances like washers and dryers
Designer accessories or more
Do you get more if you sell or pawn?
Obviously selling items is going to get you more money. Pawn shops pay less for items than their worth so they can make a profit.
However, there's one major exception worth looking into. The average buyer at a place like a garage sale, for instance, isn't going to know the worth of a major collectible. Even online, you risk the chance of the right person seeing the item.
In these cases, it is probably better to go to a pawn shop because they are businesses that specialize in knowing and researching the worth of an item.
Is it better to sell gold or pawn?
The great thing about gold is that gold has a basic price point. The market fluctuates every day, but it remains the same for everyone. This means that everyone has the same point of reference when it comes to price.
Therefore, it doesn't really matter if you go to a pawn shop or jewelry store, because gold retains the same basic value. Of course, there are some situations in which a shop may give you a low ball estimate. However, you can easily negotiate the price by simply bringing in proof of what the market says gold is worth at the time you are selling it.
Pawn shops vs Consignment shops
How pawn shops work is totally different than how consignment shops near you work.
With a consignment shop, the store sells stuff for the owner. You (the owner) still own the item until it sells. For its part, the consignment store takes a share of the sale.
A pawn shop, on the other hand, acts more like a loan service, meaning in exchange for your item they give you cash right away. This is a good option if you need money right now. Now, if you fail to make the agreed payments, the store gets to own the item. Obviously, just like banks or payday loan places, the shop charges you (usually ridiculously high) interest rates.
Final Thoughts
Hopefully, after reading this, you'll know everything you need about selling or buying from a pawn shop. Who knows, you might end up making a couple of hundred dollars by selling stuff you don't use in the first place.
Are there any online shops you like to you use when shopping for pawned goods? What's the best deal you've ever gotten at a pawn shop? Let us and our readers know about your experiences in the comments below.