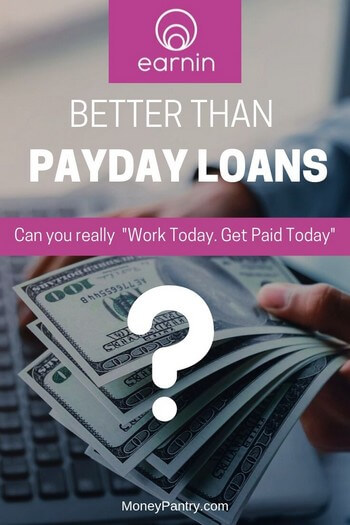 Are you wondering whether the Earnin app is legit and safe?
In this Earnin app review, we're going to tell you everything you need to know about it.
From how it works to whether or not it's trustworthy and a good app to use when you need money right away, we're going to provide a comprehensive guide to the app.
We'll also share a few resources for making and saving money including side gigs and work at home jobs.
You've probably seen their commercials on TV lately, showing people happily talking about how using the app they're able to work today and get paid today despite it not being their actual payday.
But what's the catch? How is it different than payday loans?
Need Easy Extra $300+/Month for Free?
KashKick
: Get paid directly into your PayPal for watching videos, surfing, shopping and more.
Join KashKick Now!
InboxDollars
: Paid over $57 Million to members to watch videos, take surveys, shop and more.
Get $5 instantly!
Branded Surveys
: Get $1 instantly just for joining for free. Plus get paid within 48 hours by PayPal!
Join Branded Surveys
First Opinion
: Get paid up to $10 per survey and $300 per virtual focus groups!
Join Now!
Swagbucks
: Get paid to watch videos, shop online, take surveys and more.
Join now & get $10 instantly!
Read on to find out.
Why Apps Like This Exist
Sometimes the car breaks down, the dog gets sick and needs to go to the vet, the refrigerator breaks – life happens!
When this stuff happens though, it can be a huge strain financially, especially if you don't have savings to fall back on, and many of us don't.
We're supposed to allocate 10% to 20% of our income for savings.
However, for many of us, that simply doesn't seem possible, and the numbers show it.
Statistics show that 21%, so that's more than 1 in 5, of Americans don't save any of their income.
Here are some more stats on how little we save:
20% of Americans only save 5% or less of what they earn.
28% save 6% to 10%.
Only 16% of Americans save more than 15% of their income.
This means that we don't have enough money when things like the aforementioned sick dog or broken fridge appear.
In fact, just 40% of Americans are able to cover an unexpected $1,000 expense, like a car repair or a visit to the emergency room. So, 60% of us would not be able to cover these types of costs.
Unfortunately, people who find themselves struggling financially turn to payday loans.
These charge huge amounts of interest, meaning that while they may provide financial relief in the short term, in the long term, they can wreak havoc with your finances.
There's one app though that's claiming to offer another solution, and it's called Earnin.
What is Earnin?
Some people may confuse it as one of those apps to make money with, but it is not a money making app per se.
Earnin is an app that lets you borrow money against your paycheck.
Its motto is simple, "You worked today. Get paid today."
With the company, you can borrow money before payday, and then the app will deduct the amount you owe when your paycheck is direct deposited.
You can check out the official website here.
Where to get the app
There is an app for both Android and iOS devices.
How Does Earnin Work
Now that you know how it works, we're going to give you a more detailed guide to using this app.
Who can use the it?
First, let's start with the question many people have:
"How do you qualify for Earnin?"
If you want to use the app, you need to fit the following requirements:
Have more than 50% of your direct deposit sent to a checking account.
You'll need a regular pay schedule, so weekly, biweekly, semi-monthly, or monthly.
You also need to have a fixed work location or an online/electronic timekeeping system at work.
How to Get Started
Here are the steps you need to take in order to get paid with the app.
1. Create your account
Once you have the app, you'll need to create a profile.
This is pretty simple to do.
Here's how to do it:
Click on the "Get Started" button.
Enter your email address, and click "Next" after you've entered all of the information.
You'll then need to check your emails for a verification code. Make sure to check your junk folder if you can't see the email. If you didn't receive the email, click on "resend the verification email." Enter the verification code that was sent to your email, and click "Next."
You will then be asked to enter a password. Again, just click "Next."
Now, you've created your profile, and it's time to start adding more information.
2. Link your bank account to the app
You'll also need to provide your bank account info. This is so that the app can:
Deposit money directly into your account.
Use your history of direct deposits to verify your employment.
Confirm your payday. This is so the app knows when to take the money back from your account.
Set your hourly rate. This allows the app to calculate your earnings each day.
The app says it will never debit more than you have cashed out (plus tips if you give one).
See if the app supports your bank
To choose your bank from the drop-down list of banks that the app supports, click "Connect to Your Bank"
If your bank doesn't appear in the drop-down menu, then use the search box at the top to search for it. Just enter the same of your bank and the app will search for it.
It's really important to note that not all banks are supported. So, if after you search for yours it doesn't appear, then your bank might not yet be supported.
The app says that it's working to support more banks and that you should check back in the future to see if yours has been added to the list.
Accounts that aren't supported
The app doesn't support all account types.
You can't use a shared bank account that's already used by another person.
Basically, the app doesn't support two accounts using the same bank information.
Once the co-owner has closed their Earnin account, you can sign up for the app using a joint bank account – you have to wait 30 days before cashing out though.
You can contact the company for assistance if you need help linking a joint bank account that's previously been used.
Also, the app doesn't support prepaid accounts, as it can't guarantee a successful transfer.
So, the following prepaid accounts are NOT supported:
NetSpend
Green Dot
RushCard
American Express Serve
Metabank Silver
BB&T MoneyAccount
US Bank Focus
Fifth Third Access 360
Skylight All-Access
BBVA Clearspend
PNC Smart Access Card
Chime
Also, it doesn't support Paycards from employers, like the Walmart Money Card, for example, because they work similarly to prepaid accounts.
Finally, Bancorp Bank doesn't work with the app in a way that allows the app to transfer money to and from accounts successfully. So accounts from Bancorp Bank aren't supported.
You could consider setting up a new bank account if it doesn't support your current one. Earnin recommends BBVA bank, as it sends transaction updates quickly, and offers Lightning Speed (more on that below).
3. Add your employment & payment information
You need to find and confirm your employer in the app. If you aren't able to find your employer, just click on the magnifying glass, which you can find in the top right corner of the screen, and enter the name of your employer. If your employer doesn't appear on the list, then you can add it as a new employer.
You'll also need to add your work address. By clicking on the magnifying glass, you can start adding your work address and confirm it.
If you're actually at your work location, then just tap on "This is my work location."
You'll need to add your employment info, to help the app recognize your pay schedule, and your earnings in the app.
You need to enter the required information, choose how your work hours are tracked, and then select your pay type:
Hourly: If you get paid hourly, then you need to let the app know how your hours are tracked. You can select the "Online" option if you are able to view your timesheet online. If you can't view your timesheet online, then select "Paper Excel". If you select the "Ride/Task" option, you can select how you get paid, and you can click on "Next."
Salary: If you get paid a salary, you will need to enter your fixed work location.
Now, there are two ways to send your payment information to the app.
Send an Electronic Timesheet
One option is through Timesheet Earnings.
Your timesheet is how you track the hours that you've already worked.
So, you might clock in and out at work each day, or you might keep track of hours on your own.
Basically, your timesheet is how your employer keeps track of the hours you've worked, and a way for the app to keep track of how much you've earned.
It's important to note that your timesheet is completely different to your schedule, which is the hours that you're going to work in the future, or a pay stub, which is the hours you were recently paid for.
Timesheets are solely focused on tracking how many hours you've worked but have not yet been paid for.
Your timesheet will need to include:
Your name.
The daily hours you've worked. So, your daily total or clock in/out times.
Dates from your current pay period.
Adding your timesheet
Uploading your timesheet is pretty easy
On the home screen, select "Add Timesheet."
Then take a photo of the hours you've worked from a computer or punch clock screen.
You can also upload a screenshot from your camera roll.
Or, you can send photos of your timesheet by email to timesheets@earnin.com.
If you need assistance in adding your timesheet, you can contact the app through its 24/7 chat support.
Also, where you work and how you get paid can affect how you add Timesheet Earnings:
Hourly pay with timesheets: if you clock in and out using an electronic timesheet at work, just add a photo of your earnings as we said above.
On-demand workers: If you work with ridesharing or task companies, like Uber, Shipt, or Doorman, then upload a photo of your trips summary or earnings page using the "Add Timesheet" button.
Salary/hourly pay without timesheets: If available, uploading your online or electronic timesheets is an option. Or, with the app's Automagic Earnings feature (more on that below), you can automatically track earnings if you provide the app with a work address.
Timesheet Partners: If you use Uber drivers, Brink, or Tsheets to track your hours at work, connect your timekeeping system in the app, and the app will automatically add your hours. To connect your timesheet system, go into "Settings" on Android devices, or tap on the home screen if you're using an iOS device. Then select "Work Info," and Under "Time Tracking System" click "Add Time Tracking System."
That's basically how timesheets work!
It's important to note that the app can't process:
Schedules
Paper/print-out timesheets
PDFs
Word documents
Excel documents
Pay stubs
Now, if you can't add your timesheet using the methods we mentioned, then you can get the app to track your time worked automatically, using your work location.
It does this through a feature that we briefly mentioned above called Automagic Earnings.
Use the Automagic Feature to send your earnings automatically
The second way to add your pay is to use the Automagic Earnings feature.
Rather than manually uploading your income through Timesheets, you can use the Automagic Earnings Feature and based on your work address, the app will automatically add the money to your account.
Basically, the AE feature replaces the need for a timesheet.
If you want to use this feature you need to have a fixed work address, and you need to enable your phone's GPS (locations services) and keep it on at all times.
The company recommends leaving the battery saver off your phone because it can affect GPS. So it could automatically turn off your phone's GPS without altering you and therefore impact the AE feature.
If you do have battery saver on, make sure to check the app every few hours to ensure that your Earnin GPS is still running.
Also, don't swipe up or to the side in the app to close it because some devices need the app to run in the background of your phone.
How to enroll in Automagic Earnings
Here's how you can enroll in AE:
Go into Settings, which is on the upper right if you're using an Android device, and on the upper left if you're using an iOS device.
Next, click on "Edit Company Info," if you're using an Android phone, or "Work Info" if you're using an iOS device.
Select your pay type and click "Next."
Select your employer.
Click "Set Location."
Next enter the address of the physical location of your work. If you work at home, you can't use Automagic. Also, if your work location often changes, or if you work offsite, then Automagic Earnings won't be able to add earnings correctly. Providing the address of where you work, and keeping your GPS on helps the app to verify your work hours and ensures you get access to your money.
Once you've set the address of where you work, click "Save Workplace."
If the app's system recognizes your work address, then you will see money added to your account within 1 to 2 days of working.
Also, the feature has a set maximum of 14 hours per day to account for overtime work.
The app says that since most hourly workers work 8 to 9 hours a day, the AE feature stops loading money after 14 hours.
Once you're enrolled, your earnings are calculated by your hourly rate and the amount of time you've spent at work – using your GPS.
Your hourly rate is based on direct deposits from your employer, and earnings are always after tax.
On payday, your balance will return to $0, and the next pay cycle will begin. Then, next time you go to work, your earnings should start to accrue again.
If you don't have a single work location, then you won't be eligible for AE.
4. Verify your Bank Account
Earnin also has to verify your bank account.
It does this by sending test transactions, which are under $1. The app does this basically to make sure that the account information is correct, and that it can successfully deposit and withdraw money from the account.
There are a couple of things to keep in mind at this stage.
Firstly, if you see test transactions appearing on your account, yet the app says it's still verifying your bank, then in the app, contact the support team.
Also, just in case your bank account has a negative or a low balance, the app will pause transactions so that you can avoid overdraft fees. And then once it detects that you have a positive balance, it will send out the transactions to complete the verification process.
5. Cash out
That seems like a lot of steps, I know, but it's so simple to do when you're using the app.
Once you're all set up, and your bank if verified, you can cash out your money when you see your available cash in the app.
Like we said above, you can add your work address during signup, and get your money added to the app automatically, or you can add your money by uploading a photo of your work timesheet.
To cash out, visit the home screen on the app.
Then, click on the "Cash Out" button.
It's that simple.
Like we said above, there are quite a lot of steps in the setup process, but once you are set-up and everything is verified, getting your money is a pretty simple process.
Cashing out if you're enrolled in Lightning Speed
While it normally takes a couple of days to get your money from Earnin, there's a feature called Lightning Speed, which gets your money to your account in seconds, even on the weekends or during holidays.
If you want to use the Lightning Speed feature, then you'll need to see if your bank is eligible.
Here's how to do it:
Login to the app.
On the homepage, click on the Lighting Speed Icon (lightning bolt).
Add the debit card for the connected checking out, which receives at least 50% of your paycheck.
Now, it will take the app about 1 business day to verify your card. It will send a small test deposit, which will appear in the account you linked.
If you find that your cash-outs aren't posting to your bank account at Lightning Speed, even though you already had your debit card uploaded, then re-enter your debit card info.
You can also contact support if Lightning Speed still doesn't work, and they'll be able to assist you.
And, don't forget to update your card in the app if it's expired, lost or stolen. Just update your information when you receive your new card, and you'll continue to get money at Lightning Speed.
6. Return the money when you get paid
Earnin will debit your bank account on payday to get the money back that you cashed out.
It doesn't work directly with your employer.
Instead, it will just automatically debit your bank account for the amount you cashed out, plus tips, if you gave any, but more on tips below.
This will be a separate transaction from your direct deposit.
Handily enough, the app allows you to view your upcoming debits by tapping on the calendar icon in the app.
You can also check to see if the app has the right pay schedule on file.
Just go into "Settings", then "Work Info", then "Show Payday Info".
If your information isn't correct or if there will be any changes in your payroll, just contact the company, and the app will help you out.
Fees
Okay, now you know how to get set-up and how to borrow money from the app.
Now you're probably wondering, does the Earnin app charge a fee?
No!
Although most short-term loan providers do charge really high fees or interest, Earnin does not.
It does not charge fees, there's no interest, and there are no other hidden costs.
Now, you can leave a tip if you want to.
The amount you tip is really up to you.
In fact, you don't have to tip anything at all if you don't want to.
Also, the app promotes community. So you can pay it forward to other community members and pay to cover their tip, and other community members can support you.
Basically, if you have a little extra, you can give it to someone who needs it, and if you come up short, then someone in the community can help you.
The app says that it relies on its user community to support the work that it does and that if you pay for your Cash Out, you're supporting the app, and its community.
Cashback Rewards Program
While Earnin might primarily be known as an app that provides short-term loans, it also has a cashback program, called Earnin Cash Back Rewards.
Here's a quick guide to how this cashback program works.
1. Enroll in Cash Back Rewards
To join the cashback program, tap the "Cash Back Rewards" superpower.
Then, follow the steps under "Enroll in Rewards."
It's important to note that to enroll, you will need a Visa, MasterCard or American Express debit or credit card.
Also, you need to have followed all of the general set-up stuff, including linking your bank account, that we mentioned above before you can register for cashback rewards.
2. Browse offers
Now that you're enrolled, you can browse offers at participating stores.
Just open up the app, and tap on the "Cash Back Rewards" superpower.
Then, you can browse offers within the "Offers" tab.
The app makes it pretty easy to see what cashback you can get at each store as well. Each store shows a cashback percentage, and the location, phone number and website for the store.
3. Make a purchase
Now, you can shop as you regularly would. Just use your enrolled card to do so – it's important to note that only credit transactions will earn you rewards.
If you are using a debit card, then you'll need to run the transaction as credit to get your rewards. The app says that when running the sale as credit, you will be prompted to sign for the purchase, rather than entering your PIN at the checkout.
4. Get your cash back
Once your purchase clears, your cashback rewards will appear in your account. You will get a push notification or an email notification right after your purchase. Then, within a few days, your cashback will be available to redeem.
5. Redeem your cashback rewards
To redeem your rewards, just open up the app, and tap on "Cash Back Rewards."
You should see a green "Redeem" button if you have a current balance.
Also, it should let you know how much you can redeem. Just tap on the "Redeem" button, and then follow the steps to confirm your transaction.
It's pretty simple.
It takes up to 3 to 5 days usually for the money to appear in your account.
If you are enrolled in Lighting Speed, however, you can get the money in your account immediately.
Your cashback rewards will be sent to the checking account that you linked to your account.
It's important to note that while the app does allow you to have multiple debit/credit cards linked to Earnin Cash Back Rewards, it only allows you to connect one primary checking account. So, all of your rewards will be sent to that account once you redeem them.
What's great about the cashback program is that there is no minimum balance needed to redeem your rewards.
You can redeem your cashback whenever you want, whether you have $100 or $0.01 in your account.
To keep track of your cashback rewards, visit the Cash Back Rewards section of the app, and look at the "Activity" tab.
There, you'll be able to see your current Cash Back Rewards balance, and your recent rewards/redeem history.
This section is handy because it also shows Rewards Redeemed, which means that your rewards have been successfully deposited to your bank account.
Refer a Friend
Okay, so we've covered the loans you can get from the company and its cashback program.
There's one more program though that the app offers, and it's a refer a friend program.
You can share your personal invite link with a friend or family member, and they can join Earnin.
When they have been verified and cash out for the first time, you get a referral reward from a member of the Earnin community. This reward can range from $4 to $14.
Once you've accepted this reward in the app, it will be sent right to your checking account.
The app will send you a push notification and an email to let you know that you have a gift on the way.
If you receive more than one gift in a day, then the app may combine them into one deposit.
There's no limit to the amount of referral rewards you can get.
To refer a friend, just open the app, go to "Settings," and click "Invite Friends."
You'll get a customized link that you can send to your friends and family.
Is Earnin Legit?
Now you know all about this app and what it has to offer.
So, you're probably wondering, is Earnin a trustworthy app.
Is it legit?
Below, I've included reviews from organizations like the Better Business Bureau, as well as customer reviews and ratings across numerous platforms, from Reddit to the BBB.
Better Business Bureau Rating
The company is accredited by the Better Business Bureau. It's been accredited since 6/18/2019, although it's been in business for 5 years.
It has an A+ rating, which is pretty impressive.
The customer rating on the platform is also pretty good.
It has almost four out of five stars.
So, that's all promising and shows that Earnin is NOT a scam. It's a legit company.
The only thing I did notice was that there was a note at the top of Earnin's BBB profile, which said:
"PATTERN OF COMPLAINTS: According to BBB files, records show that the company has a pattern of complaints concerning consumers alleging having their bank account debited prior to their payday or having unauthorized debits made on their accounts resulting in multiple overdraft fees. Furthermore, consumers allege not being able to get a response when these issues arise."
So, the BBB profile for the company is a little contradictory in that it has that A+ rating, it's accredited, and it's pretty well-reviewed by customers as well, yet there's this notification about complaints.
Perhaps some people have had a bad experience with unauthorized debits.
On its website, the company does say that if their transactions cause you to accrue overdraft fees, they will assist you and help you to get a refund where applicable.
Also, on the complaints page for Earnin on the BBB website, which you can check out for yourself here, the BBB says that it contacted the company in February 2018 about the complaints and that in May 2018, the company responded.
So, they are at least aware of these complaints and aren't ignoring them, as some companies do.
Customer Reviews for Earnin App
So, it's well-reviewed with the BBB. But what do customers have to say about the app?
Google Play Store
On the Google Play Store, the app has more than 100,000 reviews and a rating of more than 4 stars.
That's a pretty well-reviewed app.
In researching a ton of apps over the years, I've seen so many that are poorly reviewed even if it's an app from a legit company.
So this almost 5 star rating is promising and shows that customers are having a good experience with the app.
Here's what one customer on the Google Play Store had to say about Earnin:
"This app has been a lifesaver, its helped when I've needed a little and when I needed a lot. I researched it a lot before I downloaded it. Use it wisely and when you actually need the money. I've had zero problems with customer service and zero problems with the cash out and the debit back. I barely review apps, this one deserves every star. This is the best for what I call a cushion before payday or for an unexpected bill. Download it. Its been wonderful."
App Store
The app has a lot of reviews on the App Store as well.
It has more than 86,000 reviews in fact. It has 4.7 stars out of five. Again, that's good for an app. It shows that customers are having a good experience with it.
Here's what one customer on the App Store had to say about the app:
"Do yourself a favor stop letting cash advance companies and banks rip you off switch to this app and you'll not regret it very happy customer from Brookings Oregon"
Reddit
On Reddit, there's a discussion about Earnin in the "Is it BS" subreddit.
The opinion here is a little more mixed than on the Google Play Store or App Store.
On this thread, many people who've used the app haven't had any issues with it, and say that they don't have any complaints about the app.
One Redditor speaks highly of it, saying:
"Doesn't seem to be BS on the surface. I got an "advance" after working a day and then on payday it was withdrawn. No fees. It's definitely a more progressive form of a payday loan in my opinion. It's much friendlier and more convenient, but at the end of the day, it's supporting spending money that you don't have. Good in a pinch, but not a healthy habit to have."
Other users though express concerns about getting dependent on the app or that it is causing people to get into the bad habit of spending money that they don't have.
Is Earnin a Safe App?
So, it's pretty well-reviewed with customers, having around a 4 star rating across the platforms, and an A+ rating from the Better Business Bureau.
But, you're handing a lot of information over to the company, like your pay schedule, where you work, your bank details, etc.
So, you're probably wondering, is all of that information safe?
The app does use 256-bit data encryption to keep your data secure.
This is great.
Also, it's compliant with US privacy and data security laws.
That's another plus.
Finally, it never stores your bank login credentials.
So, overall, it has a lot of features in place to protect your privacy and keep your data secure.
Things You Need to Know
Now, let's take a look at some common questions people have about the app.
How does Earnin app make money?
It's a venture capital-funded company. The company says that investments from venture capital funds go into making its product bigger and better.
The company, however, says that it is 95% community supported and mainly operates on the tips it receives from customers.
How long does it take for Earnin to verify?
It can take the app up to 3 days to verify your information, like your bank info, and pay schedule.
If you haven't heard from the app after 3 business days, then contact the support team, and they'll be able to help you out.
How much can I get from the app?
When you first get started with the app, you have a $100 Pay Period Max.
Pay Period Max is the maximum amount of money you can cash out during each pay period.
Now, while you start out with a $100 Pay Period Max, as you continue to use the app and pay the app back successfully, it can increase to up to $500.
The app says that it has Maxes to help people who use it to stay financially healthy and help more members of its community.
How do you increase Pay Period Max?
While new customers start out with a $100 Max each pay period, based on several factors, your Max can adjust over time, and be anywhere from $50 to $500.
Factors related to your financial health are what the app uses to determine your Pay Period Max.
So, these factors include things like, whether you spend less money than you earn, and how often you maintain a positive bank balance.
To check your current Max amount, and to learn about the factors that are used to determine your Max, tap on "Max Info" on your home screen.
Why did my Earnin Max Decrease?
Like we said above, the app uses several factors related to your overall financial health to determine your Max.
If you want to ensure that your Max increases, rather than decreases, then make sure that your financial habits are good.
The app says to maintain a positive bank balance, and avoid overdraft fees, spend less money than you make, and keep enough money in your bank account to cover its scheduled debits.
If you do those things, you can increase your Pay Period Max.
You can use the Calendar feature on the app if you need help keeping track of recurring payments and upcoming bills – like all of the app's services, this feature is free to use.
How many times can I cash out on Earnin?
The daily limit is $100. Of course, yours could be less than this depending on your Max.
Once you reach your daily Max, you won't be able to cash out again until the next day.
Your daily Max is the maximum amount of money that you can cash out in one day, whereas, like we said above, your Pay Period Max is the total amount you can cash out until your next payday.
Your pay period Max resets on your payday after Earnin's debits are posted in your bank account.
Sometimes updates from your bank to the app are delayed, so the app might show you've reached your Max or that you're waiting to get paid.
In this case, contact the support team for assistance.
You will need to share a screenshot of your most recent direct deposit and/or Earnin's debits. Just ensure that the image includes the last four digits of your bank account number.
When will my Pay Period Max increase?
The company doesn't give an exact time period for increasing your Pay Period Max. Just do those things we mentioned above, like keeping your bank balance positive, and the app says that your Pay Period Max should increase soon.
Earnin Won't Connect to my Bank: What should I do?
If you have a bank connection issue, try this:
Make sure your bank is a checking account.
Log into your bank's website on your PC or laptop, and clear any pop-up alerts or messages that you may have.
Make sure that you chose the right bank from the dropdown list.
Check for typos and ensure you entered the right bank info/credentials.
If you're still having issues linking your bank account in the app, then contact support, and they'll be able to help you connect your bank.
Does it sell my data?
No, the app doesn't sell your data. The app says it only uses your data to make sure that you get rewards and to improve its Cash Back Rewards.
Can I use a prepaid card for Earnin app?
No. As we said above, the app does not support prepaid accounts or pay cards, as it can't guarantee a successful transfer to these accounts.
Can I use it with Social Security?
No. The app doesn't work with Social Security or any other government benefits. The app does say that it's always working to make more payment types available, so to check back with it in the future.
How do I change my bank account?
If you change the bank account that your direct deposits are being sent to, then you'll need to change your bank information.
Here's how to add your new bank account information:
iOS
Open up the app, and go to the Equal sign in the top left corner.
Tap "My Bank"
Tap "Change Bank." Make sure that you DON'T select Update Online
Choose your bank from the list of partner banks.
Enter your online banking username/password.
Android
Open up the app, and go to the three dots in the top right corner of the app.
Tap "Settings"
Under the "Bank" section, select "Edit bank details."
Under the "Current Bank" section, select your bank and follow the prompts.
Choose your new bank from the list.
Enter your online banking username/password.
It may take some time for the app to reactivate your account with your new bank information.
Once you've updated your bank information in the app, it will send a set of test transactions to verify your account – these will post in 1 to 2 business days.
If you don't see these transactions and your account still isn't active, then just get in touch with the app and the support team will be able to assist you.
How long does it take Earnin to deposit money?
If you have Lightning Speed, the money will be deposited in your account within minutes, even during the weekend and holidays.
If you don't have Lighting Speed, then it will take about 1 to 2 business days, depending on the time and the day that you withdrew the money.
On weekdays, here's when you can expect to get your money:
Cash out before 9:30am PST: Receive money same day, evening.
Cash out 9:30am PST – 8pm PST: Receive money next business day, morning.
Cash out after 8pm PST: Receive money next business day, evening.
Here's when you can expect to get your money at the weekend:
Cash out any time: Receive money next business day, evening.
Here's when you can expect to get your money on bank holidays:
Cash out any time: Receive money next business day, evening.
Here's when you can expect to get your money if you're enrolled in Lighting Speed:
Cash out any time: Receive money same day.
Is Earnin Worth It?
Now that you know exactly how it works, and whether it's legit, you're probably wondering, is the app worth it?
We're going to give you the pros of the app, before letting you know what we don't like about it, and our final recommendation.
Pros
When you are left short before payday, the app can bridge the gap, and provide you with some financial relief until your next paycheck comes in.
There are no fees. Sure the app does ask for tips, but it's not mandatory. This means you can avoid the high-interest rates that usually come along with short-term loans.
The process is automatic, and the money you borrowed is taken right from your paycheck once it comes in – so the whole process is simple.
The site is well-reviewed by customers, and it does seem like it's helped people who're struggling financially, in the short term.
Cons
Payday loans are not good. We know that seems like quite the blanket statement, but it's true, and we have the numbers to back it up.
12 million Americans take out payday loans each year, according to Pew Research.
Payday loans are simply unaffordable for most borrowers.
On the next payday, the average payday loan requires a lump-sum repayment of $430.
This consumes around 36% of the average borrower's gross paycheck, even though research shows that most borrowers can actually only afford no more than 5% while still covering their basic expenses.
That's pretty shocking, right?
Because of this, most borrowers have to renew or re-borrow loans. This is why the CFPB discovered that 80% of payday loans are taken out within two weeks of repayment of a previous payday loan.
With interest rates as high as 400% to a whopping 700% in some states, payday loans get people stuck in a cycle of debt.
But, Earnin doesn't charge fees, right?
So, what's the problem?
Well, there are quite a few.
You are spending money that you don't yet have. Let's say you borrow $100, and you spend it before the next payday. When your next check comes in, you lost $100 of it. If you spend a similar amount to what you earn, that extra $100 is really going to impact your budget.
You are encouraged to tip, and while, as we said above tipping is not mandatory, many people are generous and will tip. Often, the dollar amount they tip when converted to a percentage amount is quite high.
It's easy to become dependent on the app and get yourself stuck in a cycle of debt.
There were a few complaints on BBB from customers saying they were charged overdraft fees. Again, this adds to that cycle of debt. The company does claim to refund fees though, so this may not be an issue for everyone. It was just something I noticed during my research.
So, What's Our Overall Verdict?
You know what, like we said above payday loans aren't great.
And no Earnin is not your typical lender.
You won't be charged the exorbitant amount of interest that small-term loan providers usually take.
However, as we said above, it's still encouraging you to spend money that you don't have, and therefore, promoting that cycle of debt.
That being said, we totally understand why short-term loans like this exist.
In an ideal world, we'd all have the money we needed when we needed it.
Unfortunately, we don't live in an ideal world, and sometimes, we find ourselves without the money we need.
If you are struggling, and you just need some help before your next paycheck comes in, then we would recommend it over your usual payday loans.
It won't charge you those high-interest rates or any fees.
As we said, short-term loans aren't great, but if you have to borrow money, this app is a much better choice.
When it comes down to it, only you know your financial situation, and whether a short-term loan would benefit you.
Resources
If you're really struggling, give Earnin a try, but if you can, do avoid short term loans.
Or, try to up your income, so that you can save more money.
We have plenty of articles on how to do so.
Here are some articles that can help you financially:
Hopefully, this review answered the common questions you might have about Earnin, and has helped you to decide whether or not to use the app.