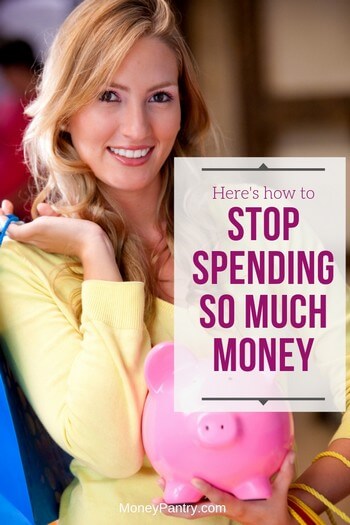 "I can't stop spending my money!"
We all need money (and want more of it), no matter how much of it we have or make. But if you ever said that phrase, you may need help in learning how to stop spending money.
Overspending money, especially money you don't have, on food, clothes and even unnecessary things is, unfortunately, a common problem.
So you're not alone. Overspending is a big problem.
According to a study from the Center for Financial Services Innovation, in the United States, nearly 50% of people spend their entire paycheck or more! The same study states that for those 18 to 25 the percentage is over half – up to 54%.
Overspending can have a big impact.
Need Easy Extra $300+/Month for Free?
KashKick
: Get paid directly into your PayPal for watching videos, surfing, shopping and more.
Join KashKick Now!
Panel Payday
: Earn up to $75 per survey. They also pay up to $50/hr for mystery shopping.
Join Now!
InboxDollars
: Paid over $57 Million to members to watch videos, take surveys, shop and more.
Get $5 instantly!
Branded Surveys
: Get $1 instantly just for joining for free. Plus get paid within 48 hours by PayPal!
Join Branded Surveys
iPsos iSay:
: If you have to only sign up for one paid survey site, go with Ipsos (high paying survyes)!
Join iPsos Now!
Swagbucks
: Get paid to watch videos, shop online, take surveys and more.
Join now & get $5 instantly!
People are tempted to buy things using credit and end up owing thousands in credit card debt.
Many people don't have savings, or even an emergency fund because they have nothing left to save at the end of the month.
According to a poll from The Associated Press-NORC Center for Public Affairs Research, two thirds of Americans would struggle to come up with the money to cover a $1,000 emergency.
Those are some pretty scary stats!
Don't worry though, there are so many simple things that you can do to stop overspending.
Even if you don't spend your entire paycheck each month, we could all do with cutting back a bit on what we spend.
In this post, we'll cover super easy tips that you can follow to spend less, and therefore, save more, reduce or even pay off your debt fast, and just feel less stressed about your finances.
Tips for Spending Less Money
If you're overspending, then even just spending a little less each month could help.
Did you know that having just $250 to $749 in your savings account could help you to avoid eviction, missing house payments, and other financial problems? This is, according to an analysis from the Urban Institute.
However, people struggle to save even that, with 65% of Americans having little or no savings at all.
Below, we offer easy to implements tips on how we can all stop frivolous spending.
1. Know Where Your Money is Going
You might not even realize how much you spend each month.
It's easy to lose track of purchases. Spending $50 on clothes at a store might not seem like a lot, but purchases add up.
Without realizing it, you could spend $100s extra each month just on what you think are small purchases.
We'd highly recommend you go through your bank accounts for the last few months and write down all of your expenses.
It will really make your spending habits hit home.
2. Plan Your Budget
Once you know where your money is going, you need to set a budget for yourself. You might be spending too much, simply because you don't have a budget in place.
Track your expenses and income – you can use a spreadsheet to do this. And, then allocate money to each area of your life.
So, for example, allocate part of your income to food, part to utilities, part of it to pay off your credit cards, etc.
Budgeting keeps you on track with your finances, it allows you to see how much you're spending, and it prevents you from spending more money than you earn.
3. Set Goals
Like we said above, planning your budget is important because then you'll know how much of your income you have to allocate to bills, etc.
Goals are important too.
Goals, like paying off your debts, cutting down your grocery bill, and starting a savings fund are important.
Perhaps you need to spend less because you want to save money to buy a car.
Or maybe you owe thousands in credit card debt.
Work that into your budget as well, but set goals for yourself.
You then have something clear to work towards. And each time that you go to spend, you'll know why you shouldn't – because it will deter you from your goals.
Goals give you a starting point, something tangible to work towards.
If you're spending $1000 a month on groceries, for example, you can then set a goal to reduce that to $600.
4. Use Budget Apps to Keep You on Track
We mentioned using a spreadsheet to budget, but this doesn't work for everyone.
Handily enough, there are lots of apps out there you can use to budget.
A few good ones include:
YNAB isn't free, but the other two are – EveryDollar has a free version.
With these budgeting apps, you can set up a budget, keep track of your expenses, and even set goals for savings and paying off debts.
If you struggle to budget, then we'd highly recommend using a budgeting app.
5. Cancel Unwanted Subscriptions and Services
Many of us are losing money from our bank accounts each month via unused subscriptions, and other recurring payments.
It could be a gym membership that you ever use that's debited from your account each month.
You may rarely use these services, even though you are paying them, or you may have even forgotten about these direct debits altogether.
Cancel any direct debits for services that you don't really use. Doing this could save you so much money.
In fact, if you cancel your gym membership, you could save $648 a year.
There's also a tool called Trim, which will find subscriptions, and, if you okay it, will cancel them for you!
So you don't even need to take the time or effort to cancel unused subs.
According to Trim – you could save $120 a year!
Check out our review of Trim here.
6. Stop Using Credit Cards
Did you know that people spend up to 100% more with a credit card than they do when they use cash?
Crazy right?
Credit cards encourage overspending.
If you want to know how to stop spending money you don't have, then you should ditch the credit cards – they aren't your friend.
It's easy to think, "oh I'll just put it on the credit card and pay it off when my next paycheck comes in."
It's likely though that next month, you won't have the extra cash to pay off the expense and you'll probably charge another purchase.
Unfortunately, it's easy to slip into the trap of credit card debt.
Instead of using your credit cards, use your debit card or cash instead.
If you don't have money in cash or debit, don't spend.
Credit cards should really only be used for emergencies, or if you know that you can pay off a balance in full before you incur those pesky interest charges!
7. Use the 30 Day Rule
Do you find yourself saying, "I wanna stop spending my money but I can't."
Sometimes, people just get into the habit of spending, it almost becomes second nature!
One of the best ways to break the habit is to go a month without spending any additional money.
If that's too hard, go for a day or two.
Of course, direct debits for utility bills might be subtracted from your account – it's tough to avoid these.
But, you could easily go a day without spending money on things like games, clothes, or even food.
Even just going a day without buying anything can be enough to break that overspending habit.
And if you want to know what it's like to stop spending money for 30 days, check out Money Mini Blog's post on not spending money for 30 days where Kalen shares his experience and what he and his wife learned during the experiment.
8. Before Buying Something, Sleep on It
Before you buy anything, it's best to wait until the next day to see if you really want the item.
So, sleep on it for a night, and the next day, and ask yourself, "do I really want to buy this?"
This is a simple trick that can prevent overspending.
9. Wait Until Next Month to Buy an Item
If you're really struggling with spending, rather than waiting a night before buying something, try waiting a whole month!
I know, that seems like ages, but it really is a good way to determine whether you actually want or need an item.
Plus, you can actually work it into next month's budget, so that if you do decide to buy that item you've been wanting, you'll have the money to do so!
If you've been wondering how to stop spending money for 30 days, this is a good trick!
10. Covert Cost from Dollars to Time
A good way to prevent buying stuff is to work out what the cost of an item would be in work time.
Look at the cost of the item and determine how many hours you would have to work in order to cover the price of it.
If you get paid $10 an hour and you want to buy an item for $100, for example, that's 10 hours you'd have to work just to pay for that one item. It's an extra 10 hours of work to cover the purchase!
When you look at it that way, this $100 you might have spent on a whim seems like more of a big deal.
So work out what an item costs in work time and see if it's really worth that extra work time to buy.
11. Stop Eating Lunch Out
If you spend $15 on lunch every workday, then that's $75 a week, around $300 a month, and $3,600 a year!
When you look at it that way, that $15 you part with each day then seems like a substantial amount.
Skip eating out lunch, or any other meal out. Instead, take a packed lunch with you. In ten years' time, you could have $36,000 saved up just by making your own lunch!
We're not suggesting that you never dine out again – just cut back a little, and you'll see big differences!
Oh and for those times when you do want to treat yourself to a lunch or dinner out, use these tips to save money at restaurants.
12. Make a Food Plan and Curb Spending
Want to know how to stop spending money on food?
Then plan!
As part of your budgeting, you should have allocated a certain amount of money to food.
It's also important to write out a food plan. I like to do this, because then, not only do you have all of your meals planned out for the week, but you also curb overspending and avoid buying items that you don't end up using – so you waste less food in the process.
When you go shopping, stick to your plan, and add up your purchases as you go.
13. Always Use a Shopping List
One of the best ways to fix a bad spending habit, especially when it comes to food and grocery stores, is using a shopping list.
A simple shopping list is more powerful than you'd think. Studies show that when you take a shopping list with you to the store, you spend less money.
When you have a shopping list, you're less likely to spend money on impulse purchases. Just make sure that you stick to the shopping list. Having a shopping list is also useful for sticking to your food plan for the week.
It's a simple, but effective way to spend less.
Don't want to deal with the hassle of using a pen and paper for your list? Try some of these grocery shopping apps that you can use to create shopping lists with.
14. Resist the Sales
Sales can be tempting. After all, if you're trying to save money, buying a product that's usually worth $100 for only $70 seems like a no-brainer.
However, $70 spent is just that – it's $70 spent, rather than $30 saved.
The best way to save money on a tight budget especially, is not by purchasing discounted items, it's by not buying them at all.
If an item that you planned to buy anyway goes on sale, then it's great.
Don't buy stuff just because it's on sale though.
Again, plan before you go shopping, and take a list with you. It will be easier to avoid those sale items.
If you want to know how to stop spending money on unnecessary things, then this is a good tip to keep in mind.
15. Take Cash With You Instead
Wanna stop spending money you don't have, this is the best tip for you to keep in mind.
Take cash with you instead of a credit or debit card.
It's a simple, but effective strategy.
While credit cards encourage spending cash you don't have, debit cards can also be dangerous.
Because you don't physically part with cash, it's easy to spend too much when you pay with a debit card. Cards, in general, are bad news when trying to curb spending.
Take the exact amount in cash that you allocated in your budget for food, or whatever it is you're buying to the store with you. Leave your cards at home.
This way, even if you are tempted to buy a few extras, you won't be able to, as you won't have the cash with you!
16. Make Your Own at Home
Whether it's pizza, Chinese food, or coffee, make your own at home, rather than ordering it out!
It will cost so much less.
17. Eat What's In
This is such a simple tip!
Before you head out to the grocery store, check your pantry.
You might find you don't need another trip to the store just yet.
Just take a look in your refrigerator, freezer, and pantry to see if you have food in that you could eat instead. You could eat for "free" for a few days by delaying that next trip to the grocery store. Only go to the store when your food is gone!
We actually do this in our home where we try to use everything we have left in the freezer and pantry before going to the grocery store. Not only it saves you some money, but it also helps you clean your kitchen and even save money by not having to through away food that might go unused for long enough that it becomes bad.
Pro tip: Before you through away anything while cleaning up your pantry, check out these tips to save money on trash bags.
18. Don't Go Shopping, Do Something Else Instead
While going to the mall with friends at the weekend can be fun, it's such an easy way to spend money on clothes, games, coffee, etc.
Don't go shopping – avoid the temptation.
There are plenty of free things to do as well.
Do a search for free museums, events, or other activities in your area – and check out our list of free museums!
Also, you could pick up an inexpensive or free hobby – check out our list of hobbies.
Or you could volunteer at a local animal shelter.
By occupying your time with other activities and hobbies other than shopping, you'll save yourself so much money.
You take away the temptation to spend money.
19. Keep a Change Jar
The change jar is a classic – with good reason.
Deposit all of your spare change into a jar, and then save it. You could even put a label on it for what you plan to do with it, like "weekend getaway," or "TV fund" if you wanted to.
Or you could simply deposit the money back into your bank account once you've accumulated enough cash.
This will stop you from mindless spending that extra cash frivolously, and encourages you to use the money in a smarter, well-considered way.
20. Do Your Grocery Shopping Online
I'm actually a huge fan of doing my grocery shopping online. Not only do you avoid the crowds, and save yourself money in gas and time, but I find that you actually spend far less.
Plus, with so many great grocery delivery apps and services, it's easier than ever to grocery shop on the Internet.
When you shop online, you can see a running total.
As you put each item into your cart, you'll see your total increase, and this really makes you think about how much you are spending.
Also, you don't have those in-store distractions, like sale items and samples that encourage you to buy stuff.
Plus, you can sit there with your meal plan and budget beside you and take your time over your shopping – this ensures that you really stick to your budget.
Interestingly, grocery items can actually be cheaper online – Consumer Reports suggests some items can be 10% cheaper.
Overall, doing your grocery shopping online can save you a lot!
21. Keep a List of Your Money Goals & Debts in Your Wallet
Keep a list of your debts, if you have them, and your savings goals in your wallet.
When you open your wallet, you'll be reminded of your budgeting and goals to spend less money.
It's a simple trick for keeping yourself focused on your financial goals and to remind you why you shouldn't be spending money.
22. Delete Credit Card Information from Online Stores
Shopping online can sometimes save you money, as we mentioned above. There are, still, however, spending traps that you can fall into with online shopping.
One to avoid is storing your card information on retailer websites.
When you have your card details already entered on a site, you can click a button and spend money pretty much instantly.
That's not a good thing if you're looking to curb spending.
When you have to enter your card number, it gives you more time to consider the cost of the purchase, and whether or not you actually need that item.
We'd suggest deleting your card information from online stores you shop with, as it will deter you from compulsive spending by helping you resist the urge to spend money.
This is a good tip to keep in mind if you're wondering how to stop spending money on clothes – clothing retailers make it so easy to spend money by storing your card information.
23. Budget Some Money for Yourself
Following a budget can be tough, let's face it.
This is especially true if you restrict yourself too much. It's like going on an extreme diet – it's too restrictive, so much so that you just can't stick with it.
That's why it's important to include some money for those extra expenses, like a coffee once a week at Starbucks, or a new piece of clothing once a month.
Work that into your budget.
Make sure that all of your bills are paid, and then if, after savings and paying debts too, you have some money left over, then treat yourself to it.
Just be smart about it.
24. Get Stuff for Free Online
Freecycle is definitely worth checking out if you're hoping to limit spending, because it has a lot of freebies.
If you really need an item, it's a good place to look. On the platform, people can give stuff and get stuff for free. It encourages recycling and giving to others, so it's a wonderful organization.
25. Pick up a Side Gig for Extra Spending Money
If you don't have much money left after bills, paying down debts, and saving, then consider picking up a side gig.
This will give you a little extra breathing room.
Then, if you do really need an item, or would just like to dine out with your family one evening, you'll have a bit of money to do so.
Check out these posts for side gigs:
Many of these gigs are home-based, which is great.
Also, you could take surveys, watch videos, and play games, and get paid for it with the following sites:
You don't make a ton of cash, but for beer money, you really can't beat these survey and rewards platforms.
These sites really do provide great easy ways to make extra money on the side.
If there's something in particular that you want to buy, then you can even set a challenge for yourself.
For example, if you want a new sofa, then you could challenge yourself to see how quickly you can raise the funds through a side gig.
26.  Sell Stuff to Raise Funds for New Stuff
For each new thing that you buy, check to see if there's an old item that you no longer need, which you could sell.
Maybe you want to purchase some new games?
Then sell your old ones on a site like Decluttr, for money to put towards them. Or, sell your old clothing on Poshmark, and put the money towards some new outfits.
Small changes like this can really help you to spend less.
Check out our post on the best places to sell used stuff online for a list that shows you which sites are the best place to sell particular items.
Would rather sell in person? There are apps to sell stuff locally as well.
27. Consider Your Goals Before Spending
If you want to spend less because you have credit card debt, then think "that $100 I'm about to spend on this coat is $100 extra that I could pay off my credit card this month."
Or, if you're saving for a vacation, think "that TV costs the same as a weekend in Florida."
When you think of spending like that, it really puts things into perspective.
Focus on your debts and savings goals – it's the bigger picture – and you will be motivated to spend less money.
You Can Overcome Spending Money
As you can see, there are so many ways that you can spend less money. These tips are simple to do and don't restrict you so much that you'll be tempted to blow your budget.
Just make these small changes and you could see big, positive changes in your finances.
What do you think is the cure for excessive spending?
Let us know in the comments section if you ever used these tips or any other hacks to stop spending so much money.