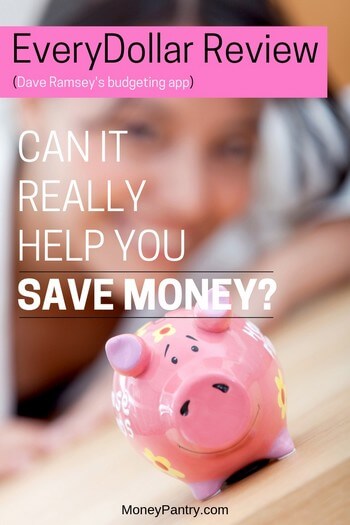 If you wanna get better at budgeting and managing your money, you want to read this review of EveryDollar app.
Here's the thing…
We'd all like to handle our finances better, whether it's to save money, pay off debts, or even just to feel like we have more control over our money.
Budgeting, though, isn't always a simple as it seems.
Keeping track of what you spend and where your cash goes can be tricky and time-consuming.
That's why we'd recommend, to anyone who struggles with budgeting, using personal finance software and tools that are specifically designed to help you budget.
Need Easy Extra $300+/Month for Free?
KashKick
: Get paid directly into your PayPal for watching videos, surfing, shopping and more.
Join KashKick Now!
Panel Payday
: Earn up to $75 per survey. They also pay up to $50/hr for mystery shopping.
Join Now!
InboxDollars
: Paid over $57 Million to members to watch videos, take surveys, shop and more.
Get $5 instantly!
Branded Surveys
: Get $1 instantly just for joining for free. Plus get paid within 48 hours by PayPal!
Join Branded Surveys
iPsos iSay:
: If you have to only sign up for one paid survey site, go with Ipsos (high paying survyes)!
Join iPsos Now!
Swagbucks
: Get paid to watch videos, shop online, take surveys and more.
Join now & get $5 instantly!
There are lots of great apps and websites out there that you can use to create and track your budget.
And a great one is EveryDollar.
Using this tool from financial expert Dave Ramsey, you can create and track budgets quickly and easily.
In our EveryDollar review, we tell you exactly how this tool works and how you can use it to improve your finances.
We'll also give you pros and cons, and compare it to other paid and free money apps, so you can decide whether or not it is the app for you!
What is EveryDollar?
EveryDollar is a budgeting app that you can use to create a monthly budget and track your spending.
The premise of the app is great – you need to track where every dollar goes!
The aim of an EveryDollar budget is to make your income, minus your outgoings equal zero.
This is so that you know exactly where all of your money is going.
If, for example, you cover all of your expenses during the month, and have $500 left over, then you haven't finished your EveryDollar budget yet. You have to tell that extra $500 where to go, so to speak!
The purpose of telling every dollar where to go (hence the name of the app!) is so that you can make use of any extra cash that you have left over.
You could use the money, for example, to pay down your debts, to save for an emergency fund, invest, or pay off your mortgage.
This type of budgeting is called zero-based budgeting.
Is EveryDollar App Free?
There is a free version of EveryDollar available, and a paid version, called EveryDollar Plus.
The paid version costs $99 a year, and there's a free trial available for 15 days.
If you want to ensure you don't get charged for EveryDollar Plus, after the free trial period, then make sure you cancel it before the trial period ends.
To do this, you'll need to make sure you turn off auto-renew.
You can do this in the "Settings" section, which you'll find at the bottom left. In the section that says, "Auto-Renew," click on "Turn Auto Renew Off."
Then, click on the blue checkbox to uncheck auto-renew. Click, on "Save Changes."
Confirm that you want to turn off auto-renew, and you won't be charged after the 15 day trial period, but you'll still enjoy the benefits of EveryDollar Plus for the remainder of the free trial period.
If you decide you want to try the paid version of the app in the future, then you can do this in the settings section too.
We'll cover the differences between the free version and the paid version of ED below.
How to Use EveryDollar
With the app you can set up a budget in less than 10 minutes!
You use it to create a monthly budget so that you can achieve any financial goals that you have.
Below, we'll go into more detail about how EveryDollar works and how to use it.
Signing up
Signing up for EveryDollar is pretty easy.
Here's how to do it:
Visit this page to fill out the form to create your account.
Click on the verification link in the email they send you – make sure that you do this within 24 hours, otherwise it will expire! If you click on the link and it has expired, you'll see the same message you got earlier that asked you to check your email for instructions. To reactivate the link, and to get it sent to you again, just click on the "resent" link at the bottom of the message. Then check your inbox for a new verification email link.
By the way, the verification email usually takes just a few minutes, but can sometimes take several hours to get to your inbox. Also, the email might get sent to your spam folder by mistake – so do check your junk/spam folder for the message, as well as your inbox.
Once you've got your account and have the app you can start using it!
Also, there's a browser version of EveryDollar too, so if you don't want to use the app, then it's a great alternative.
How Do You Set up EveryDollar Budget?
Setting up a budget with EveryDollar is super simple.
Here's how to set up your budget:
1. Enter your Monthly Income
To get started, simply enter the income that you expect to make into the app.
2. Plan your Expenses
The next step is to make a plan for your income! This is where the real budgeting starts. You'll need to plan your entire month's spending in advance.
EveryDollar gives you a customizable template that you can use to budget your monthly expenses. This is so handy!
You can enter everything from your cable bill to your grocery expenses.
What's useful is that ED even groups the expenses for you, by categories like Food and Utilities.
So you set up budgeting categories and then allocate your income to those expenses.
For each expense, you put a dollar amount next to it – so under the food category, for example, you might put groceries, and enter $500 next to that, and then add another item under that, like coffee, and put $40 next to that.
And, under the utility section, you'll have things, like cable, electricity, and mobile phone, with the monthly cost of each one next to it.
So, it's a very flexible tool that you can use to budget for pretty much anything.
Keep Track of Your Spending
Once you have your budget, you'll need to keep track of your spending – by doing this throughout the month, you ensure that you follow the plan you created.
Every time that you spend money, you need to create a transaction, and then track it to your budget. So if you spend $5 on coffee for example, then add it to that $40 monthly coffee plan you created earlier.
As you update your budget with your expenses, you can see if your spending lines up with the budget you put in place, and you can make any adjustments if you need to.
Using Baby Steps
Tracking what you spend is only one aspect of EveryDollar.
It also helps you to create a plan that will help you to save for emergencies, pay off your debts, save for the future, and build wealth – these are called Baby Steps.
If you know anything about Dave Ramsey, then you've probably heard about his Baby Steps.
These are seven steps that he outlines, which he claims will help you to improve your finances, get out of debt, etc.
For example, Baby Step one is, "Save $1,000 for your starter emergency fund."
You can view all seven steps, and learn more about them on the Dave Ramsey website here.
Once you've created your first budget, and have added your transactions, you'll also be able to start adding information to Baby Steps one, two and three.
Here's a more detailed breakdown of how the baby steps work, and how to set them up.
Baby Step 1: Emergency Fund
This step involves saving $1,000 for a starter emergency fund.
If you want to edit Baby Step 1, then you need to go to the main Budget page and click on the Emergency Fund budget item.
Then on the detail card on the right, click Fund Details. Then, you will see a place where you can enter your starting balance. Click save, and your account will be updated!.
When you've set up your emergency fund with a starting balance, then you can go to the "Planned This Month" section, which you'll find under Fund Details, and enter how much of your income this month you'd like to put into the fund.
The amount you plan to put into this fund this month will be added to your balance. And, then it will be carried forward month to month until you need it.
Baby Step 2: Paying Down Your Debts
What's great about this app is that it not only allows you to budget, but it also helps you to pay down your debts as well.
There's a debt section, where you can add all of the debts that you have.
To edit Baby Step 2, just go to the Debt section, which you can find on the main budget page. Once there, click on "+ Add Debt" – this is at the bottom.
Then, you'll be able to add each debt that you have.
So, in this section, you might add things like, "Car Payment," "Visa Card," and "Student Loan."
Once you've added a debt, like "Car Payment" for example, on the detail card on the right, you'll be able to enter your Starting Payment and Minimum Payment for that particular debt.
With the paid version of the app EveryDollar Plus, you'll be able to arrange your debts by current balance – just click on "Sort smallest to largest."
Then, your debts will be sorted with the smallest balance at the top – debts that you should be putting extra money toward are highlighted in yellow. Again, this feature is only available with the paid version of the app.
Baby Step 3: Savings
This step is concerned with saving money.
If you are working on the budget for this month, then you can edit this step from the Baby Steps page. Just click "Baby Steps" in the left navigation bar.
Just fill in the "Starting Balance" and "Savings Goal" and click "Save," and you'll have saved Baby Step 3.
EveryDollar: Free vs. Paid Version
As we mentioned above, there are two versions of EveryDollar – one is free to use, and the other, called EveryDollar Plus is a paid tool.
For the most part, the apps work in the same way, you practice zero-based budgeting, track your spending, and set up those Baby Steps.
But there's one key difference:
In the free version, you have to manually enter your transactions.
With the paid version, you can automatically track your spending. The paid version enables you to do this because you can link your bank accounts, and then the app will automatically pull in transaction data.
Is EveryDollar Worth It?
If you struggle to stick to a budget, or you feel like you don't really know where your money is going each month, then this app could definitely be worth it for you.
Let's take a look at some of the pros and cons of EveryDollar, so you can decide whether or not this tool is for you:
Pros
First, we're going to start with the pros of EveryDollar.
It Simplifies Budgeting
You can put literally all of your expenses in one place – and track your spending as you go.
If you've been looking for a tool that really simplifies the process of budgeting, which let's face it, can be a little tedious, then EveryDollar is the one for you!
You Can Budget on the Go
Tracking your budget can be tough because it's easy to get home from the grocery store, and forget to write down what you've spent.
With this tool, you can budget anywhere.
This is because EveryDollar syncs across your devices. So whether you are budgeting from your desktop computer or your smartphone, your budget is always up to date.
Cons
Let's take a look at some of the disadvantages of EveryDollar.
The Free App is not Automated
While the app certainly makes it so much easier to budget, keeping track of your expenses is not automatic with the free version of the tool.
You have to enter transactions yourself. So it's not an automated budgeting solution if you opt for the free version.
The paid version does track your expenses for you, but if you don't want to pay for a budget an app, then it's not ideal.
It's Pretty Basic
EveryDollar doesn't have that many bells and whistles. It really only offers a zero-based budgeting system, which not everyone likes. Also, if you're not keen on Ramsey's Baby Steps, then you might not enjoy the app either.
But, just because it's basic, it doesn't mean that it isn't good – sometimes it's the simple apps that work best!
EveryDollar Reviews and Rating
Now you know the pros and cons of the app, let's take a look at what actual users have said about the app online.
Below, are comments and reviews from people who've used the app from platforms like Reddit and the Google Play store:
"EveryDollar Free Version is the bomb. I love it! I would never want the paid. EveryDollar has been life changing for us. It's sooo customizable. I make all my own groups, based on bi weekly pay. And the Fund feature is by far the best!! All my sinking funds are tracked this way. I set everything up on the Desktop version (this is important). Also most people aren't aware that you can use EveryDollar just like YNAB (only budgeting income as it comes in for real)…game changer. And FREE. and way less confusing to me than ynab."
"i use the basic, free version, where you have to manually enter your expenses. i prefer it that way because it forces me to review my finances regularly – also, knowing i'll have to enter an expense in one of the categories (and potentially break my planned budget for the month) is often enough to curb impulse buys. i like that i can use it on my phone or desktop, and that i can see a "pie" illustrating how my budget is breaking down (percents to housing, savings, food, debt etc)."
"One of the Best Budgeting Apps! There are 2 versions of the app. The free version or the paid Subscription…they both work well. I prefer to the free version, since I log everything manually. The paid version will automatically download your transactions from the bank. My wife has the app on her phone, & w/ the same log in, she can see where we sit on the budget. One step closer to becoming an everyday Millionaire!"
"I've used this app for a year, including the plus option to download transactions directly from my banks. This helped me to stay on track with my finances and move literally every single dollar into the right places within my budget. I know now where I was wasting money and how I can save more."
"This is amazing! I don't know how they do it, but they have done it! So easy, so seamless. My bank transactions automatically show up and I can drag and drop them into my budget categories. So easy to keep track of every dollar that comes in and every dollar that goes out! (hence the name, I guess…lol). Try it! Use it! The best."
"I freaking love this app with all that I can do with this! I can track my earnings separate from my budget trackings and savings."
"Great app, changed my life! Paid off $10k on my last credit card. Get this and a plan to be debt free and you'll do it."
"Excellent app. It allows me to budget on the go, which saves me time."
As you can see, overall, most users seem to like the app.
How Does it Compare to Other Budgeting Apps?
EveryDollar isn't the only budgeting app out there.
And, when looking online, you'll often see people comparing it to other apps.
Let's look at some EveryDollar alternatives and see how it compares to other apps.
EveryDollar vs Quicken
Quicken offers more features, such as bill payment and investment tracking. But, it's not as easy to use as EveryDollar. Plus, people report issues with it, like bank synchronization problems.
EveryDollar vs YNAB
These apps are very similar in terms of the features on offer. Both allow you to budget. YNAB offers a couple of features that EveryDollar doesn't, like investment tracking and retirement planning. But, if you enjoy Dave Ramsey's methods for budgeting, like zero-based budgeting and Baby Steps, then ED will suit you better. Plus, there's a free version of ED available!
EveryDollar vs Goodbudget
Goodbudget also uses the envelope system of budgeting, so it's very similar to ED. But, there's no free version. So if you're looking for a free budgeting app, go with EveryDollar! Also, EveryDollar's interface is less clunky that Goodbudget's.
EveryDollar vs Mint
Mint is a totally free app (review here). And, it offers quite a lot of features. If you want a tool that's easy to use, and streamlines the whole process of budgeting, then EveryDollar is a great Mint alternative and choice. If you want an app that's feature-rich, then go with Mint.
On an EveryDollar vs Mint Reddit thread, one user comments on ED's easy to use interface, "I like ED over mint due to the UX. Mint (when I used it a few years ago) was really complicated and I never cared for it. I started using ED a few months ago and it was simple and straight to the point. I like it!"
Closing Thoughts
EveryDollar is a legit app that, while not offering a ton of different features, will work well for anyone looking to better their finances.
It's simple to use, the interface is easy to navigate and it just makes budgeting a whole lot easier!
We hope our EveryDollar review has helped you to decide whether or not to give the app a try!
Let us know in the comments section below what your experience using the app was like!