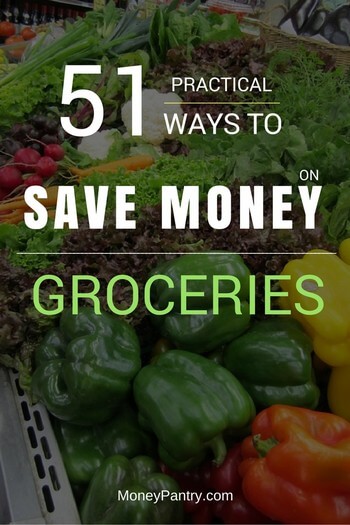 "Don't go grocery shopping when you're hungry!"
We've all heard that, and we've all experienced it once or twice.
But when it comes to saving money on groceries, it's not just being hungry when shopping that sabotages your efforts.
You go to one of many grocery stores near you to pick up bread and milk. But by the time you get to the checkout line, you have two carts full of stuff.
All of a sudden your $20 shopping trip turns into a $300 grocery spending spree!
Need Easy Extra $300+/Month for Free?
KashKick
: Get paid directly into your PayPal for watching videos, surfing, shopping and more.
Join KashKick Now!
InboxDollars
: Paid over $57 Million to members to watch videos, take surveys, shop and more.
Get $5 instantly!
Branded Surveys
: Get $1 instantly just for joining for free. Plus get paid within 48 hours by PayPal!
Join Branded Surveys
First Opinion
: Get paid up to $10 per survey and $300 per virtual focus groups!
Join Now!
Swagbucks
: Get paid to watch videos, shop online, take surveys and more.
Join now & get $10 instantly!
"How the heck did I just spend $300 on groceries?"

Don't you hate it when that happens?
I do!
But the problem (especially if you have a bigger family) is that you actually need most of what's in your shopping cart.
Sure, there may be a few items that you don't really "need" but want.
But the rest…
The rest is stuff that you need to feed your family.
That's the common theme for most families.
Food is one of the main expenses for a lot of families, large and small.
According to the Bureau of Labor Statistics' Consumer Expenditure Survey , a typical American household spends $537 every month on food, with about 60% of that amount going towards groceries.
The good news is you can lower your grocery bill…
By a lot!
There are tons of ways to do that.
And I'm not just talking about using coupons to save money on groceries.
There are other ways, too.
Believe me!
And to prove it, I have gathered a big list of ways anyone can use to save a little on their groceries.
You won't save as much as I do!
Some of these ideas may not work for everyone, or there may be a few that are extreme for some people.
The idea here was to create a list that would cater to a variety of situations.
We all have different ways of living.
And while using leftover bacon grease may sound disgusting to some people, for others it's just common sense.
I guess what I am trying to say is that you may not be able to use every single one of these money saving tips, but I am sure you can use a few to help you save a few bucks.
And that's what saving money is all about – saving as much as you can, whenever and wherever you can.
Grocery Hacks that'll Cut Your Bill in Half
With that said, here is a list of ways you can cut down your grocery bills.
1. Track your expenses
The first step before you commit to any saving plan is to start keeping track of your expenses.
My suggestion is to start compiling a list of every item you purchase over a one-month cycle.
Until you are clear on your spending habit and amount on individual grocery items, you won't be able to create a meaningful budget and set your cost saving goals.
2. Use apps
Thankfully, these days there are so many shopping and coupon apps that can make saving money a lot easier.
There are apps that can help you find deals and discounts with a click of a button.
There are apps that can compare prices for you right there on the spot.
There are apps that can get you deals and discount you could never dream of.
As they say, there is an app for everything.
3. Buy frozen
While fresh supplies direct from the market can be desirable, the products in the frozen aisles are not too shabby either.
In fact, those frozen products (most) still pack significant nutrition (comparable to the fresh foods) and they certainly offer more bang for your buck.
4. Have a running grocery list
This approach ensures that you never run out of stock.
Grocery shopping won't be as costly when you walk into the store knowing what you're going to buy and sticking to it.
Having a list helps you avoid impulse buys that can quickly rack up your bill.
5. Shop at discount grocery stores
While fancy supermarkets boast of an impressive array of merchandise, normally you want to do your grocery shopping at a regular grocery store like Publix, Kroger, and Safeway.
Frequent your neighborhood discount grocery stores (like Aldi.)
Many of those discounted supply food items come directly from other larger chains.
The choice is decent and there should be enough selection to satisfy any reasonable palate.
They even cater for more exotic preferences, stuff like foreign cheeses, Brie, Camembert or Gouda, all at impressively low prices.
6. Buy in bulk
This is the economy of scale at work.
Learn to buy more to enjoy a greater discount.
Of course, you don't want to go overboard with this.
Don't buy a ton of crap that you're not going to be able to use before they all expire.
7. Cook more often
You don't need me to tell you that home prepared meals don't cost as much as those you order at a restaurant.
I am not advising you to strictly stick to homemade meals, occasional lavish is still in order.
Just learn to factor in these options into your budget, so you are not swayed by your objective of grocery savings.
8. Reuse leftovers
Leftover meals do not have to be wasted.
Get creative!
You could have Roast on Monday, followed by Casserole the next day, why not mix these up and serve yourself stew on Wednesday.
Large meat servings turned into other meals just to add variety.
9. Stop tossing food in trash
Of course, do this only when it is practical.
Do not throw them all away.
Your chicken carcass would make a nice ingredient for your stock, and bacon grease could be added to your bean stew.
When you are satisfied with the rate your food has been re-used, dump the leftover into your homemade free compost pit.
10. Cook large batches
Get used to preparing large batches of food.
Eat your share and the balance can go into your refrigerator, packed in single-meal portions.
This tip would compliment the bulk foods purchase strategy mentioned earlier, nicely, as you are effectively mitigating the risk of spoilage.
The advantage is twofold: you save money on the bulk purchase and you save time on food preparation.
This trick works well even for those who may not exactly have a flair for cooking as one can always do a stockpot.
11. Don't shop when hungry
When tired or hungry, don't do your grocery marketing.
You'll end up spending more as you give in to your urge to eat there and then.
Additionally, your shopping expense could go up as everything would appear so tempting, just because you are hungry!
12. Avoid impulse shopping
You got to learn to resist impulse buys.
The idea of coming up with your grocery list is to keep tabs on and buy only those items that you need.
If something works into your fancy at some point in time, you can always add it to your shopping list, though for next week on.
13. Crunch some numbers
When you are presented with two or more forms of the same product, put your math skills to good use.
One cup of dried beans retailing at $.89 (gives you seven cups of beans when cooked) is surely a better bargain than a can of beans (retailing at $.99) that gives two cups.
Think value for money and the bag of dried beans becomes an easy choice.
14. Keep a calculator
Admittedly, as you roll your shopping cart at the grocery store, it could be tough to keep track of your intended purchases.
Get a calculator to help with the computation instead of letting the cash register tell you how much to pay at the checkout counter.
This way, you keep a tight lid on your budget and you also save the hassle and embarrassment to return a few items as you have blown away your original budget!
15. Just buy food
Confine your purchase to simply food items only.
Anything else, like the makeup, detergents, and stationery stuff, can be acquired later from Walmart and Target.
This exercise will instill discipline in your efforts to monitor your grocery expenses as you keep everything else out of the way.
16. Stay sway from processed food
Processed foods have health implications, although not all processed foods are unhealthy.
From a practical viewpoint, processed foods have more than one food ingredient, which is one too many. Just think of a bag of potato chips, it has more than potato inside the package.
Branded or trademarked items tend to impose a premium on the price tag, so stay away!
Whether for health reasons or that extra fee commanded, they are not worth the buy.
17. Make fewer shopping trips
While it's not practical to suggest you avoid shopping altogether, it is wise to keep these trips to a minimum.
The thinking is that the more you go to the store, the more you run the risk of convincing yourself of a few impulse buys.
As you get into the habit of buying in bulk, the shopping trips would gradually go down anyway.
18. Stop buying water
You may survive on bottled water so far, but the research has shown that bottled water isn't all that much better than tap water.
Well water may just be purer than your favorite brand.
If you are a city dweller, think of investing in a reusable filter as a replacement for your bottled water.
19. Don't pay for the water in products
Products in cans can be competently displaced by lower cost powdered products.
Whether it is fruit juice, canned beans, jello cups, or cooking stocks and broths, the powdered form alternatives are invariably much cheaper.
Sure these will require you to add a little water before they can be served, but this would be a decent price to pay in the name of greater savings!
The theory applies to solid food as well. So old fashion pork or chicken would definitely cost less than pork or chicken with salt and water additives!
20. Don't buy pre-cut food
Did you know that pre-cut vegetables, on average, cost 6 times more?
Another popular gimmick by businesses is to pre-mix vegetables and sell them at a premium.
For the good of your wallet, buy those vegetables and mix them up yourself. It takes less than a minute.
21. Buy bagged produce
Bagged products tend to be cheaper than when you buy them not in bags.
The sort of foods that apply here are usually fruits and vegetables.
22. Save money on groceries with coupons
Coupons may not necessarily represent the ultimate way to save money.
But, if you are in a situation where you can't afford the processed foods you have many cravings for, then a coupon or two can come to the rescue.
Using coupons smartly and strategically can save you loads of money.
Check out this post for a list of best sites for printable grocery coupons.
23. Opt for store cards
Don't dismiss those loyalty cards.
Such cards entitle you to discounted items without relying on your coupons.
24. Buy store (generic) brands
Don't be too quick to dismiss store brands.
In most cases, store brands stand shoulder to shoulder with their brand name counterparts.
In some situations, you may actually find the stuff inside is from one of those branded names, just that they are packaged differently.
In order to avoid disappointment, you may have to experiment with individual store brands out there and settle on those that match your expectation.
25. Don't buy designer salt
Don't get sucked up with "designer salts".
If you look closely (i,e, quick research) you'll realize that they are nothing more than a combination of finer ingredients, specialty spices, and loads of salts.
You can get all of this stuff individually and mix them any way you want.
26. Shop from different stores
Take your time to get acquainted with the different neighborhood stores in your area.
Over time, you will find out which ones have the best bargains on certain merchandise.
When you have it sorted out, do your shopping accordingly.
Granted, it's going to take a bit more time but you will be rewarded with significant savings on your grocery bills.
27. Take it back
If you come across spoiled items with your purchase, bring them back to the store.
As proof of purchase, be sure to present your receipt.
There is no reason not to demand an exchange over anything you have paid for in such a situation, especially food items.
28. Barter
If you are in possession of livestock and find yourself with extra milk or eggs to spare, barter and trade with your neighbors/friends so you get products that you want in return.
29. Invest in a new cookbook
Diversify your cooking with recipes that apply ingredients differently from your usual fare.
For example, Far East folks are used to having meat as an accent, appearing in soups sparingly.
The meat serving meant for 4 people in the US can actually serve 8 with a "foreign" recipe.
The benefit of saving is obvious, and may also improve your overall wellbeing.
30. Don't take the kids
Taking kids with you to the grocery store is a big mistake!
A good place to drop them (if you don't want to leave them at home) is the library.
31. Take advantage of good deals
Sometimes stores run special promotions.
If you find one of your often purchased grocery items on the list, buy it then and there instead of waiting until next week.
And don't forget to sign up for your local store's weekly newsletters and coupons so you can get all the latest deals and discounts in your mail or inbox.
32. Use the produce scale
No point trying to guess or mentally work out how much you are buying.
The scale is there to help you avoid over-buying.
33. Don't always use coupons!
If a coupon could be used on either a fresh produce or a processed product, the fresh produce should always be your first decision.
Even though processed foods come with a discount, albeit steeply, in the long run, the health disadvantage of eating processed food will drive up your medical bills.
34. Always buy cold cuts from the deli
But buy the whole unit instead of cold cuts packaged in plastics.
You can also slice them up yourself later at home.
The logic here is that it is obviously cheaper.
Plus, for those of you "Green" people, the paper wrap used by the deli to wrap the meat is much more environmentally friendly than the plastic packaging used by the manufacturers.
35. Keep an eye on the cash register
Don't assume the cashier will always get your purchase right.
Be a hawk and keep a close eye on every transaction.
People make mistakes. Yes, even cashiers!
According to industry estimates, supermarket scanner errors can cost consumers as much as $2.5 billion annually.
You don't want to contribute to this fund!
36. Stock up on foods right after Thanksgiving
Start stocking up actively only after Thanksgiving.
The reason is there has never been a time where coupons are as ubiquitous.
Dirt cheap turkeys could be had only one day after Thanksgiving.
37. Shop at farmer's markets
Locate the neighborhood farmer's market to save money on fresh produce.
You would be doing a favor to the local economy as well.
Buy in-season-produce to enjoy price saving and you can preserve and store them for a longer period.
38. Avoid the checkout counter displays
The checkout counter often displays a multitude of items allegedly on sale.
The truth is that these products have been boasted by a heavy markup.
So stay clear!
39. Get an extra fridge or a freezer
If your situation allows it, invest in an extra freezer or refrigerator.
The idea is to ramp up the storage capacity for your fresh produce and take advantage of sales on frozen items by stocking up when they are on sale.
40. Forage
For rural folks, find time to forage for nuts, berries, mushrooms and some wild fruit or vegetables.
These are rich in nutritional values and the act itself allows you to get some fresh air while basking in the sun.
41. Shop at bigger stores but not always!
Once again, the economy of scale finds its application here.
Thanks to their size, the products there are often offered at a lower price, relative to the smaller stores.
But don't take the lower price for granted, these larger stores are known for their clever tactics to induce you to spend more money there.
42. Know your store
Ultimately stores are in the business for profit. Lowly priced milk is placed right at the end of the store and the most costly stuff are located within easy eyesight.
Real basic food items are being pushed towards the walls while the more expensive processed items find themselves placed in the easy access aisles area.
Rule of thumb, stick to the merchandise along the wall to avoid temptation.
43. Volunteer at your local produce shop
Perishable food items are often given away to staff members instead of being thrown away as they near their use-by date.
Get your hands on this stuff and store them away in your freezer.
44. Keep away from the lavish displays
Lavish displays are meant to catch your eyes in the hope you inadvertently got sold with the impressive setup.
Stay vigilant and don't fall into this trap.
45. Avoid purchasing items in individual wrappings
While individual wrapping offers many conveniences, it does little to help your saving goal.
The idea of pre-packed lunch boxes can be appealing especially you have a relatively large household size.
But the right thing to do is to buy in bulk and apportion these foods into individual containers for the kids' lunch.
46. Take your lunch with you
With all the food in the house, it makes sense to bring these foods out as you leave the house.
This is a sure way to keep tabs on what you eat and save money at the same time.
47. Grow your own
Homegrown crops are an excellent grocery saving idea.
One of the most efficient ways to cut on your grocery shopping is to grow your own crops.
Get started with a small garden and make sure you plant your crops in accordance with the season.
You can later expand your garden to include a greater variety of crops.
It also helps if you invest time to figure out how to preserve food, for example through canning or refrigeration.
48. Take advantage of freebies & samples
If you look carefully, there are many food giveaways, even from online operators.
Sure, this may not be your usual idea of a cost-cutting measure, but if these are things you happen to need and they are in reasonable condition, why not take them!
49. Make your own bread
You may not be aware of this but homemade bread costs a lot less than those you buy from stores.
You can obviously extend this made-at-home mentality to other products, which invariably presents even greater savings.
Tasty popcorn?
How about homemade popcorn with a little nutritional yeast added, to achieve that buttery flavor?
While you're at it, get your hands on homemade ice cream, yogurt, or kefir.
50. Use food delivery programs
This, on the surface, may seem like wasting money, but there are certain situations where paying for each meal to be delivered right to your door, could actually save you money.
For example, if you are a two person family, you probably waste a lot of money by throwing produce and other food items in the garbage because they went bad since you didn't get to use them early enough.
And when you add the amount of time and gas you spend going to the store and buying those items, it soon becomes clear that you are wasting way more money doing that than if you would just use a food delivery system that delivers exact portions, eliminating the waste.
And if you don't like someone else to cook the food for you, then you'd be happy to know that there are companies like Plated that for $10 a meal deliver all the ingredients you need to make a certain meal right to your door, all pre-portioned, along with a step by step recipe card that you can use to cook that particular meal.
Again, for most of us, this is not the best option.
You would actually spend more money than saving it.
But for those with unique situations like the one I explained above, it could be a good option to look into.
51. Get a rain check
Stores run out of stuff all the time, especially on sale items.
And that creates an opportunity for you to save some cash.
The next time your local grocery store runs out of an item you need, just talk to the customer service and ask for a rain check.
That rain check enables you to buy the item (when it gets restocked) at the advertised sale price at the time you got the rain check.
How Do YOU Lower Your Grocery Bills?
Hopefully, these tips will help you lower your grocery bill.
I'd love to hear about your experience and what you do to save money on food – whether you have a large family or a small one like I do.
Do you use coupons?
Do you believe in the "Don't go grocery shopping when hungry" thing?
Please feel free to share your experience or perhaps any other method you use to save money on food and groceries by leaving a comment below.