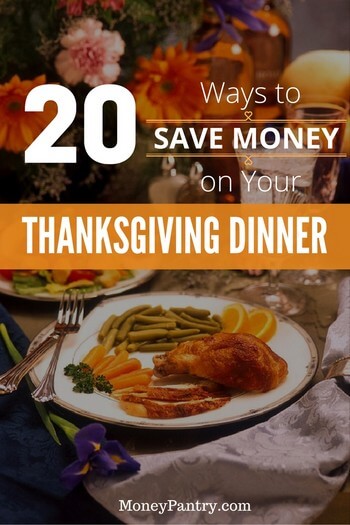 Thanksgiving dinner can be wonderful – there's great food, friends, and family. But, when you're hosting dinner, it can be a bit more stressful.
There's the planning, cooking and the serving of the meal, as well as the decorations – all of which can be time consuming.
One of the most difficult things about being the host on turkey day, however, is the cost.
According to data from the American Farm Bureau Federation, in 2015, the average American family spent $50.11 for their Thanksgiving dinner. That number has doubled since 1987. For this year, this number will surly grow bigger especially considering the 3.1 percent increase in food prices over the past year as reported by the Bureau of Labor Statistics.
From the turkey to the decorations, the cost of Thanksgiving Day can really mount up if you're not careful.
Fortunately, we've listed 20 simple tips on how to save money on Thanksgiving Day.
Need Easy Extra $300+/Month for Free?
KashKick
: Get paid directly into your PayPal for watching videos, surfing, shopping and more.
Join KashKick Now!
Panel Payday
: Earn up to $75 per survey. They also pay up to $50/hr for mystery shopping.
Join Now!
InboxDollars
: Paid over $57 Million to members to watch videos, take surveys, shop and more.
Get $5 instantly!
Branded Surveys
: Get $1 instantly just for joining for free. Plus get paid within 48 hours by PayPal!
Join Branded Surveys
iPsos iSay:
: If you have to only sign up for one paid survey site, go with Ipsos (high paying survyes)!
Join iPsos Now!
Swagbucks
: Get paid to watch videos, shop online, take surveys and more.
Join now & get $5 instantly!
1. Get a Headcount Early On
Making a little extra food on Thanksgiving is a great idea if you want leftovers. But, you don't want to make too much extra food, or it'll end up being wasted.
That's why you need to get a headcount early on.
When you tally your guests, you can start planning how much food you'll need to buy, and you'll prevent yourself from overbuying.
Buying enough food for ten people, when only six can attend dinner is a huge waste of money. So, make an effort to get your final headcount as soon as possible.
2. Take Stock of What You Already Have
Don't head out to the grocery store right off the bat. Instead, take the time to take stock of what you already have.
You'll be surprised at the Thanksgiving-friendly ingredients and foodstuffs that you have collecting dust in your home.
Check the pantry, all of your kitchen cupboards, your freezer, the fridge and anywhere else that you store food. You'll probably find that you already have some of the stuff on your list, so you don't have to waste your cash to buy it again.
3. Plan for Leftovers
Making extra Thanksgiving food so that you have leftovers is one thing – but, knowing what to do with those leftovers is another.
That's why it's important to plan ahead.
You need to plan what dishes you are going to make with the leftovers – and make sure that you have all of the ingredients you need to transform your Thanksgiving Day leftovers into new meals.
Whether it's turkey soup, turkey enchiladas, turkey casserole, turkey salad or turkey chili, there are tons of meals you can make from Thanksgiving leftovers.
And, when you use leftovers, you can significantly cut your food bill down in the days following Thanksgiving.
4. Start Shopping Early
If you're wondering how to save money on Thanksgiving dinner, then one of the best things that you can do is start shopping early. Don't put your shopping off until the last week of November.
Many stores spread their sales and discounts throughout the month of November, so if you don't start shopping until late November, then you could miss out on some great deals in mid-November.
Do your regular shopping, but throughout November, be on the lookout for items and ingredients that are on your Turkey Day list – you'll probably find that the cranberries are on sale one week and the sweet potatoes the next.
Don't wait until the last minute to do your shopping – if you start early, you get so many more money-saving deals and discounts.
Plus, it's gets you more organized and makes the whole process of hosting Thanksgiving a bit less stressful.
5. Compare Prices and Shop in Multiple Stores
Want to save money on Thanksgiving Day? Then you must compare prices and shop multiple stores.
Generally, you won't be able to get the cheapest prices for all of the items on your Thanksgiving list at one store.
For example, you might be able to find sweet potatoes for a couple of dollars less than at a different grocery store.
So, you'll need to compare prices and shop multiple stores.
Also, during the holiday season, supermarkets compete with each other to attract shoppers – so they offer discounts and other money-saving deals.
So, you might find canned pumpkins at 10% off in one store and 25% off a case of wine at another.
Take the time to compare prices, and shop multiple stores, and you could end up saving yourself a pretty decent chunk of cash.
6. Buy in Bulk If Your Guest Count Is High
If your guest count is high, then it's worth buying your Thanksgiving Day supplies in bulk.
When you buy in bulk you generally pay less per unit – so you really can reduce the cost of dinner.
Shop at warehouse stores, like Costco and Sam's Club. But, also check out local grocery stores to see if they have any bulk buy deals.
Again, this is why having a head count for dinner is so important – because if you do have a lot of people coming, then you know to really stock up!
7. Make the Food from Scratch
Want to save money on Thanksgiving? Then, make the food from scratch. It's usually cheaper to make food yourself, rather than buying it readymade.
Making a pie crust is super cheap, as is making your own mashed potatoes – plus, the homemade stuff usually tastes so much better anyway.
And don't worry – there are plenty of easy, but delicious Thanksgiving recipes online.
Just do a quick search for terms like:
"quick and simple Thanksgiving recipes"
"easy Thanksgiving recipes"
"easy pumpkin pie recipe"
Enlist the help of your friends and family if you have to, but make sure that your Thanksgiving meal is all homemade this year.
Thanksgiving Dinner Recipes
Here are some resources with awesome ideas and recipes for thanksgiving dinners:
8. Look to Nature for the Decorations
On Thanksgiving, another area that can really eat up your budget is the decorations.
A great way to save money on Thanksgiving décor is to take pieces from nature. Fall leaves acorns, pine cones, and tree branches can all function as beautiful and decorations.
And, these items can all be found outdoors, for free!
9. Consider What Food You Actually Need
Don't fall into the trap of making certain dishes just because you think that you have to.
Just because it's "tradition" to serve a sweet potato casserole, if no one eats it, then you've essentially wasted your money.
If no one ever eats the green bean casserole or the roasted parsnips, and you end up throwing them out year after year, then why make them?
You don't need to have certain items on your table to make it a "real" thanksgiving meal.
So, if you've hosted Thanksgiving in previous years, then think about what people actually ate, and what you ended up throwing out.
If you haven't hosted a Thanksgiving dinner before, then ask your guests if they like the dishes on your menu. If you find that most of your guests said they didn't care for a particular dish, then don't serve if, even if it is traditional.
Doing this not only saves you from wasting your money on food that's going to end up in the garbage, but it also means that you only be serve food that your friends and family actually like.
And, if there's a meal that one guest really wants, but no-one else likes it, then ask them to bring that dish themselves.
10. Stock up on the Low Cost Stuff
Some products can get pretty pricey, which is why you should load up on low cost foods if you really want to save money.
Don't go for the most expensive veg in the store – you'll only up spending more, for less.
Instead, stock up on more economical vegetables, like russet potatoes, sweet potatoes, carrots and corn. You'll get much more food, for less money – meaning your table and your wallet will be fuller!
11. Shop Seasonally
If you really want to save money on Thanksgiving Day, then you really should buy seasonally.
Seasonal fruits and vegetables tend to be much cheaper than foods that are off-season. Plus, seasonal foods are generally much fresher – so they taste better too!
Look out for items, like sweet potato, butternut squash, apples, pears, broccoli and potatoes are all in season during November – and they're Thanksgiving appropriate too!
Check out this post for more foods that are in season in November.
12. Don't Stress Too Much over the Turkey
While the turkey is obviously a hugely important part of Thanksgiving dinner, you really shouldn't stress too much over it.
Surprisingly, many supermarkets, and grocers offer turkeys at reasonable prices, you just need to shop around a bit, and you can always opt for a frozen one to save even more.
Don't feel like you have to buy the most expensive turkey out there. Cheap turkeys can taste great too – it's all about how you cook it and season it anyway.
So, opt for a cheaper turkey, but find a recipe that shows you how to make it taste great online.
13. Have a Bring your Own Dish Policy
One of the easiest ways to cut costs on Thanksgiving is to have a BYOD (Bring Your Own Dish) policy.
This works especially well if you're hosting a meal for a large group of people.
Simply ask guests to bring one dish each. Just make sure that you communicate with each other, and organize what each guest is bringing beforehand. You don't want to end up with 5 deserts and no potatoes.
So, ask each guest to bring a certain item, like desert, or a casserole, for example – ensure that all bases are covered. You'll save so much money! Plus, you won't have to spend as much time in the kitchen and you can enjoy the day with your guests.
14. Keep the Food Simple
When it comes to Thanksgiving dinner, you'll often find that it's the simple, but classic dishes that people love. So, don't feel the need to go gourmet! Skip the luxury stuff, and keep the food simple, but delicious.
Instead of following fancy recipes, create the basic classics instead. After all, that's what people want on thanksgiving, simple, but delicious home cooked classics like biscuits, gravy and mashed potatoes. Take a look online and you'll find plenty of cheap and simple, but tasty recipes.
Easy & Quick Thanksgiving Menu Ideas
Here are a few places where you can find easy and quick Thanksgiving dinner ideas and recipes:
15. Look out for Discounts, Coupons and Other Deals
When you're shopping for thanksgiving dinner, you really should take the time to look for discounts, coupons and other money saving deals.
Here's what you need to do:
Check out store newsletters: A lot of stores have an email list that you can sign up to. Then, they send out newsletters to you. Sometimes, the newsletter contains exclusive coupons, discounts and other great savings deals.
Clip coupons: If you've never used coupons before, then now if definitely the time to start! Using coupons you can really cut down what you spend on Thanksgiving dinner. Check out your local newspaper for coupons, but also take a look online. There are tons of coupon websites that can save you money. Fortunately, we have this post and this post, both of which list some of the best coupon sites online.
Visit the Social Media Profiles of Brands: Many stores offer discount codes, coupons and other exclusive deals on their social media profiles, particularly on Facebook and Twitter. So, it's always worth taking a look to see if there are any great deals you can get your hands on.
16. Borrow Stuff from Friends and Family That Aren't Hosting Thanksgiving
Aside from the food and the decorations, there's another aspect of thanksgiving that can get pretty pricey – and that's cookware and dinnerware!
Gravy boats, roasting pans, a food thermometer and extra chairs are just a few of the things you'll likely need for Thanksgiving, but that you also might not have at home.
And, buying all this stuff can get pretty pricey. So, instead, you should try to borrow as much stuff as you can from friends and family members that aren't hosting Thanksgiving.
They'll probably be happy to help you out – plus, the worst they can say is no, so it doesn't hurt to ask.
17. Go Generic for Certain Items
Salt is salt – regardless of the packaging, so why pay more for a brand name? For certain things, particularly the basics, it's best to opt for generic products, rather than brand name items.
For example, frozen vegetables from the store brand will be just as good as those from name brands. It will save you a lot of money!
18. Plan the Cooking Process
Another cost that can really drain your budget on Thanksgiving is the cost of running the oven.
If you don't plan the cooking process, the oven can end up being on all day – which really increases your electricity bill.
So, make sure that you create a plan for the cooking process. If you can, try to cook multiple dishes at the same time, at the same temperature.
For example, plan it so that your side dishes all cook at once, or even try to cook them alongside your turkey. Then, make sure that all of your pies go on at once.
When you do this, you limit the amount of time that your oven has to be on, and reduce your energy bill.
19. Save on Your Utility Bills
Aside from planning your cooking times, there are also a few other things that you can do to reduce your utility bills.
On Thanksgiving, there's really no need to have the heat turned up. Sure, you want your guests to be warm and comfortable, but, the number of people in the house on Turkey Day, combined with the fact that your oven will have been on for a good portion of the day will provide enough warmth. So, turn down the heat.
Don't Hand-wash the Dishes
A lot of people don't realize that hand-washing the dishes actually uses more water than putting them in the dishwasher does.
So, when it comes to the post-Thanksgiving meal cleanup, skip hand-washing your dishes. Use the dishwasher instead. It will help you to keep your energy bills down.  Just make sure that you wait until the dishwasher is full before you start it.
Use your Oven's Convection Feature
If it has one, use your oven's convection feature when you're cooking your Thanksgiving dinner.
A convection oven circulates heated air around the food, so it tends to cook more quickly – it can cut energy use by 20%
20. Keep the Cost of Booze Down
Another really big cost involved with hosting a Thanksgiving meal is the cost of alcohol. You want to make sure that you keep everyone's glass full during dinner – but that can get pretty pricey – especially if you're serving a large group.
So, here's a few things that you can do to keep the cost of booze down:
Often, if you buy alcohol in bulk, you get a much better price for it per unit. Many stores give you up to 25% off of a case of wine. So, choose a wine that you like, and consider buying a case of it – you'll really cut down on the cost of buying alcohol.
Slowly Stock your Thanksgiving Day Bar
As with food, you really should start shopping for your Thanksgiving Day booze early on. When you do this, you can lookout for sales and deals each week, and slowly stock your bar.
If you really want to keep the wine budget down, then consider serving a box wine. Many box wines, nowadays, taste great, and they don't spoil as quickly as bottled wines do.
But, the best thing about box wine is that it is generally so much cheaper!
Plus, you can decant the box of wine anyway and your guests won't even know the difference.
Trader Joe's is a great place to find quality wine at really reasonable prices. So, if you're fortunate enough to have a Trader Joe's that sells wine in your area, then you really should take a look.
The store's Two Buck Chuck wine tastes great and it costs just two dollars!
To save even more, take advantage of the tips we shared in our How to save money at Trader Joe's post.
Final Word
If you want to make sure that hosting Thanksgiving doesn't leave too much of a dent in your bank balance, then make sure that you follow these simple tips!
Please feel free to share your tips for Thanksgiving dinner and any thanksgiving related tips and hacks that you use to save money, avoid stress while enjoying this wonderful holiday with your family and friends.