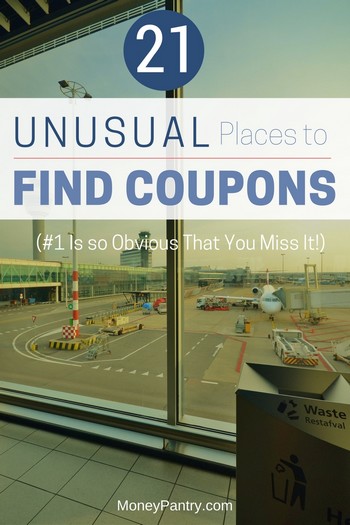 Coupons are and will always be one of the best and easiest to use money saving tools.
While most people know that coupons can be clipped in the paper or printed out from coupon websites on the Internet, they don't know that there are actually tons of other places to find coupons – and some of them you really wouldn't expect.
Here are some weird places to find coupons that you can use to save cash.
1. Abandoned shopping carts
As I recently explained in our hacks for saving money online, cart abandonment is a big problem for online retailers.
All retailers want to close the deal – and often, they'll go to great lengths to make sure that happens!
So, next time you're shopping online, fill up your basket like you normally would, with the items you want to buy. Then, go through the checkout, but don't enter your payment details or finalize your transaction.
Need Easy Extra $300+/Month for Free?
KashKick
: Get paid directly into your PayPal for watching videos, surfing, shopping and more.
Join KashKick Now!
InboxDollars
: Paid over $57 Million to members to watch videos, take surveys, shop and more.
Get $5 instantly!
Branded Surveys
: Get $1 instantly just for joining for free. Plus get paid within 48 hours by PayPal!
Join Branded Surveys
First Opinion
: Get paid up to $10 per survey and $300 per virtual focus groups!
Join Now!
Swagbucks
: Get paid to watch videos, shop online, take surveys and more.
Join now & get $10 instantly!
Leave your shopping cart instead and close your browser. This is what online retailers call an "abandoned shopping cart".
As stated above, retailers want to close the deal, even if it means selling their products for less.
If a retailer sees that you have abandoned your shopping cart, then they'll send you deals, like discounts and coupons, via email to make sure that you complete your purchase.
So, close your browser and wait for the deals to come to you.
2. Coupon trains
A coupon train is basically a group of coupon clippers who send their excess coupons to each other. Everyone takes what they want when the coupon train arrives their "station", and then they send the train on its way again.
This way, everyone gets the coupons they want and the ones they don't want aren't wasted.
Simply doing a search online for the term "coupon train" is the best way to find them.
Some examples of coupon train sites are the Yahoo Train Group and the Hop on Board group at Hot Coupon World.
Some coupon trains offer coupons for all sorts of products, whereas others are more specialized and will only offer coupons in a particular category, like groceries or pets.
3. Drug Stores
Did you know that you can get discounts when you purchase prescription drugs?
Many big pharmacies, like Walgreens, run loyalty programs and give rewards, usually in the form of points to customers for purchasing stuff at the drug store.
These points and rewards can then be used to buy stuff.
For example, CVS runs a pharmacy rewards program called the ExtraCare Pharmacy & Health Rewards, which I explained in detail how it works in our recent post on how to save money at CVS.
Through this program, you can earn $5 ExtraBucks Rewards when you fill 10 prescriptions.
You can also get 3 credits each time you fill or refill a 90-day prescription in-store or online.
You can also find similar deals at other national pharmacies like Rite-aid.
Make sure to check out any advertisements at the counter as well, as you can often find discounts there.
4. Food Containers (the ones made of cardboard)
Cardboard boxes that contain dry goods, like cereals, cake mixes, and pasta often include coupons on the inside.
So, before you toss your old cereal boxes into the recycling, check them thoroughly for savings.
5. Coupon trading
Sometimes, people have coupons that they don't want, and they're willing to trade them. So, if you've got some unwanted coupons, then trade them for coupons you actually need.
There are many websites where you can do this. Sites like CouponTradingZone and the Coupon Trading section of the HotCouponWorld.
Coupon trading websites often feature forums too, where users can share details of the deals they discover.
6. Airport waiting areas
At the airport, you always find people reading newspapers and magazines – after all, there's a lot of waiting around, so people need something to do!
Often, people don't take those papers and magazines, which all generally feature coupons, with them onto their flights, meaning there are plenty of them lying around the airport waiting areas.
So, don't be afraid to check them out. You never know, you might find some great coupons.
7. Fast food restaurants
Did you know that many fast food places actually print coupons and other deals on their receipts?
Fast food places often put coupons for free food and beverages on receipts. For example, Burger King sometimes prints a deal for a free Whopper burger on their receipts.
So, before you throw your receipt out, check the back of it to see if there's a coupon printed on it.
A lot of these coupons have short expiration dates, so make sure you use them quickly!
And, if you're willing to give your opinion in a few surveys, then you can get even more savings. Many fast food places, like McDonald's, will give you free food if you complete a survey for them.
I haven't paid for tacos at Jack in the Box in years. There's a survey for 2 free tacos on every receipt!
8. Grocery stores
You can actually get coupons and other rewards, like free entries into contests, from grocery stores, just for completing surveys.
So always check for available deals at your local grocery stores.
9. Phone Book
Before the invention of the Internet and mobile phones, people used to use the phone book frequently, but, now the phone book is pretty neglected.
However, it still has its uses – and one of them is for finding coupons.
That's right – you can find plenty of great money-saving coupons in the phone book. Often, local businesses will put coupons in the phone book, in order to attract more customers.
Generally, you'll find coupons in the middle or the back of the phone book. Often, the coupon section is divided into categories, like food, retail, repairs, etc.
So, if you've tossed your phone book aside, get it out and start having a look through it – you're likely to find some great coupons.
10. Your phone
Agreeing to receive promotional advertisements from retailers through your phone can seem like a bit of a hassle.
So, many people opt out of receiving these deals, but they're missing out on a lot of great savings.
Retailers, restaurants and hotels and many other industries often send out exclusive mobile coupons to their mobile phone subscribers.
So, you could pay $10 less than the person checking out before you, simply because you have access to exclusive mobile deals.
Also, mobile coupons are super simple to use. If you shop through the retailer's app, then coupons will be applied to your shop automatically.
And let's not forget about specialty made coupon apps that can save you $100s on just about anything.
11. Organizations and club discounts
If you're a member of a national or local club or organization, you might have access to some excellent discounts.
Generally, the discounts you get will be related to the subject of the club.
For example, if you're a member of a sports club, you might get exclusive discounts from a local sports supply store.
One club that offers rewards and discounts is the American Automobile Association or AAA. The AAA gives its members WOWPoints.
Essentially, through AAA Discounts & Rewards, which is basically a shopping portal, you can earn WOWPoints for making purchases at certain retailers. Then, you can redeem these points and put them towards future purchases. 100 WOWPoints equals $1.
Another club that also offers discounts to its members is the American Association of Retired Persons, or AARP.
12. The bathroom!
Arguably one of the weirdest places to find great coupons is in the bathroom stalls of retailers.
It's true. Many stores will place coupons or advertisements for discounts and coupons on the inside of the bathroom stalls.
So, make sure to take a look next time you need to visit the restroom.
13. Dentist/Doctor's waiting room!
Did you know that you can find coupons for cosmetic procedures, group care, and more at Doctor's offices and clinics?
Many medical professionals and centers now offer discounts on their services.
You can generally find these deals in waiting areas and elevators, so keep your eyes open!
14. Customer service agent
You can get some great discounts from customer service agents.
While most people think that they only get deals when they complain about bad service, there are actually other ways you can get coupons codes.
One of the best things you can do is just ask.
Talk to a customer service agent, and simply ask them if there are any coupons or discount codes available for your order.
While they won't always give you a discount, it's always worth a try.
Also, simply just being nice and polite when you are talking to a customer service agent can also garner you some good coupons.
15. eBay
One of the best places to find a really varied selection of great coupons is eBay.
If you go to eBay and type in the word "coupons" into the search bar, you're presented with a great selection of coupons.
We've actually published a post a while ago about how some people make money by buying and selling coupons on eBay.
In fact, eBay features thousands of listings for coupons. From Target to Bed, Bath & Beyond, you can find tons of great savings.
16. Manufacturers
Signing up for an online retailer's newsletter or email can get you a lot of great coupons and discount codes. But, why not take it a step further and contact the manufacturer directly?
If you contact a retailer directly and ask them whether there are any coupons or discount codes available, you're likely to get them.
As we mentioned above, most retailers just want to close the deal – even if that means that they have to give discounts. So, it's always worth asking.
17. Facebook
One of the best, and easiest, ways to get coupons is through Facebook.
Most companies, whether they're large or small, offer coupons, discounts, and other money-saving deals through their Facebook posts.
Many will post coupon codes and all you need to do is use them when you checkout.
But, often, all you need to do is like their page.
18. Live chat operator
Nowadays, many online retailers offer a live chat feature – often it's a small box in the bottom right-hand corner of the screen.
While most people assume that the live chat operator is there to answer questions and provide technical support, you can actually get some good coupons from them too.
All you need to do is be nice and politely ask if there are any coupon codes or other discounts that you could use on your purchase.
Often, these sites just want to make a sale, and build customer loyalty, so they'll likely deliver if you simply ask.
19. Twitter
A lot of retailers provide discounts through their Twitter accounts. So, if you're not already, then start following your favorite brands on Twitter.
Often, you'll get access to information about upcoming promotions, as well as discount codes.
Some will even offer deals to customers who retweet their posts.
For a list, check out save money by following these 10 companies on Twitter.
20. Coupon clipping services
If you don't have the time to clip coupons yourself, then why not let someone else do it for you?
You can actually use a company to clip coupons for you, at a small cost of course.
There are many websites that offer this type of service, like Klip2Save.com, Coupon Dede's and TheCouponClippers.com.
21. Earn cash back when you shop
One of the best ways to get discounts when you shop is to use cashback websites.
These websites give you cash back on the things you buy online.
So, if you purchase a camera online, for example, you'll pay the ticket price, but then you'll receive a certain percentage of it back.
You just need to make sure that you make your purchases through the cashback site.
One of the best cash back websites is eBates.
Essentially, when you shop at eBates, you get coupons and earn cash back for more than 2000 stores.
So, in addition to getting access to coupons and discount codes, you get, on average, between 2 to 4% back on your shopping. While that might not seem like a lot, over time, it really adds up.
And, you get a $10 bonus when you join eBates too.
The bottom line
If you really want to start using coupons more frequently as a money-saving tool, then you need to get more creative with the places you find them.
So, try these weird sources and you're sure to find some great coupons and increase your savings.