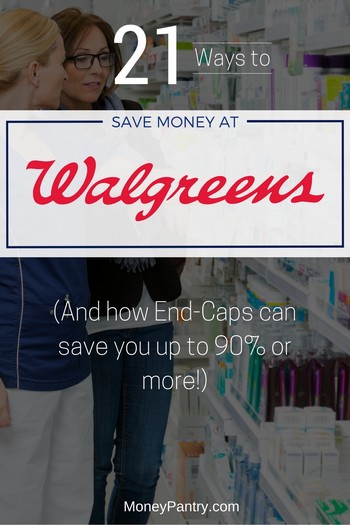 When was the last time you shopped at your local Walgreens?
If you are one of the 10 million people who interacts who shop in stores or online each day, you probably stop by "America's Corner Drug Store" once or twice a week.
Walgreens has come a long way from 1901 when Charles R. Walgreen, Sr. founded the store in Chicago.
Back then it was mainly a drug store.
But today, with over 8,175 stores in all 50 states, the District of Columbia, Puerto Rico and the U.S. Virgin Islands, the company plays more of a convenience/grocery/drug store.
With a large selection of household goods, specialty items like Save the Dates, and fast photo prints, Walgreens isn't just your corner drug store anymore.
Need Easy Extra $300+/Month for Free?
KashKick
: Get paid directly into your PayPal for watching videos, surfing, shopping and more.
Join KashKick Now!
InboxDollars
: Paid over $57 Million to members to watch videos, take surveys, shop and more.
Get $5 instantly!
Branded Surveys
: Get $1 instantly just for joining for free. Plus get paid within 48 hours by PayPal!
Join Branded Surveys
First Opinion
: Get paid up to $10 per survey and $300 per virtual focus groups!
Join Now!
Swagbucks
: Get paid to watch videos, shop online, take surveys and more.
Join now & get $10 instantly!
You can do almost your entire grocery shopping there!
But the best part is the money saving opportunities it offers. They accept all sorts of coupons, and their prices are already competitive.
Still, to save the most here, it helps to know the ropes.
If you don't, fear not!
We have got you covered with our top…
21 Ways to save money at Walgreens
Before we get started, let me mention a few things.
If you want to go for the ultimate money saving (i.e., getting free stuff,) be sure to keep an eye on your local store and the website.
They do, from time to time, offer useful samples and freebies.
I can't really give you a list because they don't offer the same stuff at every store. So you have to check with your local store.
However, there is one major freebie that all W stores offer…
Free blood pressure test and consultation
You've probably seen the blood pressure machine at your local store.
You can use it to check your blood pressure anytime.
But you may not realize that the store also offers a free consultation along with your blood pressure test. So if you're not sure what the numbers mean, just ask for the consultation.
You can walk in, or schedule an appointment ahead of time.
Of course, if you have a problem you should check with your doctor. Even the company stresses that this test is no substitute for seeing a doctor. But it gives you a quick check and will indicate if you need to take further action.
Ok, with that out of the way, let's get to our money saving tips.
1. Get your Balance Rewards card, today!
Reward and loyalty programs, essentially allow you to get free stuff or free money from the stores you shop at.
Walgreens' Balance Rewards Card is an excellent way to earn cash back on things you are going to buy anyway.
According to the company's website, they have approximately 87 million Balance Rewards active members as of August 2016.
Not only you earn cash back, you'll also hear about special offers, and can connect coupons to the card, allowing you to go "paperless".
The main program for the Rewards card is collecting points, and sufficient points turn into cash at the checkout.
You get different points for different goods, but generally, you will earn 10 points for every dollar you spend at the store or online.
You also get 500 bonus points for filling a prescription.
Every 10 points translate into roughly about 1¢. So 5000 points gets you $5 which works out to about a 1% cashback.
1% Cash back is not that bad considering that you were going to buy the items anyway.
Plus, if you combine this with the rest of hacks in this post, that 1% becomes more like 5-10%.
2. Earn cash back when buying online
When you shop at Walgreens.com, make sure you use a cashback website, such as eBates before you make a purchase.
All you have to do is sign up with eBates (if you don't already have an account,) which is 1005 free. Then every time you want to buy something, simply visit eBates.com, click on store's link and do your shopping.
At the time of writing this post, shopping through eBates gets you up to 7% cash back at Walgreens.com.
If you want to earn even more cash back, use a rewards credit card to pay for your purchases. You essentially double the amount of cash back you earn.
3. Take advantage of Register Rewards
When you buy certain items, the cash register will print out coupons called Register Rewards for other products.
You can use them on your next visit just like cash, subject to the company's rules as shown in the page I linked to above.
You can find out which products are eligible for rewards by checking out the weekly ads.
4. Take advantage of Seniors' Discounts
If you're old enough, take advantage of Seniors Days.
These are available to AARP members who are 55 and older, and who have a rewards card.
On Seniors Day, you can get 20% off regular items, with some restrictions, and 20% off selected goods online.
5. Save up to 90% with orange!
When the store discontinues an item, it slaps an orange tag on it and lowers the price.
You can often get these items for 30-50% and even up to 90% off.
And the best part…
is that you can still use your coupons on those items.
How sweet is that!?
6. Use Instant Value coupons
If you get the Sunday papers, you have probably seen Walgreens weekly ads.
They have Instant Value coupons for you to use on your next shop.
No problem if you don't get the papers, as you can also check online, and even add the coupons to your rewards card, which you'll learn about below.
7. Look at the end caps
Endcaps are the displays at the end of each aisle, and that's where (as I explained in our recent Sam's Club Money Savings Hacks post) most stores will put items they want you to pay particular attention to.
Some end caps will have sale items, and others will have new products they want to advertise.
But you should look for the third type of end cap, which is the one that houses clearance items.
If you check your local store, you'll probably find that clearance items are usually put on the same end cap each time, so you know where to check when you shop.
This is where you can get real big savings. You can easily find items fro 30, 40, 50 and sometimes up to 90% off.
8. Get rewarded for making healthy choices
The store has an awesome program called the Balance Rewards for Healthy Choices.
They essentially pay you for being healthy!
You get 250 points when you connect a device such as a Fitbit to your account and a bonus 250 points for your first goal.
When you take your daily walk, you get credited with 20 points for every mile. That even counts for the distance you walk around the store!
Other things you can do to keep an eye on your health, such as monitoring your weight, blood pressure, and controlling your blood glucose, all count for additional points.
9. Get those under-advertised deals at Walgreens.com
To ramp up their online shopping and to keep up with giant Etailers, they, like many other companies, sometimes offer amazing and online-only deals that you can not get at the store.
For instance, you can currently get 20% off contact lenses, and 50% off photo cards.
Another example is a recent offer where you earn 100 points for every dollar you spend on vitamins and supplements.
That's 10 times the usual rate!
So be sure to check the site once in a while so you don't miss out on great deals.
Here is the link: www.walgreens.com.
10. Use Facebook & Twitter to get exclusive discounts and deals
This is an increasing trend with major stores – if you follow them online on Twitter and Facebook, they will send you special deals which you will only find out because of the social media.
Here are links to their social media pages:
11. Become a newsletter subscriber
Walgreens, like most other companies these days, has a newsletter that you can sign up for to receive special offers, coupons, and deals.
Becoming a subscriber of Walgreens' weekly email newsletter gives you access to some of the best money saving deals and discounts that you will not find elsewhere. So do take advantage of it.
And yes, it is 100% free to sign up.
12. Print out manufacturer coupons
Before you hit to the store, be sure to check out the website for manufacturer coupons.
You can actually print out these coupons and take 'em with you to the store.
You can see the current coupons at Walgreens.com/Offers.
13. Use coupons on items on sale (Yes, you can do that!)
While it's great to use coupons on regular priced items, it's even better if you can use them on things that are on sale.
There are even websites that will do the work for you, and match up coupons with sale items.
For example, look at CouponMom.com for ideas.
Don't forget, you can use store coupons with manufacturer coupons, and even add Register Rewards to get the most bang for your buck.
14. Get the monthly coupons
In addition to the weekly ads, the company puts out its own monthly coupon book, which is usually near the entrance to the store.
In it, you'll find all sorts of discounts and rebates.
15. Free after rebate
It can pay off to look closely at each aisle, particularly in the hair care section.
You'll often find products with a "Try Me Free" sticker, which means you get the product for free after rebate.
16. Save even More with discounted gift cards
As we covered in our recent discount gift cards post, you can often get gift cards for far less than their face value by using sites like Raise and Cardpool.
When people don't want or can't use a gift card, they sell them on these sites for less than the face value. They get something for the card they couldn't use, and you get a great deal.
17. Paperless coupons
Nowadays you don't even have to find scissors in order to "clip" a coupon.
When you go online to the Walgreens site, you have the opportunity to load up your rewards card with the current deals.
When you get to the checkout, with a swipe of your card all the coupon savings are available. You don't have to fumble around looking for them.
18. Join the Prescription Savings Club
If you have more than a couple of prescriptions a year, then you should join the Walgreens Prescription Savings Club.
It costs $20 for an individual membership or $35 for a family, and you get a discount on all your drugs.
The Club covers more than 8000 drugs, including meds for your pets, and you get a minimum of $5 off immunizations.
As a bonus, the Club also gives you an in-store discount of 10% on store brand products and on photofinishing.
19. Use your FSA money
First of all, if you don't have an FSA (Flexible Spending Account,) get one!
What's a Flexible Spending Account?
Here is how HealthCare.Gov explains it:
A Flexible Spending Account (also known as a flexible spending arrangement) is a special account you put money into that you use to pay for certain out-of-pocket health care costs. You don't pay taxes on this money. This means you'll save an amount equal to the taxes you would have paid on the money you set aside.
It's a great opportunity to save some cash.
Thankfully, the store honors FSA accounts.
Now, you can't use it on every single item. There are only certain items that you can your FSA money for.
There is an easy way to find out the covered items. Simply visit Walgreens' official FSA page.
You can also get free 1-3 day shipping if you spend $35 or more.
20. Order prescriptions online
It's just more convenient to order your prescriptions online.
And if you order them from Walgreens.com, you get free shipping.
Ordering online and getting free shipping means you save both time and gas money by not having to drive to a physical store.
21. Save $1000s with generic meds
Most people know that when it comes to generic medications vs name brands, the ingredients are the same.
We've all seen the ads on TV, pushing name brand medications. But you can get virtually the same items in generic form from most drug stores and save yourself $100s of $1000s especially if you have a few prescriptions or your medications are expensive.
For example, a bottle of Advil (200 tablets) goes for $16.99, but you can get the generic store brand of the same product (with exact same ingredients) for $12.99. Not only that, instead of 200 tablets, you get 500!
If the ingredients are exactly the same and you know it but you still pay for the more expensive brand name product, you must have too much money!
Final words
I hope this list will help you save some of you hard earned cash when shopping at Walgreens.
If we missed any Walgreen exclusive money saving hack or tips, please share it with it by leaving a comment below.