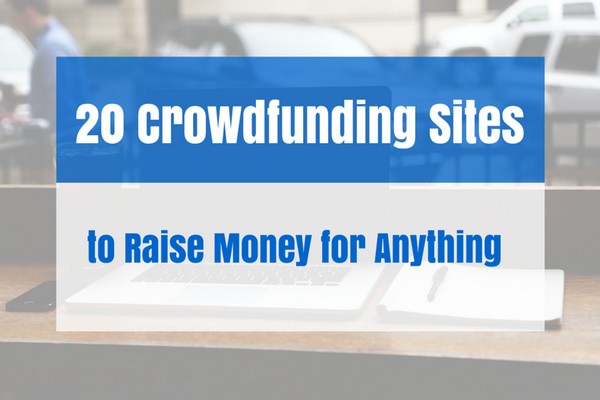 Crowdfunding has exploded in popularity in the past few years.
The idea of getting money from strangers, over the internet, for anything – startup seed money, fixing your house, buying a new car, paying for college, paying off debt – would've been unimaginable just a decade ago or so.
Once the territory of startups and entrepreneurs exclusively, now even big businesses have taken their ideas into the realm of crowdfunding.
Since it was founded in 2009, the largest crowdfunding site, Kickstarter, has seen a staggering 1.5 BILLION dollars contributed to hundred and thousands of projects.
If that doesn't tell you how big this has gotten, nothing will.
Of course, there are more sites than just Kickstarter when it comes to crowdfunding.
Need Easy Extra $300+/Month for Free?
KashKick
: Get paid directly into your PayPal for watching videos, surfing, shopping and more.
Join KashKick Now!
Panel Payday
: Earn up to $75 per survey. They also pay up to $50/hr for mystery shopping.
Join Now!
InboxDollars
: Paid over $57 Million to members to watch videos, take surveys, shop and more.
Get $5 instantly!
Branded Surveys
: Get $1 instantly just for joining for free. Plus get paid within 48 hours by PayPal!
Join Branded Surveys
iPsos iSay:
: If you have to only sign up for one paid survey site, go with Ipsos (high paying survyes)!
Join iPsos Now!
Swagbucks
: Get paid to watch videos, shop online, take surveys and more.
Join now & get $5 instantly!
In general, Kickstarter is focused on businesses and economic endeavors, while many of the smaller sites have different focuses, different goals.
I'll be talking about these sites today as well, so let's dive in, shall we?
I'll be arranging these by category, so let's start with the creatively-focused ones.
For Entrepreneurs and Startups
It's hard to have a conversation about crowdfunding without diverging to talk about Kickstarter, so let's do that now.
Kickstarter is the giant of the crowdfunding world, as I'm sure you could have concluded from the opening paragraph. T
here are some definite reasons that Kickstarter holds this title, and one of them is their format.
Projects that apply for Kickstarter have to go through a review process that determines if they are legitimate and whether or not they "fit" on the Kickstarter platform.
Since Kickstarter prefers to feature the funding of specific products, your general business campaign is probably going to get screened.
One of the reasons that Kickstarter is so staunch about this model comes in the way that they give incentive.
People who contribute to campaigns will often be offered rewards for their donation. Say, $5 will get you a personal thank-you email. $25 will get you a free version of the product, shipped to your house. $100 will get you a custom-made product, and $1000 will get your name emblazoned on the company website forever.
These are just examples, but they clearly show how Kickstarter uses rewards to entice users into contributing more and more.
There are downsides, of course. Developers say it's hard to get your project posted, and contributors cite the lack of oversight as a major problem.
While these are real problems, they're somewhat inherent to the crowdfunding phenomenon.
If you are trying to launch your new product, look no further than this.
Right after you hear about Kickstarter, the next biggest site you'll hear about is usually Indiegogo.
As the name implies, Indiegogo is a site for launching independent artists, developers, and businesses.
They're actually a year older than Kickstarter, and a definitely contributor to the crowdfunding landscape we see today.
The overall user experience with this site is positive, and people who find objection with Kickstarter will often take their business here instead.
Indiegogo has a generally more relaxed criteria for the projects they will accept compared to Kickstarter.
If you have more loose needs than Kickstarter's staunch "Beginning, middle, end" model, this is the right one to use.
Now, although I have added Indiegogo under the Entrepreneurs & Startups section, you can actually raise money for any cause.
Taking up the final spot in the "big 3" of the crowdfunding world is RocketHub. RocketHub is something like a cross between Indiegogo and Kickstarter, with a smaller focus while still having emphasis on rewards-based systems.
Unlike Kickstarter, this platform allows you to keep whatever donations were given, in the event that you fail to meet your goal.
In a lot of ways, you could say that RocketHub is just the small version of the bigger platforms. However, they do have a unique point in their favor due to being associated with A&E networks.
You might want to put your project up through RocketHub if you think it has a good chance of being picked up for additional promotion. A&E is looking to help kickstart new businesses, especially entrepreneurs.
While we're on the note of businesses and startups, this would be a great time to talk about Crowdfunder.
Crowdfunder is a crowdfunding platform like the rest, but they have an especial focus on entrepreneurial endeavors.
Even a casual browsing of the site will reinforce this idea – they have a very clean, minimalist aesthetic, LinkedIn connectivity, and most importantly, it enables equity-based crowdfunding.
To elaborate on that last point, making the funding equity-based means that it changes from "crowdfunding" to a more standard form of "investing."
This makes a lot of sense when you check out the site, seeing all kinds of new website and service ideas picking up dollars in the multiple millions.
If you are serious about starting a real business, this is a place to come and attract serious investors.
Often compared to Crowdfunder, Fundable is the other equity-based crowdfunding platform.
It's something of a hybrid site between Crowdfunder and a reward-based platform, and it allows you to offer back to the funder in a variety of ways.
That's perhaps the best part about Fundable– the fact that you have options.
You can offer equity, or you can offer rewards, or you can even launch a campaign with no rewards.
Fundable seems to be aiming to be a "one stop shop" platform, which definitely works in its favor.
One of two industry-specific crowdfunding sites on the list, Pubslush is a site that is dedicated to funding book publishing.
If you're like me, you might think, "Paying to help people publish?
Isn't publishing the part where you make money?"
Well, as it turns out, this is only half-true.
Pubslush helps you fund the various preparatory steps of publishing, such as hiring a good editor, focus testing, research, etc. While the author can often make money after publishing their book, many good ideas fall through the cracks because of the difficulty of producing some texts.
If you're a broke, but aspiring author, consider checking out Pubslush.
The second of the two industry-specific sites, this one is all about funding films.
It's probably a lot easier to imagine the sorts of costs you rack up with a film than it was with the books!
Well S&S allows you to help get these experiences off the ground with an easy and intuitive interface.
It isn't just for filmmakers, of course. One of the big pitches of the website is that they allow you to fund the movies that YOU want to watch.
It's very simple to access and view movies that have been previously funded, so you can get a feel for the quality of work that can come out of this platform.
For Education
True to its name, this is an academic crowdfunding website with a radical idea.
The basic pitch is that a student advertises themselves and the degree/career path they are heading into.
You fund money to pay for their tuition, and in turn, they agree to pay out a certain percent of their earnings in the future.
"So how does THAT work," you ask?
Well, from the point of view of Upstart, technically the money you are earning is a loan. They give you a rate and a monthly fee and everything.
This is how they manage the "repayment" aspect of it all.
Since this is technically a crowdfunded loan service, you can start a campaign for many more things than just tuition. They will, however, ask that you state what the reason is in your campaign.
GiveCollege is a pretty unique service that crowdfunds for tuition… starting from when the child is a baby.
A perfect platform for the millennial generation, GiveCollege asks that you register your newborn (or toddler) and ask for people to contribute towards their future.
The idea is that instead of asking for a lot of money at once, like many crowdfunding sites would, you can entice people into paying in small amounts over a long time (which really takes the "dollar at a time" philosophy to the next level!)
This is a tuition funding site that has a really interesting premise: keep the money out of the hands of the fundee!
Yes, Campus Slice's goal is to make sure that the student in question never comes into possession of the money, because the money is spent and deposited directly to the school.
The point of this is to make the crowdfunding process more "trustworthy," in its way, by ensuring that the money goes where it needs. After all, many college students would be tempted to dip into the funds if they found themselves in possession of 10k!
Piglt (pronounced 'piglet') is "Education's Entrepreneurial Piggy Bank – a crowdfunding platform offering anyone (individual or organization) with an education-related cause the tools to easily and effectively raise money!"
For Anything (Charity, Nonprofit,…)
This is a charitable website that has a broader focus than just academic funding.
The goal of YouCaring is simply to attract people who are willing to spread goodwill.
It has a nice layout and makes it very easy to get the attention of strangers (since many of these sites are hamstinged by an over-reliance on personal social media connections) and it really drives the charity point home.
You might be funding someone's education, or a life-saving surgery, but there's no doubt that you can find a kind person to donate on YouCaring.
While somewhat comparable to YouCaring, this is a service which is dedicate solely to raising money for medical expenses.
Exorbitant medical costs are a serious problem facing many people, particularly those in the US, and GiveForward is a platform for combating that.
Unfortunately, there are restrictions based on donations from outside the US, so it's somewhat regionally-focused.
However, if you have empathy for those who struggle with impossible medical costs, or you are one of those people yourself, this is a good platform for your needs.
This is a charitable website that is geared specifically to donating for nonprofit organizations.
With this method, you can donate directly to organizations that you have faith in, instead of donating to an individual cause.
It is maligned by the fees it sets, ironically, because campaigns running on low/no budget are almost certainly doomed to obscurity.
GoFundMe is quickly becoming a favorite amongst people.
You can ask for money here for almost anything- college, mortgage payment, car payment, start up, moving, and whatever else life throws out you.
Crowdtilt is a pretty unique site, so much so that I didn't know which category to put it in!
Not strictly charitable, the point of this platform is actually for groups of people to fund things that they'd like to do together.
Say you were interested in going to Disneyland with your book club, this would be the platform to gather your funds on. Along the way, you might pick up a few additional donors, who will also want to accompany you to Disneyland!
This is a socially-based platform that relies on the idea of common interests. Definitely something worth checking out if there is something you'd like to do, but can't afford alone.
An other platform where one can raise money for almost anything.
The site claims it has so far raised over $300 million on crowdfunding for all kinds of projects.
After starting their honeymoon registry Honeyfund in 2006, Sara and Josh Margulis decided to take crowdfunding to the next level and created Plumfund.
This fundraising website was specifically designed to help fund anniversaries, special products, down payments for homes and more.
If you take the time to examine other crowdfunding websites, you'll see that they charge high fees.
The creators of Plumfund feel this is a travesty and created their crowdfunding websites to change the landscape entirely.
In 2014, the founders of Honeyfund and Plumfund were featured on ABC's Shark Tank.
Did they come out of the shark tank a winner or did they walk away with their heads bowed low in shame?
To watch clips of the episode and find out how their company has progressed since then via Beyond the Tank, visit http://www.honeyfund.com/shark-tank
Regional
As the name suggests, this is a site where donors can give scholarships to students.
The organization works with college access organizations and schools, and students are actually nominated by those partners.
Unfortunately, this is restricted to the Bay Area.
While we're on the topic of regional funding, Poszible is a site just for the Australians out there.
There isn't too much to say aside from "Australian Kickstarter," but it's worth noting still that it is a reward based platform with a good layout.
Unlike Kickstarter, you cannot change your earnings goal, but this is still a great option for Aussies who want to fund something that is important to their area.
The impossible-to-pronounce Ulule is a European-focused crowdfunding site, which is also based on a reward system.
It serves the same purpose as any other regional platform, money-raising with a focus on things that are important to the region.
This one has a bit of trouble generating exposure for obscure campaigns, unfortunately, so you'll want to bring all the force of your social media you can muster.
The bottom line
If you're someone with an aspiration to do just about anything, you can make the most of these websites.
Almost any type of creative endeavor can be funded in one way or another, as can projects, investments, developments, you name it.
I would like to know about experience; have you ever raised money, or contributed to someone else's fundraising, through any of these crowdfunding websites?