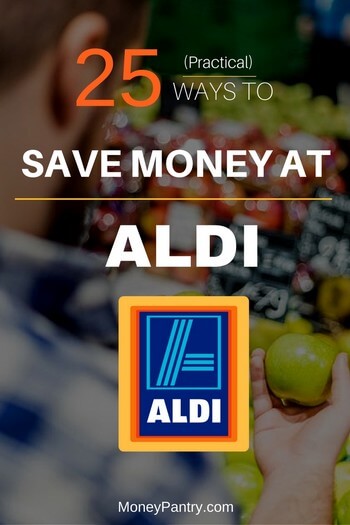 Groceries are one of the main expenses for most families.
So finding ways to save money on groceries is a necessity for most of us.
Stores like Walmart and Target might be synonymous with low prices. There is no doubt that you can save money at Walmart and Target.
But there's another store that's giving them a run for their money – Aldi.
It's a chain of no-frills grocery stores that originated in Germany.
More than 90% of the store's products are Aldi exclusive brands.
Need Easy Extra $300+/Month for Free?
KashKick
: Get paid directly into your PayPal for watching videos, surfing, shopping and more.
Join KashKick Now!
Panel Payday
: Earn up to $75 per survey. They also pay up to $50/hr for mystery shopping.
Join Now!
InboxDollars
: Paid over $57 Million to members to watch videos, take surveys, shop and more.
Get $5 instantly!
Branded Surveys
: Get $1 instantly just for joining for free. Plus get paid within 48 hours by PayPal!
Join Branded Surveys
iPsos iSay:
: If you have to only sign up for one paid survey site, go with Ipsos (high paying survyes)!
Join iPsos Now!
Swagbucks
: Get paid to watch videos, shop online, take surveys and more.
Join now & get $5 instantly!
According to Aldi, with these brands, customers can save up to 50% on over 1,300 of the most commonly purchased grocery items. But, it does offer a limited selection of national brands too.
As Aldi features its own exclusive brands, it provides customers with the same high-quality items, but there are no extra costs involved, like marketing or advertising, which often bump up the cost of products from national brands.
Overall, Aldi keeps its costs low and transfers those great savings on to the customer.
Is Aldi cheaper than Kroger, Trader Joe's, Save a Lot…?
You might wonder is Aldi cheaper than Kroger, Walmart and other similar stores and a lot of the time it is – for certain products anyway.
According to an Aldi vs Walmart Price comparison carried out by Business Insider, Aldi's prices were drastically lower than Walmart's. In fact, the price check found that a basket of shopping at Aldi was 30% cheaper than the total at Walmart.
Of course, not everything is cheaper at Aldi, and there are certain things you'll need to do if you want to save even more at the store.
How to Save Money at Aldi
So, here are some tips for shopping at Aldi that will save you a lot of money:
1. Bring your own bags
Aldi is definitely a no frills type of store – often you'll still see groceries in their boxes on the shop floor.
But, taking this stripped-back approach means that Aldi is able to keep its overhead low, and pass those savings on right to the customer.
Another way that Aldi saves money is by not providing customers with free shopping bags.
Some stores do allow you to purchase paper or plastic bags.
So, if you want to keep costs down, bring your own bag or purchase one of Aldi's reusable bags and take it with you on future shopping trips. Don't waste your money buying bags.
You can also feel free to grab an empty product box from the shelves to transport your groceries home!
Also, you'll want to take a quarter with you if you want to get a shopping cart. Don't worry, you'll get your quarter back when you're finished shopping and return your cart to the cart corral.
I really like the quarter method, as it saves my car from rogue cart dings in the parking lot.
2. Get the eggs
One of the best ways to save money at Aldi is to buy their eggs.
With prices between just $0.99 and $2.49 being reported for a dozen eggs at Aldi, it's definitely one of the best places to buy them.
3. Don't throw out your receipt
One of the best things about Aldi is its Double Guarantee policy.
Under this policy, Aldi allows you to return products you aren't satisfied with and will not only replace the item but will also give you your money back.
Really!
So, don't throw out your receipt!
4. Use receipt apps
Another reason to keep your receipt is that with apps like Receipt Hog and Receipt Pal, you can earn money just for uploading an image of your receipt.
As the majority of products you'll find in Aldi stores are the store's own lines and exclusive brands, there's no opportunity to use manufacturer coupons.
And, Aldi doesn't accept manufacturer coupons for the brands that it does carry.
Aldi states that this is because it negotiates the best prices with its suppliers.
It occasionally provides regional coupons, but this is generally around the time of an event, like a store's grand opening. So, Aldi is not a great place to use coupons.
But, its prices are so low that they're not really necessary anyway.
But, if you would like to save even more money at Aldi, then you should definitely use a receipt scanning app.
Apps like Receipt Hog and Receipt Pal pay you each time that you upload a photo of your receipt.
This is really easy to do. All you need is your smartphone.
As Aldi isn't really the place to use coupons, using receipt scanning apps is a good way to save money at the store and another reason not to throw out your receipt.
Check out our article on the best receipt apps that pay you to upload receipts.
5. Stock up on the chocolate
For quality chocolate at low prices, Aldi is the place to shop.
If you're looking to save money at Aldi, then you should definitely purchase the store's chocolate.
There, you'll find a great selection of quality chocolate bars, from well-known brands, like Choceur.
6. Look out for post season clearance sales
After a season or holiday, like Christmas, Halloween or summer, look out for clearance sales.
While Aldi offers a good price for these seasonal items anyway, you can get an even better deal after the holiday or season passes.
7. Go for the peanut butter
Whether you're a fan of it yourself or have kids who love PB&J sandwiches, you should definitely get your peanut butter at Aldi.
People rave about its taste and low cost.
In 2015, in an extensive price check, Business Insider found that a 40-ounce jar of peanut butter cost just $2.99 at Aldi, whereas you had to pay $4.37 for the same amount at Walmart.
8. Catch deals early
If you're wondering how to save money at Aldi, then you'll definitely want to look out for the store's Weekly Ads.
Each week Aldi stores release a selection of ads that can save you a great deal of money on select items. For example, Aldi has previously run offers, like get Fresh Whole Pork Butt Roast for just $1.89 per pound.
All sorts of products are featured in the Weekly Ads, from seedless watermelon to kettle grills.
But, if you want to get the best deals, then it's best to hit the store soon after the ad comes out – on the day the ad is first released is preferable, otherwise, products might not be available.
Many Aldi stores release their ads on Wednesday, making it the best day to shop at Aldi, but check your local store to find out its release day.
9. Stock up on health foods
Aldi has its own line of healthy food items, called Fit & Active.
In this line, you'll find tons of healthy foods, like low-fat and low-calorie items. But, you'll pay much less for them at Aldi than you would at stores like Whole Foods.
They also feature a really big selection of gluten free items, at a low cost.
Products in this line are also generally cheaper compared to their competitor brands at Target and Walmart.
So, if you're looking for healthy foods and you're on a budget, then you'll definitely want to check out this section.
10. Check out the produce
One of the areas where you can save the most at Aldi is with the produce.
The store has a great selection of fresh fruits and vegetables that are often priced much lower than they are at other grocery stores.
While the selection might be more limited at Aldi than it is at other stores – you'll generally find common fruits and vegetables, like apples and broccoli – the prices more than make up for it.
Some of the best buys in the produce section include:
Baby carrots
Lettuce
Tomatoes
Grapes
Apples
Strawberries
Bananas
Bagged salad mixes
Bell peppers
Potatoes
11. Stock up on milk
If your household goes through a lot of milk, then you might want to consider purchasing it at Aldi.
People say that you can get a gallon of milk at the store priced for just anywhere between $0.99 and $2.49 per gallon.
That's a pretty great deal.
12. Look out for bargain bins
Some Aldi stores have bins around the store, usually near the entrance or the checkouts that are full of discounted products.
While you never know what you'll get in these bins, they're worth a look – you might find a surprise bargain item that you've been after.
13. Get a great deal on fresh meats
At Aldi, you won't just find processed meats.
The store offers a really great selection of fresh meats, from whole chickens to pork shoulder to filet mignon at incredibly low prices.
One person on Reddit states that they purchased two, one pound packs of ground turkey for just $3.80 and a one pound pack of ground beef for just $3.00.
To save even more, make sure that you check out the products on offer in the Weekly Fresh Meat Specials. In this section, you'll find extra low prices on a variety of fresh meats.
New deals are announced each Wednesday.
Produce is limited, so make sure you take advantage of deals as soon as they come out to ensure to get the cuts of meat you want.
14. Stock up on canned goods
A lot of people wonder what to buy at Aldi, but one of the best things you can go for is canned goods.
For canned goods, there's really no better place to shop than Aldi.
Whether it's beans, corn, tomatoes or soups, Aldi's canned foods are usually very cheap, think under $0.50, but still of high quality.
While they might be half the price of brand names, the taste is still great.
15. Get booze for less
If you want to save money on booze, as well as food, then Aldi is a great place to shop.
The store offers wine, spirits, and beer at really low prices.
You can get wine for $4 a bottle and rum for $6 per bottle.
The best part is that the store's alcohol selections is always raved about online, so not only is it cheap, but it tastes great too.
16. Look out for theme weeks
Aldi occasionally has theme weeks, where they offer items that aren't normally stocked.
Often these themes are based on a certain ethnic cuisine, or they might be outdoor-focused or fitness-focused for example.
Aldi rotates a wide range of products in and out of their stock for these weeks.
So, it's a good way to save money on supplies that you can't always get at the store.
Watch out for them in Aldi's ads and stock up on great deals as soon as you can.
17. Keep an eye out for discount stickers
As we mentioned earlier, Aldi offers a selection of weekly ads and promotions online and within flyers, but that's not the only place where you can find discounted products.
Aldi stores sometimes place extra stickers on random products that give you extra in-store savings.
So, sometimes, you'll see an item on your shopping list that happens to be reduced in store.
18. Check the dates
While Aldi offers really great prices for everyday items like milk, cereal, and fresh meat and produce, many customers report that the dates on the store's products aren't always that great.
Some customers state that they buy a product in the store, only to realize that when they come to use it a few days later, it's already expired. If a product expires, and you have to throw it out, then it's a total waste of money.
That's why we strongly recommend checking the date on the label of products you buy at Aldi.
Often, the dates are fine, but some products might only have a couple of days before they expire, meaning that, unless you plan to use them on the same day or the next day, they'll go bad before you get a chance to use them, and you'll have to throw them out.
So, take a moment to scan the label for the expiration date, and you'll prevent wasting food and your hard earned cash.
19. Look out for baked goods
Fresh baked goods at Aldi are incredibly cheap, they're high-quality and there's a great selection too.
From croissants to bagels, you can find baked goods for as little as $1.
But, Aldi sometimes reduces the price of its baked goods on the day before they're about to expire by as much as 50%!
20. Opt for store brands
I never understand the people who are willing to pay more for an item just because it has a big brand name on it.
The generic version sitting next to the brand name often has the exact same ingredients, weighs the same, but it is significantly cheaper.
I just don't get our obsession with brand names!
Aldi carries a lot of its own brand items alongside the items from big name brands.
You can easily and quickly compare the ingredients of the two by looking at the list of the ingredients on the back of the item.
If they are the same, please save yourself some cash and get the store brand.
21. Find the clearance rack
Just like most other grocery stores, Aldi also has a clearance rack that is full of clearance items.
Usually, it's a rolling rack located in the center of the middle aisle.
You can find great deals on anything from kitchenware to spices, soda and everything in between.
22. Check out the "Aldi Finds" of the week
Every week, the company publishes a list of items with special pricing (often deeply discounted) on its site.
The list mainly contains stuff like air fresheners, soaps and shampoos, small electronics and kitchen appliances and other kitchenware.
23. Keep an eye out for deals as you checkout
Next time you are in the checkout lane, pay attention to the racks on your left and right side.
You can often find great deals that can save you money on school supplies, snacks and everything in between.
24. Become an "Aldi Insider"
Aldi has a weekly newsletter that they send out to their subscribers, full of exclusive deals and discounts.
Sometimes you may also get coupons and promo codes for up to $20 – $30 off.
These are promos that are only available to the people on the mailing list.
To get on the mailing list, visit https://www.aldi.us/newsletter and sign up. It's free!
25. Follow the company on social media
These days, you'd be crazy not to follow companies and stores you shop from, on social media.
This is such a great, yet easy way to find out about the latest deals and discounts, as well as get access to exclusive coupons and promo codes.
Here are Aldi's major social media pages:
Bonus tip: Install the app
Be sure to install their free app.
The app has some very handy features including:
Weekly ALDI Finds Updates: Get the weekly finds easily with just one click.
New Low Prices: See the latest price reductions on every item at the store.
Weekly Ads: Have the weekly ads at your fingertips.
New at ALDI: Be the first to know about new items.
You can also use the app to locate stores near you and create a shopping list.
You can install the app for iPhone and Android devices by following these links:
Best Day to Shop at Aldi
So is there a "best day" for shopping at Aldi?
No, not really!
You can get good deals and save money pretty much any day of the week.
However, there is one day that could be better.
Wednesday!
Why?
As I mentioned earlier, the company releases its Weekly Ads on Wednesdays. Although you could use the ads any day of the week, there is one thing that could work against you if you don't get to the store as soon as the ads are released.
You see, one way they keep their prices is low by keeping a smaller inventory so they don't have to deal with products going bad and costing the company money by having them thrown away.
And because of the small inventory, they run out of stuff rather often, especially stuff that have been featured in the Weekly Ads.
So the sooner you get to the store after the publication of the Weekly ad, the more likely you are to get the items you wanted.
All of that makes Wednesdays the best day to shop at Aldi.
What to Buy at Aldi?
While there are many great products you can buy at the store, there are some that are must buys.
Some of these items include:
Milk
Eggs
Peanut Butter
Canned items
Spices
Coconut Oil
Bananas
Hummus
Condiments
Yogurt
String Cheese
These are some of the best items with very low prices. But there are many other products as well.
The Bottom Line
Overall, if you want to know how to save money at Aldi, you'll need to make sure you purchase the products we mentioned that are generally priced better than they are at other stores, like Walmart and Whole Foods, and take advantage of the discount opportunities that the store offers, like weekly ads.
If you follow these Aldi shopping tips, you'll save yourself a lot of money on groceries and household items.