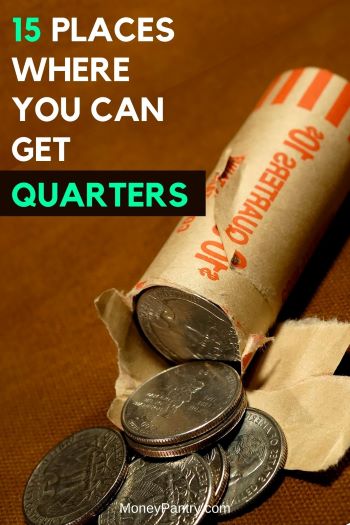 Wanting to know where to get quarters may seem unnecessary when you can pay for almost anything with credit cards and even your phone, but people still need and use the big 25¢ coin.
In the past, coins were needed for everything from toll roads to laundry & soda machines. While we may not need change as much as we used to, there are still times when we'll need to get our hands on some quarters.
You may need quarters to use at your local laundromat, or perhaps you're having a yard sale and need quarters to break bills.
Whatever the case, you may wonder about where you can actually go about getting some quarters, besides searching all the places you can find money (like under your couch cushions!).
People want to know things like can you still get quarters from the bank or where to get quarters during a coin shortage or even quarantine
Below, I'll cover the best places to get quarters.
Need Easy Extra $300+/Month for Free?
KashKick
: Get paid directly into your PayPal for watching videos, surfing, shopping and more.
Join KashKick Now!
Panel Payday
: Earn up to $75 per survey. They also pay up to $50/hr for mystery shopping.
Join Now!
InboxDollars
: Paid over $57 Million to members to watch videos, take surveys, shop and more.
Get $5 instantly!
Branded Surveys
: Get $1 instantly just for joining for free. Plus get paid within 48 hours by PayPal!
Join Branded Surveys
iPsos iSay:
: If you have to only sign up for one paid survey site, go with Ipsos (high paying survyes)!
Join iPsos Now!
Swagbucks
: Get paid to watch videos, shop online, take surveys and more.
Join now & get $5 instantly!
Coin Shortage?
Now, as, for that coin shortage, according to the Federal Reserve, there isn't actually a coin shortage.
There are enough coins out there. The problem is with coin circulation.
The Federal Reserve says that there is, in fact, an "adequate overall amount" of coins in the economy. But, business and bank closures that have been associated with the COVID-19 pandemic disrupted the normal circulation patterns for U.S. coins. This slowed pace of circulation reduced the available inventories in some areas of the country throughout 2020. Things are set to improve though.
The Federal Reserve works with the U.S. Mint and others in the industry to ensure that coins keep circulating.
According to the Federal Reserve, the U.S. Mint has been operating at full production capacity since mid-June of 2020, and in that year, it produced 14.8 billion coins, a 24% increase from the 11.9 billion coins produced in 2019.
The U.S Coin Task Force was formed in July 2020 to identify, implement, and promote actions to address disruptions to coin circulation. The U.S. Coin Task Force still regularly meets until coin circulation has been normalized.
So, there are coins out there, meaning that there are still quarters to be had!
Places to Get Quarters (& Change)
Here's where you can get quarters near you…
1. Banks
The first and most obvious place to visit when you need quarters (as well as dimes, nickels & pennies) is your local bank.
If you have an account with the bank, you can just ask to withdraw some of your money in coins.
If you are not a member at that bank, you could try just asking the teller if they would exchange the cash that you currently have in hand for quarters. It's a good idea to call ahead though to check if that bank offers change to people who aren't a member of that bank.
2. Grocery store
Most grocery stores like Trader Joe's, Walmart, or local stores, will offer change since they have plenty of coins in the cash registers, as well as at the customer service desk.
The customer service desk can be a better choice since you won't be holding up the queue. If you do go to the register instead, you may need to make a small purchase first. A can of soda, gum or a piece of fruit is a good option if you're looking to break a bill without having to spend much money. Buy something for twenty five cents, pay with a dollar bill and ask for 3 quarters in return.
3. Convenience store
Convenience stores like 7-Eleven will provide change to customers. They don't have as many coins on hand as a grocery store would but they're still a good option.
You may need to make a small purchase to get the quarters though. Convenience stores are best if you just need to change a dollar or a few dollars.
4. Gas station
Next time you are filling up on fuel, consider getting some quarters. Many gas stations will give you change from the register if you ask. Again, as with convenience stores, it can be a good idea to only ask for smaller denominations.
Like with grocery stores, you may need to make a purchase first. But, if it's a locally owned place, a small business owner may be kind enough to give you the change without you needing to purchase anything. Even if you have to buy something, purchase a small item like candy for a dime, pay with a dollar bill and ask for a few 25¢ coins when getting your change back. Or you could ask for change to pay for air. Although some gas stations offer free air for tires, some have machines that require a few quarters or so.
5. Laundromat
Laundromats can be a convenient place to get quarters since many of them are open 24/7. You can get coins no matter what time of day.
Because many laundromats require quarters to operate, many of them provide change machines that people can use to change bills into quarters.
If you need quarters for laundry, then this is a good choice because some places require you to do a load of laundry in order to get your change. Do check the details first before you use the machine to change your dollar bill!
6. Car wash
Like laundromats, some car washes require quarters to operate. This means that they have a change machine nearby.
Now, again, checking the details is important so that you know whether you have to use the car wash to get the change. Of course, if it's a car wash that you need the quarters for, then skip that step.
7. Pharmacies
Some pharmacies like CVS, Rite Aid, and local pharmacies will give out coins to customers who ask for them. This is because they often have plenty of coins in the cash register.
Just ask politely and keep in mind that you may have to buy something to get your quarters. It's a good idea to ask for a smaller amount of change than you would at, say, a bank.
8. Arcades
Do you have an arcade nearby?
Well, then this could be a good place for you to get some quarters. Because most arcades have change machines that offer a lot of coins, this can be such a great way to get rolls of quarters.
Now, it's really important to check whether the machine dispenses quarters, but in most cases, this is a great choice.
9. Fast food establishments
Your local fast-food joint could be a good place to pick up some quarters. Since many fast food places work like grocery stores and gas stations do in that they take money into the register, they often provide coins.
Now, since fast food places don't have a customer service desk, it's best to ask at the register.
I would recommend going at a time when you're hungry because you may need to purchase something in order to get change. But there are a lot of cheap options on most fast-food menus, right?
They might not offer as much change as some of the other options on the list, but for getting change for a few bucks, fast food establishments are a good choice.
10. Hotel check in desk
I know that I've gotten change at the check-in desk of hotels that I have stayed in. I remember getting a large bill from an ATM, and I needed a smaller amount to tip with at the restaurant I was going to.
So, I just asked the concierge at the desk if they would be able to give me some smaller bills and they did. I'm sure that if I had asked for coins, they would have happily given those to me as well. So if you have a nearby hotel, it could be worth checking if they'll offer change, and if you are a guest, getting change will be even easier.
11. Motel check in desk
Just like at a hotel, you may also be able to get some change from a motel. Just ask at the check-in desk. If you are a guest, it will be even easier to change bills for quarters!
12. Libraries
Sometimes libraries have change machines nearby, so if you have one near you, then you may be able to get some quarters. So, check for nearby libraries to see if there's a change machine you could use to get some coins.
13. Vending machines
Okay, so there's this simple trick that a lot of people swear by for getting quarters and it involves using a vending machine.
Basically, you insert a dollar into the vending machine but instead of buying anything, you simply press the "change return" button. Because some vending machines, particularly the older machines, aren't able to dispense notes, they give you your money back in four quarters. This can be such an easy way to get quarters provided that the machine issues refunds in coin form rather than in note form.
14. Big box stores
If you're looking for a larger amount of change than you would get at, say, a grocery store, convenience store, or fast-food place, then you might want to visit your local big box store. If you have any big box stores near you, then you may be able to get some quarters there.
Check out places like Best Buy, Home Depot, Lowe's, Target, and Costco if you're looking for quarters. They will likely have a lot of coins in the register. So this can be a good place to get larger denominations.
Like with many of the options on this list, you may need to make a purchase before you can get change. It's a good idea to check at the customer service desk, as they may be able to offer more guidance, and you don't have to worry about holding up the queue at the checkout.
15. Bowling alley
Next, we have the bowling alley. This is a good option because, like at arcades, many bowling alleys also provide change machines. Or you could ask for change if you purchase any food or drinks at the bowling alley.
Can I Get Quarters from Coinstar?
Okay, so a lot of people want to know if they can get quarters from Coinstar.
Sadly, you can't!
Coinstar actually provides the opposite service.
You use Coinstar to convert coins to cash. It charges an 11.9% processing fee. So you might take your coin jar to a machine, and then Coinstar will exchange it for notes. This is handy if you're looking to trade spare change for bills but not if you are looking for coins. Try the other options on the list instead.
Closing Thoughts
There are still plenty of places to get quarters. Sure, you may have to call ahead first or buy something before you get the quarters, but it's pretty easy to get quarters.
Do you have any tips on where to get quarters? If so, share your tips with us in the comments section below.