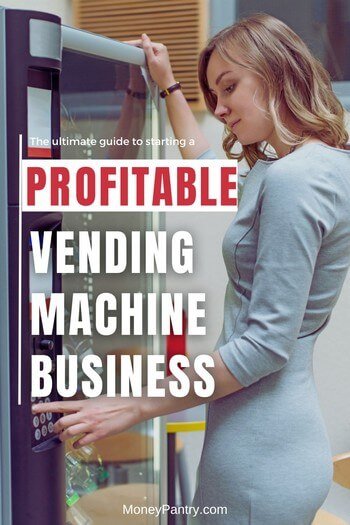 A vending machine business is a great option if you want to start your own business.
In 2019, the global vending machine market size was valued at $18.28 billion and is predicted to reach $25.25 billion by 2027!
So, there's definitely money to be made in the vending machine industry.
If you want to know how to start a vending machine business, then give the tips in our post below a try.
How to Start a Vending Machine Business
Here's a step by step guide on how to start a profitable vending machine business.
1. Decide what type of vending machine business to purchase
The first step is to decide whether you want to start your own business, buy a vending machine franchise, or purchase an existing business.
Need Easy Extra $300+/Month for Free?
KashKick
: Get paid directly into your PayPal for watching videos, surfing, shopping and more.
Join KashKick Now!
Panel Payday
: Earn up to $75 per survey. They also pay up to $50/hr for mystery shopping.
Join Now!
InboxDollars
: Paid over $57 Million to members to watch videos, take surveys, shop and more.
Get $5 instantly!
Branded Surveys
: Get $1 instantly just for joining for free. Plus get paid within 48 hours by PayPal!
Join Branded Surveys
iPsos iSay:
: If you have to only sign up for one paid survey site, go with Ipsos (high paying survyes)!
Join iPsos Now!
Swagbucks
: Get paid to watch videos, shop online, take surveys and more.
Join now & get $5 instantly!
These options each have their own pros and cons:
Starting your own vending machine business: If you want flexibility and more control when you're starting your business, then you should purchase your own machine and source locations yourself. Starting a vending machine business from scratch is more work though compared to buying a franchise. It gives you a lot of freedom though.
Buying a vending machine business: With a franchise, you already have infrastructure in place, you'll have an established business, and there are fewer decisions to make at the start of the business. But, the franchisor does take a cut from the franchisee and you get less control over the business.
Purchasing an existing vending machine business: You can purchase an existing vending machine business. This can help you get a fast track into the industry. But, you need to be cautious and learn why the owner wants to sell their business. The owner may simply want to retire, so that's why they're selling their machines. But, it could also turn out that there are issues with the location or the machines. So, do your research. For example, check the machines to ensure that they function correctly, review existing contracts with clients and vendors, and scrutinize the financial reports.
2. Consider what types of products you want to sell
The next step is to consider which types of items you want to sell in your vending machines. If you're purchasing a franchise, then this will already be decided for you, but if you're starting your own business, then you will need to decide on products.
There are lots of different items you can sell, such as:
Food
Drinks
Laundry products (like detergent, fabric softener and dryer sheets)
Skincare products
Hair products (such as shampoo, conditioner, and styling products)
Beach supplies (like sunscreen, goggles, and toys)
Nail polish
T-shirts
Fitness merchandise (such as supplements, towels, gloves, hair ties, and earbuds)
Dog treats
Pens and pencils
Toiletries and hygiene products (such as toothbrushes, toothpaste, soap, and feminine hygiene products)
Food vending machines are popular, but there are also options for vending machines that vend items in bulk or vending machines that provide specialty products.
Bulk vending is the sale of unsorted confections, nuts, gumballs, toys, and novelties (in capsules), which are selected at random and dispensed generally through non-electronically operated vending machines.
Bulk vending requires very little capital and low maintenance costs. In the right market, like at a school or amusement park, this modest investment has the potential to offer a reliable passive income source.
Because most bulk vending machines are mechanical devices and don't require electricity or battery power to operate, the cost of operation is low to nonexistent. Bulk vending only represents less than 1% of the industry though, so it's not the most popular option.
3. Find a location for your vending machine
The location of your vending machine will affect how successful it is.
Location is important in every type of business.
You need your vending machine to be located in a place where you'll get sales.
Obviously, you're going to want to make sure that your vending machine is in an area that gets a lot of foot traffic and where your target demographic will be, because the location needs to be a good match for the types of products that your machines will sell.
Some products will sell well almost everywhere, like coffee, water, soda, and snacks.
On the other hand, things like salads, sandwiches, and microwaveable meals might be more appealing to people in offices or colleges.
Healthy snacks might do well at schools or in gyms because these places will likely want to provide people with good nutrition.
Non-food items, like fitness supplies, might do better near gyms, or skincare products might do better in malls.
Think about the types of products your vending machines are selling and then choose a location that best suits that.
Also, consider how safe your machines and products will be in a particular location. Some locations may be prone to theft or vandalism, which will cost you time and money if you have to repair the machines or replace stolen stock.
Places where you may want to consider putting your vending machine include:
Airports
Apartment complexes
Bus stations
Car dealerships
Grocery stores
Gyms
Hospitals
Hotels and motels
Laundromats
Malls
Manufacturing facilities
Nursing homes
Office buildings
Schools
Shopping centers
Train stations
Universities
4. Create a business plan
Having a business plan is important for any type of business, including a vending machine business.
Your business plan will involve a few different things, such as:
Deciding on a business structure (I'll cover this more in the "Register your business" section of the article).
Choosing a name for your vending machine business.
Getting an idea of where you're going to open your vending machine business.
Considering what types of products you're going to offer.
Deciding what your target demographic is. Are you going to have vending machines that will cater to a wide audience, like those that sell snacks, and beverages, or sell more specialty products, like fitness supplies?
There's a lot to think about when creating your business plan. Having a business plan is useful though as it helps you to get everything down in one place.
A business plan is not only useful for having all of the important information in one place, but if you need to get outside capital for your business, then you'll need to provide a business plan for funding consideration.
There are lots of different options for funding, and I'll cover those in the "Consider Funding" section below. Whether you need funding to start your vending machine business, or want to leave funding for expansion later on, having a solid business plan from the outset can make the process easier.
There's a lot to consider when you're first starting your vending machine business, but the more you can plan, the better.
5. Consider funding
Okay, so I mentioned funding briefly in the "Create a business plan" section above. So, I'll go into a little more detail here.
You may want to consider outside funding when you're starting your vending machine business.
Not everyone will need to get outside funding. You may already have the capital you need to start a vending machine without having to seek it from investors or banks.
You'll need to calculate your startup costs. Then, you'll be able to decide what startup funds are required and whether you'll need to get capital from outside sources.
Some funding options include small business loans or spending on credit. So, you may need to request capital from places like banks, credit unions, and investors.
It's really a good idea to research all of the available options thoroughly before you make a decision on what type of financing would be best for you and your business.
6. Register your business
You will need to register your vending machine business. So, you'll need to register your vending machine company's name and choose a business structure.
There are many options for structuring your business, such as:
Sole proprietorship
LLC
Partnership
C-Corp
What type of business structure that you choose is really up to you. It depends on what type of business you want to operate.
You may want to register as a sole proprietorship if you want complete control over your business.
If you are opening your vending machine business with two or more people, then you'll need to register as a partnership.
A limited liability company, or LLC, is best for medium or higher-risk businesses.
Be sure to research all of the business structure options so that you can choose the one that is best for your business.
You may also need an employment identification number (EIN) when you're registering your company, if your state requires it.
It's free to register for an EIN on the IRS website.
7. Obtain any necessary permits and licenses for your business
You should also obtain any necessary licenses and permits.
It's important that you research any federal, state, and local laws and regulations that your vending machine business must comply with.
You can do some research on Google for what licenses and permits are required for a vending machine business in your particular state.
The Small Business Administration is also a good resource for finding out what licenses you might need in your state.
8. Find your vending machine
You'll need a vending machine if you're going to start a vending machine business!
You can have a search online. Search both local and national suppliers to get a better idea of the different vending machine offerings and price points that are available.
There are a few different types of vending machine sellers:
Manufacturers or wholesale vending suppliers
These have the widest selection of vending machines for sale. Not only that but they tend to offer other benefits, such as the newest technology and the most end-to-end services for delivery, repairs, and training.
Getting machines from manufacturers and wholesale vending suppliers can be an expensive option though.
Secondary market sellers or specialty online retailers
This option allows you to browse multiple brands and models of vending machines. Often, secondary market sellers or specialty online retailers have helpful resources for business owners too.
Online marketplaces
Consumer-to-consumer online marketplaces like Craigslist and eBay are also good places to purchase vending machines. You can often find vending machines for sale on there at reasonable prices.
If you want to save money, then this is your best option as you can find some good deals. This option is particularly good for new business owners who are just making their foray into the vending machine industry.
Do some research online to find the right vending machine for you. Vending machines come with a range of features and capabilities, as you'll see when you start researching them online.
Some of these features and capabilities can include:
Credit card and large bill functionality
Touch or voice accessibility
Snack/drink combination machines
Remote monitoring software and low-stock alerts
Branded "wraps" for the front of your machine
Interactive screens
Some of these features can be costly. So, decide what's best for your business. You should choose the vending machine that best fits the products you want to offer and what you can afford at the moment.
9. Stock your products
Once you have set everything up for your business, you will need to ensure that your machines are stocked. You can make connections with wholesale suppliers so that you can get the lowest cost per unit.
Saving money on the upfront costs of food will help you to get more profit from your vending machines in the long run.
Make sure that you choose the right items for your vending machine's location. It's a good idea not to over-order stock in the beginning. As you continue to operate your business, you can adjust your offerings based on demand.
If you are stocking food or perishable items, be sure to note when they will expire and make sure you always replace them in time.
Depending on the type of machine you have, it may already come pre-programmed with management software. This software can be used to streamline operations, record inventory, and track revenue.
Many standard machines will require you to manually manage your inventory. This might not be too bad if you own just a couple of vending machines. But once you have more than that, say 5 to 10 separate vending machines, it can be more difficult. In that case, it's likely a good idea to invest in a vending management system (VMS) to help you to stay on top of your inventory remotely.
VMS software allows you to remotely manage your vending machines from an internet-enabled device.
Most VMS systems provide real-time inventory updates and reporting tools. VMS can help to make managing inventory easier.
You will need to restock your vending machines as needed once your business is underway.
You can streamline this process and reduce travel time by selecting your sites in an ordered sequence rather than choosing locations all over town.
Choosing similar products for multiple vending machines can also make your trips more efficient.
10. Make sure you provide good customer service
Good customer service is an essential part of operating a successful vending machine business. It helps you to differentiate your business from your competitors. Most importantly though, it keeps customers coming back. This increases your profits.
You need to ensure that your machines are always functional, clean, user-friendly, and stocked. Machines that are dirty won't attract customers and a malfunctioning machine will not make any profit.
You could hire a vending machine operator, which can save you time. If you want to save money though, then learning how to repair and maintain the vending machines yourself can be a good option.
As you operate your business, you'll learn what works for you and how to best keep your machines clean and functional.
Something else you should consider is the possibility of theft and vandalism. Vending machines are, after all, in public places.
You will need to deal with these things promptly to ensure that you're presenting good machines to your customers. They likely won't want to buy from a vandalized machine and won't be able to buy anything if your stock has been stolen. So, you may need to keep an eye out for vandalism or theft and fix it as soon as possible.
You'll need to ensure that you have money set aside for these types of situations and include them in your business plan so that unexpected events like theft and vandalism don't ruin your business. You should also consider whether small business insurance is a worthwhile option.
FAQs About Opening a Vending Machine Business
In this section, I'll cover some answers to some common questions people have about starting a vending machine business.
How profitable is owning a vending machine?
Vending machines can be profitable. Each machine typically brings in between $20 and $400 per month on average.
Your profits will depend on how many machines you have and where they are located.
You'll typically need quite a few machines if you want to make a full-time income from your vending machine business. You'll typically make more money from vending machines that are placed in high traffic areas.
How do I get a contract for a vending machine?
Once you have found a location where you want to put your vending machine, you'll need to negotiate with the business owner to get them to allow you to place your vending machine there.
You will need to come to an agreement with the business owner on how much you will pay them each month. This could be a fixed monthly rate, or a percentage of the revenue. You will need to formalize the agreement by signing a vending machine contract.
The vending machine contract should include things like:
The term of the agreement, such as 6 months, 1 year, or 2 years for example.
Your right to place a vending machine on the property.
The fact that you, not the business owner, own the vending machine and products.
Your responsibilities to keep the vending machine stocked with products and in working order.
What the business owner's responsibilities are to help prevent theft or vandalism to your machines and to notify you of any problems.
How much you'll pay the business owner and when.
The fact that you're an independent contractor (not an employee).
How and when the contract can be terminated.
Standard legal clauses that protect both parties.
You can get a free sample vending machine contract from Allied Vending here.
Are vending machines good passive income?
Yes, vending machines provide a good passive income opportunity for anyone looking to earn money.
Sure, starting a vending machine business does require effort upfront as other passive income opportunities like affiliate marketing or selling books on KDP do.
You also have to put in the effort of keeping machines stocked, maintained, and clean. Other than that though, a vending machine business isn't too hands on. Plus, you can always add employees to take care of some tasks, such as restocking the machines, as your business grows.
How much does it cost to invest in a vending machine?
It can cost as little as $2,000 to get a basic vending machine business up and running.
You'll save money by purchasing used or refurbished machines, which you can find for between $1,200 and $3,000. New vending machines are more expensive costing anywhere from $3,000 to $10,000 depending on their size and features.
Aside from the machine, you'll also need to consider the cost of inventory and stock. These will also determine how much it costs to start your vending machine business. Depending on the number of machines you plan to have and what type of inventory you'll stock, this could cost anywhere from a few hundred dollars to thousands of dollars.
How much is a vending machine permit?
The cost of a business license and other permits varies depending on your location. On average, permit fees range from $50 to $600 annually. You can contact your local Small Business Administration office, which will be able to help you to determine what licenses and permits you'll need for your vending machine business.
Do vending machine owners pay rent?
As a vending machine owner, you pay rent or commission to the owner of the building. If you pay a flat monthly rent, you will generally pay between $50 and $200. It really depends on the location. If you're paying a percentage of the revenue, you usually pay between 5% to 20% of your vending machine sales.
Where is the best place to put a vending machine?
The best place to put a vending machine is in a high-traffic area or an area where you're selling products that are specific to that location. For example, a vending machine full of fitness supplies is likely to do well at a gym.
Here are some great places to put a vending machine:
Apartment complexes
Manufacturing/distribution facilities
Offices
Hotels
Motels
Hospitals
Nursing homes/care facilities
Car dealerships
Gyms
Schools
Community colleges
Universities
Retail stores
Can a vending machine go anywhere?
No, you can't just place a vending machine anywhere without getting permission from the owner of the establishment. You will often need to sign a contract with the property owner. Most locations will require you to follow state and local vending laws. Be sure to read up on state and local vending laws when doing your research.
If you think that a location would be a good place to put your vending machine, then approach the business owner and see if you can get a contract.
Vending Machine Business Summary
There are quite a lot of steps involved in starting a vending machine business. Once you're up and running though, this can be a profitable venture!
Follow the steps on how to start a vending machine business to start making money.