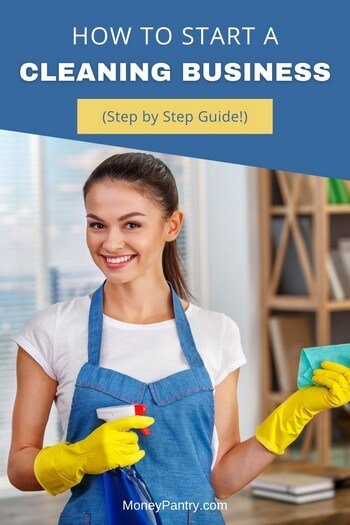 When it comes to businesses you can start with no money, cleaning business has to be one of the best ones. Even if you don't have a few cleaning supplies, it's a business that you can start with under $100.
What makes starting a cleaning business attractive is that there's always a demand for cleaners because, well people like stuff clean but they don't like to do the cleaning! It's as simple as that really!
Since most people find cleaning to be an annoyance or they may not have the time to do it, they hire a cleaner.
People who hire cleaners can range from busy parents who need someone to clean their house to business owners who need someone to clean their offices.
Just how do you start a cleaning business though?
How to Start a Cleaning Business
In this post, we cover everything you need to know about how to start a cleaning business.
Need Easy Extra $300+/Month for Free?
KashKick
: Get paid directly into your PayPal for watching videos, surfing, shopping and more.
Join KashKick Now!
Panel Payday
: Earn up to $75 per survey. They also pay up to $50/hr for mystery shopping.
Join Now!
InboxDollars
: Paid over $57 Million to members to watch videos, take surveys, shop and more.
Get $5 instantly!
Branded Surveys
: Get $1 instantly just for joining for free. Plus get paid within 48 hours by PayPal!
Join Branded Surveys
iPsos iSay:
: If you have to only sign up for one paid survey site, go with Ipsos (high paying survyes)!
Join iPsos Now!
Swagbucks
: Get paid to watch videos, shop online, take surveys and more.
Join now & get $5 instantly!
1. Research your market
The first step is to research your market.
You should research other cleaning businesses in the area and see what services they offer. This will give you a good idea of the competition in your area and also what there's a demand for.
If there other residential cleaning businesses near you, then there's likely a demand in your area for residential cleaners.
If there are businesses in the same market as you, then consider what extra services you can offer or how you could somehow differentiate your business from theirs.
You should also read reviews of other local cleaning businesses on sites like Google and Yelp.
This will show you what people's main compliments and complaints are with these businesses. Then, you could see what other businesses are doing right, implement that, and also see what these businesses are getting wrong, and then fill that gap in the market.
Knowing your market is important, so take the time to do your research.
2. Choose your specialty
You should also choose your specialty. Now, your specialty might simply be providing a friendly residential cleaning service to homeowners. Or you could specialize in a certain area like cleaning carpets or porcelain.
Basically, you need to decide what type of cleaning service you're going to offer.
Here are some types of cleaning services that your business might offer:
Basic cleaning
Deep cleaning
Spring cleaning
Sanitization
Move-out cleaning
New home or construction cleaning
Dishwashing
Laundry
Carpet cleaning
Pressure washing
Tile and grout cleaning
Keep in mind that specialized services are only worth providing if you already have experience and access to the necessary equipment and training, otherwise the cost of things like training and equipment might outweigh your cleaning revenue.
It's a good idea to start small with just a few core options for your final services list. Consider what you can do now with your current budget, and what you'll be able to do later with more money.
You should also decide whether you want to go into residential cleaning or commercial cleaning.
When you are just starting out, residential cleaning can be easier and less expensive to get into compared to commercial cleaning since you'll likely be competing with large janitorial companies who typically have more resources available.
When you know the type of services that you are going to offer, you can then choose what type of business you want to run. Your business could be a solo operation from your home, or it could be a larger business with other employers, or something in between.
You can also decide whether you'll work full time or part time, and on the weekdays or weekends, and where your service area will be.
3. Plan your business budget
Okay, so now you know what type of cleaning services you're going to offer, it's time to plan the business budget.
Expenses will vary from cleaner to cleaner. Generally, costs will be lower for an individual cleaner than they will be for a business with a team of people and a company vehicle.
Here are the expenses you'll need to consider when starting a cleaning business:
Transportation
Transportation is a big part of a cleaning business because you're going to have to travel to different places to provide your cleaning services.
So, if you are simply using your own car, then you will need to factor in things like the cost of gas and wear and tear on your vehicle. Keep in mind the cost of transportation.
Supplies
You are going to need cleaning supplies in order to provide your cleaning service to customers.
The amount of supplies, and the supplies that you need to purchase, and therefore the cost of your supplies will depend on the types of services you offer and the number of clients you have. Be sure to write down all the supplies you'll need and make a budget for them.
You will need to have a good stock of cleaning supplies, such as brooms, mops, and disinfectants. It's important that you keep these items well-stocked, because you don't want to run out of anything and not be able to offer the cleaning services that you want to.
Equipment
Another thing that you may need is equipment. Unless you already own or have free access to equipment, special machines, and cleaning agents for carpets, flooring, and exteriors, this can be another costly factor that you'll need to budget for.
Of course, if you don't need any specialist equipment, like floor waxers, then this won't be an issue and most of your budget will be focused on supplies like brooms, mops, and disinfectants.
Remember that you don't need to offer specialist services right from the outset (or at all!), but you can always add them to your service list later on when you have more money. Don't invest in a bunch of equipment you don't really need yet.
4. Fund your cleaning business
Once you have an idea of your budget, then you will need to fund your cleaning business.
Obviously, financing is one of the most difficult parts of starting a cleaning business, or any type of business for that matter.
You may have enough money to fund the business yourself, especially if your cleaning business is a small business.
But, many people have to take out a business loan or spend on credit. Consider your funding options.
The startup costs for a cleaning service can be relatively low, but it depends on the scale of the business.
This means that you can keep debt to a minimum when first planning your business, and then expand your operations, and therefore how much money you're spending, as your business generates more revenue.
5. Register your business
Before you start providing cleaning services, you will need to get your business registered.
You will need to register your cleaning company's name and choose a business structure.
Make sure nobody else in the state is using your business name. You can trademark it here.
Part of the registration process will be deciding what your business structure will be.
If you want complete control over your business, then you may want to register as a sole proprietorship.
If you are opening your cleaning business with two or more people, then you'll need to register as a partnership.
A limited liability company, or LLC, is best for medium or higher-risk businesses.
If your city or state requires it, then you may also need an employment identification number (EIN) when you're registering your company.
If you aren't sure what the local ordinances and regulations are for cleaning businesses in your area, then simply enter "[name of your city] and business laws" into Google, and hit search. This should provide you with more information.
6. Consider getting a business license and insurance
Business licenses are not always required for cleaning businesses, but check with your state to be sure.
You can simply Google the phrase, "Do you need a business license for a cleaning business in [name of your state]." And that should give you the information you need for your state.
Cleaning businesses don't always need a license, but 's always worth making sure, particularly if you clean in a niche industry or use restricted cleaning solutions.
You'll also need a vendor's license in order to calculate and pay sales tax. You can apply for a vendor's license with your city clerk or local administrator.
It's also important to speak to your city clerk about all the local ordinances in order to ensure that you are fully compliant before you start your business.
Some cities or countries require that cleaning services are bonded. Even if it isn't mandatory though, many businesses won't hire a company that isn't bonded.
Sure, if you're a sole proprietor you may not need to be licensed and bonded, but always check with your city clerk or state business office to be sure.
Insurance is important and should be considered whether you're a small business that operates as a sole proprietorship or a large business with multiple employees.
If you or an employee were to accidentally cause damage to a client's home, and you don't have insurance, then you could get yourself in debt if you cover the property damage out of pocket.
Insurance can give you a safety net. So, it's definitely something to consider. If you do get insurance, be sure to shop around for the right insurance plan for your business and check out various providers in your area.
7. Set your rates
When you are starting a cleaning business, you need to set your rates.
There are a few different ways that you can charge for your cleaning services:
Hourly rate
Flat rate
Square footage rate
Room rate
Specialty service rate
It's up to you how you choose to charge your clients.
Hourly and flat rates can work well for both commercial and residential cleaning.
Rates calculated by square footage are very common for commercial cleaning businesses.
8. Get cleaning supplies and equipment
Before you can complete your first job, you will need to purchase cleaning supplies and equipment.
The equipment that you need will depend on what type of services you're running.
Here's a sample checklist of the cleaning supplies and equipment that you might need:
Vacuum
Mop and bucket
Broom and dustpan
Rubber or latex gloves
Trash bags
Paper towels
Sponges
Cleaning towels or rags
Microfiber cloths
Scrubbing brushes
Duster
Extendable pole
Face mask
Bleach
Disinfectant
All-purpose cleaners
Soap scum removal cleaner
Toilet cleaner
Glass cleaner
Spray bottle
You don't need to purchase everything at once. But, you should consider what items you'll need to get your business started, and make sure that you have everything you need.
Of course you need a car to get to work. If you have a pick up truck, that's even better, but even a small car works.
When you're just starting out, just get the equipment that you can afford. As you get and complete more jobs, you'll increase your profits and be able to reinvest that back into more supplies and equipment.
9. Find clients
The next step is to find clients, because, well, for any business to be successful, it needs clients, right?
There are lots of different ways that you can market your business to find clients, such as:
Social media, like Facebook, Nextdoor, Instagram, and Twitter.
Flyers
Word-of-mouth
A website for your cleaning services
If you have a company vehicle, or are even using your regular car, you could add decals or wraps to the vehicle to advertise your business.
Business cards
Paid advertising, like Google Local Services Ads.
10. Invoice and manage cash flow
Once you have found clients and have completed cleaning jobs, you will need to invoice cleaning jobs and manage cash flow.
You will need to set up a process for taking payments and also for checking in with clients who haven't paid their invoices yet.
Here are some things you should consider with payment and invoices:
Decide when to take payment: You will need to decide whether you'll take payment upfront or after you've provided the service.
Choose a payment provider: You will need to choose a system to collect client payments. Depending on your payment system, you can choose to offer payment options, such as cash, check, credit card, or e-transfer.
Send invoices: You will need to ensure that you're sending invoices to clients so that they know how much money they owe you.
Follow-up on unpaid invoices: You'll find that some clients are great, and they pay you right away. Others may require a bit of chasing. This is not ideal, but it may be something you'll come across as you run your business. Once a certain amount of time has passed without being paid, make sure that you send a reminder asking for payment. You will need to decide how you're going to deal with clients who pay late or not at all early on in your business too.
11. Invest in advertising and expanding your business
You may find that existing clients provide you with new clients, but you should also consider other streams of advertising to bring in clients.
Once your business is well-established and making a profit, consider investing in advertising to expand your client-base even more.
How Much Does it Cost to Start a Cleaning Business?
If you want to start a cleaning business, you're probably wondering how much it will cost to get your business started.
Unfortunately, there's no concrete answer because there are so many factors that can affect the startup cost of a cleaning business.
For example, starting a sole proprietorship working as a residential cleaner is significantly cheaper and easier than setting up an LLC with multiple employees working in a niche industrial field.
So, your startup costs will really depend on the type of cleaning business that you are starting.
Even if you are looking to save money on startup costs, it's a good idea to spend money on insurance. Even if it's not a legal requirement, insurance is a good idea, particularly for sole traders.
This is because for sole traders there's no separation of business and personal liability, which means that if you were to say, accidently drop a family heirloom on the floor and it broke, you could be liable for thousands of dollars in damages.
Some startup costs you'll need to consider include:
Licenses and permits: It can cost between $100 and $500 to register as a limited liability company.
Cleaning equipment and supplies: These can be anywhere from $300 to $600 in startup costs.
Insurance: The cost of janitorial insurance can range from $350 to $8,000 per year and this can pay for general liability for a small housekeeping business.
Labor costs: If you are hiring employees, you will also need to factor in their wages. Minimum wage is $7.25 an hour and average pay for cleaners is $14 an hour.
Advertising: You'll need to advertise your business in order to get clients. Print and online advertising can set you back $100 to $200. Although there are free methods of advertising, like social media.
The figures above, aside from those in the labor costs paragraph, are from TheJanitorialStore.com.
Obviously, costs can be more or less than the above. It depends on the state where you live and the type of business you start. You could start a cleaning business for less than $500, or it could cost more than $6,000.
Closing Thoughts
If you've wanted to know how to start a cleaning business, follow the tips above.
And realistically, once you have things in place, it shouldn't take more than a day to launch a cleaning business. The most time consuming part probably is coming up with a name, lol.
Sure, it's not easy to start a cleaning business, or any business for that matter since it requires a lot of hard work and some investment upfront. But if you can build a customer base and provide a good service consistently that your clients are happy with, then you could have a successful, profitable cleaning business in no time!