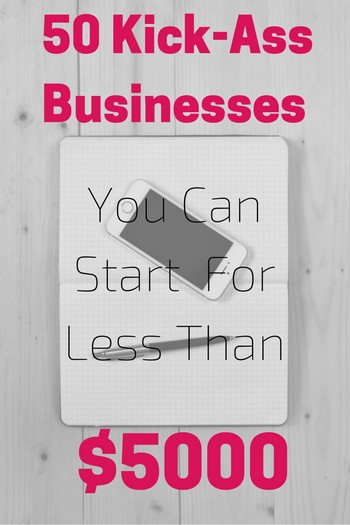 You don't always have to spend hundreds of thousands of dollars to start a business, specially a home-based business. I have actually talked about starting a business for under $100 before.
Today, I am going to share with you 50 business ideas– some home-based and some not — that you can start with less than five grand.
Now, some of these business can be launched with way less than $5000, though there are some that will take close to 5 grand.
Either way, I am sure there is an idea or two for everybody in here.
Let's get started…
1. Antique Refurbishment Business
If you enjoy browsing through antique shops, and pride yourself on being able to spot a valuable find, you could turn this into a profitable business by sourcing old worn-out items, investing some time and care into enhancing the item, and then reselling it at a profit.
Need Easy Extra $300+/Month for Free?
KashKick
: Get paid directly into your PayPal for watching videos, surfing, shopping and more.
Join KashKick Now!
InboxDollars
: Paid over $57 Million to members to watch videos, take surveys, shop and more.
Get $5 instantly!
Branded Surveys
: Get $1 instantly just for joining for free. Plus get paid within 48 hours by PayPal!
Join Branded Surveys
First Opinion
: Get paid up to $10 per survey and $300 per virtual focus groups!
Join Now!
Swagbucks
: Get paid to watch videos, shop online, take surveys and more.
Join now & get $10 instantly!
2. Auto Detailing Service
Car owners love having their cars spotlessly clean and sparkling, but hardly have the time to do it themselves.
An auto detailing business can be very profitable if they provide a great service that keeps the customers happy and bringing their cars back for more.
3. Babysitting Service
Baby sitters are always in high demand.
If you are capable of taking good care of children, and you have a few evenings to spare (Friday nights and Saturday nights are especially popular), you could start up a babysitting service.
If you have the energy to take care of more than one child at a time, you can significantly increase your earnings for the evening.
4. Bed and Breakfast Accommodation
Tourists that are looking for a cheaper alternative to luxury hotel rooms, or want to experience living life like a local, would be the type of people that are looking to stay at a bed and breakfast.
If you have a room or two to spare in your home, and enjoy getting to know people from around the world, you can easily advertise bed and breakfast accommodation.
Your chances of having your rooms booked out are even higher if your house is located close to tourist attractions.
5. Blogging
If you are knowledgeable about a certain topic and want to share your knowledge with others, you could start writing a blog, and earn an income through the ads that are placed on your blog.
The more good quality articles you write, the higher your income potential.
Here is a beginner's guide to making money with blogs to get you started.
6. Cake Baking and Decorating
People love having personalized cakes to mark a special occasion, rather than buying a cake from the local bakery.
If you can bake a delicious cake and are creative with your cake decorating, this could be a very profitable business opportunity for you.
7. Candle Making
Candle making is a wonderful craft to master, and you can sell your handmade products at local craft fairs, and online on sites like Etsy.com.
8. Candy Making
You can make your own candy and package them in cute containers for sale.
Need help? Read this quick guide on how to make money selling candy.
9. Card Making
Despite the mass of online communication, there are quite a few people that still see the charm of doing things the traditional way, and this includes sending handwritten greeting cards. If you are crafty and creative, you can make greeting cards and sell them both at local shops and online.
If you are good at scrapbooking, it's a similar technique, and will likely be something you really enjoy doing and are great at.
10. Catering Business
If you're great at cooking and often get asked for recipes, it may be a good idea to turn this talent into a catering business.
11. Childcare
Reliable childcare services are not easy to find and parents are always on the lookout for reputable places to leave their children during the day while they are at work.
If you enjoy being around children, are available during the day and have a safe space in your home, it may be worthwhile looking into the licensing requirements in order to start up a childcare business.
12. Cleaning Business
If you are looking to earn a bit of extra income after working hours, you may want to look into starting a cleaning business where you clean office spaces in the evening during weekdays or on weekends.
13. Collectible Trading
If you have expert knowledge on certain collectible items, like trading cards, you can make good money trading collectibles.
Sites like eBay are a great way to source and sell items.
14. Computer Repair Services
Tech-savvy people that are good at trouble shooting and finding solutions can start up their own computer repair business.
15. Consignment Buyer
People that are good at shopping for bargains and can spot a good deal, would do well sourcing items from consignment shops and then reselling those items at a profit.
16. Cookie Maker
People love eating homemade cookies but rarely have time to spend an afternoon baking them.
If you have a passion for baking this would be something you would enjoy earning some money from. Beautifully packaged cookies are even more appealing.
Homemade cookies can easily be sold at local food fairs, and even to people within your social circle.
17. Dinner Cook
If you're a fantastic cook, and up for the challenge of preparing meals in someone else's home, you can offer your services as a personal chef. You may be hired to cook at a private party, or just for a family that wants a night away from the kitchen and more quality time to themselves while still being able to enjoy a homemade meal.
This is a very lucrative business once you build up a name for yourself and start getting referrals.
18. Event Co-ordinator
Are you great at multi-tasking and love organising parties? Then you could consider becoming an event co-ordinator.
It takes quite a bit of effort putting things together for an event and organising the finer details, so most people would rather pay an event co-ordinator to do all of this for them.
19. Event DJing
A person with a good quality sound system and a wide selection of music is well placed to provide their services as an event DJ for events and parties.
This is a fantastic way to earn some extra income during your spare evenings.
20. Exercise Instructor
Becoming an exercise instructor is a great way for those who are diligent about keeping fit to earn an income. You may even get the cost of gym membership waived by the gym if you work there.
By doing your job well, you could get offers to become a private trainer, which will see you earning good money for doing what you love.
21. Furniture Maker
If you are very good at creating things with your hands and know how to work with wood and other materials, you could easily make and sell your own unique pieces of furniture, like chairs and coffee tables.
It takes very little equipment to get underway.
22. Garage Sale Manager
A really smart way of doing this as a business would be to hold a garage sale on a regular basis, like once a week if possible.
You will probably get regular customers who drop by to see if there are any new bargains to be had. You could ask your family, friends, colleagues and neighbours if they have any unwanted items you could sell for them and split the proceeds of those sales. They will no doubt be more than happy to get rid of their unwanted stuff without going through the hassle of having a hold a yard sale themselves.
23. Gardener
Weeding, lawn moving, pruning, and so on are all things that need to be done if you have a garden, but so many people consider this to be a chore and would rather do something else.
You could earn an income by providing gardening services, and if you work well, you will likely be able to make this a regular source of income.
24. Handy-man Services
There are so many little things to do around the house, like fixing a cabinet door, or replacing a broken window, that people just don't get around to doing, or if they are elderly or unwell, are unable to do it themselves. There is good income to be earned this way.
Once you show that you are capable and reliable, you'll get even more work through referrals.
25. Housekeeping
You'll be hard pressed to find someone that says they actually enjoy cleaning their house, chances are they could easily think of five other things they'd much rather be doing.
But what if you got paid to clean? Then it doesn't sound so bad and would be a simple way to earn some money during your spare time.
26. Interior Decorator
If you have a good sense of design and style for interior spaces you may often find your family or friends asking you how to decorate their homes.
You could look into setting up an interior design business and working towards a formal qualification in interior design as well.
27. Jewellery Making
Those that are creative with their hands and enjoy making beautiful pieces of jewellery can turn this into a profitable business, and sell their products both at local fairs and online.
There is a lot of demand for beautiful and unique jewellery items.
28. Knitting, Crocheting and Quilting
Shoppers are very keen to purchase handmade items, like knitted scarfs, quilts and covers, rather than commercial mass-produced generic products, either for themselves or as gifts for loved ones.
You could easily make money knitting during your spare time, while watching television or babysitting kids. Creating custom made products for special occasions like christenings are another way to increase your revenue.
29. Landscaping
A landscaping business would be ideal for those that enjoy working outside establishing and maintaining gardens and outdoor areas.
30. Meals-To-Go
By making some extra batches of yummy freezer friendly meals while you cook for your family, you could sell the additional batches and use the proceeds to cover the cost of your family's meals, meaning you and your family eat for free.
You could sell your extra meals to people that have a sick friend or someone going through a tough time whom they'd like to help out by providing homemade meals, but don't have the time or skill to prepare it themselves.
31. Online Media Consultant
Small businesses that are just starting up would probably not have the budget to employ a full-time marketing person, but would nonetheless want to establish their online presence as soon as possible.
You could hire your services out as an online media consultant to help set up their Facebook page, Twitter account, website and so on.
32. Personal Shopper
People may not have the time in certain circumstances to do their own shopping, they may lack transport to and from the shops, they may not be feeling well, or may be elderly, and would rather pay someone to shop and deliver their groceries.
You would simply get their shopping list, and bring back their groceries along with a receipt to get paid for the items purchased as well as a fee for your services.
This is a great way to earn a bit of extra income while you do your own shopping, provided you are organized.
33. Pet Groomer
You could set up a business washing and grooming your customer's pets either at your own place or at the customer's home.
34. Pet Sitter
A great way to earn some extra income, especially if you love animals, is to mind people's pets for them while they are away.
People would prefer to have the peace of mind to know that their pets are well taken care of, either in their own home or your home, rather than board them at a kennel, and would willingly pay for this service.
35. Pet Walker
Offering your services as a pet walker would combine your love of animals and the outdoors.
It's a great way to get some fresh air and exercise yourself, while walking some furry friends that have been cooped up indoors for some extra cash.
36. Pet Yard Waste Cleanup Service
This is certainly not the most glamorous business to start up but if you don't mind the smell, there are people that would be willing to pay someone to clean up after their animals on a regular basis.
37. Produce Sales
If you grow your own produce, you would likely have too much for your own needs, and probably give the excess away to family and friends. However instead of giving away your crop for free, why not sell it and earn some extra money?
If you have the space for a greenhouse, you can sell fresh produce for a premium during the off-season.
38. Proof-reader
Excellent knowledge of vocabulary and grammar as well as strong attention to detail are the skills you require to offer your services as a proof –reader.
If you do your job well, you are quite likely to get repeat business and referrals.
39. Public Speaker
Someone with an interesting story to tell, an expert at a skill like sales for example, or someone who is good at motivating others to reach their goals can get paid for public speaking.
There are many opportunities at schools, colleges and business for those that are good public speakers.
40. Scrapbook Maker
A lot of people would like to preserve their memories in a creative way by making a scrapbook, but this takes up a lot of time, so they may just end up with a box full of stuff they wish they could organize.
A nice way to get some extra cash would be to offer to make their scrapbook, which you could easily finish off during your spare time.
41. Senior Citizen Assistance Services
Elderly people generally need a hand with things they are no longer able to do themselves, like changing light bulbs, fixing leaking taps, cleaning out gutters, etc.
Children of senior citizens that don't live close by or are not able to assist their parents during the day would be willing to hire someone to help their folks out.
42. Soap Maker
People generally prefer to buy quality home-made items when shopping for a gift or to treat themselves, and soaps are no exception.
Making soaps is not hard and you could unleash your creativity by making beautifully coloured and wonderfully smelling soaps that are attractively packaged.
It is easy to sell your products at local fairs, gift shops and online.
43. Teaching Music
Share your love of music by helping others learn how to play an instrument that you know well.
You need to be kind and patient but this is a lovely way to supplement your income during your spare time.
44. Toy Making
Sock animals, simple wooden rattles, or elaborate doll houses that you make can be sold online and at local gift shops.
45. Tutoring
If you are an expert at a particular subject and have the formal qualifications to back up your knowledge, you could offer your services as a tutor to school children, college students or adult learners looking for help with their lessons.
46. Video Recording and Editing Services
Provided you have the necessary equipment, you could offer your services to record videos of special events like weddings, birthdays or corporate functions.
You could also offer a video editing service for those that already have their own video footage.
47. Virtual Assistant
A lot of busy people are willing to hire someone to help out with sorting and replying to emails on their behalf, doing simple bookkeeping and administration, setting appointment and updating calendars, as well as a variety of other tasks.
You can do this from the comfort of your own home but you must be professional in how you do your work.
48. Website Designer
A website is becoming a necessity for any business these days, but very few new and small businesses have an employee that can do this.
You can build up a reputation as a good website designer if you do a great job at helping set up websites for these companies.
49. Wedding Planning Services
Do you love everything to do with beautiful weddings? Then you can offer your services as a wedding planner.
This is a great opportunity for those that enjoy planning events but you need to organized and mindful of every little detail, as well as be up with the current trends by attending wedding exhibitions and reading bridal magazines.
50. Kindle Publishing
Most people wouldn't think of publishing eBooks on kindle as a business, but what if I told you there are average joes (not famous writers) who are making a living writing and selling Kindle books?
Have you ever heard of Amanda Hocking?
Most people hadn't' heard of here until a few years ago. She was not a famous writer. She was just an average girl who decided since she didn't have the money to get a book publishing deal, that she would publish her book on Kindle which is free.
It didn't take long for her to sell over $2.5 m!
Of course, now publishing companies are the ones chasing her.
And all she had to invest was a mere $300.
Now, of course I am not suggesting that anybody who publishes a book on Kindle is going to make it. But the price of entry is so low (in some case there is no cost at all) that it just doesn't make sense not to give it a try, specially if you know you can write.
Your Turn
Have you ever started a business on a shoestring budget? How did it turn out?
I would love to hear about your experience, or any other small business ideas you may have that won't call for a lot of start up cash.