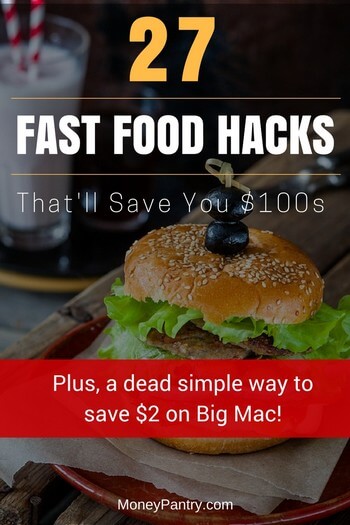 We all (especially here in the U.S.) love fast food.
Even though most of us know fast food isn't the healthiest choice, we still spend about $12,000 a year on fast food!
It's convenient.
It tastes good.
And it's cheap (relatively speaking).
Whether you're looking for a quick bite to eat on your lunch break, or you don't want to cook after a hard day at work, fast food can be a life-saver!
Need Easy Extra $300+/Month for Free?
KashKick
: Get paid directly into your PayPal for watching videos, surfing, shopping and more.
Join KashKick Now!
InboxDollars
: Paid over $57 Million to members to watch videos, take surveys, shop and more.
Get $5 instantly!
Branded Surveys
: Get $1 instantly just for joining for free. Plus get paid within 48 hours by PayPal!
Join Branded Surveys
First Opinion
: Get paid up to $10 per survey and $300 per virtual focus groups!
Join Now!
Swagbucks
: Get paid to watch videos, shop online, take surveys and more.
Join now & get $10 instantly!
Aside from its convenience, another hugely advantageous aspect of fast food is how cheap it is.
Visiting a place that sells fast food is far cheaper than eating out at a regular restaurant, and you still don't have to cook!
You can often feed a whole family for less than $20!
But, wouldn't it be great if you could make it even cheaper?
Well, surprisingly, you can!
Just like the tips and hacks we shared in our "How to save money on groceries" post, there are also tons of fast food hacks and tips that you can follow to save money on fast food.
These are super simple, but can result in some pretty good savings.
Hacks to Save Money at Other Fast Food Restaurants
You've probably heard about fast food hacks on Buzzfeed and fast food hacks on Reddit that you can use to get little-known meals, like the secret grilled cheese at McDonald's.
But, fast food hacks can get you more than just access to secret menus.
There are actually many other ways to save money when eating out at restaurants.
Below, we've listed some really simple hacks for some of the country's most popular fast food places.
These include little known tips and tricks on how to make your orders cheaper, how to get more for your money and much more.
McDonald's
McDonald's is arguably the world's most well-known fast food chain.
In the US alone it has more than 14,000 restaurants!
And, there's a reason why…
The food is of a good standard, getting your order is quick, and its prices are super low. But, there are some fast food hacks for McDonald's that you can use to save even more.
1. Save on the Big Mac
The Big Mac is a fast food classic, but it can cost you.
If you want to make it cheaper, then use this simple McDonald's menu hack.
Order a McDouble, without ketchup and mustard, and then ask for lettuce and special sauce instead.
This is essentially a double cheeseburger dressed up as a Big Mac – it's a great low cost alternative that tastes pretty much the same.
Generally, you'll save at least $2!
2. Don't buy the McDonald's chicken nuggets in bulk
If you're ordering a bunch of chicken nuggets, then you might assume that buying them in bulk would be your most cost-effective option.
After all, when you buy anything in bulk, your cost per unit is usually lower.
But, this isn't the case with McDonald's chicken nuggets.
Ordering one box of twenty chicken nuggets, rather than four boxes of five chicken nuggets is generally more expensive.
So, order your chicken nuggets in smaller quantities.
Doing this not only saves you money, but you also get more dipping sauces.
3. Make your own Sausage Egg McMuffin
At some McDonald's restaurants, it can actually be cheaper to make your own Sausage Egg McMuffin.
So, rather than ordering one with an egg, just order a plain old Sausage McMuffin, and then order a round egg separately – then put the two together to make your own!
People report saving anywhere between $0.60 and $1.30 by ordering this way.
Chipotle
For Mexican food, there's arguably no better place than Chipotle, especially when it comes to saving money.
What's great about Chipotle is that it provides a lot of free stuff, and ways to save.
But, many people don't know about these freebies.
Below, we've given you a few Chipotle hacks that can land you some great discounts, and yes, even free food!
4. Get more meat for less money
It's always great to get more for less, which is why we love this Chipotle ordering hack.
If you ask for half portions of any two kinds of meat at Chipotle, then you could end up with a ¾ portion of each.
This gives you a lot more meat in your burrito or bowl.
5. Ask for extra rice – It's free
If you ask for it, most Chipotle employees will give you extra rice for free!
Yes, really!
Many people report that at Chipotle, an extra portion of rice doesn't cost you anything.
So, it's a good way to fill up your plate, without having to spend anything extra.
6. Ask for fajita vegetables and corn salsa
Chipotle is a great fast food place for freebies.
Another food stuff that you can request for free is the fajita vegetables.
Sometimes, you have to order a protein in order to get these for free.
It's a good way to fill out your burrito!
You can also get the corn salsa for free to bulk out your budget burrito even more.
7. Go for the burrito bowl
Because they aren't restricted by the size of a tortilla wrap, employees tend to be a bit more generous with their portions when filling burrito bowls.
This means that you can often get more food, and more for your money.
If you miss the tortilla wrap, then simply order one on the side – sometimes its free!
Burger King
Along with McDonald's, Burger King is one of the most popular burger places in the country.
You can get a great quality meal at a reasonable price.
And, there are a couple of things you can do to save money there.
8. Get a Crown Card
When you order food at burger king, you can collect points, known as "crowns".
You can later redeem these points for free food and drinks.
Sign up for a crown card here.
9. Use the Burger King app
Burger King has a really handy app that can actually save you money.
There are a two ways that you can save with it:
Starbucks
Starbucks is, arguably, the most famous coffee chain in the world, and with good reason.
It combines high quality coffee with a great atmosphere. But, it can be pricey.
So, here are two simple tips you can use to save money at Starbucks.
10. Ask for a Venti Cup filled with water
Bottled water at Starbucks is so expensive! So, instead of over-paying – don't buy it in there.
Instead, ask for a Venti Cup Filled with water. At most chains it's completely free.
This is one of the best healthy fast food hacks.
11. Order a Short Latte instead of a Tall Latte
Did you know that a Short Latte and a Tall Latte from Starbucks both contain the same amount of caffeine?
They do!
So, there's really no need to get a larger size – you'll still get the same caffeine content in the Short Latte.
Taco Bell
Along with Chipotle, Taco Bell is the place to go if you want your Mexican fast food fix.
It's a pretty cheap place to eat out, but here are a couple of things you can do to save even more.
12. Don't order the Chips and Cheese
If you want to satisfy your cravings for cheese nachos, then don't order the Chips and Cheese at Taco Bell.
Instead, order the Triple Layer Nachos without beans or sauce.
Not only does this work out a little cheaper, but you'll get more nacho chips for your money.
13. Sign up for an account
If you sign up for a Taco Bell account, then you can get access to some great discounts and other money saving deals.
You can create your Taco Bell account by visiting this page.
Once you've done that, you'll be able to view all available offers by clicking on the "Offers" tab.
Subway
Subway has the most locations of any fast food place in the U.S.
It's a great place to go on your lunch break.
Here are two things that you can do to save money next time you visit:
14. Order the foot-long at Subway
If you're eating out with family, friends or your significant other, then consider ordering on foot-long sub between two of you, rather than a 6-inch sub each.
This works out cheaper, for the same amount of food.
15. Forgo the Philly Cheese Steak
Instead of ordering the Philly Cheese Steak next time you're at Subway, ask for a Double Steak and Cheese.
It's the same sub, but it's cheaper, and you tend to get more meat.
Domino's
Domino's is one of the most popular fast food pizza places in country!
If you want to save money on your next order, follow these tips.
16. Create a Pizza Profile
At Domino's, you can create a Pizza Profile – this is essentially an online account.
Once you have a Pizza Profile, you can use it to place orders online and get quick access to your order history.
But, that's not all…
You can also earn Piece of the Pie Rewards.
These are essentially points that you earn each time you order food from Domino's.
Each time you place an online order worth $10 or more (this includes tax and delivery charges), you earn 10 points.
You can then put these points towards free pizza in the future.
To earn Piece of the Pie Rewards, you'll first need to create a Pizza Profile, which you can do on the Domino's website.
Once, you've done that, it's as simple as signing in and clicking "activate".
17. Choose your own toppings and save
Sometimes, it's cheaper to order a large carryout 3 topping pizza that you choose the toppings on, rather than the ones you'll find ready listed on the menu.
For example, it generally costs more to order a large Hawaiian Pizza than it does to order a large carryout pizza with pineapple, ham and bacon.
So, always check to see if it's cheaper to order a pizza and choose your own toppings, rather than selecting a pre-listed one.
18. Sign up for Domino's text and email offers
You can get coupons, discounts and other exclusive deals right to your inbox from Domino's.
Plus, you get access to local money-saving offers too.
All you need to do is sign up to receive them, which you can do here
19. Forgo the Classic Roast Beef at Arby's
If you order two Junior Roast Beef Sandwiches, rather than the Classic Roast Beef at Arby's, you can save yourself money.
You get the same amount of food, at the same quality – but you pay less for it. Generally, you'll save at least $1.
20. Skip the Double Bacon Cheeseburger at Jack in the Box
If you order two Jr. Bacon Cheeseburgers at Jack in the Box, and take off one of the buns, and put the patty into the other bun, then you essentially get the Double Bacon Cheeseburger, plus an extra bun, but you pay much less for it.
People report that this saves $2.
21. Sign up for emails at Chick-Fil-A
If you join the Chick-Fil-A email list you get access to exclusive coupons that are tailored to your family.
You can sign up here.
22. Go for the Steak N' Shake's Double N' Cheese Steakburger
Instead of ordering the Frisco Melt at Steak N' Shake, go for the Double N' Cheese Steakburger instead.
Order the Double N' Cheese plain.
Just ask for it with sourdough bread, Swiss cheese and Frisco sauce.
You get pretty much the same thing for much less!
23. Check out the Dunkin' Donuts offers
If you're a fan of Dunkin Donuts, then you'll definitely want to check out the Offers and Promotions section of its website.
In this section, you can find current discounts, coupons and other savings deals.
General Tips to Save Money on Fast Food
Okay so now you now some fast food hacks that can help you to save money at particular restaurants, but here are a few more tips that can save you money on fast food in general.
24. Check your receipt for discounts
After the cashier hands your fast food over, your receipt is probably the last thing on your mind.
Generally, people discard their receipt not long after they finish their meal, but they're missing out on an opportunity to save money.
Surprisingly, many fast food places give customers discount codes, and other savings opportunities, right on their receipts. For example, Burger King often prints an offer for a free burger on its receipts.
Many places print a survey offer – so if you answer a quick poll, then you'll receive a freebie or offer, like a buy one get one free deal.
Do keep in mind that the offers on these receipts generally have a short expiration date.
Take the time to have a quick look at your receipt, as it could save you money.
25. Share the fries
One of the easiest ways you can save money on fast food in places like Burger King and McDonald's is by splitting the fries.
If you're eating out with your spouse or a family member, then order a large value meal and then split the fries between you.
Then, the other person only has to order a burger by itself, rather than a whole meal.
26. Consider the cost of ordering items separately vs. a whole  meal
You might think that ordering the value meal is always the cheapest way to go, but that's not always the case.
Sometimes, if you order a sandwich and fries separately, and then get water, rather than a soda, it can work out cheaper in some restaurants.
However, you'll have to compare the price at the particular restaurant you eat at.
27. Use a good old fashioned coupon
Grocery stores are not the only place where you can use coupons.
You can also find tons of coupons for the country's most popular fast food chains on most coupon sites.
Whether it's for a free drink or 10% off your order, you can find so many money saving coupons for fast food places in the list below.
McDonald's coupons at:
Burger King coupons at:
Chipotle coupons at:
Taco Bell coupons at:
Starbucks coupons at:
Subway coupons at:
Arby's coupons at:
Wendy's coupons at:
Chick-Fil-A coupons at:
Dunkin' Donuts coupons at:
Steak N' Shake coupons at:
 Jack in the Box coupons at:
Domino's coupons at:
Pizza Hut coupons at:
Papa John's coupons at:
Cheap Fast Food Hacks Summary
If you want to save a little money on fast food, then you should definitely try these hacks.
Using them, you can get discounts, more food for your money and even free stuff!
So, give them a try next time you visit your favorite fast food restaurant.