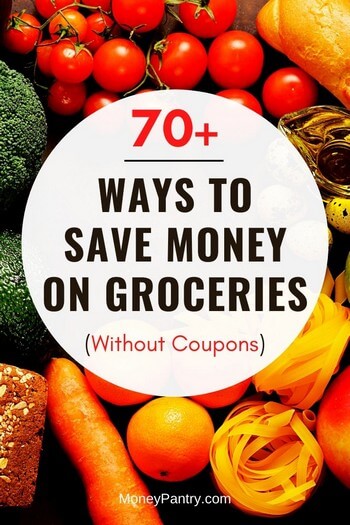 In today's post, I'm going to share a few tips & tricks on how to save money on groceries without coupons.
Data from the USDA shows that people spend between 8% and 35% of their income on food.
That's quite a lot, right?
If you're looking to free up some cash in your budget, your grocery bill is a good place to start.
Sure, you can spend a few minutes with a pair of scissors and cut out coupons in the Sunday savings inserts to trim your food budget or maybe use apps or even printable grocery coupons. And yes, coupons can get you some great savings, but they're not the only way to cut down on your grocery bill.
There are plenty of tips and tricks to reduce how much you're spending on groceries. Combine some of these tips with coupons and you may even be able to cut your grocery bill by half or even up to 90% in some cases.
Need Easy Extra $300+/Month for Free?
KashKick
: Get paid directly into your PayPal for watching videos, surfing, shopping and more.
Join KashKick Now!
Panel Payday
: Earn up to $75 per survey. They also pay up to $50/hr for mystery shopping.
Join Now!
InboxDollars
: Paid over $57 Million to members to watch videos, take surveys, shop and more.
Get $5 instantly!
Branded Surveys
: Get $1 instantly just for joining for free. Plus get paid within 48 hours by PayPal!
Join Branded Surveys
iPsos iSay:
: If you have to only sign up for one paid survey site, go with Ipsos (high paying survyes)!
Join iPsos Now!
Swagbucks
: Get paid to watch videos, shop online, take surveys and more.
Join now & get $5 instantly!
Save Money on Groceries Without Coupons
Here are 70+ ways to lower your grocery bill without coupons.
1. Know your budget
Know how much money you have to spend before you walk into the store by having a budget.
If you don't know how much cash you can afford to spend on groceries, then you won't be able to save money effectively.
So determine how much of your income you are able to spend on groceries, and then write down a number for your grocery shopping. When you visit the store, know how much you can afford to spend, and you can keep your spending on track.
2. Plan out your meals to stay on track with your budget
I would highly recommend doing this, as it's helped me to save so much money.
Each week, I write a list of seven dinners and seven lunches. So all of my meals for the week (I don't eat breakfast).
I'm not restricted to eating a certain meal on a certain day. So if I decided I didn't fancy pasta on Tuesday, I'd have it on Thursday instead.
So just create a simple meal plan for the week and shop ahead of time.
All you need to do is list the meals you plan to have each day.
Meal planning saves you money in lots of ways. It:
Means you only buy the food you need. So you don't waste money buying stuff you won't use.
Ensures you always have food in the house, which means you won't be tempted to order a last-minute takeout or go to a local restaurant.
Allows you to use leftovers wisely, because you can use leftovers from Wednesday night's dinner for Thursday night's dinner if you properly plan.
Makes it easier to track what you spend on food each week.
3. Check the ads before you plan your meals to save more
Before you plan your meals for the week, check the ads. Most stores have a website or app where you can browse their weekly flyer and sales. You can then add those on-sale items (if they suit your plan) to your shopping list.
When planning your menu you can combine these discounted items with stuff you already have on hand and you'll find that you spend less!
4. Have quick fix meal ideas in your plan to avoid more trips to the store
Some days you're just tired from work and you don't want to cook. On those days it's tempting just to buy something readymade. That's not good for the old budget though! Instead, have some quick fix meals in, like pasta, or just get something out of the freezer that you can just reheat and serve.
5. Do a quick stock take before you go shopping
Doing a quick food inventory before you go shopping can save you money in a few ways.
You won't buy stuff that you already have at home – this is a real waste of cash.
It means you won't run out of your main staples before your next planned shopping trip. So you won't have to head on out to the store again and spend more money.
Stuff won't expire in the back of the pantry and go to waste – because you can use it!
6. Make a grocery list and you'll spend less
Once you've made your meal plan, you'll need to make a shopping list for those meals.
Doing this means you have a plan for when you get to the store.
So don't forget the shopping list when you head on out to the grocery store! According to statistics, people who use a shopping list spend less than people who don't use one.
This is because having a list means you'll make fewer impulse purchases. And you'll ensure that you have a well-stocked pantry, freezer, and fridge. When your kitchen is well-stocked, it means fewer trips to the grocery store and therefore fewer opportunities to spend money!
You don't even have to use a pen and paper. Use one of these awesome free grocery shopping list apps to make creating your shopping list easy and quick.
7. Keep a running total of your shop to stay on budget
Years ago, when my budget was super tight, my husband and I would add up the cost of our groceries as we shopped. So I'd add something to the cart and my husband would enter the price of it into his phone's calculator. That way we'd have a running total of what we were spending. We could see if we were creeping up to our budget and put stuff back accordingly.
It's not the most fun way to shop, but if you're on a really tight budget, it works! And you won't have any surprises when you get to the checkout!
8. But round up your purchases
This is something my husband and I also did – we rounded up our purchases when we were making a running tally. So if I added a pack of potatoes to the cart that cost $1.70, he'd enter $2 into the calculator.
If you do this for every item in your cart, you'll still get an idea of what you're spending, but when you get to the checkout, you'll be pleased to see your shop come in under budget!
9. Save money on groceries with discounted gift cards
Okay, a really easy way to save money on groceries without coupons is to use discounted gift cards instead.
You can get gift cards for places like Walmart on these sites at a discounted rate.
Basically, you pay less for the git card than what it's worth. For example, you could pay just $45 for a Walmart gift card that's worth $50!
So you basically have $5 free to spend!
You can buy discounted gift cards online.
Here are a few websites where you can get them:
Just use the discounted gift card to pay for your shopping instead of using your credit or debit cards or cash, and you'll save yourself some money!
10. Always stick to your shopping list and you'll spend way less
Having a shopping list is one thing; actually sticking to it is another!
Always stick to your list. This really is key to staying on budget. Don't buy stuff that isn't on the list. If it's not on your list, you don't need it for your food plan. When you stick to the list, you'll get everything you need, and won't overspend or buy stuff you don't need that's likely to just go to waste anyway.
11. Do your grocery shopping later to get big discounts
Stores often mark stuff down later in the evening because they have perishable foods that they want to get rid of that didn't sell earlier. I used to head on over to the grocery store of an evening and I found lots of great deals. If you're looking to save money on fruits and vegetables, I'd highly recommend visiting later in the evening.
12. Don't store produce – or milk products in the refrigerator door
Don't store produce or milk in the door of your refrigerator. Since the door is often opened, temperatures in this area can fluctuate a lot. So store produce and milk further back in the fridge instead to make them stay fresh for longer.
13. Stock up on the staples when they're on sale
When items you often use, like rice, pasta, or canned tomatoes, go on sale stock up!
Don't be afraid to take advantage of good deals on the stuff that you buy.
Let's say the coffee you buy is on sale for half the price, you'd get two for the price of one.
You can even stock up on items that are perishable, like vegetables, fruits and meats. Just freeze them for later use!
14. Ask for a price match
Many stores have a price match policy where they will match the price of the same item from a competitor store. This can get you the best deals on your food.
So check with your store to learn more about their price matching policy. And then use it to save money.
15. Put a peg on open packets of chips to keep them fresh
Don't let chips and other snacks that come in a bag go to waste. When you don't finish a snack, fold the bag and put a clip on it. This keeps your chips and other snacks crunchy and fresh! So you don't have to spend money on another pack.
16. Shop wholesale stores for the best price per unit
Wholesale stores like Costco are good places to shop for some items. Because they sell stuff in bulk, it can often work out cheaper. Plus you have plenty of stuff at home meaning fewer trips to the grocery store.
You can buy everything from toilet paper to rice in bulk. The cost per unit is generally lower when you buy in bulk, making it a good way to save money.
17. But don't always assume buying wholesale is cheaper
Yes, buying in bulk is usually cheaper but not always.
Don't assume that everything at a wholesale store is going to be the cheaper option compared to your regular grocery store.
Always compare the price per unit or ounce of what you're buying to make sure you get the best price!
And, also keep in mind that if you buy stuff in bulk that's going to expire before you use it, like a huge tub of Greek yogurt, then it's a waste of money. So keep in mind with buying in bulk that you should only buy stuff that you're going to use and won't waste because it hits the expiry date before you can use it.
18. Try shopping at different stores for the best deals
Consider shopping at another grocery store to your usual one. It could work out cheaper.
Many of us shop at a store just because it's the closest one. But it's not always good on the budget. So consider stores a little further afield as they may be cheaper.
In the U.S. the cheapest stores are:
Aldi
Market Basket
WinCo Foods
Food4Less
Costco
Walmart
Trader Joe's
Walmart Neighborhood Market
Lidl
Amazon
H-E-B
Peapod
Sam's Club
Have a compare of the prices at different stores to find the cheapest one in your area (or online).
Check out our list of cheapest grocery stores near you to find the best ones in your local area.
19. Buy generic products over brand name items and save a ton
Most grocery stores have their own line of products. These generic products are often just as good as those from name-brands. I've had many canned goods in particular from the store's own line that have been just as good as those from big brands.
The main difference though is the price!
Items from generic brands are so much cheaper! So opt for the store's own brand products, rather than those from brand names. Pasta, beans, canned sweetcorn and plenty of other items don't taste much different from brand to brand.
20. Decant oil into small jars to extend its shelf life
It's cheaper to purchase large containers of cooking oils like olive oil. But it doesn't always last that well when you keep it in the kitchen. To extend the shelf life of oils (saving you money) decant some of it into a small bottle that you can refill as needed.
You can then store the large container of oil in a cool dark place, away from the heat of the kitchen. This makes it last longer.
21. Don't buy items that are eye-level on the shelf
For the best deals, you want to look high and low. This is because products that are eye-level on the shelf are the most expensive.
This makes sense since these are the ones customers see first and are therefore more likely to purchase. Stores want to make money, right?
So avoid those eye-level products and look at the items on the top and bottom shelves instead. You'll likely save yourself a lot of money on groceries with this simple trick.
22. Repurpose food to limit food wastage
Get creative with leftover ingredients and repurpose them into tasty meals. You could use leftover onions and tomatoes to make salsa or leftover potatoes to make a curry. You can even use off-cuts of vegetables to make your own stock/broth. Or use stale bread to make croutons or bruschetta.
Omelets, soups, and salads can all be made using leftover veggies. It's better than letting food go to waste. Soups, curries, and stews can all be frozen as well, meaning you have meals for later, which brings me to my next point.
23. Freeze food so you don't have to throw it out
Buying in bulk or stocking up when items go on sale is so good for saving money, as I mentioned above. But many people avoid stocking up on food because they worry that they won't end up using the stuff they bought and they'll have to throw it out.
While you certainly want to limit food wastage, you can still stock up on great deals without having to waste any food.
Just freeze stuff!
I love freezing meals because it stops food going to waste and you have leftovers that you can just heat up when you can't be bothered cooking!
But you can also freeze raw ingredients, like meat, fruits, and vegetables. Have a read of this guide to freezing foods from the United States Department of Agriculture.
24. Buy items you can use in multiple meals
Cook a whole chicken for a Sunday dinner and use the leftovers to make chicken soup later in the week. That chicken has now created two meals!
Or, make some salsa and put it on top of cheesy nacho chips or use it on top of tacos. Any time you can get more than one meal out of something, whether it's an ingredient like chicken or a side like salsa it's definitely going to save you money.
25. Buy more canned products as they're cheaper
Canned products are cheap. So if you're looking to cut back on your grocery spending, I'd recommend you start buying more canned stuff. Whether it's beans, tomatoes, tuna, or sweetcorn, there are plenty of canned foods you could stock up on. And it's easy to just empty a few cans into a pot to make an easy meal on those days when you don't feel like cooking anything that requires a ton of effort.
26. Make tomatoes fresher for longer by storing them the right way
Tomatoes can spoil pretty quickly. To prevent mushy or moldy tomatoes, store them with the stem down. This prevents moisture from getting into the tomato too quickly and makes them stay fresh for longer – saving you money!
27. Shop the frozen food aisle for foods at lower prices
Like canned foods, frozen foods can also save you cash. Foods in the frozen section are generally cheaper. I get a lot of frozen fish. It's cheaper and often nicer tasting than the fresh stuff.
What's good about frozen food is that it's just as nutritious but the price is a whole lot lower. Of course, everything from the frozen food aisle won't be cheaper. So do compare prices. For the most part, though, you'll spend less if you shop more in the freezer section.
28. Don't be a brand loyalist
Reaching for the same brand is just a habit for most of us. We're so used to buying a certain item from a certain brand that we don't even think to reach for another one.
That's what brands want too. Brands spend millions on marketing in the hopes of drawing in loyal customers who will buy from that brand for years to come.
Grocery stores often provide coupons for these popular brands. So if you want to shop at the grocery store without coupons, you'll need to compare prices across different brands, instead of being a brand loyalist.
Write the name of the product you want to buy, rather than the brand name – so cereal instead of Cheerios.
Of course, if you do love something from a certain brand, by all means purchase it. But if it's an item you're not that fussed about, consider buying the same item from a different brand.
If you're willing to purchase stuff from different brands, you could save yourself a lot of money!
29. Store ripe and non-ripe fruit separately
Some ripe fruits like bananas release ethylene gas that causes other fruits to ripen too fast. If you want to stop fruit from ripening too quickly, then store ripe fruit away from fruit that's not ripe yet.
30. Go for cheaper cuts of meat and cook them low and slow
If you want to buy meat, go for cheaper cuts. Most people avoid these, thinking they'll be tough or chewy. But if you cook these cuts the right way, they can often be tastier than more expensive cuts of meat.
The key to making cheap cuts of meat taste great is to cook them slowly. These cuts will become more tender the longer you cook them.
And, also marinating cheaper cuts of meat can make them taste a whole lot better.
31. Or skip the meat altogether
Meat is pretty expensive. If you're on a tight budget, then you may just want to skip it altogether. Or at least cut down on the amount of meat that you do eat. Do you really need meat at both lunch and dinner? No, cut it out of one of those meals, and you've halved what you're spending on meat.
Add a few vegetarian meals to your diet and you'll save a lot of money. I have saved so much cutting out meat from my diet. Even if you don't want to cut it out entirely, just eating less of it will have a great effect on your bank balance.
32. Don't buy pre-prepared ingredients
Don't pay the store to do the work for you. Those pre-cut veggies and pre-grated cheeses are so much more expensive. Yes, these pre-prepared items are much more convenient. But they're way worse on the budget. So buy your veggies, fruits, cheese, and other items whole and cut or grate them yourself! You'll save a lot of money.
33. Don't shop when you're hungry as you spend way more
People spend 64% more if they shop when they're hungry according to a study. I know that if I'm hungry while shopping, I want to buy everything in sight! So don't go shopping when you are hungry. Eat lunch first or at least a snack and you'll avoid impulse purchases.
34. Go shopping without the kids if you can
Kids can nag you into buying stuff that you don't need. After all, many companies target kids with ads for soda, candy, and other food and drink items. So it makes sense that kids often ask you for stuff at the store.
And, it's really easy to give in to these pleas and end up spending way more than you intended to. Plus it can be tough to compare prices when you have kids around.
If you have kids, leave them at home if you have your spouse there or can get a sitter or family member to watch them.
If you can't get anyone to watch the kids for you, try to involve them in the money-saving process, and get them to help you to find the lowest priced items. And try to shop at the store's least-busy times.
35. Make your own mixes and you'll save a lot
Things like pancake mixes and cake mixes are pretty pricey. So make your own mixes and you'll save yourself a lot of money. You can find plenty of recipes for homemade mixes online too!
36. Buy for the whole week and save yourself multiple (and expensive!) trips to the store
This is so important. I've found that if I do just one shop for the whole week, I save myself so much money. The thing is, the more trips you make to the grocery store, the more opportunities you'll have to spend money.
If you buy food for a few days on Monday, you'll have to head to the store again on Wednesday, where you'll be tempted to buy a few extra things. So purchase more stuff, less often.
I do one shop a week. This has saved me so much money. At first, the total looks like a lot. Because, well you're buying your entire week's groceries at once.
But then you see that you aren't taking any extra trips to the grocery store or going into the convenience store on the way home to grab some bread and buying a bunch of other stuff while you're there. So you'll see your overall spending go down.
So take your meal plan and buy the stuff you need all at once. Of course, you may forget some stuff, but if you do, just get creative with what you already have in at home to make meals. My husband and I do this all of the time. If I forgot to get an item for one particular curry, for example, we'll make a different one using the ingredients we have at home.
Stop going to the store every couple of days and buy your whole week's shopping at once!
37. Buy personal care items outside of the grocery store and you'll pay less
It's convenient to buy items like shampoo, conditioner, razors, soap, and deodorant at the grocery store. But it's often not the cheapest option. At the grocery store, you generally pay more for toiletries than you would at the drugstore.
Many drugstores lower the prices to attract customers. Another place to buy toiletries for a lower price is at the dollar store.
38. Use an apple to stop potatoes from sprouting
Storing potatoes alongside apples prevents the apples from sprouting. So they stay fresh longer, meaning you don't have to buy them as often. Again, this saves you money on groceries.
39. Learn the sale cycles
Saving money at the grocery store often requires a little detective work. Pay attention to when your favorite items go on sale and how much the price is discounted. You could make a note of this in a notebook or on your smartphone.
Just make sure you keep track of sales so you can see if there's a trend. Then you will be able to predict sales before they hit!
40. Don't buy stuff just because it's on sale
Sales can draw us in and make us buy stuff that we just don't need. Sure, an item that's 50% off is awesome if it's on your shopping list.
Otherwise, it's a waste of money. If you spend $5 on an item that should have been $10 you haven't saved $5, you've spent $5 on something you weren't planning to purchase.
So don't buy stuff you don't need, even if it is on sale.
41. Eat leftovers for lunch and significantly reduce your food bill
This is one trick that I use to save money. If we've made a meal the night before, and there's some left, I'll put it in the refrigerator and have it for lunch the next day!
It saves me money because I don't have to buy stuff for lunch every day, as well as dinner. So it cuts down my grocery bill!
Another thing I like to do is freeze leftover stews and curries. Then when I want something quick for lunch, I'll just take one of those out of the freezer and heat it up. Again, it saves me buying extra groceries for lunches through the week, and it's quick and convenient too.
42. If you buy it, use it!
The most expensive food is the food you throw away, right?
Throwing out stuff is a waste.
It's like buying it at the store only to throw it in the trash when you get home.
So if you buy it, use it. Fruits and vegetables often spoil quickly, so keep a note of the ones you want to use before they expire.
Try your best to use everything you get at the grocery store. Having a meal plan helps with this.
43. Head to the farmer's market near closing time for big discounts on fresh food
The farmer's market isn't the cheapest place to buy food, I know. But often it has some great finds. If you do want to buy from there, go toward closing time as you can often find awesome deals.
Near the end of the day, most farmers don't want to take their food home with them. They want to get rid of their stock, even if it means selling it at a big discount. So you can sometimes get some awesome deals on fresh fruits and vegetables.
44. Keep your kitchen stocked
Use your meal plan to stock up ahead of time so that you don't run out of food. Making sure your freezer, refrigerator, and pantry are stocked means you can avoid any last-minute takeout orders or trips to local restaurants!
45. Make food from scratch
I mentioned that you should make your own mixes before, but that's not all. You should make every food you eat from scratch because it usually works out cheaper. And it's healthier for you too!
So skip the jarred marinara sauce and make your own. Make your own mac and cheese, salad dressings, etc.
Just compare the cost of buying something readymade vs. making it from scratch to see which one works out cheaper.
46. Price match the stuff you buy often (GroceryPal makes it easy!)
When you purchase anything you should compare prices. So doing a quick price comparison can save you money on groceries, without the need to use coupons.
But comparing prices can be pretty time-consuming. That's why I'm such a big fan of GroceryPal.
It's an app that you can use to compare prices from weekly ads from multiple local stores, all in one place.
It's so convenient and it saves me so much time!
I don't have to search through each individual ad from my local stores. The app does it all for me.
With Grocery Pal, you can compare prices from stores like:
Walgreens
CVS
Walmart
Target
Rite Aid
Dollar General,
Publix
Kmart
Food Lion
Albertsons
Aldi
What's great about the app, is that you can also use it to redeem coupons (if you do want to use them) and to create and organize shopping lists.
47. Store perishable items at the front of the fridge to prevent wastage
Store your perishable goods like your fruits and vegetables near the front of your refrigerator. This prevents food wastage and means you don't have to spend as much money next time you go to the grocery store.
You're much less likely to find rotting food in the back of your fridge!
48. Avoid throwing out food by having an "eat-first" basket
This has saved me so much money. Whenever I go shopping, I put all of the old food on one shelf and all of the new stuff on the other shelves. Then I use stuff from the "old" shelf first. Doing this means that I waste less food.
But, you can go a step further and keep a basket near the front of the fridge where you keep all of the items that are close to expiring.
Then you can use the goods that are close to their use-by-date before they expire. This stops you from forgetting to use stuff before it expires.
49. Keep your pantry and refrigerator organized
Like I've said above, wasting food will drain your grocery budget fast. One way to tackle food wastage is to keep your pantry, your freezer, and your refrigerator well-organized.
Store your pasta together, spices in one cupboard, your sauces together, etc.
You don't need to go as far as alphabetizing everything, although you can if you want to, but just storing specific items together will make your kitchen more organized.
When your kitchen is well-organized, you know exactly what you have in. Not only does this save you time, but it also saves you money because you won't buy stuff you already have in at home.
50. Check the price per unit to make sure you get the best deal
Even if you're not buying in bulk, checking the price per unit is a good way to save money. At first glance, the $12 pack of beer might seem cheaper than the $15 one. But, if you're getting 10 bottles in the $15 pack and only 6 in the $12 pack, then paying that little bit more will get you the better deal.
So always check the per-unit price of an item you want to buy.
Sometimes it can be cheaper to purchase a larger item or buy two smaller ones that are on sale.
51. Rotate the pantry to prevent food going stale
When I go to put my groceries away in the pantry, I don't just stuff the new boxes at the front.
If you just put the new stuff at the front, the older items are pushed to the back. This can result in dried out, stale, or even expired foods.
That's why you should rotate items so that you always have the oldest foods at the front. Because then you can use them.
Sure I'm sometimes tired and can't really be bothered. But this little extra step is such an easy way to limit food wastage.
52. Shop online instead and save money
I whole-heartedly believe that shopping online is the best way to save money on groceries.
It's saved me $100s! I actually wrote a post about this recently. So I'd recommend you check that out for more details on how online shopping can save you cash and for some awesome online grocery stores. Read the article here.
Here are a few ways shopping online will save you money:
You have a running total for what you're spending. Remember I mentioned keeping a tally of how much you're spending? Well, with online shopping, that's easy. Your cart has a total you can see as you shop. So it's easy to know if you're close to your budget.
Getting a whole week's shop is easier online. I said above that you should buy a week's worth of shopping all at once as it prevents multiple trips to the grocery store. However, that's not always easy in-store. Online though, getting a whole weeks worth of shopping is so much easier!
You're not as tempted by sales. In-store, those end-of-aisle sales can be pretty tempting. You don't have to deal with this when you shop online.
53. Spend less when you use cash instead of cards
An easy way to save money on groceries without coupons is to use cash instead of cards.
It makes you more aware of what you're spending when you have to physically part with cash.
When you go to the store, bring the exact amount of cash you allotted to groceries in your budget with you. Leave your credit and debit cards at home.
When you only have a set amount of cash with you it means you won't be able to buy extra stuff even if you are tempted by the sales.
54. Use an onion to stop avocados from going brown
I eat a lot of avocados and they go brown fast. If you have leftover avocado, I'd highly recommend you store it with a cut onion. This has helped me to keep them fresh for longer.
This is because onion contains sulfur compounds that stop the oxidation that causes avocados to go brown. So place cut onion onto the avocado skin and it will stay green for a day or two. Awesome, right?
55. Don't use credit cards because you'll spend a lot more
Data shows that people spend up to 100% more when they use credit cards than they do when they use cash. I'd recommend sticking to debit cards if you don't want to use cash.
56. Buy spices in bulk for the best prices
If you make a lot of meals that include spices, like I do, then I'd highly recommend buying them in bulk. I used to buy those little jars of cumin and stuff like that in the grocery store. But I went through them quickly. So I was spending quite a lot each week just on spices.
Since then, I've switched to buying them in bulk. And now I spend about half of what I used to.
57. Use receipt apps to save money
You might want to consider receipt apps that give you rebates if you don't want to use coupons.
These apps give you money when you upload a photo of your receipt.
For some apps, you'll need to purchase specific items.
So you browse rebate offers, purchase the items featured in the offer and then upload a photo of the receipt.
So you might see a deal that says get $1 back when you buy Crest toothpaste. You'd buy that item, upload your receipt, and the app would give you that $1 rebate.
Other apps don't require you to purchase specific items. Instead, they just pay you for any itemized receipt.
Here are a few apps to consider:
Receipt apps make saving money on groceries easy!
58. Get a rain check
Some stores offer a rain check if an item that's on sale sells out. So check to see if your store will offer a rain check.
59. Use less meat than the recipe says
An easy way to cut down on the cost of meat is to use less meat then the recipe asks for. Use just three quarters of a pound instead of a pound of meat, for example. This means you don't have to buy as much meat and you save yourself some money.
60. Weigh produce and get more for your money
Take some time to weigh prepackaged produce like bags of apples or carrots. While the bags are supposed to weigh at least the amount indicated, some bags will weigh more than others. This is because each piece of fruit or vegetable is different.
You could get 10% more produce or even more than that just by weighing the bags and purchasing the one that weighs the most.
61. Keep baked goods fresh for longer with a piece of bread
You can keep baked goods fresh for longer by placing a slice of bread on top of them. It helps cookies, cakes, and other baked goods to retain their moisture, making them last longer and saving you money.
62. Put mushrooms in paper bags to make them stay fresh for longer
If you purchase a lot of mushrooms and find yourself throwing them out often, then try this simple tip.
Take mushrooms out of the plastic packaging they come in and store them in brown paper bags.
When stored in plastic packaging, mushrooms spoil quickly. So keep them fresher for longer with brown paper bags instead.
63. Make your own seasonings and spice mixes – it's often cheaper!
Things like taco seasoning and spaghetti seasoning can easily be made at home with ingredients you may already have in. It usually costs far less to make seasonings and spice mixes yourself. And there are plenty of recipes available for them on Google.
64. Check your receipt to make sure you weren't overcharged
Sometimes you're overcharged for an item without realizing it. This unnecessarily bumps up the cost of your groceries. So check your receipt to make sure you're charged the right price for the stuff you bought.
Another way to make sure you get the right prices is to watch the cash register monitor if it's available.
65. Shop the clearance section for huge savings
I often get items in the clearance section at a huge discount. Usually, they're close to the use by or expires by date. But I can freeze them for later use! Check out the clearance section and you could find some great savings on the stuff you usually buy.
66. Don't buy individual-sized portions of food – they're more expensive!
Individually packaged items of food like yogurts, cups of fruit, small bags of chips or cups of pudding, tend to be way more expensive. So avoid these. If you're worried about wastage, use the other tips on the list to keep food fresh and use leftovers wisely.
67. Don't store cheese in direct contact with plastic
Cheese is another thing that people waste money on because many people don't store it properly causing it to prematurely spoil.
When cheese is stored in plastic, it causes bacteria growth and the cheese to spoil faster. And the cheese can also absorb some of the odors from the packaging, which isn't ideal either.
An easy way to keep cheese fresh for longer is to wrap it in wax paper and then put it back into the plastic packaging, making sure you only partially seal the plastic.
It's a simple trick, but it works really well.
68. Bring your own bag to the store for a discount
I'm pretty bad at this one myself. I get to the store and realized I've forgotten to bring reusable bags and I have like a billion of them at home. It's pretty annoying because I miss out on savings.
Most stores will give you a discount off your total just for bringing in a reusable bag. You can save between 5 cents and 10 cents per bag!
So make an effort to bring your own bag to the grocery store.
69. Try to grow your own produce instead of buying it at the store
Growing your own produce is a good way to save money on groceries without coupons. I'm not one for keeping plants alive. But I know many people who grow their own tomatoes and other produce with great success!
You save yourself a lot of money growing tomatoes, bell peppers, cauliflower and more because you won't have to buy those items at the grocery store. You can just get them from your own garden! Great, right?
70. Preserve stuff
When ingredients are overflowing at the farmers market or in your own garden, buy them in bulk and preserve them for the winter. While it may seem like you're spending more money during the summer because you're buying more produce and canning jars, it's an investment that can save you money in the long run.
You can pick up a box of pasta at the store for a couple of dollars and pull a container of tomato sauce off the shelf in the winter and you'll have created an affordable dinner.
You could even invest in a vacuum sealer, make a large batch of sauces, vacuum seal them and freeze them for use in the winter. All you need is a slow cooker or some simmering water to revive the sauce and you have a flavorful sauce with minimal effort.
71. Grow herbs and spices so you don't have to buy them in the store
It's not just produce that you should consider growing. You can also save money by growing your own herbs and spices. I've grown chives, basil, mint, and coriander. Since you don't need much space to grow herbs or spices, it's a good option if you don't have a large garden, but still want to grow some of your own food. I actually planted my herbs indoors and put them near a window where there was plenty of sunlight.
72. Store asparagus in water so it stays fresh for longer
Keep asparagus fresh for longer by storing the stems in water. Then just cover them loosely with a plastic bag.
73. Don't be tricked by false sales
Sometimes a deal isn't as good as it seems. For example, there might be a deal where you buy 5 cans of tuna for just $5 for example. But if you know that tuna often goes on sale for $0.69, you can wait for that deal instead and skip the 5 items for $5 sale that doesn't really save you as much.
Also, sometimes stores will move a product from the aisle to the end cap where it looks like it's on sale even though the price hasn't actually changed. Or they put items from different manufacturers next to each other, but list the unit prices differently.
For example, a $0.99 pack of rice that works out at $0.10 per ounce looks cheaper than a $2 pack of rice that is $1 per pound, when it's not the case.
74. Keep note of what you waste each week
Each week, make a note of what foods you throw out. Is it always lettuce that's gone bad or milk that's expired?
Whatever it is, if you're throwing it away, you're buying too much of it. Instead of buying 16 ounces of lettuce, buy 8 ounces instead. Or buy a half gallon of milk, instead of one gallon of milk.
This will save you money, because you won't be wasting your cash on stuff you end up throwing out anyway.
75. Place boxed foods in food storage containers to keep them fresh
Boxed foods go stale fast. So avoid this by placing snack foods and any other items that come in boxes into food storage containers.
76. Use reward websites to get free gift cards (or cash) for Walmart and other stores
Reward websites pay for doing easy tasks, like:
Playing games
Watching videos
Shopping
Taking surveys
Completing offers
Searching the internet
In return you get free gift cards or money to your PayPal account.
So you basically get free money to spend on groceries!
How great is that?
Many rewards sites offer gift cards for grocery stores like Walmart.
Here are a few reward websites to get free money to spend on groceries:
77. Join grocery rewards programs
These days, most stores, including grocery stores, have some sort of customer loyalty program where you earn points and exclusive discounts and promo codes for shopping with them.
All of these programs are free to join and really, you have nothing to lose by joining. In fact, you'll save a lot of money and even get some freebies by joining.
Here's a big list of the best grocery store rewards programs that you can join today.
Closing Thoughts
There are so many ways to get groceries for less without having to clip coupons.
And if you're looking to save some money, then cutting back on what you spend on groceries is an easy way to free up some cash in your budget.
So if you've been wondering how to save money without coupons, give our tips a try.