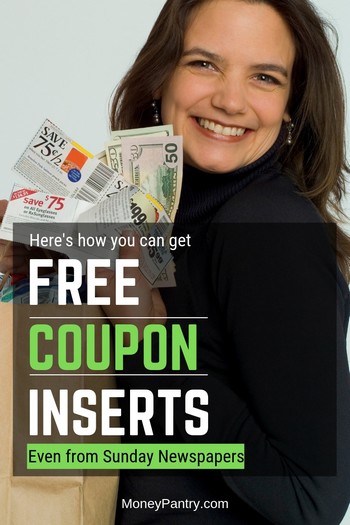 Looking for free coupon inserts like the ones you used to find in a Sunday newspaper?
While the internet has opened up a plethora of resources for coupons, your good old-fashioned coupon inserts are still one of the best resources for savings.
And, if you want to coupon, you really do need to have as many places to source coupons from as you can.
Sure with so many coupon apps out there, it's tempting to just rely on them for finding savings, but you'd be leaving a lot on the table. The more places you have to get coupons the better!
What's best about coupon inserts is that you can use them in-store.
If you want paper coupons, then coupon inserts are certainly one of the best options around!
Need Easy Extra $300+/Month for Free?
KashKick
: Get paid directly into your PayPal for watching videos, surfing, shopping and more.
Join KashKick Now!
Panel Payday
: Earn up to $75 per survey. They also pay up to $50/hr for mystery shopping.
Join Now!
InboxDollars
: Paid over $57 Million to members to watch videos, take surveys, shop and more.
Get $5 instantly!
Branded Surveys
: Get $1 instantly just for joining for free. Plus get paid within 48 hours by PayPal!
Join Branded Surveys
First Opinion
: Wanna get paid for every single survey (+ high paying online focus groups) with cash or direct deposit? This is for you!
Join Now!
Swagbucks
: Get paid to watch videos, shop online, take surveys and more.
Join now & get $5 instantly!
But, the downside is the cost of buying newspapers to get these inserts.
After all, papers can set you back anywhere from $3 to $6 apiece!
Handily enough, there are plenty of ways that you can get your hands on some great coupon inserts without paying for them.
Below, we tell you how you can get your hands on coupon inserts for free!
We also cover places where you can buy them at a super low cost, and give you a few tips on how to get even more paper coupons for free!
Top 10 Ways to Get Coupon Inserts for Free
Below, we list our top ten tips for finding free coupon inserts.
1. Ask People!
This is such an easy method of getting inserts.
Just ask friends, family, co-workers, and neighbors whether they have any coupon inserts that they don't want.
You'd be surprised by how many people you know that just want a paper to read – they're not even interested in the coupons, and would otherwise just throw them out.
So rather than letting these unwanted coupons go to waste, just ask!
Also, you can trade coupons you don't want for ones that you do want with your friends and family as well!
2. Look for Free Local Papers
One of the things that puts people off using newspapers and magazines as a source of coupons is the price of them.
Most people don't want to spend a few of their hard-earned dollars on newspapers and magazines each week – especially when they only want the coupons, not the printed content itself.
That's why one of the easiest and most cost-effective ways to get your hands on coupon inserts, without having to pay a cent for them, is to get free local papers.
One example of a free paper is Your Essential Shopper, which is also known as the Yes Newspaper.  Just do a quick Google search to see if this newspaper is available in your city – you may be able to get this paper delivered right to your door.
A lot of cities publish free local newspapers that contain coupon inserts. So it's definitely worth checking if your city or town has a free paper.
Don't know the names of free newspapers in your town?
3. Ask at Local Hotels
This is another easy thing you can do for some great coupons.
As many hotels provide their guests with a free newspaper during their stay, they have a lot of them on site.
And, since all of a hotel's rooms may not be booked up, this means that there may be extra papers on offer. So, consider calling a few hotels in your area to ask. They might have some inserts available and may be willing to give them to you for free – it's always worth asking.
4. Ask at Your Local Library
On Monday, call your local library to ask whether they have any coupon inserts from their Sunday papers.
Since most libraries receive Sunday papers, this can be a good way to get free Sunday newspaper coupons.
5. Check at Your Local Gas Station or Convenience Store
It's worth calling your local gas station or convenience store to see if you can have the inserts from their unsold newspapers.
This trick doesn't always work because certain newspaper carriers will collect all of the old papers if they don't sell.
But, in some cases, it can work.
Just ask the manager whether you can have the coupon inserts.
6. Visit Your Local Recycling Center
This is another place that you can check for free coupon inserts.
Just visit your local recycling center and ask if they have any Sunday coupon inserts available from newspapers.
You could even offer to go through the papers yourself if the center hasn't yet sorted them.
Many recycling centers will allow you to search through their bins for coupon inserts.
A good website to use if you want to find a nearby recycling center is RecyclingCenters.org.
On this website, you can find recycling centers in your local area. The site even offers maps and driving directions.
So visit the website to find your nearest center and maybe get your hands on some coupon inserts!
7. Check Free Newspaper Stands
You know those free newspaper stands that you find on sidewalks?
Well, those can actually be a pretty great resource for free coupon inserts.
Many of them contain free community newspapers
You can find these stands on sidewalks in the following places:
Restaurants
Subway/metro stations
Bus stops
Liquor stores
Libraries
Grocery stores
These papers often contain inserts from SmartSource and Redplum (which is soon to be called RetailMeNot Everyday) and local coupons as well.
If you want to know how to get free Sunday newspaper inserts, then this is a good option.
8. Look for Papers at Local Eateries
At eateries, you can sometimes find newspapers that still contain coupon inserts.
Coffeehouses and fast food places can be particularly good sources.
Next time you visit a coffee shop, fast food restaurant, or any food place, take a look to see if there are any papers around that include coupons.
9. Visit Stores on a Monday
Many stores will sell their Sunday papers to customers on Monday's at a huge discount.
Other stores may just give them to you if you ask!
Your best stores to check are grocery stores, like Walmart.
10. Check Your Apartment/Condo Lobby
Apartment complexes and condos can be an excellent place to find Sunday newspaper coupons.
One user on Reddit recommends this method, saying:
"You might want to check apartment buildings in your area. At least where I am, my building gets a stack of 30 or so packets on Sunday with just the sales ads placed in the lobby free for the taking. I'm not a huge couponer but it comes in handy when I know there is a high-value coupon and can swipe a few."
Also, the area near the mailboxes can be particularly useful.
If your apartment building has a common mail room, then there might be unwanted coupons left behind – just make sure that these coupons are in fact unwanted before you take them!
Some apartment buildings even have a box next to the mailboxes where residents can get rid of their junk mail.
This junk mailbox can be a great source of coupons.
Remember, not everyone uses coupons, meaning they leave these valuable money-saving tools in the trash!
So, you can likely find coupon inserts that you can take from the junk mail box.
Other Ways to Get Free Paper Coupons (Without Buying a Newspaper!)
There are a few other places where you can get paper coupons, like those you'd find in coupon inserts.
To get coupons from the places below, you will need a printer.
Don't have a printer? No problem, check out this post on how to coupon without a printer.
If you don't have a printer already, then you can pick one up for a pretty low cost at places like Amazon and Walmart. You can also get a used printer at a low cost – look on platforms like Craigslist.
Here are a few places to get paper coupons without buying a newspaper.
11. Use Coupon Websites
While the paper is a great place to find coupons, you shouldn't discount coupon websites.
As we mentioned above, having multiple coupon resources is ideal if you're looking to save a lot of money.
When most people think of coupon websites, it's coupon codes, which you can use online, that come to mind.
But many coupon websites also have free printable coupons as well.
Here are a few coupon websites that provide printable coupons:
12. Check on Manufacturer/Brand Websites
Many brands and manufacturers of products feature printable coupons on their websites.
These are a great place to find savings on the brands you love.
Here are a few manufacturers who offer coupons on their websites:
Just think about your favorite brands, and then visit their websites. Check to see if they have a coupons section.
Also, entering the brand name, followed by the words "printable coupons" is also a good idea.
It's such an easy way to find coupons for the brands that you actually use!
13. Check on Store Websites
A lot of grocery stores, pharmacy chains, and supermarkets feature printable coupons on their websites. You can easily print them out at home and get yourself a stash of paper coupons that you can use in-store.
Here are a few stores that provide printable coupons:
14. Don't Forget those In-store Coupons
A lot of stores actually offer coupons right in-store.
One of the most valuable types of coupons offered in-store are Catalina coupons.
These are the coupons that print out at the register when you check out.
Don't leave those behind!
Also, look to see if the store has any type of promotional flyer or booklet, as these often contain some great value coupons.
Where to Buy Coupons Inserts or Newspapers that Offer them (for a Low Price!)
As you can see there are so many ways to get free coupon inserts.
But, a lot of these methods aren't guaranteed.
For example, your friends and family might have used all of their coupons already, so have none to give to you.
Or, your local gas station might not have any coupons left over, and if they do, they just don't give them out.
If you want a constant, reliable stream of coupons, then it can be worth simply buying the coupon inserts or the papers that contain them.
Don't worry – this doesn't have to be expensive.
Below, we cover ways where you can just purchase coupon inserts – at super reasonable prices – and from legal sources, but more on that below.
And, we also cover places where you can buy newspapers at a huge discount.
So, let's take a look at places where you can buy coupon inserts.
15. Buy Coupon Inserts Online
Buying coupons is another great couponing strategy.
There are actually a few websites where you can order coupon inserts directly.
You don't need to buy the paper, so if you're only interested in the coupon inserts, then this is a good idea.
There are a few places where you can order coupon inserts. These are known as coupon clipping services.
Now, it's important to note that these places don't actually sell the coupons themselves.
It's not legal to sell coupons – since this is often against the terms of service of many manufacturers.
So, you're not actually buying the coupons themselves.
Instead, you're paying the clipper for clipping and mailing the coupons to you. So you're paying for the clipper's time, which is legal.
Now that's out of the way – let's take a look at some of the best coupon clipping services.
Check out the following websites:
On these websites you can get popular coupon inserts, like the RedPlum, SmartSource and P&G inserts. And these websites are ideal if you want to order coupon inserts in bulk.
What's great about these websites is that you can find coupons on there for as little as $0.05 to $0.08.
So if you want to get coupon inserts by mail, then this is definitely a good option.
16. Check at Your Local Dollar Store
Many dollar stores sell Sunday papers for a dollar.
So the paper isn't entirely free, but you can save a lot of money.
If you're wondering how to get coupon inserts in bulk, then this is one of your best options.
If you were to buy ten papers from a regular store, then it would cost you around $30 – providing that each paper cost $3.
But, if you were to buy papers at the dollar store instead, then those ten papers would cost you just $10 – so you only pay a third of what you would at a regular retailer.
So check out places like Dollar General and Dollar Tree.
It's a good, convenient option for getting free coupon inserts.
17. Get a Discounted Newspaper Subscription
If you're wondering how to get coupon inserts mailed to you, then getting a newspaper subscription is a great idea.
Also, if you want coupon inserts in bulk, it's also a good option.
But, you might be worried about the cost of a newspaper subscription.
There's no need to worry though!
You can actually get a newspaper subscription at a great discount.
One website where you can get subscriptions for a huge range of states is DiscountedNewspapers.com.
On this website, you can get both local and national newspaper subscriptions at a discounted price.
There are more than 400 newspaper subscriptions available.
You can search for newspapers by state and enter your zip code as well.
So, you could get a discount on a Sunday paper subscription.
Check out the website, and you may be able to get some great deals on newspapers.
Closing Thoughts
There are so many ways that you can get free coupon inserts – and in many cases, it's just as simple as asking.
If you've been wondering how to get free coupon inserts, then give these tips a try.
And, if you want to know how to order coupon inserts directly, then try buying them from one of the places we mentioned above.
Let us know in the comments section below if you have any great coupon resources.