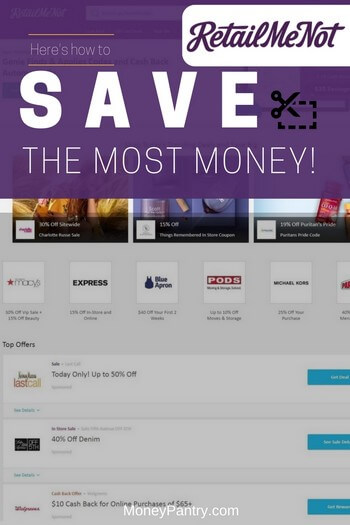 Want to save money on the things you buy every day and help others save money too?
RetailMeNot.com is a robust discount aggregator website/community and mobile app that can help you do just that!
RetailMeNot connects its user community to savings through:
Cashback deals
Gift card discounts
Online coupons (also referred to as promo/promotional codes or discount codes)
In-store coupons
Genie browser extension (It's new as of 2017 – and it works a lot like Honey.)
Best of all – it's entirely free!
It may sound too good to be true, but it's totally legit.
In this review/guide I'll show you everything you need to know about RMN, its app, how top find and use RetailMeNot coupons and more to save $1000s.
Need Easy Extra $300+/Month for Free?
KashKick
: Get paid directly into your PayPal for watching videos, surfing, shopping and more.
Join KashKick Now!
InboxDollars
: Paid over $57 Million to members to watch videos, take surveys, shop and more.
Get $5 instantly!
Branded Surveys
: Get $1 instantly just for joining for free. Plus get paid within 48 hours by PayPal!
Join Branded Surveys
First Opinion
: Get paid up to $10 per survey and $300 per virtual focus groups!
Join Now!
Swagbucks
: Get paid to watch videos, shop online, take surveys and more.
Join now & get $10 instantly!
Let's get started.
How to sign up
You don't have to be a member to search, print or use online or in-store coupons found on RetailMeNot.com.
All you have to do is copy/paste the codes you find into the sites you're shopping and voila – money saved.
That said, there are benefits to registering a free account. You could even say it pays to sign up.
Here's how (on the web):
Go to RetailMeNot.com.
Click "Sign up" in the top, right-hand corner of your screen.
Select "Sign up with Facebook" OR sign up with your email and create a password.
Check the box next to "Email me the best deals on RetailMeNot" to receive newsletters about savings opportunities.
Click "Sign up."
Start saving!
To sign up on your mobile device:
Download the app from either the Google Play Store or Apple App Store for iOS.
Click "Sign up."
Select "Sign up with Facebook" OR sign up with your email and create a password.
Make sure you've selected "Email me the best deals on RetailMeNot" to receive newsletters about savings opportunities.
Click "Sign up."
Make sure you agree to receive notifications in the app. (If you forgot, don't worry – you can turn them on later).
Personalize your account for the best user experience.
Once you're a member, you can:
Access cash back offers.
Track your savings over time.
Favorite the stores you shop the most and follow them for notifications when new deals are posted (just about every day!)
Personalize your experience through the RetailMeNot mobile app.
Personalize your experience
Take full advantage of all RMN has to offer through your user account profile, either on the web or in the app.
On the app
If you're using the app, you've probably already been prompted to create a profile.
The first time you log in, the app will ask for three categories you tend to shop the most, and then for three stores you want to follow.
The site will use this info to tailor deals to your needs and preferences.
On the web
To access your profile on the web:
Log in to your account.
Click your name in the top-right corner of the web page or in the left-hand column – it can be accessed in both places.
Under My Account, click "My Profile & Settings."
There, you can upload a photo of yourself if you choose, edit your username or manage emails.
Manage your favorite stores to set your deal preferences.
Manage your favorite stores
You can see all the retailers you've favorited under your account by clicking "My Favorite Stores."
To favorite new stores, browse or search for them and click the heart on the retailer profile.
As you mark new stores as favorites, the site will begin to recommend other, similar stores under the "Favorite Stores" tab. You can favorite the ones you like; ignore the ones you don't – you never have to miss a deal that's right for you.
Are you ready to start saving?
Let's go!
Start saving money
RetailMeNot makes it possible to "save $20 in 20 seconds."
Hard to believe, but it's really that easy.
How to find all the best deals on RetailMeNot
Right there on the homepage – before you even log in – you can see a handful of "Today's Trending Deals."
These are only a few of the 500,000+ deals from 50,000+ stores available on the site.
You can browse or search for other deals, depending on your needs at the moment.
Just click the "Departments" tab and browse deals by category, or enter the name of a particular store in the RMN search bar and hit "Enter."
All the deals you find will be marked by type – typically either sale, cash back, code or gift card.
You can filter offers by category or type by checking the boxes down the left-hand side of the webpage.
How do I know an offer is legit?
Down the left-hand side of your screen, you can even filter offers to only those that have been verified by or are exclusive to RMN.
Since a lot of deals are user-submitted, there is no guarantee all of them will work. But the company tries to verify as many as possible.
Each offer you browse shows whether or not it has been verified, and how many times it has been used today. Sometimes you can use this to determine whether a code or other offer is worth trying.
Here are the offer types and how to utilize them:
Coupons
Coupon codes – also referred to as promo, promotional, or discount codes – are the easiest way to save through RMN.
You don't have to have an account to utilize these codes, although it is highly recommended that you have one anyway.
How to use retailmenot coupon codes:
Click on any offer marked "code."
If it's an online code:

The site may automatically copy the code and redirect you to the retailer's website, or you can manually copy the code and go to the store's site directly.
Shop like you normally would.
When you go to checkout, look for a box that asks for coupon codes, special offers or promo codes.
Copy/paste the code(s) there and see your discount(s) reflected in your purchase.

If it's an in-store coupon:

You may be redirected to the retailer's website and/or RMN may open a printable coupon in a pop-up window (so make sure your browser is pop-up enabled).
You can print in-store coupons, save them, or send them via email or text – as long as the store's barcode reader can access the barcode.

Share the wealth – online and in-store offers can be shared via text, email and even social media. All you have to do is click a button on the offer screen. Why not pass on awesome savings to others?
Example coupons
Shutterfly is a great online store for photo prints and gifts, and there are always a ton of promotions running at any given time. I've often used Shutterfly coupon codes for free 8×8 photo books or to get free shipping on various orders.
When I wrote this, there were 50 offers listed, including:
50% off sitewide – SPRING
Free upgrade to expedited shipping on merchandise orders of $49 or more – UPGRADE
30% off your first order for new customers – SHDW-CAB6-6RJ4-WWP9R8
The best deals are featured on the retailer's page, in the left-hand column under the Shutterfly logo. The top offer (valid at time of this writing) was 28% off your entire order – SHDR-CBBT-XPY2-V3NPKA!
Other info posted here includes instructions for using Shutterfly coupon codes, tips for shopping on Shutterfly, and links to related brands.
Cashback offers
To view cashback offers from hundreds of stores and brands, click the "Cash Back" tab.
At the moment, RMN has 369 available cash back offers listed – although they tend to fluctuate a little day-to-day.
To use cashback offers, you will need:
A RMN account.
A PayPal account registered to the same email address you used with RMN. (If you don't already have PayPal, RMN will prompt you to create an account when you try to withdraw your cash. If you do, but it uses a different email address, you will need to link the two in your PayPal settings.)
Earning cashback through RetailMeNot works the same as with most other cashback sites.
But before you start shopping, make sure:
Make sure you're logged in to your RMN account.
Turn off your pop-up blocker if you have one.
Now you are ready to shop and earn cashback.
Follow these steps:
Step 1: Find the right offer/store – Featured offers are displayed across the top of the page, but if you scroll down, you can search by store or category.
Step 2: Click on the offer – Once you find what you're looking for, click on it, then click on "Activate and Shop." At that point, the site will redirect you to the retailer's website.
Step 3: Start shopping – Once you are at the retailer's website, shop as you normally would.
Step 4: Track it – Once you've made your purchase, your offer status will change to "pending" while the comapny verifies that you've completed all the proper requirements. The process usually takes 15-20 days. In the meantime, watch your email for updates. You can also check for updates in your profile under "My Cash Back."
Step 5: Enjoy your cashback – Once approved, you can retrieve your cash through your RMN wallet.
Users are limited to no more than 30 cash back rewards in a 30-day period, or five from the same retailer within a 30-day period.
Only one cash back reward is allowed per transaction. Cash back is only available for online purchases at this time.
Although cash back rewards can stack on top of RetailMeNot coupon codes to maximize savings, offers cannot be combined with deals from other sites.
Things to remember when cashback shopping through RMN
To make sure you do get credited with the right cashback amount, keep these tips in mind:
Follow the directions when making a purchase! Each offer has its own directions and discount, so read the terms and conditions of your offer closely.
Many cash back offers require minimum purchase requirements (before taxes, discounts and fees), and some items may not be eligible.
You must have navigated to the retailer's site via RetailMeNot to be eligible for cash back.
You must complete your purchase in the same shopping session – no visiting other sites and coming back!
If for some reason you do not receive your cashback after 20 days, make sure to contact support and ask about it.
Example cashback offers
Obviously, cashback offers and how much you can earn change from time to time based on current store and retailer promotions.
Just to give you an example, here are a few cashback offers valid at time of writing:
Up to $25 cash back from purchases at Macy's ($10 for $50+ or $25 on $125+)
Up to $30 cash back from purchases at Sears online ($10 on $50+ $20 on $100+ $30 on $150+)
$20 cash back when you spend $100 or more at Nike
Gift Cards
Gift cards are the worst, because you pay for what you get, right?
Wrong!
You can buy discount gift cards through RetailMeNot!
They are available instantly through your email and are backed by the site's 100-Day Guarantee. They can be used either in store or online.
At the time of this writing, there were 170 gift card offers available, ranging from as high as 30 percent off to as low as 1 percent.
Here's how to buy gift cards through RMN:
Step 1: Click "Gift Card Deals" from the home page.
Step 2: Sort discounted gift cards by alphabetical order, from highest to lowest discount, or vice versa. Then click on the one that interests you.
Step 3: Click "buy now" next to the card that most interests you.
Step 4: On the next page, enter your payment information and click "Pay" to complete the transaction.
Step 5: Retrieve your gift card. Typically, they arrive in your email within 5 minutes to 24 hours. If 24 hours pass and you still don't have anything in your inbox, check your junk mail, then contact support at support@RetailMeNot.com.
Only one discounted card can be purchased at a time.
Refunds are available as long as the card isn't claimed. These take between 1-10 days to process.
Rules and regulations for the offer you chose appear on the page underneath the vendor logo.
Eligible gift card amounts are shown, along with their discount, in the middle of the page.
Examples discounted gift cards
To give you an idea of just how much you can save on gift cards by buying them through RMN, here are few examples of current available offers:
22.48% off $25 Steak n' Shake Gift card. In other words, you pay only $19.38 – that's $5.62 in free money.
10% off Overstock.com gift cards (values range from $25-250 for maximum savings of $25)
8% off Starbucks gift card – Get a $15 gift card for only $13.80!
Deals Near Me
An easy way to find deals you can use right away is to search "Near Me."
Click "Near Me" in the menu from the any page on the site, just below the main search bar.
"Near Me" offers a map of your current or searched location with pins denoting businesses that have active deals going on.
If you prefer to see these deals as a list, you have that option as well.
Search by Address, city, state and zip code or click the location symbol (looks like a circle with crosshairs) to allow your browser to see your location and show offers near you. Be warned – this function is not always 100 percent accurate. You might have better luck searching your exact address in the search bar. 
Scroll down the left-hand side of the screen to view offers in a list, or view the map.
Click pins on the map to view more detail about offers. When you do, the left-hand column will auto-scroll down to the offer you've selected.
Follow the directions associated with the offer to redeem it.
Example Deals Near Me
In my research, I found a really handy Valvoline coupon for $10 off Full Service, about 2 miles away from home. When I clicked it, it directed me to a printable in-store coupon I could choose to print, text or email to myself for redemption.
Genie browser add-on
RetailMeNot's new Genie plug-in works a lot like Honey.
It's free, and it automatically finds and tests coupon codes to get you the best deals wherever you shop online!
First, you need to install it (Don't worry, Genie doesn't store any of your personal information.)
Genie is available for both Chrome and Firefox. (If you use another browser, I highly recommend downloading one of these two – although a plugin for Safari is rumored to be coming soon!)
Install Genie for Chrome
Go to RetailMeNot.com. If you don't see an advertisement for the Genie plug in near the top center of the page, search "Genie" in the search box.
The website will read which browser you are using and offer you a download link. For Chrome, click "Add to Chrome."
Approve the install by clicking "Add extension."
You're all set!
Shop like you normally do online.
You can also get the add on by going directly to Chrom's web store and installing Genie for Chrome.
Install Genie for Firefox
Go to RetailMeNot.com. If you don't see an advertisement for the Genie plug in near the top center of the page, search "Genie" in the search box.
The website will read which browser you are using and offer you a download link. For Firefox, click "Add to Firefox."
Click "Allow" and a quick download will begin.
When the browser asks for permission to access your data and browser tabs, click "Add."
The plug-in will be added. Click OK to end installation.
Shop like you normally do online.
You can also get the add on by going directly to Mozila Add-ons and installing Genie for FireFox.
How it works
On both browsers, the Genie plug-in looks like a box with an "R" in it, to the right of your address bar.
When it's grey, it's inactive.
It appears purple when active.
To see the promo codes available as you shop, click the purple plug-in in your browser. You will see a list of offers available.
Click any code to automatically copy it.
Even if you do nothing, and get all the way to checkout, Genie will automatically test and apply available codes to maximize your discount. That includes stacking discount codes with cash back offers to increase your savings.
Although you don't need an account to use Genie, you do in order to collect cash back offers.
Genie works with hundreds of stores and saves average shoppers $15 on their purchases.
Example
I don't know about you, but Target is my absolute favorite place to shop. Naturally, it was a good place to test the Genie browser plug-in.
At the time of writing, Genie found 7 offers at target.com, including:
Extra 20% off women's clearance items – WOMEN20
15% off select girl's dresses – DRESS15
$20 off MiaMily Hipster Plus 3D Carrier – TGTMILY20
Sales
Sometimes there is no coupon code.
But all is not lost!
Sometimes, RetailMeNot will have information about in-store and online sales that you can take advantage of.
In most cases, clicking these offers will redirect you to the retailer's website.
What kind of sales, you ask?
On Feb. 27, for example, IHOP had a deal for a free short stack of pancakes in honor of National Pancake Day. Because of the nature of the deal, no code was required. Proceeds benefited kids with terminal illness.
Up to 60% off watches at Macy's
Free standard shipping off queen beds at Ashley Homestore
The RetailMeNot Apps-perience
RetailMeNot is also available in app form, both on Android and iOS.
Both are easy to navigate and use:
Add favorites. When you set the app up on your phone, it will ask you to flag a couple of categories for which you'd like to see savings, and a couple of stores you like. This is how the app will attempt to offer you quicker access to codes it thinks you will like.
View featured offers. From the app's home screen, you can view featured offers, and then use your finger to swipe left to see cash back offers, gift card deals, and other special deals categories.
Check out food deals. Along the bottom of the app, you can navigate to the home screen or click "Eat" to view food and restaurant deals.
See nearby deals. Recommended nearby deals, including sales and coupons, are listed down the middle. This function utilizes your phone's location services, so make sure the app has access.
Like on the website, click any offer to learn more. If the offer is a sale, you will be redirected to that vendor's website. If the deal is a coupon, the app will bring up the coupon.
Save any deal by clicking the star next to it. This action will save the deal to your "Wallet" under "My Saved Offers." You can access your wallet in the bottom right hand corner of the app.
Check out deals for nearby malls. There is also a "Malls" tab that will display nearby malls, either in list form or on a map. You can click a specific mall to access an online directory of the mall as well as all the offers valid within the mall itself.
Navigating RetailMeNot
Now that you know all the ways to save money using RetailMeNot, here's a handy roadmap to help you navigate the site as you get used to it.
On the website, almost anything can be found under the "Explore" tab on the home page.
Under "More Ways to Save," find quick access to:
Keep an eye out for specialty pages around big holidays – especially Black Friday and Cyber Monday. RMN aggregates holiday-related offers into a single page for your convenience.
Tips &Tricks to Increase Your Savings
These are several tips and tricks to help you get the most out of RMN:
Make sure notifications are turned on in the app so you don't miss a deal.
Make sure you're logged into RetailMeNot anytime you browse deals, so you can save the ones you like. Beware – some offers may expire. Don't wait too long to use them!
Start with sales listed on the site.
Use Genie to stack coupon codes and cash back offers together.
Utilize rewards programs whenever possible, including cash back credit cards.
Stock up on discounted gift cards.
Take your RetailMeNot experience to the next level
Here are a few things you can do to make the most out of this awesome coupon site and help other people save to:
Get involved in the Community
Once you become a master at saving money, why not help others save money too?
Under "Explore" and "Get Involved," you can become active in a community of savers by sharing codes you've found online or chatting with other members.
Community features the Top 100 Contributors, both over the last seven days and of all time, in addition to the amount of dollars users have saved others.
TrishAloha is on top this week, having saved others (by sharing a valid promotion) $3,902 (at this time of writing). The all-time saver-helper is KiKiCoupons, who at $2,622,499 saved for others leads runner-up deby32953, who has saved fellow users $1,981,087.
In the right-hand corner of the Community page, you can chat with other users. Below that, there's a shortcut for submitting promo codes.
Latest contributions are also featured near the bottom of the page.
Submit coupon and promo codes for others to use
Users can submit promotional codes to the site in two different areas.
One is under Community, along the right-hand side of the page if you scroll down.
The other is by scrolling to the bottom of the site or going under "Explore" and choosing "Submit a Coupon."
Either way, the process is the same:
Enter the store's website
Select the offer type (Online code, In-store code, Online sale or tip)
Enter the code
Add a description of the promotional offer.
Add an expiration date, if applicable.
Submit the offer.
The company asks users to post only publicly available offers, and not private or internal ones.
Manage your community profile
Use your community profile to see a history of coupons you've used, downvoted or upvoted (this is how quality is monitored on a crowdsourced site such as this one), and more.
You can also see badges for milestones you've surpassed on the site, like "Anniversary" for making it to one year as a member, "Black Friday Hero" for sharing a coupon used during Black Friday, or "Chatty" for making more than 10 comments on the site.
Subscribe to The Real Deal Blog
Not only does RMN offer a rich community for savers and sharers alike, it also offers quality and informative reading.
The blog is called "The Real Deal."
The blog acts as a trusted shopping adviser, grouping timely deals, tips and tricks and retail news together to peak your interest throughout the year.
The site is free and a must-read. It includes separate sections for Food and Travel.
You can expect to read posts that:
Teach you how to identify coupon scams on Facebook
Inform you as to which are the 12 best retail store credit cards available
Showcases lists of offers for special occasions like Mother's Day, President's Day and even National Margarita Day.
Much more!
Follow RMN on Social Media
The site is active on:
Follow these pages for the latest and greatest in savings and retail must-knows.
Participate in contests
I don't know that you get anything for participating, but it's fun!
Currently, the site features a math quiz to find out your aptitude for saving.
I got "YAY! YOU'RE A HUMAN CALCULATOR. You beat 97.7% of people (based on surveying 2,479 U.S. players). You're the real deal and a savings superstar!."
How's that for an ego boost?
How RetailMeNot makes money?
You may be wondering if RetailMeNot saves users all kind of money, how does it make money?
You might be wary about whether or not the site is legit, but I assure you, it is.
RetailMeNot, Inc. was founded in 2006 and operates multiple discount websites.
The most notable, of course is RetailMeNot.com (United States), but the company also operates RetailMeNot.ca, VoucherCodes.co.uk, giftcardzen.com, ma-reduc.com, deals2buy.com and poulpeo.com.
According to the company, the robust website and mobile apps not only save users tons of money, but are also a boon for the retail industry. The company says that in 2017, an estimated $4.8 billion in retailer sales were attributable to consumer transactions from paid digital offers in its marketplace, more than $560 million of which were attributable to its in-store solution.
The sites'  income comes primarily from advertising and through a small commission from a portion of participating companies.
Sounds like a win-win-win.
Reviews from other couponers
For this review, I did read a lot of reviews and rating on Reddit, the app stores and other frugal/couponing related sites and blogs.
Mostly people who do couponing are happy with it.
On Google Play, the app has a 4.4/5 rating after 207,520 reviews.
On IOS, is has a 4.8/5 after more than 25,800 reviews.
The app continues to evolve, and the company seems especially responsive to user complaints, both in the comments and in their updates and bug fixes.
One user complaint that the app was too large resulted in a recent app update in the Play Store that significantly reduced the app size and fixed a battery drain issue.
One user named Kassie said, "I have saved so much since I downloaded this app… it's so awesome! The cash back is put into my PayPal account, which is like a savings account."
Other users have commented that although trying to sift through physical coupons can be daunting, RMN's website and app make saving money a breeze.
Some users complain about slow or unresponsive customer service, although the public responses posted by the company seem to indicate otherwise.
Another complaint pointed out that coupons only work a fraction of the time. Knowing that users submit a majority of the codes, this seems like a no-brainer.
RMN does attempt to verify as many codes as possible, and most customers seem to have good luck with them. You can help weed out the bad ones by upvoting the ones that work and downvoting the ones that don't.
Other sites like RetailMeNot
There are tons of coupon and promo code sites out there similar to RMN.
I did a few posts where I listed some of the best coupon sites.
Some of the best alternative one include:
There are also tons of great deal sites like these that specialize in finding you the best deals out there.
And if you're looking for printable coupons, check out this list of 61 best printable grocery coupon sites.
So, is it worth it?
Yes, it 100% is!
At the end of the day, whether you are an extreme couponers or on a budget and just don't want to miss out on any potential deals and discounts, RetailMeNot is a great site/app to have in your arsenal.