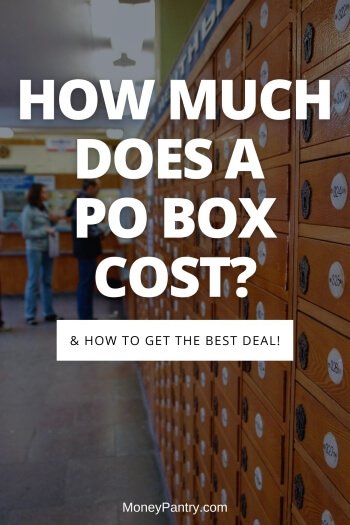 If you are wondering "How much does a PO box cost?", then this is the post for you.
A PO box is a secure, numbered box that is located on the premises of a post office. Any mail delivered to your PO box is kept there until you collect it. You can rent PO boxes from places like the USPS and UPS. But, how much do they cost?
Below, I'll cover how much it costs to rent a PO box and how to get one!
What Are the Benefits of Renting a PO Box?
Before we cover how much a PO box costs, let's take a look at some of the reasons for renting one.
Security
PO boxes are very secure. Your mail is stored somewhere secure and can only be picked up by you or the people you specify. So, your mail isn't left outside your home all day in an open mail container. Instead, it's locked in a mailbox.
If you have had issues with mail going missing, then a PO box is a great alternative since it's way more secure.
Need Easy Extra $300+/Month for Free?
KashKick
: Get paid directly into your PayPal for watching videos, surfing, shopping and more.
Join KashKick Now!
InboxDollars
: Paid over $57 Million to members to watch videos, take surveys, shop and more.
Get $5 instantly!
Branded Surveys
: Get $1 instantly just for joining for free. Plus get paid within 48 hours by PayPal!
Join Branded Surveys
First Opinion
: Get paid up to $10 per survey and $300 per virtual focus groups!
Join Now!
Swagbucks
: Get paid to watch videos, shop online, take surveys and more.
Join now & get $10 instantly!
Privacy
One of the biggest advantages of PO boxes is that they allow you to keep your home address private.
For example, if you run a business from home, you may not want to give out your mailing address. So, you can instead have your mail sent to a PO box and give out that address instead. This will allow you to keep your home address private, while still allowing you a way to get your mail.
Also, it keeps your business mail separate from your personal mail.
Flexible access to your mail
You can get your mail on your schedule and can even choose from a range of PO box sizes, and rental terms of 3, 6, or 12 months. Depending on the Post Office location you use, they might even offer round-the-clock access to your PO box.
Other places may offer extended hours. Some though may only allow you to get your mail during Post Office opening hours.
Faster mail delivery
Because the mail doesn't have to travel as far to be delivered, it can often be available in your PO box faster than it would be in your regular mailbox.
This can allow you to get your mail faster, and not have to wait for it to get delivered to your home.
How Much Does a PO Box Cost?
Renting a PO box can cost as little as $16 for a small box and a 3-month rental period and as much as $600 for an extra large box for a 6 month rental period.
The cost of renting a PO box varies depending on a number of factors, including the length of the rental time, the size of the PO box, the location, and any additional fees that may be charged.
Below, I'll cover the factors that determine the cost of renting a PO box in more detail.
Length of rental time
You can rent PO boxes for different amounts of time. Usually, they are available in rental periods of 3-, 6-, or 12-month rentals.
It's generally more expensive to rent the box for a shorter period of time. So, if you want the best value for money, it's often better to rent the box for 12 months.
A 6-month rental will also be cheaper than a 3-month rental. Some places even offer an extra month for free when you rent a box for 12 months.
Size of the PO Box
Okay, so aside from the rental period, another factor that will determine the cost of your PO box is its size.
There are 5 PO box sizes. Not all sizes are available at every location though.
Overall, smaller boxes are cheaper. So, if you need to rent a larger PO box, it will cost you more money.
Here are the sizes you can get from USPS, and how much each one costs:
Extra small
Starting price: $4.33 a month
Size: 3″ x 5.5″
This is ideal if you're only expecting to receive a small amount of mail. The extra small PO boxes can hold 10 to 15 letters and 3 rolled magazines.
Small
Starting price: $5.50 a month
Size: 5″ x 5.5″
Small PO boxes are usually large enough to fit 15 or more letters and 5 rolled up magazines, or 1 Small Priority Mail Flat Rate Box.
Medium
Starting price: $8.17 a month
Size: 5.5″ x 11″
If you plan to receive large envelopes, then the smallest sized PO box you can get is the medium size. Medium sized PO boxes allow large envelopes and magazines to be stacked and can hold 2 Small Priority Mail Flat Rate Boxes.
Large
Starting price: $12.33 a month
Size: 11″ x 11″
Large PO boxes hold Small and Medium Priority Mail Flat Rate Boxes and still have enough room for 10 to 16 letters.
Extra large
Starting price: $21.50 a month
Size: 12″ x 22.5″
If you expect to receive parcels or a large amount of mail, then the extra large PO box size will be ideal. Extra large PO boxes are big enough to hold multiple packages.
The larger the size of the mailbox you rent, the more expensive it can be.
Consider how much mail you expect to receive and how often you will be able to empty it when deciding which size PO box is right for you.
Location
Another factor that affects how much your mailbox will cost is your location. In some locations, renting a mailbox will be more expensive than it will be in others.
Any additional fees charged
Some places may charge you extra fees. For example, you will be charged a deposit of $3 to $4 for the first two keys. And, then a $6 to $8 fee for additional duplicate keys.
Also, if you lose your keys or forget the code to access the box, then you will be charged a fee of $23 for the lock to be replaced.
How to Get a PO Box
If you want to get a PO box, you can apply for one online or at the post office. You must have two valid forms of identification. At least one of your IDs must include your photograph, which is your primary ID, and one ID must show your physical address, which is your secondary ID.
Here are the forms of ID accepted to rent a PO box:
Acceptable Primary Forms of Photo Identification
U.S. Government ID: U.S. Government ID may be federal-, state-, or tribal-issued. You may provide the following:

Identification card issued by a federally or state-recognized tribal nation (tribal identification card).
U.S. certificate of citizenship or naturalization.
U.S. permanent resident or other identification card issued by U.S. Citizenship and Immigration Services.
Uniformed Service ID card.
U.S. Armed Forces card.
Non-driver's identification card.
State-issued driver's license.

Passport
Matricula Consular (Mexico)
NEXUS (Canada)
Corporate Identification
U.S. University Identification
Acceptable Secondary Forms of Identification
A lease, mortgage, or deed of trust
Voter or vehicle registration card
Home or vehicle insurance policy
Form I-94, Arrival and Departure Record
How to Get a PO Box In-Person
You can reserve a PO box in the post office. You will need to find post offices near you that offer PO box rentals.
You can find a PO box near you on the USPS website.
Simply enter your full address, city, state, or zip code in the box next to "Find a PO Box Near You," to find post offices near you that offer PO box rentals.
You can also find your nearest post office by doing a quick Google search. Simply enter the term "PO box near me," or "PO box rental near me." This should give you a list of the nearest post offices that offer PO box rentals. When you reserve a PO box in the Post Office, you will need to fill out a form. And remember to take your ID with you!
How to Get a PO Box Online
You can also reserve a PO box online on the USPS website.
Here's how:
Search for a post office location near you by using the search bar under "Find a PO box near you."
Select a post office location and choose the PO box size and the payment period you want.
Complete the online application form, accept the Terms and Conditions, enter your billing and payment information, and review and submit your application to reserve your PO box.
Print your completed form and then bring it to the Post Office counter where your box is located within 30 days of submitting your online application. You will also need to bring 2 forms of ID. Once the retail associate has verified your identity, you'll get your PO Box keys.
Closing Thoughts
Overall, it can cost less than $20 to rent a small PO box for a few months. If you need a larger box, it can be more expensive. Your location will also determine the rental cost.
The best way to get an exact figure and find out how much a PO Box cost per month is to simply contact your local post office to enquire about the cost.