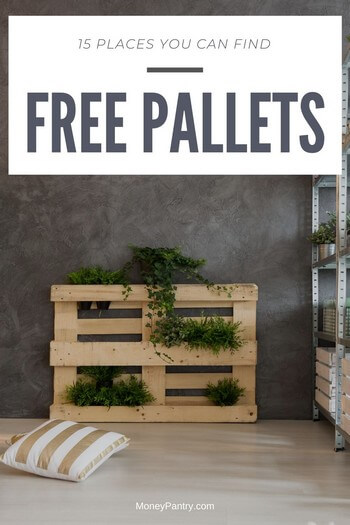 You can use wood pallets in lots of DIY projects, from wine racks to bookshelves. You can even make money recycling pallets!
So, it's no wonder that many DIYers and arty types want to get their hands on these versatile materials!
Is there a way to get pallets for free though?
In short, yes.
There are lots of ways you can get this stuff for free.
Below, I'm going to give you ways to get free pallets near you and some tips to help you.
Need Easy Extra $300+/Month for Free?
KashKick
: Get paid directly into your PayPal for watching videos, surfing, shopping and more.
Join KashKick Now!
InboxDollars
: Paid over $57 Million to members to watch videos, take surveys, shop and more.
Get $5 instantly!
Branded Surveys
: Get $1 instantly just for joining for free. Plus get paid within 48 hours by PayPal!
Join Branded Surveys
First Opinion
: Get paid up to $10 per survey and $300 per virtual focus groups!
Join Now!
Swagbucks
: Get paid to watch videos, shop online, take surveys and more.
Join now & get $10 instantly!
How NOT to Get Pallets
Before we get started on where to get pallets for free or cheap, I'm going to tell you where NOT to get them!
From big businesses
Large businesses often order lots of supplies, and most or all of these shipments arrive on wooden pallets.
So – great a surplus of free pallets, right?
Not exactly.
While this might sound like a great way to get dozes of them for free, most big businesses actually don't have pallets for sale or give them away.
Instead, they work with companies who collect for them. Generally, a third party company will come on a schedule to collect and dispose of the waste.
So, don't go with big businesses.
When it comes to finding low-cost or free pallets, the smaller the business, the better.
Since many businesses have a lack of budget for a hauling company, or they don't have the time or other resources to do it, they likely just throw their unwanted pallets into a dumpster.
You could ask small businesses near you whether they have any that they don't want. They may give them to you for free or at a low cost. Just pick up the phone or visit a store to ask.
Off the side of the street (or without asking in general!)
Is there a store near you that always has pallets just sitting on the street?
It's tempting to take them, right?
Just because they're leaned up against a wall or even sitting next to a dumpster, they might not be free to take.
You should never take something that isn't yours without asking first, even if it does look like trash.
Always ask before taking it.
Pallets that have an ownership stamp on them, like CHEP, PECO, iGPS, Coca-Cola, or the U.S. Postal Service, should not be removed. Such companies claim they enforce the property rights to their stuff, so you could be charged with unlawful possession of them.
Where to Get Pallets for Free (or Cheap!)
Now that you know where not to get them, let's take a look at some easy ways you can get your hands on pallets for free or for cheap!
1. Browse ads on 1001Pallets
Visit 1001Pallets to browse a selection of free or cheap wood pallets. Businesses and individuals who're looking to get rid of theirs will often post on there, so it's definitely worth having a browse of the site's classified ads.
Visit the site here.
2. Start your own pickup service
If you're in need of lots of pallets, then you could offer a pickup and disposal service to small local businesses.
You'll help a small business to clean up their waste while getting all the free pallets you need.
Just call local businesses and ask if they need someone to dispose of their pallets for them.
If they're already paying someone to do it, you could offer to do it at no cost, as you can use them for DIY projects.
And sometimes, business may not even be actively trying to get rid of them but if you ask politely, they may give some to you. For example, I have heard of people getting fee pallets from Tractor Supply company.
If there are any excess, you can always save them for future projects, give them to friends, take them to the dump, or even sell them used if they are in good enough condition.
3. Work directly with distribution centers
Working directly with the distribution center that's shipping out the pallets can be a good idea, because they may have some that they no longer want. For example, they could have pallets that are slightly broken, don't work with their machinery, or don't meet a standard they require to be able to use them.
You could contact your local distribution center and ask them if they can set them aside for you to pick up.
Getting them directly from the manufacturer can be a good idea because you often get ones that are constructed from new lumber, so they typically look nice. When you also consider that going right to the distributor is often quicker than enquiring at a bunch of local businesses, then this is a great option and worth the small fee that distributors might charge.
4. Check with your local pallet recycler
Recycling centers can also be a great place to find free pallets.
These centers often receive pallets that are in excellent condition, but they are non-standard ones, so they don't offer any value. So, the center just recycles them.
Check to see if you have a pallet recycler in your area. Ask them if they have any. They may have some non-standard one available that they'll give to you for free, or that you can buy at a reasonable price.
You can find a list of pallet recycling facilities in your local area on North American Pallet Recycling Network's directory.
5. Hardware stores
Hardware stores use wooden pallets for most deliveries, making this a good way to get your hands on some for an affordable price, or even at no cost.
Since hardware stores handle dry goods, mostly, this is a good way to find clean pallets.
6. Browse Freecycle
Next on our list is The Freecycle Network. Offering a place for people to give and get stuff they need for free, overall, it's an awesome website.
You can find people offering a variety of different things for free. You may be able to find some at no cost there. So, it's definitely worth visiting the site.
7. Browse Craigslist
Craigslist is one of the best sites to check for anything free. There are often pallets listed in the free section of Craigslist. Or, people give them away for cheap. Either way, you can get some great deals. Browse your city's Craigslist to see if you can get any at no cost or for an affordable price.
8. Put an ad online
Browsing the listings on Craigslist is a good idea. But, you might want to consider placing an ad on there as well.
Placing ads on sites like Craigslist and Facebook can be a great idea to source some free or low-cost pallets. Social media sites, in general, are great places to enquire about freebies and cheap stuff!
9. Pet stores
Pet supply stores are often good places to find pallets that are in great condition. Since pet supply stores often get their products on wood pallets, they'll likely have some to offer you. Plus, many pet stores handle dry goods, meaning their pallets are in good condition. Offer to pick them for the store, and they may allow you to take them for free or sell it to you for pennies.
10. Newspaper companies
Newspaper companies get their shipments on pallets, so they often have lots of them they just throw out. Call nearby newspaper companies to ask if they have any they're looking to get rid of. They may be able to offer them to you at no cost or for a low price. Newspaper pallets are neat, stain-free, and clean, making this a great option.
11. Construction sites
You'll often find quality pallets on construction sites. Ask builders if they know where you can find some and they may be able to help you.
12. Schools
Schools often have things like paper, books, and other school supplies delivered on wooden pallets. Ask local schools if they have any they're looking to offload.
13. Clothing stores
Clothing stores often get their shipments on pallets as well and they may provide them to people who ask.
Some of them may already have a pickup service or return agreement with their supplier. But, that's not always the case, so be sure to ask.
14. New stores
Store openings can be treasure-troves for DIYers looking to get cheap or free pallets.
When a store is getting ready to open, they'll have a surplus of pallets from their initial inventory deliveries. Just keep an eye out in your neighborhood for any stores that are getting ready to open, and ask if they have any that they're looking to get rid of.
15. Furniture stores
Furniture stores often get their shipments on pallets. Since furniture falls into the dry goods category, furniture stores are an awesome place to source clean, dry pallets. Again, all you have to do is ask the store owner if they have any unwanted ones you could take.
Tips for Success in Getting Free Pallets
In this section, I'm going to cover some tips and best practices.
Ask at the right time in the right way
The best time to ask for pallets is early in the morning or late in the day. Shipments often come in during the morning and are often emptied later on in the day.
Business owners are likely to be less busy at these time as well, so they're more likely to take the time to talk to you.
Also, tell them why you want them.
So, if you plan to make a garden bench or a coffee table with them, let the business owner know.
People will be much more likely to help you.
Ask a few questions before taking pallets
Asking a few questions about a pallet is the best way to know about its history.
So, ask:
What was delivered on the pallet
How old it is
Whether it has any visible stains.
Try to get them from dry goods industries
Any store that sells dry goods is going to be the best option for sourcing pallets.
This is because there's no spillage or stains to worry about.
I mentioned lots of dry goods stores above, like furniture stores and clothing stores.
Avoid the ones from a pesticide or chemical processing company
Since most pallets are reused throughout the industry, and they tend to stay within the same industry, it's important to stay away from those used by pesticide or chemical processing companies.
This is because they're likely full of chemical products.
Always put safety first!
Stay away from pallets that say HT, as this means that the pallet was heat-treated.
Also, MB on a pallet indicates that the pallet was treated with methyl bromide. Methyl bromide is highly toxic to humans.
Avoid used grocery store pallets
Sure, these might seem okay, but often stuff from grocery stores are covered in spillage and stains, which can lead to mold. So, they're best avoided.
The National Consumers League tested 70 food-carrying pallets, and they found that 10% of them had E. coli on them, and 2.9% of them had Listeria on them.
Pallets that have housed food are a no-no.
Of course, if you're making something like a free compost bin, then this won't be as much of an issue, as compost piles are full of microorganisms anyway.
Always wear gloves
Wearing gloves when you're handling wooden pallets is so important. This is because they often have nails sticking out that can cut you, or they can give you splinters.
So, using gloves is so important for your health and safety.
Also, if you plan to cut the wood, wear a mask in addition to the gloves.
Use common sense
Always closely examine pallets, and smell them (as weird as that sounds!). If the pallet looks or smells weird, don't take it. Use your best judgment and common sense.
Avoid petroleum-stained pallets
Why? Because petroleum stains are pretty much impossible to remove, even with a pressure washer. This is because oil and other petroleum products seep into the cells of the wood. Also, paint doesn't properly cover petroleum-stained wood either.
Be cautious when dealing with strangers on the Internet
It's a good idea to take a friend with you when meeting people from CL and other people from the internet.
Stay in touch
If you do find a place that offers you pallets, then develop a rapport with them. Exchange email addresses and stay in touch. Then, you can send them an email with a photo of what you made. Doing this may increase your chances of getting materials as they become available.
FAQ About Pallets Giveaways
Online, you see lots of people asking where can I get free pallets near me?
You also see people asking about specific stores.
Hers are a few common ones:
How much do pallets cost?
The price varies based on the kind (wooden, plastic, recycled material, etc.). They range anywhere from $2-$3 to $20-$30 per piece.
Does Home Depot give free pallets?
According to online reports, Home Depot doesn't give way free pallets.
That makes sense since Home Depot falls under the big business category I mentioned before. And big businesses tend to have their own agreements in place with vendors.
Does Walmart give free Pallets?
Walmart does not give them for free, or at a low cost.
Like other big stores, it recycles or reuses them.
Does Costco give free pallets?
Again, no, as it's one of those aforementioned big businesses who deal with third-party companies to handle material like that.
Happy Pallet Stacking!
If you've wondered where to get free pallets near you, then give one of the options above a try. And keep our tips in mind too for getting the best ones!
Where do you get pallets for free or for an affordable price? Let us know in the comments below.