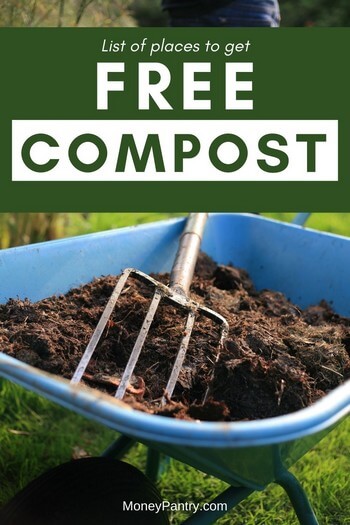 If you want to have great soil and healthy plants, then you need compost.
Are you stuck having to pay for it though?
Heck, no!
Just like there are ways to get free mulch near you, there are also plenty of ways you can get free compost near you.
Compost has many great benefits. With a lot of organic ingredients, it is rich in nutrients. It can act as a fertilizer, soil conditioner, and as a natural pesticide for soil for anything from your own small organic vegetable garden to landscaping, horticulture, organic farming and more.
Need Easy Extra $300+/Month for Free?
KashKick
: Get paid directly into your PayPal for watching videos, surfing, shopping and more.
Join KashKick Now!
InboxDollars
: Paid over $57 Million to members to watch videos, take surveys, shop and more.
Get $5 instantly!
Branded Surveys
: Get $1 instantly just for joining for free. Plus get paid within 48 hours by PayPal!
Join Branded Surveys
First Opinion
: Get paid up to $10 per survey and $300 per virtual focus groups!
Join Now!
Swagbucks
: Get paid to watch videos, shop online, take surveys and more.
Join now & get $10 instantly!
In today's post, I'll give you some places where you can get compost for free, and also where you can get free compost materials. After all, composting at home is a great way to reduce the amount of waste that ends up in a landfill, and it gives you a totally free source of compost that you can use whenever you need it.
Where Can I Free Compost Near Me?
Well, try these places…
1. Look out for local programs
Many cities, in an effort to be more environmentally friendly, have programs that give away free compost to residents.
RethinkWaste, for example, offers free compost to residents in certain areas in California, such as San Mateo.
Through the program, residents in the RethinkWaste service area can pick up free compost year-round in San Carlos.
Residents of Islip can also get free compost nearby.
The town operates a compost facility on a 40-acre site along the northern perimeter of MacArthur Airport in Ronkonkoma.
Residents can pick up compost free of charge, as long as they have their own shovels and containers.
To find a similar compost program near you, consider typing in the following keywords into Google, or whatever search engine you use:
Free compost pickup [name of your city]
Free compost giveaway [name of your city]
Free compost center [name of your city]
Those search phrases can help you to locate centers, programs, and organizations near you that are giving away free compost.
Whether it's free firewood or free pallets for DIY projects, you can get pretty much anything for free on Craigslist. Sure, there won't always be compost available, but it's worth checking on there.
Here's how you can find free compost on Craigslist:
Go to your city's free Craigslist section.
Find the "For Sale" Section
Under this section, click on "Free."
Enter the word "compost" into the search bar.
Then, you'll get listings near you with people giving away free compost.
Most people know OfferUp as a place where you can buy and sell stuff nearby. But, you can actually find free stuff on there too. Just check out the freebie section. When I looked on there, I found quite a few people giving away compost near me.
You can search the site for "compost."
And you may find people giving away compost in your city or town.
If you haven't heard about Freecycle, you should definitely visit the website. On Freecycle, people can give away stuff and get stuff for free. Have a browse of the site, and you may be able to get free compost on there.
Facebook Marketplace is another online marketplace, like OfferUp, where people can buy and sell stuff.
But, it also has a section where you can get stuff for free. Have a search on there to see if there's anyone giving away compost near you.
CompostNow is a company that will come and pick up food scraps from your home and then gives you free compost in return.
Here's how it works:
Sign up and CompostNow will deliver a clean bin to your doorstep that same week.
Fill up the bin with things like pizza boxes, coffee grounds and filters, paper products, and any food scraps, which includes meat, bones, and dairy.
CompostNow will swap your bin with a clean one each service day, which means you don't have to worry about smells or residue.
It will track your waste reduction and compost creation down to the pound.
Then you earn compost. You can share it with the company's farm and garden partners, or have it delivered to you.
Now, the reason I've put this one lower down the list is that only your first two collections are free. You also get a free compost collection bin and a "what is compostable" magnet.
After the first two collections, you have to pay. It costs either $29 a month or $35 a month, depending on the plan you choose.
Where to Get Free Compost Materials
Getting compost ready-made is convenient, but another option to consider is composting at home.
We all have waste in our home that we simply throw out, which results in tons of compostable materials ending up in a landfill.
Instead of throwing out these materials, like vegetable scraps or cardboard boxes, we can turn them into compost!
It's not just your own home where you can find these materials either. There are lots of other places to find free composting materials.
Here's where you can get compost materials for free:
7. Your own home
Yes, your own home should be your first port of call. I know that I have tons of vegetable scraps, like potato peels, chili ends, and fruit scraps each and every day. It's likely that you have waste too. So instead of throwing it away, put these materials into a compost bin or pile instead.
For a list of material you can put into a compost bin or pile, check out the Compost FAQ section below.
8. Ask local landscaping companies
Landscaping companies often have debris like twigs and grass clippings, that make for great composting materials. Just call and ask them if they'd be willing to drop off their landscaping debris at your home after they finish a job.
The company may be happy for you to take stuff off their hands!
9. Gather up fall leaves
One of the best times to gather free materials for your compost bin is during fall. In the autumn, there are plenty of leaves on the ground just waiting to be picked up.
Just take a walk around any wooded neighborhoods nearby or any place you'd expect to find leaves on the ground, and simply sweep them up and put them into a garbage bag. This is such a simple tip for finding leaves that you can put right into your compost bin.
Each fall, collect as many leaves as you can because you can always store the extra leaves for use throughout the season. It's a great way to get a year-round supply.
10. Ask friends and neighbors
Your friends and neighbors can be a good source of composting materials.
And it's a good way to get to know your neighbors as well.
Most people will have things like eggshells, coffee, vegetable peels, and grass clippings all of which make for great composting materials.
Just ask your neighbors if they have any scraps or debris from the yard like grass clippings, that they could save for you. It certainly doesn't hurt to ask.
11. Contact Local Restaurants and Diners
Local restaurants and diners are another place to check for stuff you can put in the composter. This is because they'll have things like coffee grounds, vegetable peels and other food scraps that they usually just throw out. And lots of them!
So it's definitely worth contacting some nearby restaurants to ask if they do have any scraps that they can give you.
12. Get in touch with local Coffeehouses
Coffee grounds are great to add to a compost pile. So ask at some local coffeehouses whether they'd be willing to save the grounds for you – this can help the coffeehouse to stop the grounds from ending up in a landfill and you get some material for your compost pile.
Many coffeehouses also serve breakfast and lunch as well, so they may have some additional composting materials for you.
13. Ask at local grocery stores
Local grocery stores (and produce stands!) can be good for finding composting materials.
Since they have a lot of fruits and vegetables, grocery stores can be a goldmine for composting materials.
While large chain stores can be good, you'll usually have better luck with smaller, mom and pop places. Visit smaller local grocery stores and they'll likely be more than happy to help. Just ask the store manager if they have any expired produce that they'd be willing to give to you for your compost pile.
Although fruits and vegetables, like potatoes and tomatoes that are past their prime are not edible, they can make for a great addition to any compost pile.
14. Check post-Halloween or post-Thanksgiving
This year, I saw a lot of pumpkins in trees and outside houses in my neighborhood. After Halloween, the pumpkins in the tree were just left to rot. That's why post-Halloween or post-Thanksgiving can both be good times to look for things like pumpkins, gourds, straw, and other seasonal items. All of these can make for great materials to add to your compost pile.
Just ask around your neighborhood to see if anyone has any holiday decorations from Halloween or Thanksgiving, like pumpkins or straw bales, that they'd be willing to give to you.
15. Ask at local farms
Local farms, horse stables, and hobby farms are all good places to find materials, particularly manure, for your compost pile.
Again, all you need to do is ask! The nitrogen sources in horse, cow, chicken, and rabbit manure can really help to heat your pile to make quick compost.
If you blend the manure into your compost pile, little to no odor can be detected, so you don't have to worry about smells.
You can use a couple of five-gallon buckets with lids to take the manure home if you don't have a truck.
Compost FAQ
Here are some answers to some common questions you may have about composting.
What is compost used for?
Compost is used in gardens, as well as in landscaping, organic farming, horticulture, and urban agriculture.
Since compost is rich in nutrients, it is incredibly beneficial to the land.
Composting requires three elements:
Browns: This includes materials like twigs, dead leaves, and branches. The brown materials provide carbon for your compost.
Greens: These are materials such as vegetable peels, fruit scraps, grass clippings, and coffee grounds. The green materials provide nitrogen.
Water: The water will provide moisture to help break down the organic matter. For compost development, having the right amount of water, greens, and browns is vital.
What are the benefits of compost?
Compost has lots of benefits, like:
It helps soil to retain moisture.
It acts as a fertilizer, reducing the need for chemical fertilizers.
Compost promotes the production of beneficial bacteria and fungi that break down organic matter to create humus, which is a rich nutrient-filled material.
Composting reduces methane emissions from landfills.
Composting lowers your carbon footprint.
What can you use instead of compost?
Many people recommend using peat as a compost alternative since peat has a texture that's like well-aged compost, and it offers a similar quality of organic material. However, you should not use peat compost because of the way it is mined.
Peat that's used to make the garden compost is mostly taken from peat bogs, and the intensive mining of peat has adverse effects on the climate.
That's not all though.
Mining peat also destroys valuable ecosystems. Since many rare and endangered species live in or around bogs, this can result in their way of life being threatened.
It's not just the mining of peat that's bad though either. Using peat also has its problems. The carbon in peat, when spread on your garden or on a field, turns into carbon dioxide fast, which adds to greenhouse gas levels.
Can I use topsoil instead of compost?
Topsoil is not the same as compost. So it will not perform like compost. This means you can't use just topsoil.
Adding just topsoil doesn't ensure soil performance since some topsoil products may be inert having little to no organic matter or active soil microbes.
Can you grow in just compost?
Like I said above, you can't use topsoil instead of compost, but you shouldn't use just compost either.
Growing plants in compost alone can result in problems with water retention and stability as well.
That's why you'll want to use a mix of both topsoil and compost.
Topsoil will improve the structure and texture of the soil, which will allow it to retain nutrients, moisture and air, and effectively drain excess water.
The compost will bring important nutrients and organic matter into your garden giving your plants an ideal environment in which to grow.
So just add an inch or two of compost mixed with topsoil.
What can I put into a compost pile?
Okay, so what are good things to put into a compost bin or pile?
That's a question I see a lot when it comes to composting at home.
Here are some good materials to compost:
Fruits
Vegetables
Eggshells
Bread
Cereal
Coffee grounds
Coffee filters
Tea bags
Nut shells
Paper
Shredded newspaper
Cardboard
Yard trimmings
Grass clippings
Houseplants
Hay and straw
Leaves
Cotton and wool rags
Dryer and vacuum cleaner lint
Sawdust
Wood chips
Things like vegetable peelings and grass cuttings will break down fast and provide nitrogen as well as moisture.
Things like paper and boxes are also good to include in your compost bin.
What can you not compost at home?
There are definitely some things that you should NOT include in your compost bin or pile.
Here's what you should NOT compost:
Meat scraps
Fish scraps
Egg scraps
Poultry scraps
Fats
Grease
Lard
Oils
Diary products like milk, sour cream, and yogurt.
Coal or charcoal ash
Plants that are diseased or insect ridden
Yard trimmings that have been treated with pesticide
Pet wastes, like dog or cat feces, or soiled cat litter.
Black walnut tree leaves or twigs
Here's why you might want to avoid the above materials:
Eggs, dairy products, and meat and fish scraps can cause odor problems and pests as can fats, grease, lard, or oils.
Coal and charcoal ash contain substances that are harmful to plants.
Diseased or insect-ridden plants shouldn't be used, because said diseases or insects might spread throughout your garden.
Yard trimmings that have been treated with pesticides could potentially kill beneficial composting organisms.
Pet wastes can contain parasites, bacteria, germs, pathogens, and viruses that are harmful to humans.
Black walnut tree leaves or twigs can release substances that might be harmful to plants.
Get Your Free Compost!
Give the places above a try if you're looking for free compost near you.
Remember though that one of the best ways to get compost for free is to simply start composting at home. Create your own compost pile or get your own compost bin and start putting materials like fruit peels and paper in there.
You'll have your own source of compost that's entirely free! As you can see above there are so many ways you can get free materials for your compost bin. So composting at home is a good option.
If you're not sure where to start, check out this guide on how to compost at home.
Now you don't have to wonder "where can I find free compost near me?" you can just refer to our list!