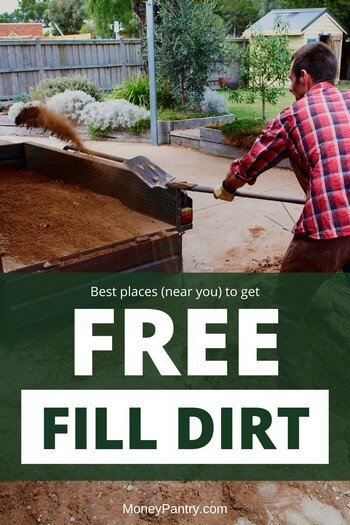 Wondering, "Where can I get free fill dirt near me?"
Fill dirt is used to fill depressions or holes in the ground, for raising and leveling land, for packing around retaining walls, and for building up ground to fix water drainage issues, or to otherwise artificially change the grade or elevation of a property.
Obviously the amount you need depends on what you need it for.
If you are building a small raised garden bed and just need a little for the bottom layer, you may need a few bags. On the other hand, if you are leveling up an entire yard, you will need a dump truck or two.
What is Fill Dirt?
Fill dirt isn't as fine or pure as topsoil.
And, it has little soil organic matter or biological activity.
Need Easy Extra $300+/Month for Free?
KashKick
: Get paid directly into your PayPal for watching videos, surfing, shopping and more.
Join KashKick Now!
Panel Payday
: Earn up to $75 per survey. They also pay up to $50/hr for mystery shopping.
Join Now!
InboxDollars
: Paid over $57 Million to members to watch videos, take surveys, shop and more.
Get $5 instantly!
Branded Surveys
: Get $1 instantly just for joining for free. Plus get paid within 48 hours by PayPal!
Join Branded Surveys
iPsos iSay:
: If you have to only sign up for one paid survey site, go with Ipsos (high paying survyes)!
Join iPsos Now!
Swagbucks
: Get paid to watch videos, shop online, take surveys and more.
Join now & get $5 instantly!
Topsoil on the other hand has a high concentration of organic matter and microorganisms and is where most of the Earth's biological soil activity occurs.
It's a rich mixture of minerals and organic matter. Topsoil, along with compost, is required if you want to grow plants, flowers, or vegetables.
Fill dirt is the layer that's beneath the topsoil in a garden or landscape.
While topsoil is great for growing plants, it is likely to shift or settle over time. So, it's not ideal if you're looking to do things like fill in a hole or level off land.
Fill dirt, on the other hand is much more stable. It contains more stones, rocks, and dense earth that's ideal for filling holes.
While you can purchase fill dirt at most home improvement stores and from local sand, gravel, or mulch suppliers, it can get expensive. If you're on a budget or are looking to save money, you might be wondering if there's any way you can get free fill dirt.
Where to Get Free Fill Dirt
Below, I'll cover the best ways you can get free fill dirt near you.
1. Ask at local construction sites
A lot of construction sites will have a bunch of dirt they need to get rid of. After all, most are digging out dirt to build whatever it is they've been hired to build.
It's a good idea to ask at local construction sites. Most towns have some sort of construction going on at any given time.
So, just visit a construction site and ask if you can have any dirt for free. They might say yes, or they may already have plans to redistribute the dirt or sell it. But, it's still worth asking.
FillDirt.org is a website that connects people who're looking to get rid of dirt with people who need dirt. All you need to do is use the form on the website linked above, and the site will match you with a supplier near you.
You can get excess dirt for free or get quotes from dirt suppliers. So, not everything is free on there, but you can find some dirt that's free on there.
DirtFill.com says that it has been connecting those with excess fill dirt and those who need it since 1986!
So, this company has been around for quite a long time. You can register on the site for free, and then post your needs/search listings for fill dirt near you. Arrangements about things like delivery, timing, and pricing are made directly between you and the other members.
Some contractors will deliver fill dirt at no charge, and others may deliver for a fee. So, have a browse through the listings on there to find free fill dirt.
A good place to look for free fill dirt near you is Craigslist as many construction and hauling companies, and other people go on there to get rid of unwanted dirt. Many offer it for free on there. What's great about Craigslist is that the site is totally free to use!
To find free stuff on the site, just go to your city's Craigslist, and then look for the "Free" section, which can be found under the "For Sale" section.
Click on this link, and you'll be taken to the "Free" section where you'll find people who're giving away free things near you. To get the results you're looking for, make sure that you type "fill dirt" into the search bar.
While there won't always be people giving away free fill dirt on Craigslist, it's definitely worth a look.
5. Swimming pool builders
As you'd probably guess, swimming pool builders do a lot of digging! They excavate land to put in pools for homeowners and have a lot of excess dirt. That's why pool builders can be a good option if you're looking to get some fill dirt for free. Take a measurement of how many cubic yards you need.
You can call around local pool companies to see if they have any fill dirt available. It's definitely worth a try if you're looking to get dirt for your yard or building a garden.
6. Local government fill dirt programs
Some cities and counties make fill dirt available to people for free. So, it can be a good idea to speak with your local city or county.
Most people know Facebook Marketplace as a platform for buying and selling stuff locally. But, it's actually a great resource for free stuff. You can find people giving away all sorts of things for free on Facebook Marketplace.
There's actually a category for fill dirt on the site, but this includes dirt that you have to pay for as well. There's a section on the site just for free items, which I've linked to in the section heading.
So, it's worth having a browse on there to see if you can find anyone giving away free fill dirt.
OfferUp is mostly known as a site where people can buy and sell stuff online, but it's also a good place to get free stuff. This includes fill dirt. There's actually a section the site just for free stuff. There, you'll find people giving away a variety of items. You can use the site to find free fill dirt near you.
You can just scroll through the free section, which I've linked to in the heading of this section, to see if there's anyone giving away fill dirt.
The only issue is that all of the free items are just sort of thrown together, so it can be hard to find exactly what you're looking for on OfferUp.
So, aside from just scrolling through the free section, you can also search for the name of the item you want. Just enter the term "fill dirt" into the search bar and hit search, and you should get a list of results.
Now, it's important to note that the results will include fill dirt that you have to pay for. So, to get the free ones, you can filter the results by "Price: Low to High."
If there's anyone giving away free fill dirt, then you'll be able to view it.
Even if you can't find any free items that appear from your search, you may still be able to see the cheapest ones on OfferUp, and still get a great deal.
I've seen lots of posts on OfferUp where people have listed free fill dirt. So, it's a great option, and one that many people may not consider.
Finally, we have Earth Movement, and this website allows you to have fill dirt delivered to you for cheap. The site helps people to connect with excavators, and construction and landscape suppliers to take their extra fill dirt off their hands.
The site says that you can get dirt delivered for cheap, but doesn't mention free dirt. I had a browse through the listings on there though, and found a few people who were giving away dirt for free.
So, although many of the listings on there do charge, some offer dirt for free. So, just enter your location into the search bar on the site, and browse through listings of fill dirt.
How to Avoid the Dangers of Free Fill Dirt
It's really important to be careful with accepting free fill dirt because it can be low quality, it could contain unwanted debris or junk, or it could even be contaminated with harmful substances.
It's really important to know what dirt you're actually getting.
So, in this section, I just want to share with you some tips on how to protect yourself from bad fill dirt.
Ask questions about the fill dirt
When it comes to getting free fill dirt, it will most likely be offered by people that you've never met and companies you've never heard of before. Sadly, some people will be misleading or even lie about the quality of their fill dirt because it's easier to get rid of clean and screened fill than common fill.
This means that just because an ad says that the fill its offering is clean, it doesn't mean that it is.
So, it's important to ask questions to learn more about the fill and to see if you're dealing with a legit person.
Here are some questions to ask the person who's offering the free fill:
Where did the fill come from?
What type of fill is it?
Does the dirt contain any debris, large rock, roots, or trash?
Has the dirt been screened?
What are safe uses for this dirt?
Has the dirt been tested? Is it certified clean?
Who tested the dirt? Can you see the paperwork?
Do you offer any guarantees on the dirt?
Yes, this line of questioning may scare away some people, but if the person offering the dirt is honest and offering good fill, then they should have no problem with discussing where the dirt came from and any other questions you may have.
Ask to view the source of the dirt
This isn't always possible, but it if you can, it can be a good idea to go directly to the source of the fill. This is because doing so can give you a better understanding of what's being offered.
For example, you might find that the dirt on offer is being excavated from the side of a highway that is littered with trash and debris. This type of dirt wouldn't be useful for filling for back yard, so you wouldn't want to use it.
Test the fill dirt
If you are planning to use fill dirt beneath a new home or building, then it is best to have it tested by a soil engineer. You don't want to risk an unstable foundation or exposing you, your family, and your pets to any hazardous materials.
Soil testing can be cheaper than you think as well.
According to Clemson University Regulatory Services, a standard soil test only costs $6. Cutting corners can have consequences, so to make sure that soil you're using is safe, consider getting it tested!
Avoid fill dirt from these sources
Although getting free dirt can save you money, it can be risky. Dirt from certain sources should be avoided. You don't want to use potentially dangerous soil on your property.
So, avoid these sources of dirt:
Ditch cleanouts: Although road crews are often happy to give away the dirt that they dig out of ditches, it usually contains lots of litter, weed seed, and environmental contaminants from all the vehicle traffic.
Potentially contaminated sites: Places like old home sites, urban lots, and industrial areas are likely to be contaminated with dangerous levels of heavy metals and hazardous materials. That's why it's best to avoid getting fill dirt from these places.
Unknown sources: When you see offers for free fill dirt, you don't really know what you're getting. That's why it's important to ask, as I mentioned above, where the dirt is from, and view the source yourself if you can. Don't get free fill dirt from unknown sources. Local construction sites are a good option because you can see what you're getting and you know where it came from. Be sure to ask questions about the source of the dirt and take a soil sample to have it tested.
FAQ
Here are some answers to some common questions that people have when they want to get free fill dirt.
Where can I get free fill dirt near me?
Some of the best places to get free fill dirt near you include local construction sites, FillDirt.org, and Craigslist. Check out our list for even more options.
What can I use instead of fill dirt?
Some people try to use topsoil rather than fill dirt. However, topsoil tends to be looser than fill dirt, so it shifts and settles more. Fill dirt is much more stable. Topsoil can be used instead if you are filling holes, but you will tend to need more of it, and it typically costs more than fill dirt. If you need to fill in a large expanse or you want to level ground, then you will need to use fill dirt.
How much is 1 yard of dirt?
Bulk soil is measured in yards. So you may want to know how much 1 yard of dirt is. 1 yard equals 27 cubic feet.
Should I use fill dirt or topsoil?
Fill dirt is great, and you can use it for so many different projects. However, it lacks organic matter. If you are looking to fill in space, then, as its name suggests, fill dirt is going to be your best option. If you want to grow something, like vegetables or plants, for example, then you are going to want the organic matter that topsoil offers. So, topsoil is best when you're growing stuff and fill dirt is best when you're filling stuff in.
Do I need a pick up truck?
That depends on how much dirt you need. Even if you need a truckload but don't have a pickup truck, you can always rent one from your local home improvement store.
Closing Thoughts
If you need to level off land or fill in an area on your property, then you're going to need fill dirt.
The cost of fill dirt can really add up, which is why so many people online ask, "Where can I get free fill dirt near me?"
Thankfully, weather you need a few bags or a truckload of fill dirt, you have a lot of options, like local construction sites, FillDirt.org, Craigslist, swimming pool builders, and OfferUp.
Please keep in mind though that there are risks involved from using free fill dirt, because you don't always know where it comes from. So be sure to ask where the dirt comes from and consider getting it tested.
Obviously, your safest option is to purchase it from a well-known home improvement store. If it's a small or medium project, then the cost of standard fill dirt won't be too much. When your budget is tight though, free fill dirt is awesome. Just make sure you follow those safety precautions that I mentioned before.