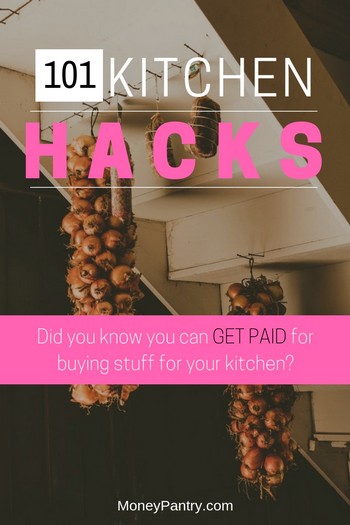 Tired of wasting food?
Want to spend less on your groceries?
Well, there are plenty of ways to do both!
Below, we offer a list of kitchen hacks to save you time and money.
They're quick, easy, but super effective. Some of them are like fun 5 minute craft kitchen hacks.
Using our tips, you'll prevent food wastage and save money by cooking at home more often.
Need Easy Extra $300+/Month for Free?
KashKick
: Get paid directly into your PayPal for watching videos, surfing, shopping and more.
Join KashKick Now!
Panel Payday
: Earn up to $75 per survey. They also pay up to $50/hr for mystery shopping.
Join Now!
InboxDollars
: Paid over $57 Million to members to watch videos, take surveys, shop and more.
Get $5 instantly!
Branded Surveys
: Get $1 instantly just for joining for free. Plus get paid within 48 hours by PayPal!
Join Branded Surveys
iPsos iSay:
: If you have to only sign up for one paid survey site, go with Ipsos (high paying survyes)!
Join iPsos Now!
Swagbucks
: Get paid to watch videos, shop online, take surveys and more.
Join now & get $5 instantly!
And, we've broken our tips up into categories, so you can easily find what you're looking for, whether it's cleaning hacks or storage hacks that will save you cash.
Here are some of the best kitchen hacks you need to try…
Food Storage Hacks
Our first category is food storage. Now, the way in which you store food can actually have a big effect on your budget.
If you store foods the right way, you'll keep them fresher for longer, and prevent food wastage.
So, check out these food storage hacks, and save yourself time and money!
1. Keep bananas fresh for longer with plastic wrap
A good trick to keeping bananas fresher for longer is to wrap the stem ends in plastic wrap.
You can wrap them as a bunch if you want, but wrapping them separately is even better.
2. Use an onion to stop avocados from going brown
It seems like avocados turn brown in the blink of an eye.
If you want to keep leftover avocado fresh, then store it with a cut onion.
Onion contains sulfur compounds that prevent the oxidation that's responsible for turning avocados brown.
Place your cut onion onto the avocado skin, and it will stay green for a day or two.
3. Never store cheese in direct contact with plastic
Wrapping cheese in tight plastic wrap causes bacteria growth and the cheese to go off quicker. Plus, cheese can absorb some of the odors from the packaging, which you definitely don't want.
Instead, wrap it in wax paper, and then put it back in the plastic packaging – but only seal the plastic partially.
4. Use marshmallows to stop brown sugar solidifying
It's annoying when you come to use the brown sugar and it's as hard as a rock.
To keep it soft, place a couple of marshmallows in the brown sugar bag.
5. Keep baked goods fresh for longer with a piece of bread
Baked goods, like cookies and cake, can dry out and you end up having to throw them out.
However, there's an easy way you can prevent them from drying out – just place a slice of bread on top of your baked goods and the bread will help them to retain their moisture.
6. Make tomatoes fresher for longer
Tomatoes can go bad fast – meaning you're left with a mushy mess when you come to use them.
But, there's an easy way to make them last longer – store them with the stem end down. This stops moisture from getting into the tomato too quickly.
7. Put a peg on open packets of chips to keep their crunch!
When you open up a bag of chips or any other snack that comes in a bag, but don't finish it, then fold the bag and put a clip on it.
This will keep your chips crunchy and fresh, as they should be.
8. Place boxed foods in food storage containers
Snack foods or other items that come in boxes can often go stale – avoid this by placing them into food storage containers.
9. Use an apple to stop potatoes from sprouting
If you store your apples alongside your potatoes it will prevent the potatoes from sprouting.
10. Store asparagus in water
You can maintain the freshness of asparagus by storing the stems in water. Then, cover them loosely with a plastic bag.
11. Place oil in small jars to extend its shelf life
Buying a large container of cooking oil, such as olive oil, always works out cheaper. But, it doesn't always last that well when kept in the kitchen. An easy way to extend its shelf life is to decant some of it into a small bottle that you can refill as needed.
Then, store the large bottle of oil in a cool dark place, away from the heat of the kitchen.
12. Keep whole wheat flour in the fridge to keep it fresh
Since whole wheat flour contains wheat germ, it easily spoils in warm temperatures. So, keep it in the fridge instead to maintain its freshness.
13. Put mushrooms in paper bags to make them last longer
When stored in plastic packaging, like the one they come in when you purchase them, mushrooms spoil quickly.
To make them stay fresher for longer, store them in brown paper bags.
14. Store ripe and non-ripe fruit separately
Some ripe fruit releases ethylene gas that causes other fruits to ripen too quickly. So, make sure that you store ripe fruit away from fruit that's not yet ripe.
Bananas, for example, give off a lot of this gas.
15. Don't store produce – or milk products in the refrigerator door
Don't store milk or produce in the door of the refrigerator.
Why?
Since the door is opened often, the temperature there can fluctuate significantly. Store them in the back of the fridge instead.
16. Use shower caps to cover food
If you're out of plastic wrap, then consider using a shower cap instead. If you already have them in the house, you save money and get an effective tool for covering your food.
Shower caps cling tightly to a dish, keeping out bugs, particles and other debris that might spoil your food.
Plus, they're so easy to use! Just place them over – much easier than foil or plastic wrap (see our next tip to make using plastic wrap a whole lot easier as well).
17. Keep plastic wrap in the fridge to make it easier to use
Plastic wrap can be annoying and awkward to use. When you pull off a sheet it can get tangled on itself, or it just won't seem to stick to the dish or container you're trying to put it on.
But, to make it more workable, store the roll in the fridge. Chilling plastic wrap makes using it to store leftovers much less of a hassle, as you can easily transport it from the roll to your plate, bowl or any other dish you're using.
It's much less likely to stick to itself when you tear it off the roll, but it will stick to the item you want it to.
Kitchen Organization Hacks
Next up is kitchen organization hacks. Organize your kitchen well, and not only will you be able to find things more easily when you need them, but you can also save yourself some money.
Check out these kitchen organization tips, and you'll save cash and time in the process.
18. Store perishable items at the front of the fridge
To prevent food wastage, store perishable goods, like vegetables and fruits near the front of your refrigerator.
This prevents you from finding rotten food at the back of the fridge!
19. Have an "eat-first" basket
This can prevent food wastage even further. Keep a basket near the front of the fridge, and place all of the items that are close to expiring into it.
This means that foods close to their use-by-date will get used before they go off, rather than getting forgotten about at the back of the fridge.
20. Keep your pantry and refrigerator organized
Organizing your kitchen more can help you prevent food wastage and stops you from buying food items that you already have at home.
Keep sauces together, pasta together, etc.
You don't have to alphabetize everything – but just keep items together. Then, you'll know exactly what you have in your pantry.
21. Repurpose an old egg carton into a condiment organizer
This is a super simple way to save room since condiment bottles take up a lot of space. Just put your sauces upside down into an egg carton.
Not only do you save space in your refrigerator, but since the bottles are upside down, it makes squeezing out the condiments easier. So, you don't go through condiments as quickly.
22. And use an old six pack container for larger condiment bottles
For larger condiment bottles, use an empty six pack container and keep them organized in the door.
23. Place plastic magazine holders in the freezer for instant storage
For instant storage, stack plastic magazine holders on top of each other on their side, and place them into the freezer. They act as shelves, help you to better use the space in your freezer and make your freezer more organized.
24. Attach a spice rack to the back of your cupboard door
Spices and herbs take up a surprising amount of space – so attach a spice rack onto the inside of a cabinet door. It organizes your spices, meaning you can easily find them when you need them.
And, it only takes up a few inches of cabinet space, leaving the rest of the cabinet free for storing something else, like other food items, or tableware.
25. Hang your pans from the ceiling and save a ton of space
This is such an easy way to save space in the cabinets. You can free up a whole cabinet or two by hanging pots and pans from the ceiling.
Plus, if you get a stylish overhead rack, then you have a decoration for your kitchen as well.
26. And, use a curtain rail to store pan lids in a neat and space-efficient way
Simple, but super effective, this trick will get annoying pan lids, which always seem to take up a ton of room in the drawers and cabinets, stored neatly, and efficiently away.
All you need is a curtain rail and a few other pieces of equipment. Check out this tutorial for creating a pot lid organizer using a curtain rail.
27. Utilize unused space between units/next to the fridge with a roll out pantry
No matter how we organize our kitchens, there always seems to be that useless space between the refrigerator and the wall. That's why this roll-out pantry is a genius idea.
Basically, it's a super thin case, with shelves, sort of like a bookcase, that's designed to fit into an empty space next to the fridge. You store your food items on it, and then just roll it out when you need it. Check out this tutorial for making this roll-out pantry.
28. Save space by using a tension rod to hang cleaning products
Under-sink cabinets tend to be pretty crammed. But, you can easily free up some space, and organize an under-sink cabinet by installing a tension rail a few inches from the top of the cabinet.
Then, you can use the rail for storing and organizing spray bottles. Just hang the spray bottles on the rail – you can simply use the underneath area of the spray trigger to hang them.
Kitchen Cleaning Hacks
Another area where we spend a lot of time and money in the kitchen is with cleaning it!
Whether it's appliances, like the microwave, your coffee mugs, or the cutting board, we show you simple tricks for keeping your kitchen clean on a budget.
29. Clean the microwave and sponge at the same time
Soak a sponge in water and microwave it for a minute or two. Doing this will loosen any grime or dirt inside the microwave, making it easier to clean.
But, that's not all…
You'll also disinfect the sponge at the same time. Sponges carry a lot of germs, but since it wouldn't be very cost-effective to throw them out after each use – microwaving them is such a good idea. It kills bacteria, like e Coli.
Do not microwave a sponge that contains any metal, or put a dry sponge into the microwave, as it could catch fire.
30. Or steam clean the microwave with just lemons and water!
Just squeeze lemons into a microwave safe bowl with water, and mix the two together.
Then microwave the bowl until you start to see steam. This steam will help to clean and loosen stains and grease.
Just remove the bowl, and wipe the microwave. This is another cost-effective way to keep the microwave clean.
31. Use the same cup all day and cut down on dishwashing
Use the same cup all day. It saves money on dishwashing supplies, and water, not to mention time.
And, if you have a family, then give each member their own colored cup. Then, everyone will know which cup is theirs.
32. Make coffee-stained cups pearly white again
Coffee can do a real number on mugs. But, you can easily remove stains and restore cups to their former glory using baking soda.
Just place some into the inside of the mug, and add some warm water. Leave the mix to work for a few minutes, then take a scouring sponge or cloth and wipe the inside of the cup.
If all of the stains aren't removed, then repeat the process. Then, wash and dry the cup as you normally would.
33. Remove food smells from your hands with lemon and baking soda
After chopping foods like onions, or garlic, your hands end up smelling – even after you wash them multiple times. This is quite annoying.
Well, there's an easy way to remove food smells. Take some lemon juice or baking soda, and rub your hands with them. It's great for neutralizing those scents.
34. Or use stainless steel to remove odors
Try rubbing your hands on stainless steel. It sounds strange, but the sulfur compounds from the onion, garlic or fish, which is what causes their scent, binds to the steel and therefore removes the odor from your fingers.
You can even buy stainless steel "soap", which is basically stainless steel that's in the shape and size of a regular bar of soap. But, any stainless steel item that you have at home will work.
35. Use stale bread to clean the coffee grinder
Coffee grinds often clump inside the grinding well, which can be annoying. But, did you know that stale bread can actually remove these stuck-on grinds?
Really – it can!
Just put a few chunks of stale bread into the grinder, pulse it, and then the coffee will stick to the bread crumbs.
Then, just remove the crumbs, and your coffee grinder will look as good as new. You save money on cleaning supplies, keep your current grinder working efficiently, and put that stale bread you were just going to throw out to good use.
36. Refresh wooden spoons by boiling them
If your wooden spoons are started to look, and smell, a little tired, then there's an easy way you can freshen them up.
Place them into a pot of boiling water, and then leave them to boil for at least 5 minutes. Then, dry them in the sun.
37. Use lemon and salt to remove debris and food smells from wooden cutting boards
As you can see from the other tips in this section, lemon is a cost-effective cleaning solution. You can use it in so many ways – and another way to use lemon is to keep your wooden cutting boards looking new.
Take some coarse salt, and then sprinkle it over the cutting board. You want to make sure that it's well-coated. Then, take half a lemon and rub it over the surface of the chopping board.
Leave the lemon and salt to sit on the cutting board, and then rinse away the mixture. The mixture should remove odors, and help to reduce stains. Plus, since the mixture contains salt, an abrasive substance, it should help to remove any trapped debris from the cutting board.
38. Use a binder clip to keep your kitchen sponges dry – and therefore cleaner, for longer
Sponges become pretty gross, pretty fast. But, a good way to prevent bacteria build-up is by keeping the sponge dry. And, a simple binder clip can make this super easy.
So, once you've used a sponge, use a binder clip to keep the kitchen sponge upright – just put the clip upside down. Then, the sponge will dry faster, meaning bacteria won't build up as quickly. You buy fewer sponges by doing this.
39. Let the blender clean itself
Since I make a lot of smoothies, with vegetables, and fruits, I've used this trick to save me time.
Sometimes, cleaning the blender after you've used fruits and vegetables can be time-consuming, and even if you put it into the dishwasher, it doesn't always remove all of the debris. But, to make the whole process easier, put some washing detergent and water into the blender, and put the blender on for a minute or so.
This effectively removes debris, and when it's done, you can just pour the water out, and rinse the blender with hot water to remove the remnants of the dirty water and excess soap, and it's clean!
40. Use plastic sheets to line the shelves of your fridge to keep it clean
One of the most time-consuming parts of cleaning the kitchen is wiping the fridge shelves. You have to remove them and scrub them because food items often spill out onto them.
One easy trick to keeping shelves clean is to line them with Press N' Seal cling wrap or any type of plastic wrap. Then, when stuff spills out, it goes on the plastic, rather than on the shelves. You can simply remove the plastic and replace it when there's a spill, saving you time on cleaning.
41. Scrub the oven with baking soda to get it super clean!
Baking soda is an effective cleaning agent – and it works wonders on ovens. Empty the oven, and then, combine half a cup of baking soda with a few tablespoons of water. You need to make a baking soda paste, so if the mixture is too thick, then add more water, and if it's too thin, then add more baking soda.
Then, spread the paste all over the oven, but avoid the heating elements. It's best if you wear gloves while handling the mixture.
Leave the baking soda paste in the oven for at least 12 hours, or overnight, and then, wipe it away.
42. And, use baking soda, with an old toothbrush and sponge to make your sink sparkly clean
Baking soda is great for making stained or dull-looking stainless steel sinks clean again. Just create a paste-like in the oven cleaning instructions above.
Apply the mixture to the sink and leave to sit for a few hours. Then, scrub the sink with a sponge, and use an old toothbrush to get the smaller areas, such as the drain. Rinse away the baking soda, and you'll have a sparkly clean sink.
43. Pour boiling water and washing detergent down the drain frequently to prevent clogs
Oils from the food you make can easily build up in the pipes and cause clogs in the kitchen sink. So, pouring boiling water and washing detergent down your drain breaks up this oil, and prevents it from building up. The detergent contains surfactants, which emulsify the water and oil, which normally don't mix. So, the mixture removes oil effectively.
44. Clean stainless steel items with flour
Really! Flour is an effective way to make dull stainless steel appliances shine. Just put some dry flour onto a cloth, and then clean your stainless steel items with it. Rinse the flour away, and the surface of the item should be super shiny.
45. Use salt and lemon to remove rust from utensils
This works really well. Rust can easily build up on stainless steel silverware and cooking knives – leaving them looking spotty, especially if you use the dishwasher to clean them.
Just take a lemon, cut it in half, and put coarse salt onto it. Now, use the lemon to scrub any items that you need to remove the rust from. If you see that the salt has disappeared, then add another teaspoon to the lemon. Then, leave the lemon on the items for five minutes.
Rinse the lemon away, but make sure you hand dry the items to prevent rust from forming again.
46. Keep the garbage disposal clean and fresh with lemon juice and vinegar
This keeps the garbage disposal clean. Just chop lemons into small slices and then freeze them in vinegar. Then, every few days, run the lemon-vinegar ice cubes through the garbage disposal, and it will stay fresh.
Food Preparation and Cooking Hacks
In this section, we cover simple food preparation and cooking tips that can save you a whole lot of time and money.
In this section, you'll find tips on preparing food, from defrosting foods more quickly, to hacks for making foods easier to peel, and cooking tips that save you time and hassle!
47. Use cold water to make sure your potatoes stay white
Keep potatoes nice and white by covering your chopped potatoes with cold water before you cook them. Since cold water can remove some surface starch, which can oxidize, and turn your potatoes a different color, this simple trick keeps potatoes white.
48. Ripen bananas faster – so you don't have to buy more!
If you need a ripe banana, but only have unripe ones at home, don't rush out to the store to buy more. Save yourself some money, and ripen the bananas that you already have at home.
Just place the banana into a paper bag, and, since the ethylene gas that the fruit releases will be more concentrated, it will help the banana to ripen quicker.
49. Check whether eggs are fresh with this simple trick
If you're not sure whether you need to buy new, fresh eggs, then try this easy hack. Place the raw eggs into a bowl of cold water, and keep the ones that sink to the bottom, and get rid of the ones that float. Older eggs tend to float more than fresh ones.
50. Put garlic in the microwave to make it easier to peel
Peeling garlic is one of the most frustrating parts of cooking – especially when you're in a rush! It seems to take forever, and your hands get all sticky! But, there's a simple way to peel garlic.
Place garlic bulbs in the microwave for a really short time – less than 10 seconds, so you don't cook them, and when they come out, the skin should easily peel off.
This is a tip I use often, and it saves so much time. Obviously, microwave ovens vary. So, if ten seconds isn't enough to make the skin easier to peel, then put the garlic in the microwave again for a few more seconds – just don't overdo it, or you'll cook the garlic.
51. And, do the same with limes too, and you'll get more juice from them
You can do the same thing as you did with garlic but for limes and lemons. I use this trick a lot. Often, you don't get all of the juice out of a lime – but an easy way to ensure you get it all is to place the whole lime into the microwave for 20 to 30 seconds.
Then, when you use the lime, you'll get much more juice out of it. Like, we said above, this also works with lemons.
52. Freeze cheese to make it easier to grate
Grating soft cheese, like mozzarella, can be tricky, and messy! An easy way to make it a less messy affair is to freeze the cheese before you use it, for about 30 minutes.
53. Pour berries into cold water to make them defrost quickly, without turning them to mush
The best way to defrost berries is by putting them in the fridge overnight. But, if you forgot to get them out the night before, then placing them into a bowl of cold water is much more effective than defrosting them in the microwave, which can make berries go soggy.
So, take the berries, place them into a bowl, and cover them with cold water. Then, leave them to thaw. It should take around five minutes for a cup of berries to defrost, so if you plan to thaw more or less than that, then adjust the time accordingly.
54. Waste fewer ingredients by spraying measuring cups with oil
When you measure out sticky ingredients like honey, you end up wasting a lot of them. An easy way to get more out of the honey jar, and prevent waste, is to spray or wipe the measuring cup or spoon with cooking oil. The oil helps the honey, or whatever ingredient you're using, to slide off the spoon or cup more easily, without leaving anything behind.
55. Get melted butter back to its original state with an ice bath
It's easy to over-soften butter, and then end up having to throw it out. Just put the butter into a small bowl. Then, fill a larger bowl with ice and cold water, and place the butter bowl into the larger bowl. This should bring the melted butter back to its solid form. This is such a good way to prevent waste.
56. Use a warm glass to soften butter – but not so much it turns into a puddle!
When you put butter in the microwave to defrost, it can easily turn from a solid block into a puddle.
An easy way to soften butter is to fill a glass with hot water until it becomes warm on the outside. Then, pour away the water, and quickly dry the glass. Place the warm glass over the butter, and leave it for around a minute, and the butter will be softened.
57. Remove skin from potatoes without a peeler
Gently run a knife around the circumference of the potato – around the middle of the potato and not from top to bottom. Don't make the incision so deep that it cuts into the potato, but just enough to cut the skin.
Then, boil the potato. And, once it's boiled, place it into an ice bath.
Then, the skin will separate from the potato, and you can just pick it off.
58. Use an ice cream scoop to easily remove seeds from fruits
Doing this can easily remove seeds from fruits, like squash and pumpkin.
59. Twist stone fruits to remove the pit
Cut a stone fruit, like a nectarine for example, in half, and then twist the halves in opposite directions. This makes the stone easier to remove. You can just use your fingers to take the stone out or a table knife.
60. Use baking soda or vinegar to make peeling eggs easier
Since these ingredients can permeate the eggshell, they help the egg white to separate from the shell. Just add baking soda or vinegar to the water you boil the eggs in, and the shell will be much easier to remove.
61. Use a bundt pan to get corn kernels off the cob
Just place the pointy end of the cob on the center hole of the pan – make sure the open part of the pan is facing up. Then, gently push the cob downward, and it will slice the kernels off the cob. Plus, it also collects the kernels.
62. Freeze onions before you chop them to prevent teary eyes
Just make sure that you only do this with onions you're going to cook, rather than onions you need to eat raw, like on a salad for example. This is because the thawed onion will likely be a bit too soggy to be eaten raw.
63. Soften butter faster by grating it
This is another simple trick to softening butter faster.
If you've got a block of hard butter on the counter, and don't have time to wait for it to soften, or can't be bothered with accidentally turning into liquid in the microwave, then just use your cheese grater to grate the butter. Then, you'll have spreadable or mixable butter fast!
64. Put a wooden spoon across a pot of water to prevent it from boiling over
It's annoying when a pot boils over. But, this simple trick prevents it! Since wood isn't a conductive material, the hot water tends to stay away from the spoon.
65. Make hard-"boiled" eggs in the oven
Maybe you can't be bothered watching over a pot of boiling eggs, or maybe you need to cook a big batch of them at once – whatever the reason, sometimes boiling eggs on the stove isn't the best option.
This is why the oven makes such a great alternative. Place the eggs, still in their shells, into a muffin pan.
Place one egg in each of the muffin cups. Then, bake them at 350 degrees for around 30 minutes.
While they're baking, you can be off doing something else – no more watching over a pot. And, you can easily make a dozen of these eggs at once, rather than having to do them in smaller batches, as you probably would have to if you were to make them on the stove.
66. Put two slices of bread in a single toaster slot to make a great sandwich
This is a genius trick for making the perfect toasted sandwich. Just place two slices of bread into a single toaster slot, and the bread will be toasty and warm on the outside, but still nice and soft on the inside.
67. You don't always have to flip food halfway through cooking
Many people think they have to flip food when roasting it. But, this isn't always the case. You don't always have to flip your food. Just make sure that you pre-heat the baking sheet first.
For example, items, like French fries, vegetables, and breaded chicken, like Katsu chicken, don't need to be flipped when you pre-heat your baking sheet.
Freezing Hacks
In this section, we cover tips on how to freeze foods efficiently, and what foods to freeze, so that you prevent waste, and keep food costs down.
68. Make your own flavored butter/oil with leftover herbs
Since herbs wilt fast, we tend to throw them out. Before they go bad, chop them up and mix them into some butter or olive oils. Then, place the mixture into ice cube trays.
You can then use this flavored butter/oil to season vegetables or to sauté onions for example.
69. Freeze shelled nuts to keep them fresh for longer
Shelled nuts can spoil quickly. To prevent them from going rancid, freeze shelled nuts. You'll preserve them for later use.
70. Keep the freezer full to improve its efficiency
Keeping your freezer fuller is actually better for it, than keeping it on the emptier side.
When there are more items in the freezer, the items chill each other, meaning it's easier to keep food cold and it requires less energy. Don't think that you have to rush out and spend a bunch of money on a ton of food to fill the freezer though. You can just fill some bottles with water – to around 75% capacity and then put them into the freezer and fill up the space.
71. Make easy to use stock using ice cube trays
Need stock in a rush? Then, make it in bulk and freeze it in ice-cube trays. Then, you'll have a supply ready and waiting when you next need it. And, since it's frozen in the trays, you can just put an ice cube into whatever it is you're making. You don't need to defrost anything.
72. Freeze cookie dough in cookie-sized pieces for a quick and easy treat
This is a great trick when you're short on time. Next time, you make cookies, double the recipe and then half the dough and put it aside. Cut the extra half into cookie-sized portions, and freeze them.
Then, when you next fancy making cookies, just take however many portions of dough you need out of the freezer, and you'll have hot cookies much quicker.
73. Make pizza dough in bulk and freeze it for later use
Again, when you don't have much time, this is a great tip. When, you next make pizza dough, double the recipe, and then freeze half of the dough, or if you have leftover dough, freeze it.
Then, the next time that you need dough, you can just remove it from the freezer, and you'll have pizza ready much faster.
74. Marinate meat and freeze it for later use
Many recipes call for you to marinate meat, whether it's chicken or pork, overnight, or at least for a couple of hours. But, it's easy to forget or to just change your mind at the last minute about what you're having for dinner – and then you have to wait hours after work for the meat to marinate.
Well, why not take chicken, pork, beef or whatever meat you want to marinate, and place it into a freezer bag in a marinade you like, and freeze it. Then it's ready whenever you need it. You can simply defrost the meat and cook it – it's a great way to get a quick and easy dinner.
75. Freeze sliced bread and keep it fresh for up to six months
If you've got a lot of sliced bread left in the pack, and you know it'll probably go stale before you use it all, then just take some freezer bags, and place two pieces of bread into each one.
Put the bread in the freezer, and it will stay fresh for up to six months. Then, since each bag only contains two slices, you can take the bread out of the freezer as you need it.
76. Blanch vegetables to retain their flavor before you freeze them
Vegetables can go mushy and slimy pretty fast – meaning you often have to throw them out. That's why freezing them is a good idea. But, there's a simple hack to successfully freezing vegetables – blanch them first.
Putting them in a pot of boiling water for a short period, before you freeze them, maintains the flavor of the vegetables. Check out this guide for blanching vegetables.
77. Prevent milk from going bad by freezing it
If the milk's going to go bad before you get to use it, then freeze it. You prevent waste and save cash in the process. Just keep in mind that when you freeze milk it expands, so make sure that the container is only about three-quarters full before you place it into the freezer.
78. Freeze yogurt – it works great in smoothies
To keep yogurt from going bad before you get the chance to use it, break it up into small portions and freeze it – freezing it in ice cube trays is a good idea.
This is a good tip if you make a lot of smoothies since you can just take out chunks of frozen yogurt, and put them straight into the blender when you need them. The frozen yogurt will help to create a cold, refreshing and creamy smoothie.
79. Freeze pureed avocado and have guacamole in seconds
Avocado is one of those annoying fruits that turn bad quickly. A great idea to use up avocados is to puree them, and freeze them.
When you freeze whole avocados they can turn too mushy – but pureed avocado freezes really well. So, it works perfectly for making guacamole. Just add some lemon or lime juice to the puree, to keep it from browning, place it into an airtight container, and then put it into the freezer. Then, you can quickly and easily make guacamole when you want to.
80. Keep open potato chips crispy by storing them in the freezer
Did you know that freezing an open bag of potato chips keeps them crispy? Just store any open packs that you don't plan to use in the freezer, and it will prevent them from getting stale.
81. Keep berries whole by freezing them on a baking tray first
When you freeze berries, they can clump together, lose their structure, and become a soft, mushy mess when you come to defrost them. Keep the berries whole by putting them onto a baking sheet in a single layer, and then place the tray into the freezer for long enough for the berries to freeze.
When the berries are frozen, place them into a freezer bag, and put them back into the freezer.
82. Freeze tomatoes to make pizza and pasta sauces
Have tomatoes ready all year round, and prevent wasting them by freezing whole tomatoes. Like with the berries above, you'll need to freeze the tomatoes in a single layer first, before transferring them into a freezer bag. Then, you'll have them ready when you need them to make quick sauces and soups.
83. Use a rolling pin to make beef defrost quicker
If you forget to take the meat out of the freezer before dinner, it can take such a long time to defrost. But, ground beef will defrost quicker if you press it as thinly as possible using a rolling pin before you freeze it. This increases the surface area of the meat, meaning that it will defrost faster.
84. Keep nut and seed flours fresh by keeping them in the freezer
These types of flours can go bad quickly. So, if you're not planning to use the whole bag quickly, then separate the bag into smaller freezer bags, and place them into the freezer. Then, when you next need flour, you can just take it out of the freezer.
85. Peel and freeze ginger to have it on hand when you need it
Having fresh peeled ginger on hand is way more convenient than having to peel and chop the root every time you cook.
So, peel a few large pieces of ginger, and then break them up into one inch pieces. Then, place the pieces into a freezer bag and put it into the freezer. Then, when you next need garlic, just take a piece from the freezer and grate it directly into the dish – you can do this while the ginger is still frozen.
This is such a quick and easy way to incorporate fresh ginger into your meal. Just, make sure that you put a few batches into the freezer every now and then to keep your supplies up.
86. Cut potatoes quickly using an apple slicer
An apple slicer can be a multi-purpose tool. You can use it to quickly and easily cut potatoes.
87. Bake or grill fish on a bed of lemons
I do this all the time because it saves me from having to oil the baking sheet. Just place the fish you plan to grill or bake onto a bed of lemons, and not only will it prevent the fish from sticking, but it will also flavor it too – and lemon and fish is a classic combination.
88. Freeze wine in ice cube trays to cook with later
Freezing wine in ice cube trays makes cooking sauces, stews and other meals that require wine a whole lot easier. Just take a cube out, and put it directly into your meal.
89. Be more specific when labeling freezer items
You might think that writing "stew", "curry" or "casserole" would be enough to keep your freezer organized. But, it's easy to forget what stew, or curry, or casserole was actually in that bag if you're freezing a few of the same type of meal.
So, be specific. Instead of just writing "stew" on the bag, list some of the ingredients, like "beef, red wine, and potato stew" for example. Make sure you put a date on it, so you know how long it's been in the freezer.
Miscellaneous Kitchen Hacks that will Save you Money
Above, we've covered lots of kitchen hacks to save money, from food storage tips to cleaning tips. But, there are plenty of other things that you can do to cut costs and save time in the kitchen.
90. Restore crystallized honey with hot water
It's annoying when a half-full jar or bottle of honey becomes crystalized – throwing it out seems like such a waste.
Fortunately, there is something that you can do to restore it. Place the container of honey into a bowl of hot water, and leave it there for five to ten minutes. This should make your honey nice, clear and smooth again.
And, another tip for keeping honey good is to keep it in the refrigerator – since honey can crystalize due to temperature changes.
91. Save on store-bought salad dressings and use up a near-empty mayo jar
When the mayo jar is almost empty – don't toss it out. Instead, add lemon, oil, garlic, and fresh herbs to the jar, and shake the jar vigorously.
This creates a nice salad dressing that uses the remnants of the mayo.
92. Use lemon juice to prevent cut fruits from browning
Once you cut fresh fruit, it turns brown fast, meaning that storing it for later use is hard. However, you can prevent it from browning by adding a squeeze of lemon juice to it.
The citric acid in the lemon slows down the oxidation process responsible for the browning.
93. Revive yesterday's pizza while the oven pre-heats
Rather than throwing out pizza from yesterday, you should put it into a cold oven and then when the oven is preheated, take the pizza out.
It will be nice and warm, but it won't be soggy or overcooked since you won't have cooked it further.
94. Use dental floss to cut soft cheese – and it works great for other stuff too!
Slicing soft cheese can be a little difficult and messy. So, using dental floss makes it so much easier – you cut them effectively without smooshing them.
95. Get shredded chicken using your standing mixer
You can have shredded chicken in a few minutes – and you don't have to burn your fingers while you try to shred it using forks. Just put the cooked chicken into your mixer, and use the paddle attachment to "mix" it for a few minutes. Then, you'll have shredded chicken without any hassle!
96. Repurpose leftovers
This is one of the easiest ways to save money. Leftover chicken, for example, can be used in salads, and vegetables can be used in frittatas.
97. Put a cup of water in the microwave when reheating baked goods
This prevents them from drying out, as the water adds moisture to the air.
98. Warm pasta evenly by making it into a donut shape
Reheating pasta dishes evenly can be tricky, and you often find that the dish is super hot around the edges, but stone cold in the middle. To warm leftover pasta evenly, put it onto a plate and make a hole in the middle of the meal, so you create a donut shape.
99. Drape a moist paper towel over bread when heating it in the microwave
Drape a moist paper towel over bread before you place it into the microwave. Then, when you reheat it, the bread will be bread soft and moist again.
100. Cool coffee, without diluting it
If you need to cool down a cup of coffee, but don't want to dilute it, then try this tip. Fill an ice cube tray with leftover coffee, and put it into the freezer – you can even add milk or sugar to it if you want to. Then, when you need to cool down your coffee, you can just put one of these coffee ice cubes into it, and it will cool the coffee, without watering it down.
101. Put ice in a bowl of rice to reheat it in the microwave
Reheating rice can be tricky, as it has the tendency to become either crunchy or mushy. To prevent this, place the rice in a bowl, and push an ice cube into the middle of it, then cover it with plastic wrap and poke a hole in it so the steam can get out. Then, heat it as normal, and the rice will reheat and be a nice texture when you come to serve it.
Bonus: Get paid every time you buy something for your kitchen
You read that right…you can get paid every time you buy food or any kitchen related item.
How?
Simple, the following two apps/sites:
Checkout 51
Checkout 51 is an app that gives you cashback for grocery shopping.
Here's how to earn cashback for groceries with Checkout 51:
Step 1: Visit Checkout 51 to install the free app.
Step 2: Open the app and look for items available for cashback rewards.
Step 3: Purchase the item (s) at your local grocery store, then take a picture of your receipts and upload it via the app.
Step 4: Enjoy your cashback!
It really is that easy. Oh, if you like that, there are also many other apps that let you take pictures of the receipt and get money.
Rakuten (former eBates)
Do you buy stuff for your kitchen online?
If so, you are missing out on free cash!
You can earn up to 40% cashback on every single thing you buy online. Yes, you can even earn cashback for shopping on Amazon.
Whether you're buying small kitchen appliances (Mixers, Blenders, Microwaves, Slow Cookers, etc.) or other kitchen related products, you can get cashback by adding one easy and quick step to your shopping process.
Here's how:
Step 1: Visit Rakuten and sign up for free (sign up now to get a free $10 bonus – choice of a $10 gift card or cash bonus)
Step 2: Search for the store you want to shop at, click its and shop as you would normally.
Step 3: Your account gets credited with the cashback.
Step 4: Enjoy your earning in the form of a "Big Fat" check that Rakuten sends you.
So basically, instead of visiting the store's site directly, you visit it through Rakuten' cashback portal so you can get credited.
It really is a no-brainer.
Rakuten offers cashback for more than 2000 stores. So there's a good chance whatever store you shop from is on the list.
Want more details (and tips for earning more)? Read my detailed review of Rakuten.
Closing thoughts
As you can see there are quite a few easy things you can do to save money and time in the kitchen.
So give these kitchen money saving tips a try and save some money
And, of course, if you have any handy kitchen hacks and tips for saving on food and kitchen related expenses, then let us know in the comments section below.