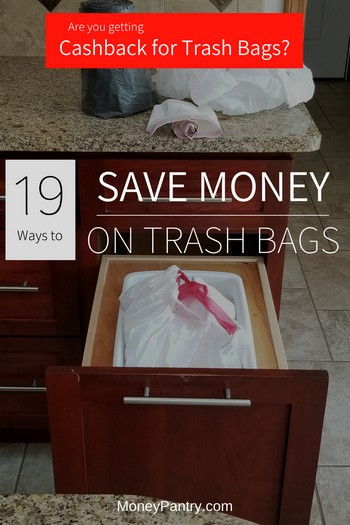 Garbage bags…
The only thing we buy with the intention of throwing it away!
Think about it, what else do you buy just so you can throw it away?
Unfortunately, it's an expense that we all have, whether we like it or not.
We try to save money at home whether it's cutting the cable for a streaming service like Netflix, or reducing the cell phone bill, but when it comes to trash bags and what we spend on  them, most of us don't think twice.
But here is the thing…
Need Easy Extra $300+/Month for Free?
KashKick
: Get paid directly into your PayPal for watching videos, surfing, shopping and more.
Join KashKick Now!
InboxDollars
: Paid over $57 Million to members to watch videos, take surveys, shop and more.
Get $5 instantly!
Branded Surveys
: Get $1 instantly just for joining for free. Plus get paid within 48 hours by PayPal!
Join Branded Surveys
First Opinion
: Get paid up to $10 per survey and $300 per virtual focus groups!
Join Now!
Swagbucks
: Get paid to watch videos, shop online, take surveys and more.
Join now & get $10 instantly!
A pack of trash bags can set you back around $14!
So, you basically pay more than $10 for something that you throw away!
Now, we're not suggesting that you do away with garbage bags altogether.
No, not using them is too inconvenient, and many waste pickup services won't collect trash that's not in a plastic bag.
Instead, I give you a few simple hacks so you can use fewer trash bags and therefore buy them less often.
Plus, I'll share a few tips on how you can save money on the garbage bags that you do buy.
Using these tips and hacks will easily save you an extra $100 or two depending on how much trash your household creates.
1. Get coupons directly from the manufacturer
Most major brands offer coupons on their website.
You don't even have to sign up for anything to get these coupons.
Here are a few:
2. Use grocery bags
This is something we do in your home.
We all buy groceries (hopefully you use these tips to save money on groceries as well!) that we bring home in grocery bags.
Instead of throwing them away, use 'em as trash bags.
But big items won't fit in a small bag?
Here's a simple workaround…
Put a second smaller bin in the kitchen next to the regular tall bin. Then put the bags from the grocery store in the small bin and have everyone in the house put the trash in the small trash can unless it won't fit. Put the big items (that won't fit in the smaller trash can), in the big bin.
You'll find that you'll have to empty the small trash can often but since you already have the bags from the grocery store you're getting free trash bags.
Sure, the large can will still fill up but much more slowly since you are putting most of your garbage into the small one, with the free bag in it!
What if I get my groceries in the paper bag?
Use paper bags for collecting recyclable materials.
Not only does this save you money on trash bags, you also are doing your part in using less plastic to keep our planet healthier.
3. Reuse other bags too
It's not just grocery bags from the grocery store that can be used as free trash bags.
Any bag can be used.
For example, the bags from potatoes or carrots can be used, bags from online orders and the plastic bags found on furniture.
Any plastic bag that you get, along with the ones you get from the grocery store, should be saved for later use or recycling.
4. Recycle more and throw out less
Taking more items to the recycling center, rather than throwing them in the trash serves two purposes:
firstly it's better for the environment,
and secondly, it means there's less trash taking up space in your garbage can.
So, recycle more, and you won't fill up as many garbage bags.
Many garbage collection companies now offer single stream recycling in addition to your regular trash pickup.
Our recycling service is free! We have a separate can that all our recyclable materials go into together, and it could not be easier to recycle.
Since we started taking advantage of the recycling program, we use far fewer trash bags than before.
Wanna take it one step further and actually make money?
Read How to make money recycling plastic and Get paid to recycle paper (newspaper, cardboard., etc).
4. Cancel your junk mail
Junk mail is another thing that many of us throw out – plus you have to take the time to separate the real mail from the junk mail.
You can stop junk mail by registering with the Data & Marketing Association. You can stop getting mail from a particular company or from an entire category.
If you do, however, like getting junk mail (for whatever reason) don't throw 'em out. Use them to make money!
Yes, there are companies that pay for your junk mails!
6. Reduce your Waste
One of the easiest ways to save money on garbage bags is to reduce your waste.
The United States wastes more than $160 billion in food a year!
So, take the time to consider what you most often throw out – just be more mindful for a week about what you actually put in the trash.
For example, many of us throw out fruits and vegetables that have gone bad at the back of the fridge. Bring them to the front and you'll be more likely to use them.
Also, freeze food that you won't use before it expires.
7. Crush plastic bottles to save space
This is something that's super effective.
Crushing plastic bottles makes them much smaller, so they take up less space, meaning that you use fewer garbage bags.
8. And cut up boxes to save space as well
Cutting up cereal boxes and other cardboard items is another easy way to save space.
You can put it into the trash in pieces instead of putting the whole thing at once which takes much more space.
9. Reuse and repurpose items
This is one of the most effective tips on this list.
Reuse things like empty jars, bottles, bags and cereal boxes.
You can use them for storage or craft projects.
10. Turn your trash into compost
One of the easiest ways to save space in the trash bag – and therefore use less of them – is to compost your kitchen waste.
Set up a small compost bin where you can place things like the ends of chopped fruits and vegetables. This can save a surprising amount of space in your trash bin!
Don't know how?
HGTV has a great guide on composting for beginners.
11. Make your food from scratch
Making food from scratch is a great way to save money by cooking at home.
But, that's not the only benefit…
…there will also be less packaging which means you'll have less to throw out.
12. Sell your trash for cash!
Did you know that you could get paid for your trash?
Really!
People and companies will buy things like toilet paper tubes, scraps of fabric, plastic bottle caps, and wine corks.
We have a post with a list of companies that pay for your junk.
13. Consider generic vs. brand name garbage bags
Some people say that buying generic garbage bags is a good way to save money.
But, this isn't always the case. Often generic brand bags break much easier than brand name ones do. So, you end up using more.
And, sure you could fill them less, but then you'll end up, again, using more bags, offsetting those initial savings.
14. Use coupon sites
Our next tip is to use coupons!
Online you can find coupons for a name brand trash bags.
Sometimes you can get some really great discounts on garbage bags.
Here are a few places to check out:
15. Donate unwanted items
Donate unwanted items that are in good condition, rather than throwing them out.
You'll save on garbage bags, and help someone out in the process.
16. Buy in bulk
Buying in bulk is an easy way to reduce the amount of packing you have to throw out.
Plus, when you buy in bulk, the cost per unit is usually less, meaning you'll save money all around.
Two great places to buy trash bags in bulk are Sam's Club and Costco.
17. Purchase garbage bags on Amazon (save up to 20%)
Did you know that you can save money when you purchase your garbage bags on Amazon?
You can get up to 20% off!
You can get this discount through the Amazon Subscribe and Save program. We have a full Subscribe and Save review, so read that to learn more.
18. Reuse paper bags for dry goods
It's not just plastic grocery bags that you can reuse.
You can also reuse the paper bags to line smaller bins where you tend to place dry goods, such as in the bedroom bin.
19. Follow major brands on social media for exclusive deals
This is an easy, often overlooked way of getting exclusive coupons and promo codes directly from the manufacturers that works for almost any product including trash bags.
All you have to do is follow some of the major brands on social media, or sign up for their free newsletter. In order to attract more followers and customers, companies normally share exclusive discounts codes on their social media pages as well as their email newsletters.
Here are a few:
Bonus: Cashback for Trash Bags
Where do you buy your trash bags from?
Does that store give you cash back for it?
Probably not!
You need to start buying them through eBates so you can earn cash back.
For those unfamiliar, eBates is a cash back platform where you can shop from thousands of stores. And every time you buy something, you earn cash back.
Here's how it works:
Step 1: Visit eBates, enter "garbage bags" in the search bar and click the search icon.
Step 2: From the list of stores click the one that gets you the most cash back (and offers the best price).
Step 3: Then, do your shopping as you would normally.
Your cashback will be added to your eBates account. Then twice a year, eBates will send you a "BIG FAT" check for all the cashback you've earned.
It just can't get any better than that!
I mean, if you're going to buy something (not just trash bags, anything!) you may as well use eBates to earn some cash back.
Closing thoughts
There are so many ways that you can reduce the amount of money you spend on trash bags.
With coupons and things like Amazon Subscribe and Save, you can save money when you do actually buy bags.
And, by repurposing bags you already have, like grocery bags, you can ensure that you buy far fewer bags.
And, finally, by reducing your waste and disposing of it more effectively, you'll save even more.
Feel free to share your tips and hacks and how you save money on garbage bags by commenting below.