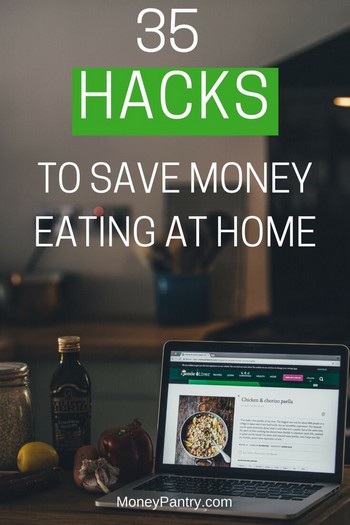 Can cooking and eating at home really save you money?
Eating out is expensive!
According to statistics, we spend $3,008 dining out each year.
That's a lot of cash!
In this post, we cover how to save money on food by eating at home – and give you some of the best practical money saving cooking hacks.
But first…
Need Easy Extra $300+/Month for Free?
KashKick
: Get paid directly into your PayPal for watching videos, surfing, shopping and more.
Join KashKick Now!
Panel Payday
: Earn up to $75 per survey. They also pay up to $50/hr for mystery shopping.
Join Now!
InboxDollars
: Paid over $57 Million to members to watch videos, take surveys, shop and more.
Get $5 instantly!
Branded Surveys
: Get $1 instantly just for joining for free. Plus get paid within 48 hours by PayPal!
Join Branded Surveys
First Opinion
: Wanna get paid for every single survey (+ high paying online focus groups) with cash or direct deposit? This is for you!
Join Now!
Swagbucks
: Get paid to watch videos, shop online, take surveys and more.
Join now & get $5 instantly!
Does cooking at home save you money?
If you're spending a lot dining out, then you might be wondering whether cooking at home saves you money.
It's a common question and one that many people have.
After all, once we've picked up a bag of groceries to make dinner, we think, would it just be cheaper to eat out?
Overall, eating at home is cheaper than eating in restaurants (although there are ways to save money when eating out).
In fact, the price gap between cooking at home and dining out is growing larger.
But, exactly how much cheaper is it?
The cost of Eating out vs Cooking at Home
The figures vary on just how much eating in at home costs, rather than heading out to a restaurant.
According to federal data, the average price for food eaten at home fell 0.5% year over year. This means that in general groceries are getting cheaper – of course, this doesn't apply to every item you buy, it's just a drop in price overall.
And, while the cost of groceries has lowered, restaurant prices have actually increased an average of 2.7% – during the time span where the overall inflation rate was just 1.4%.
So, as you can see, the cost of eating out is rising!
Money Saving Cooking Hacks
As you can see from the figures above, eating at home saves you cash.
The more meals you eat at home – the better it is for your bank balance.
After all, we're spending over $3,000 a year just on eating out – imagine saving that amount over the next five years?
You'd have $15,000 extra in your bank account!
And, $30,000 extra after ten years!
So, eating at home more can definitely help you to improve your finances!
Now, onto the cost of eating at home.
Sure, cutting out meals in restaurants will save you money, but, you'll save even more if you're more budget conscious when shopping for food to cook at home.
Below, we cover tips that will help you to save money, and time shopping for groceries and cooking at home.
We don't simply tell you to buy less – this doesn't work!
Instead, we cover how to:
Plan your meals and shopping.
Shop effectively.
Prepare foods for more convenient cooking.
Prevent wastage.
Know what foods work out cheaper.
These tips will help you to reduce the cost of eating at home – and make it easier to cook!
So, you still get to enjoy the foods you love – without breaking the bank.
1. Learn more About Cooking
Aside from not finding the time, another reason that people don't eat at home is that they don't know much about cooking.
However, thanks to the Internet, learning how to cook and getting recipes is super easy!
So, if you'd like to eat at home more, but aren't really experienced with cooking, then consider checking out these websites:
Or do a quick search online for the term "learn how to cook" or "learn how to cook for beginners." You'll see so many great articles.
2. Plan out your Meals
Create a meal plan for the week, and shop ahead of time – doing so saves you cash. You can write it out on paper or use an app.
The plan can be simple – just list the meals you plan to have each day.
Doing this saves you money in a number of ways.
It:
Means you'll always have food in – this in turn means that you won't be tempted to order a costly last-minute takeout, or go to a local restaurant.
Allows you to use leftovers wisely – after all, you can use leftovers from Monday night's dinner in Tuesday night's dinner if you plan accordingly.
Helps you to only buy the stuff you need.
Allows you to better track what you spend on food each week.
3. Keep your Kitchen Stocked
Keeping your refrigerator, freezer, and pantry stocked is the key to avoiding last-minute takeouts or trips to local restaurants.
So, make sure to use your meal plan and stock up on supplies ahead of time.
4. Make food from Scratch
Making food from scratch is not only healthier for you, but, in most cases, it works out cheaper. So, make your own pasta sauce, etc.
Plus, if you have leftover ingredients, like vegetables for example, from one meal, then you can easily use them in another meal.
Of course, always compare the cost of buying something readymade vs making it yourself.
Also, making things like your own smoothies and salad dressings is cheaper – plus they're healthier.
Avoiding processed food is great for your wallet and for your health!
5. Look at a Store's Sales and Deals
When you plan your weekly meals, take the time to see what items are going to be on sale in your local grocery store.
For example, if there's a sale on broccoli that week, then plan a meal that contains broccoli.
Taking the time to see what's going to be on sale can help you to cut down your weekly grocery bill.
You can plan your meal according to what's on sale.
6. Don't forget a Shopping List
Statistics show that people who shop using a list spend less than those who don't use a list.
This is because when you have a list, you'll make fewer impulse purchases.
We all do this: we see something on sale that we really don't need, but we buy it anyway as we don't want to miss out on a bargain.
It's not really a bargain though when you buy something you don't need.
7. Do your Grocery Shopping Later
If you leave your shopping until later in the evening, then you could get some great deals.
This is because many stores want to get rid of perishable foods that didn't sell earlier, so they reduce the price of many items.
8. Consider meat substitutes
Meat really is pricey – so if you want to cut down on your food bill, then limiting your meat intake is a good idea.
When you're in the grocery store, look for meat alternatives, such as tofu or seitan (wheat gluten).
9. Buy Spices in Bulk
Including more spices in your meals is not only good for your health, but it also makes your food taste great.
And, if you're limiting meat, then you're going to want to use lots of spices to flavor your food.
The only problem is that they can be expensive. Buying spices in bulk, however, is much cheaper. The price per ounce will work out cheaper.
10. Stock up on the Staples when they're On Sale
If there are items that you use all the time, like rice, olive oil, nuts, canned beans, or pasta, for example, then whenever those items go on sale, don't be afraid to stock up!
If a $15 bottle of olive oil goes on sale for half-price, then you'd get two bottles for the price of one.
So, don't be afraid to stock up.
You can even stock up on more perishable goods, like fruits, vegetables, and meats, when they go on sale, and freeze them for later use.
11. Buy Whole Foods
Things like pre-grated cheese and pre-chopped fruits and vegetables are always more expensive than those you buy whole.
So, grate the cheese yourself, and buy your fruit and veg whole.
And, there's always the potential for leftovers!
12. Look at Canned Goods
Canned beans, tomatoes, sweetcorn and tuna are cheap – so stock up on them.
Plus, on those nights when you're tired, it's so easy to empty a few cans into a pan to create a tasty dish.
13. Shop the Frozen Aisle
Just as canned foods will save you cash, foods in the frozen section are always cheaper.
Consider buying your fruits, and vegetables in the frozen department. They're just as nutritious, but a whole lot cheaper.
Frozen fish is always a great choice too.
Fish offers a plethora of health benefits, as it includes omega-3s and other important nutrients.
You should aim to eat fish at least twice per week – and getting it from the frozen section will be much cheaper.
14. Check out Amazon Subscribe and Save
If you're looking to save money on groceries, then consider signing up for Amazon Subscribe and Save.
It's a program that allows Prime members to "subscribe" to a product.
When you subscribe to a product, Amazon automatically ships it to you, according to the schedule you set.
So, you choose how often a product is delivered, such as once a month or once every six months.
This means that you don't have to remember to buy an item – as it's automatically sent out to you.
Shipping is free too.
But, those aren't the only benefits.
When you subscribe to an item you can save 5%.
And, if you subscribe to five items, you'll save 15%.
This is such a good way to save money on the products that you buy regularly.
So, if there's an item that you use a lot, such as olive oil, pasta, or rice, then consider subscribing to it on Amazon. With free shipping and the 5% to 15% discount, it could work out much cheaper.
We have a review of the Subscribe and Save program too, so check that out to learn more.
15. Shop Wholesale Stores
Buying in bulk is a really easy way to save money on food at home.
When you buy in bulk, the cost per unit is generally cheaper.
So, consider buying from stores like Costco and Sam's Club. Costco is a great place to buy spices in bulk – as it works out cheaper.
Wanna save even more money?
Use these tips to save money at Sam's Club as well as Costco.
Don't have memberships for either of these two stores?
No worries, there are a few ways you can shop at both stores.
Read these two guides:
16. Get Generic Products rather than Brand Name Items
A lot of grocery stores have their own generic products that are just as good as those from big brands. The only difference is that they're much cheaper! So, go for the store's own brand products, rather than name brand ones.
Plus, things like canned sweetcorn, beans, and pastas aren't going to taste much different from brand to brand.
17. Buy Product that's In-Season
Often, buying fruits and vegetables that are in season is cheaper.
Consider buying in-season items in bulk as well – you can always freeze them.
Check out this Seasonal Produce Guide from the United States Department of agriculture.
18. Buy a Whole Chicken
Often, it works out cheaper to buy a whole chicken, than it does a pack of chicken breasts.
And, what's great about whole chickens is that they are so versatile. You can use the breast as you normally would, but then you can use the legs and thighs for curries, salads and a ton of other meals.
And, you can also use leftovers to make soups, salads and sandwiches.
19. Avoid Buying Items that are Eye-Level on the shelf
Did you know that the products on the middle shelves in grocery stores tend to be more expensive?
Stores put the expensive items at eye-level so that they're the ones customers see first, and, are therefore more likely to buy.
So, look at products on the top and bottom shelves instead, and you'll likely get a better price.
20. Use Coupons
Coupons can save you a lot of money on your food shopping.
There are printable coupons available, as well as digital ones.
Digital coupons can be useful, as you don't actually have to clip anything or remember to take coupons with you to the store.
There are a few places that you can find coupons:
Many stores, such as Walmart have coupons on their websites, and if you join their loyalty programs, you also get access to them – but more about that below.
But, you should also check out coupon websites.
On these sites, you can find coupons for everything from clothing to hotel stays.
And, they also offer coupons for groceries.
21. Shop through Cashback Websites
Another great way to save money eating at home is to shop through a cashback website.
Basically, these websites act like shopping portals, which feature different stores, like Amazon, Walmart and Target.
When you click on a store, like Walmart for example, you shop there like you normally would, except that you get cashback on anything you purchase.
This is such a good way to get your groceries for less.
Here are a few to check out:
22. Sign up for Grocery Rewards Programs
There are many grocery stores that offer rewards program or loyalty card that can save you money.
Most of them offer coupons or points that you can redeem for free stuff.
For example, with the Target REDcard, you get 5% cashback on all of your purchases.
So, check to see if your favorite grocery store has a rewards program.
23. Cook in Bulk
This is such an easy way to save money.
When you make a dish, make enough for a few meals. You can eat one that night, and then put the others into labeled freezer bags or containers.
Then, on evenings where you're short on time, you'll have a meal ready, and you won't have to order takeout or dine out.
24. Prep Lunch Too
A lot of people do fine with making dinner themselves – after all, they're done with work and can prepare stuff in the morning or the night before.
Lunch is another story though – many people struggle to avoid eating out during their workweek. After all, it's much easier to stop in somewhere to grab a sandwich or salad.
However, there are a couple of things that you can do to avoid eating out at lunchtime.
One is to pack your lunch the night before – this will save you time and effort in the morning.
Another is to use leftovers from the night before – like we said if you plan your meals then you can maximize your leftovers.
25. Marinate Meat the Night Before or in the Morning
If you're making a meal that requires you to marinate meat, then prepare the meat the night before.
Put the meat in the refrigerator the night before with the marinade on it. Then, the next day, when you get home from work, you don't have to wait for the meat to marinate.
26. Bulk out Meals with Beans Instead of Meat
If you're making a chili, a casserole, or a taco, for example, cut the amount of meat you'd normally use in half, and replace it with beans.
They are far cheaper than meat and better for you!
Black beans, in particular, are great. A cup of black beans contains 39.1 grams of protein, and 74% of your daily magnesium intake, and a whole host of other vitamins and minerals. Plus, it offers 89% of your daily iron intake!
27. And, don't forget the humble potato!
Potatoes are full of nutrients, and they're super cheap!
You can incorporate regular potatoes, or sweet potatoes into many meals. Bake them and fill them with beans, make them into mashed potatoes, use them to make fries, roast them, or make hash browns with them for breakfast.
28. Dry your Own Herbs
Herbs wilt quickly – a good way to prevent waste is to dry them yourself.
It's really easy to do…
…just place your herbs between two paper towels, and then microwave them for a minute or so.
29. Have Quick Fix Meal Ideas in your Plan
In your meal plan, you should also try to include some really easy to cook meals. This is because you might find that you're super tired one day.
This is where our tip about cooking in bulk comes in handy – you'll already have a meal ready in the freezer that you can just microwave.
Also, pasta dishes are a great choice for those nights when you're too tired or haven't marinated the chicken like you planned too, as they are so quick and easy to make.
30. Pre-Chop some Items
One of the reasons people end up eating out is because when they get home from work, they're tired and the effort of cooking seems too much.
Then, the temptation to eat out comes in.
Now, if you're one of those people who finds that by the time they get home, they just can't be bothered cooking, then consider prepping as much as you can the night before.
We already talked about marinating the meat the night before, but you should also consider chopping some of your vegetables and other ingredients the night before or in the morning as well. You can store your chopped ingredients in a Tupperware dish. And, you can also pre-measure out any spices and herbs you'll need too.
By prepping your ingredients the night before, or in the morning, when you get home from work, all of your ingredients will be ready to be cooked, so cooking will seem like much less of an effort.
31. Make your Own Salads
Bags of mixed salads are convenient, but they can be expensive – and they tend to wilt quickly.
A better option is to buy a few heads of lettuce and leafy vegetables, such as iceberg lettuce, romaine, spinach and kale, to make your own mixes.
It's cheaper to do this. Then you can make your own salad mixes with them.
32. Make Soups
When you're on a budget, soup is your best friend. It's healthy, easy to make, and incredibly cost and time effective.
Make a batch, store it, and then either freeze it for later use, or take it to work with you and have it for lunch.
What's great about soup is that you can use leftovers, like chicken and any vegetables you have at hand, to make it.
33. Limit Food Wastage by Repurposing Food
If you end up with leftover ingredients that you think you won't use – get creative and repurpose them.
For example, if you have leftover onions or tomatoes, then you could use them in an omelet, soup, or salad. You can use off cuts of vegetables to make your own stock/broth.
And, also try to repurpose food that you might otherwise throw out.
For example, stale bread can be used to make croutons or bruschetta, and overripe banana can be used to make banana bread.
34. Freeze Food rather than Throwing it Away
As we mentioned above, buying in bulk is generally more cost-effective. However, many people don't do it, because they're afraid they'll end up not using the stuff they bought and have to throw it away.
Well, there's an easy way to prevent food wastage when you buy in bulk – freeze stuff. This is one of the most important tips that we can give.
Freezing things prevents them from going bad, while also keeping their taste and nutritional benefits intact.
So, if you buy a ton of meat at Costco, for example – separate it into portions and freeze it.
Then, next time you come to make a meal with that meat, you'll have it ready to go – just get it out and thaw it.
And, it prevents you from throwing out what you don't end up using. Meat, fish, vegetables, and fruits can all be frozen.
The United States Department of Agriculture has a great guide to freezing foods. it includes things like which foods can be frozen, and how to defrost foods safely. You can read this guide here.
34. Have a few snacks at Hand While you're Cooking
When you get home from work, and you're super hungry, eating out seems like a better option than cooking at home.
That's why having something to snack on as you cook your dinner is so important.
Things like carrots and hummus are a particularly good, quick and easy snack that will quell hunger pangs as you cook.
35. Join Swagbucks for free gift cards
OK, this is not a food hack, per se, but it helps you achieve the same goal which is saving money on food.
With Swagbucks you can earn points by watching videos, playing games, answering surveys and even shopping.
You can do most of this stuff while watching TV or just relaxing on the couch.
You can then redeem your earnings for cash and gift cards, including gift cards for most major grocery stores.
So basically you get free gift cards for doing a few fun things in your spare time.
You can then use those gift cards to shop at your local grocery stores.
Not convinced yet?
Use this link to sign up and get a free $5 gift card just for joining Swagbucks.
Closing thoughts
Eating at home can save you so much money – and it's better for you.
You know exactly what's in your food and can avoid the added sugars, salt and fats that you often find in restaurant food.
There are so many reasons that people don't cook:
They say that they don't have the time.
They say that they don't know how to cook.
They're just in the habit of eating out.
But, if you follow our tips you can get out of the habit of eating out, make cooking a quicker and easier process, and of course, save yourself money!
So, try our tips, and start saving money by eating at home.
And, if you have any tips on how to save money eating at home, then let us know in the comments section below.