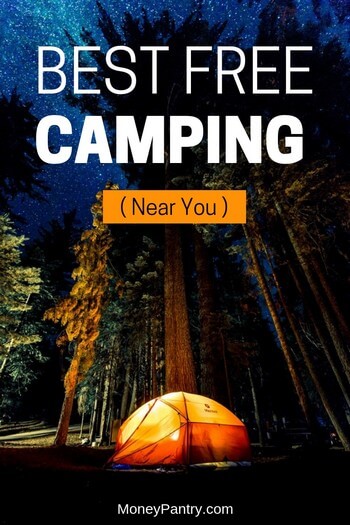 Are you looking for a place to enjoy the outdoors without having to pay a fee?
Whether you are camping on a budget or looking into traveling long-term, finding free camping sites is a must-have skill.
Paying the usual $20-$30 nightly fee to stay in campgrounds adds up and cuts deep into a budget. However, you can make a trip a lot more affordable and last much longer if you camp in free spots.
And who doesn't like to do free things?
How to Find Free Campgrounds Near You
Whether you are looking for beach camping, tent campsites, free RV camping with hookups, campgrounds for fishing, campsite in a state park near you or even a national park like Grand Canyon of the Yellowstone or the Great Smoky Mountains with campgrounds, there are tons of free spots out there, you just need to know where to look!
Our free camping spot checklist will give you the resources you need to get started.
Need Easy Extra $300+/Month for Free?
KashKick
: Get paid directly into your PayPal for watching videos, surfing, shopping and more.
Join KashKick Now!
InboxDollars
: Paid over $57 Million to members to watch videos, take surveys, shop and more.
Get $5 instantly!
Branded Surveys
: Get $1 instantly just for joining for free. Plus get paid within 48 hours by PayPal!
Join Branded Surveys
First Opinion
: Get paid up to $10 per survey and $300 per virtual focus groups!
Join Now!
Swagbucks
: Get paid to watch videos, shop online, take surveys and more.
Join now & get $10 instantly!
Free Camping Apps & Sites
Listed below are all the sites we found that actually provide helpful information to their users. If you are planning a trip outside the US, you'll be happy to know that many of these sites work for both the US and Canada!
There are over 2,800 free campsites listed on this site, and that number grows each day. This is an awesome resource which allows you to search for free camping by state. It also shows free camping spots in Canada!
This site has reviews for sites, pictures, and even the campground's cellphone coverage. If you are searching for adventure, solitude, or just a place to stay without hurting the budget, you can find it on this site.
For instance, here's a step by step guide on how to find free camping at a national forest.
Step 1: Go here and use the text search to zoom into an area you are interested in.
Step 2: Select the category "National Forest" to specify the type of campgrounds you want.
Step 3: Select price "Free" and then continue.
After that, you'll be shown a list of campgrounds that meet your needs, as well as their locations.
The site also has a great mobile map if you are searching for places on the go. They also have a neat Instagram if you need inspiration for your next trip!
This is an awesome site  that was created by three companies – American Park Network, Ford and LL Bean.
Their Oh, Ranger! ParkFinder app is basically a huge database of public land in the US. It contains every single national, state and local park, as well as national forests and federally-managed destinations from Colorado to Washington, California and everything ion between.
One of the best features of the app is the ability to search for campsites based on the kind of activity you are interested in.
Looking for a campsite with fishing near you? You can search
Want a free camping spot where you can park your RV?
Want a really remote campground with clear skies and no light pollution so you can stargaze?
You can use the apps to narrow down your search by all these interests and more.
And did I mention it's totally free?
This is a free website and app that you can use on your phone. You can find nearby places on the site's map, which will then show you:
Descriptions of the campsite
List of amenities
Photos of the camp
Comments and reviews
You can also search by required amenities, such as Wifi or pet-friendly camping locations. If you stay at a location, you can mark that and leave a review for other users on the app.
Don't have online access on the road? No problem! You can use the app offline without the map. The app also works for Canadian camping spots as well!
If you don't mind spending $9.99 on an app (they do have a free one for military members. More on that below.), this is well worth of the purchase. This is one of the top campsites searching apps available.
The app shows you federal campgrounds as well as overnight parking locations, public dumps, and portable water sources. If you have an RV and need to refill your water, this is a great app for finding you water at your next stop.
Once you find a campground you like the sound of, you can automatically open up directions in Apple or Google Maps.
They also have a website, which has a pro membership for you to access the same information from your computer. While some may dislike the price tag, we can assure you that the app pays for itself by the first time you find your free camping spot.
5. Allstays Military FamCamp Campgrounds
This awesome free military camping app is perfect for current and former military members.
You can use it to find US Military Campgrounds and RV Parks (FamCamps) in united states.
The best part?
You can use it with or without the internet!
Not only the app is free, but it also doesn't even contain ads.
You can even filter the map by amenities.
The app currently contains over 200 US Military campgrounds as well as over 165 "Tents For Troops" campgrounds.
If you'd like to avoid downloading an app, this website allows you to locate a campsite either by zooming in on a map or searching by zip code. The site also features a trip planning mode, which allows you to create a travel route using the free camping options along the way.
When you decide on the campsite you want to visit, the website will give you the GPS coordinates, elevation, and local weather.
The website works best on a desktop, but you can also use their maps on your mobile device.
When you search for a campsite, the site will pull up both free and paid campgrounds. Be sure to look at the green icons on the map, because this designates that the campsite is free.
When you click on a campsite, you'll be shown a list of stats about it such as:
Number of camping spots
Available amenities
The maximum length you can stay
RV restrictions
You can't make reservations on this site; however, they do provide any available website and phone number so that you may call the location yourself to get a spot.
This website and app ($3.99) has over 30,000 campsites listed, filterable by price. Camps are located in both the US and Canada.
While not all campsites listed are free, you can specify that you want only free ones. Likewise, you can check the description for any fees associated with the camp. They also tell you what restrictions are set at the camp and the camping season dates.
For the cost of $3.99, you can get their app and find camps while on the go. You can also purchase their POI database to install on your GPS device.
This website is for national forest campgrounds. While most of them are paid, you can still find some free camping sites. Also, many of the camps listed here are cheaper than those found within National Parks.
This is a public forum where you can find free camping spots based on any distance from a Latitude and Longitude point.
You can also add free camping spots that you know of to their database or edit previous entries. All campsites on the database must be auto-accessible and completely free.
Paper Maps & Guidebooks
While it is easy to get a lot of this information for free online, remember that it's also useful and safer to have a paper map on hand. Due to the fact that cell phone reception can be quite spotty in some areas, these maps can become quite handy.
9. Benchmark Road Map & Recreation Atlas
These atlases come state by state and are generally $20 per state. All these maps show recreation activities, categorized listings, and public land ownership lines. They outline National forests, Bureau of Land Management, and other land agencies. They also list campgrounds, topography, drivable roads, trailheads, and water sources.
Find them here on Amazon.
10. National Geographic Road Atlas – Adventure Edition
This atlas is for finding outdoor recreational activities in Canada, the United States, and Mexico. While this won't give you an in-depth look state by state, it is good for giving an overall look of North America.
Find it here on Amazon.
11. National Geographic National Forest Maps
These maps give tons of detail about specific forests and ranger districts. They are topographic, waterproof, and tear resistant, which is great for backpacking and tent trips.
These are location specific, which would make them very expensive to buy as a collection. However, if you already know which forest you are going too, buying the map for just that location is well worth the investment.
Not only do they show the Nation Forest boundaries, but also the roads to camp on, trails, drinking water, dump stations, and campgrounds with showers.
You can find some of them here on Amazon.
12. Backroad Mapbooks (Canada)
If you are traveling to Canada specifically, these come highly recommended for finding free camping sites. This collection of regional map books have:
Crown Land
Backcountry roads
Rec sites
Hiking trails
Lakes
Hot springs
Find it here on Amazon.
13. Free maps
If you don't want to purchase maps, you can still get some for free. When you arrive at your destination, stop by your ranger's office and check for any free public maps they provide.
Not only are these useful on your trip, but also give you a great free souvenir for later!
Become a Seasonal Camp Host
Not only is this a great way to get free camping, but you can even earn some cash on the side!
All you need to do is find a campground that's hiring, which can be found through the Recreation Resource Management or a state park system.
These jobs can last from a month or an entire summer. Most jobs are welcoming to those who have a family, which can make a great way to provide the kids with a summer vacation without paying an arm and a leg.
Types of Free Camping Spots
There are many different kinds of free camping sites out there, each type providing their own unique experiences. To help you find what you are looking for, we've listed the types below.
National Forests and Grasslands
These are public lands owned by the Forest Service. They exist in nearly every US state, though not all allow free camping. It's important to research the forest you want to visit to find out what free camping areas are available there.
If you are planning on visiting a national forest, you can visit the U.S. Forest Service website to find a ranger district and weather alerts that can affect your camping plans and routes.
Camping in a national forest is suited for RVs, Vans, and tent camping. Most national forests have a 14-day stay limit, though this does vary.
While few national parks allow free camping, many parks are boarded by national forest or grasslands which do. You are allowed to camp for free in these spots unless otherwise marked.
In these types of camps, you must be self-sufficient as there are usually zero amenities. Some of these places also have a fire restriction, so you'll have to check with the ranger office before starting one.
This land is found out west in the US. Free camping is allowed on most of this land for 14 – 30 days, depending on local regulation.
The land is generally open, desert landscapes with uses such as:
Recreation
Grazing
Logging
Resource extraction
Because of these users, you might wake up to find cattle or mining operations near your campsite, so be sure to research an area before stopping.
Some BLM land has maintained campgrounds with fees around $4 – $10 per night. While not free, this is still extremely cheap compared to some of the options out there.
BLM land is good for tent camping, RVs, and Vans. There are many secluded spots in these areas if you crave some solitude. Don't expect there to be any amenities however and be sure to leave no trace of your camping behind. Also, check fire restriction in the area before starting a campfire.
Overnight parking lots
Perhaps this isn't the most scenic place to stop at, but it certainly works in a pinch. Many places offer free overnight parking, such as:
Walmart
Camping Word
Cracker Barrel
Casinos (Use the map locator on casinocamper.com to find overnight parking!)
When camping at these spots, it's important to stay inside your vehicle for the night. This means all your sleeping, cooking, and hanging out has to be done inside.
The rules and limitations for overnight parking vary by location. Every Walmart has different rules. If you have doubts, you can always simply ask management. Be sure to ask management if its okay before sleeping there, or else you risk them calling the police on you.
This type of camping only works for RVs and Vans, as tent camping is almost never allowed. Remember that overnight parking can be loud, bright, and busy.
There are few amenities at most locations, so you will have to be self-sufficient. Some truck stops might offer coin-operated laundry machines or showers, but this isn't always the case. Luckily, you will almost always have access to a restroom at these locations, which is a huge plus.
When parking overnight, its best to park at the edge of the parking lot away from normal store activities. It's smart and courteous to leave early in the morning so you aren't annoying for the store.
Crown Land (Canada)
If you live outside the US, you might not be aware that around 89% of Canada is legally designated "Crown Land". This means that the majority of it is free for public use (some non-residents may have to pay for a permit, which varies by province.)
You are allowed to camp for free on Crown Land for up to 21 days, depending on the area. Crown Land is divided into different subcategories, which each have their own restriction. Be sure to look up the restrictions of the area you want to visit before camping there. Many of the websites we listed above can tell you easily what restrictions there are.
Crown Land is great for tent camping, RVs and Vans, and backpacking. Your experience will vary based on where you visit. In some provinces, there are simple campgrounds with few amenities. Most Crown Land is in remote regions of the country, so it's a good idea to be prepared for 100% self-sufficiency.
To help you find Crown Land, here are some official maps:
Truck Stops
These should be your last choice when it comes to free, overnight camping. However, if you are in a pinch, camping out at a truck stop might not be a bad idea.
Some stop ban RVs from staying, however, these are a few travel-centered brands that don't mind:
On their websites, you can find the location of any of their travel centers, which is great if you are on the go and need to make an emergency stop for the day.
While driving down the freeway, you are more than likely to find rest stops, which also work great for overnight parking. To find a rest stop near you, check out this map here.
Pros &  Cons of Free Camping
Free camping isn't always a glamorous experience, but the adventure might just be worth it.
Pro: Privacy
Premium campgrounds tend to be swamped with people, especially in state and national parks. You risk the chance of dealing with annoying neighbors who blare music even during the night. There is a low chance of privacy in these places, which is often the main thing campers seek!
Free camping in a remote area keeps you in solitude. You're less likely to find other people annoying you while enjoying your stay. You won't have to wear earplugs when you sleep or fight a crowd to snag a scenic spot to settle for the week.
Pro: Low-Cost Vacation
Camping for free means you only need to pay for gas and food. You get access to endless fun outdoors, including hiking, bird watching, and sometimes outdoor swimming, completely free.
Why spend thousands of dollars on an expensive vacation (read this to learn how to save for your next vacation) when the outdoors can give you just as much fun for free?
This is especially true for larger families who would have to pay tons of money for hotel rooms to house everyone.
Con: Your RV is too large + other restrictions
Most free campsites have restrictions on the size of RVs they allow. You might find it much harder to find a spot if you have a large vehicle with you.
Often free campsites, especially those not out in the wild, will have heavy regulation and restrictions that might damper the fun. You might be required to stay inside your vehicle at all times, or perhaps you won't be able to do any outdoor cooking.
Con: Lack of Amenities
Free camping isn't going to be as comfortable as staying at a hotel. There likely won't be Wi-Fi, TV, or even generators for electricity. Many paid camping spots have amenities that you simply won't find at more free places.
When looking for a camping spot, don't expect to find:
Electric or water hookups
Restrooms
Picnic tables
Trash pickup
If you do find one of these, count yourself lucky! If you think you simply can't live without fancy amenities, then you might want to splurge on a more expensive campsite or skip the whole idea of camping altogether.
Enjoy the Outdoors!
Free camping isn't going to be meant for everyone. If you are fine with the idea of living rough and wild, you're probably going to love it. However, if there are simply just some things modern society offers that you can't live without, then you might want to pass on the opportunity.
It's important to remember that this style of camping can provide some once in a lifetime opportunities for adventure. As long as you come prepared and do a little research beforehand, you can truly have one of the best camping experiences of your life.
We hope that this free camping guide was useful for you. Do you have any tips or experiences with free camping that you'd like to share? Leave a comment for us and our readers below!