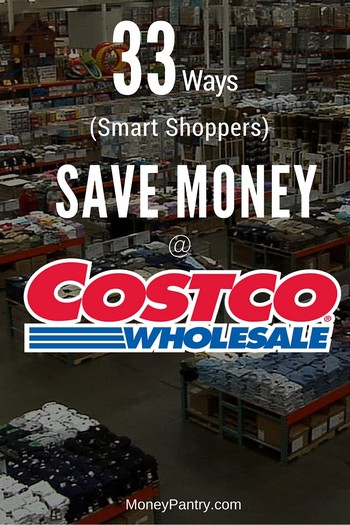 Costco is known for big discounts.
If you are already a Costco member, you probably know that buying in bulk is what saves you money at Costco and other membership warehouses like Sam's Club.
But do you know all the ways you can save money when shopping at Costco?
We have gathered a big list of Costco shopping tips and tricks for you to help you save even more.
And you're not a member, because you don't see why you should pay them a membership fee, just so you can shop in their store and spend more money, then keep reading because these other discount opportunities may just change your mind.
Smart Ways to Pay Less at Costco
Here are really easy ways you can pay less at Costco for the same products you always buy.
Need Easy Extra $300+/Month for Free?
KashKick
: Get paid directly into your PayPal for watching videos, surfing, shopping and more.
Join KashKick Now!
InboxDollars
: Paid over $57 Million to members to watch videos, take surveys, shop and more.
Get $5 instantly!
Branded Surveys
: Get $1 instantly just for joining for free. Plus get paid within 48 hours by PayPal!
Join Branded Surveys
First Opinion
: Get paid up to $10 per survey and $300 per virtual focus groups!
Join Now!
Swagbucks
: Get paid to watch videos, shop online, take surveys and more.
Join now & get $10 instantly!
1. Costco Price Code
Here's some inside information that you may be able to use to your advantage.
If Costco has marked down goods, then the price will end in $.97.
Seeing this price, you know the item is on clearance. It may go lower if it's still not selling, but the price will always end in $xx.97 if it is on sale.
Another price to look for is $.00 or $.88. If the price finishes in these, it is a special manager's markdown price, and may well be the last of that item in the store.
2. Take Advantage of Price Protection Guarantee
When you shop at Costco, your purchases are backed by extensive guarantees.
For example, members get a 30-day price protection policy and a 90-day return policy.
Costco is concerned about its reputation, and will even refund your membership if you're not happy.
3. Arrive Empty
In your gas tank, that is!
Most Costco locations have a gas station, and the prices are usually the best around, so make sure that you can fill up when you go shopping and save a little more on gas.
4. Don't Need Coupons, Use Apps
And in fact, you can't use manufacturers' coupons at Costco.
But you can get around this by using rebate apps like Ibotta or Checkout51.
You simply submit your Costco receipts and they'll deposit some cash rebate back into your account.
When you get enough, you can get paid out with cash or gift cards.
5. Costco Has the Cheapest Prescription Drugs on the Market
Filling your prescription at the Costco pharmacy may be the best thing you can do.
Consumer Reports recently reported that Costco was the cheapest for generic prescription drugs, so add that to your grocery list.
6. Buy Bulk Meat
If you're serious about saving money, consider buying meat in bulk.
You can get a rack of ribs or a big slab of beef at a much lower price than buying individual sizes.
But you have to prepare by having room in your freezer, and preferably a vacuum sealer to avoid freezer burn. Just divide the meat up into meal size quantities when you get it home.
7. Price Protection Guarantee
Even after you've bought something, be sure to watch to see if the price goes down in a sale.
You can bring back the goods under the 90-day return policy, and re-buy them at the lower price – or simply claim back the difference under the 30-day price protection policy.
8. Looking for Better Prices?
Before you go, be sure you check online at Costco's website.
Sometimes you'll find that you have even better offers available online than in the store, as well as more selection.
It will also be easier to find what you want, as you can use the search box.
9. Save Most with the Store Brand
You probably know that Costco's store brand is called Kirkland.
Kirkland goods are usually the cheapest, and Costco make sure they are good quality – they have a reputation to maintain.
10. Look for Gift Cards and Movie Tickets
Costco gives great deals on buying movie tickets in bulk, as well as store gift cards.
In some stores, you can even buy toll road passes.
11. A Continuing Deal
Most prices change from time to time, usually going up.
But Costco has kept the price of its hot dog and soda combo down at $1.50, and intends to do so forever (so we hear)!
12. Read Your Not Junk Mail
When you are a member, Costco sends out frequent coupon and deal booklets.
These are not junk mail!
You can pick up some extra discounts each time you go shopping, so make sure you check them out.
13. Worried about Mass Quantities?
Okay, sometimes you don't need the quantities that Costco sell in, (such as 24 paper towel rolls or 60 bath tissue rolls), at least not straight away, and you don't have room to store the extra.
The answer to this is to team up with a friend or two, splitting the pack and the cost.
14. Check Your Prices
It's easy to assume that everything you get at Costco will save you a fortune.
But occasionally things are cheaper at other stores, so you should be sure to check and compare unit prices before buying.
15. Buy in Bulk for the Holidays
You might not need a whole box of candy bars during the rest of the year, but think what a hero you would be to get these for Halloween!
Make sure you take advantage of bulk purchasing at times when you need bulk quantities.
16. Shop Early for the Holidays
You may not have noticed that Costco stocks up early for the holidays, for example by having frozen turkeys for Thanksgiving on sale in September.
When you buy early, you can avoid the holiday rush.
17. Book Your Vacation Through Costco
When it comes to planning your vacation, just remember that Costco has a whole section devoted to offering you discounted vacation packages.
It's called Costco Travel, and you can find it at CostcoTravel.com.
Log in to find the best deals on flights, hotels, car rentals, and cruises, etc.
18. Pay Attention to Asterisk
Look carefully at the price tag.
Do you see an asterisk in the top right corner?
That's another code, and it means that the item will no longer be carried at Costco. Make sure that you stock up while you can.
19. Don't Want To Go All the Way to Costco?
Sometimes you don't want to go all the way to Costco, after all, they don't have as many stores as WalMart, say.
But you can still benefit from Costco.
Many stores, such as WalMart, Target, and Best Buy, will do a price match with another advertised price.
All you have to do is go to Costco.com and print out a page showing what you want and the price. Then go shopping at the other store and ask for the same price.
20. Avoid the Middle Aisles
Costco knows how to trick you into buying things you might not have thought of.
Be aware that these impulse buys are usually on the middle aisles.
Your regular shopping should be around the perimeter, where you can get milk, eggs, and bread, and resist the lure of impulse buys such as toys and books in the center.
21. Get Cash Back with an Executive Membership
You may not be aware that there are 2 levels of membership, regular membership for $55 and executive membership for $110.
Executive members are entitled to an annual 2% cash back reward on most items. So if you spend $2750 a year in Costco, the $55 you get back would pay the difference in membership cost.
If you spend more than $2750 a year, then you will be making money by having the executive membership. In fact, if you spend $5500 a year, your cashback will completely pay for your executive membership.
If you try it out, and you don't get as much as $55, you can always go to the customer service desk and ask for a refund on the extra cost.
22. Check out the Returned Items
There are a few shelves in every Costco which are dedicated to returned items.
These are goods that customers have brought back, that Costco doesn't want to return to the vendor or to a liquidator, and in most cases they are perfectly fine – Costco wouldn't sell them otherwise.
As explained in our HomeDepot money-saving hacks, there are bargains to be had.
Look for the returned items section near the automotive, household, or sporting goods departments.
23. Eat Out at Costco
If you forgot to bring your lunch, simply head to the Costco food court. All the food is reasonably priced, including the signature hot dog and soda at $1.50.
You don't even need to be a member to use the food court.
24. Stick to Your Shopping List
A word of warning – there are so many great deals in a Costco store it is easy to become distracted, and perhaps leave with a full shopping cart that doesn't include the items you went in for!
Come prepared with a shopping list, and try to stick to it.
25. Come for the Free Samples
Costco has a policy of encouraging sample distributors to give freely, and not limit how many samples you can have.
That means you can come hungry and fill up on samples if you want!
This is a good plan if you feel you may succumb to buying more things because you're hungry. But don't feel you have to buy different things such as the samples on impulse, try to stick to your list.
26. Paper or Plastic? Or Just a Box?
You won't have anyone asking you if you want paper or plastic at Costco – they offer you instead used cardboard boxes to carry your groceries.
If you're fine with that, okay.
Otherwise, make sure you bring along some reusable shopping bags that you can use to carry your purchases.
27. Eating Healthy at Costco
Costco has an extensive organic department, and Real Food Real Deals gives a breakdown of how much you can save by buying your food there.
28. Be Friends with Customer Service
Costco is concerned with its reputation, and this extends to doing its best for customer service.
The customer service team will be pleased to help you out, perhaps finding some extra coupons, looking up what you bought in the past, and informing you about membership bonuses.
29. The Latest Releases
Here's a way to avoid most of the crowds when there's a new release. Simply go to your local Costco.
Costco gets new releases just as quickly as the bookstores, and won't have all those crowds.
30. Look for Kirkland Signature
Many of the goods supplied under Costco's in-house brand, Kirkland, are actually made by the manufacturers that you normally buy from.
Let's face it, Costco doesn't have factories churning out all manner of goods, but has to buy in the goods it sells under its own label.
Kirkland goods are very good quality, as Costco's buying power ensures they get what they want.
Many of the Kirkland products, including batteries, toilet paper, detergents, ice cream, and organic goods, are highly rated.
31. Avoid the Special Displays
It's great fun to see the special displays at the store entrance – the 6-foot teddy bear or the 120-inch television set – but remember you didn't really come to Costco to buy them, so make sure you pass them by.
32. Follow Costco on Social Media
These days, most companies, in order to attract more followers, offer exclusive deals and discounts to their social media followers.
Costco has a very active Facebook account that they use to post news as well as special deals and coupons.
33. Other Member Benefits
Be sure that you are enjoying the full range of Costco's member benefits.
Costco wants to be involved in all sorts of sales, so you can use them to buy cars, insurances, and even houses.
The rates will be competitive and well worth checking out.
Shop at Costco without a Membership
If you're crafty, you can get by without a Costco membership as long as you have a friend who belongs. And I don't mean just going along with them, and separating out your purchases when you leave the store.
Ask your friend to get a Costco Cash Card and load it up with your cash. You are allowed as a non-member to go shopping there with a Costco Cash Card.
You can even spend more than the credit on the card, as long as you have cash or an accepted debit card to pay the extra.
This can be the answer if you simply want to make a big purchase, such as a TV or home appliance, and don't want full membership.
Final Thoughts
With so many ways to save money, above and beyond what you may have realized, it may be time to rethink whether or not you want to buy Costco membership.
If you use it to the full, it should pay for itself several times over.