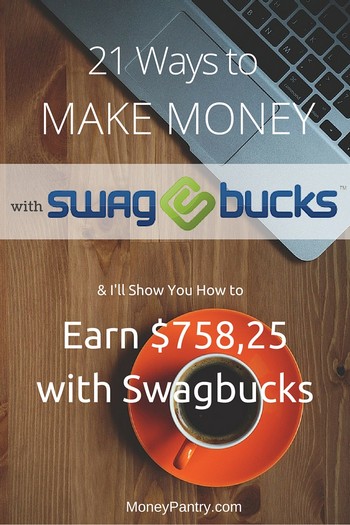 If you have been trying to learn a few ways to make money online, you've probably heard of Swagbucks by now.
You may have even read a few Swagbucks reviews and are wondering if it's a scam or legit reward program.
But what is Swagbucks, anyway?
It's an online rewards site that pays you for doing the things you already do online.
Things like:
Watching videos
Searching the web
Playing games
Taking online surveys
Shopping
And much more
And if used correctly, just a few minutes a day is enough to earn you an extra $758.25 a year.
Need Easy Extra $300+/Month for Free?
KashKick
: Get paid directly into your PayPal for watching videos, surfing, shopping and more.
Join KashKick Now!
InboxDollars
: Paid over $57 Million to members to watch videos, take surveys, shop and more.
Get $5 instantly!
Branded Surveys
: Get $1 instantly just for joining for free. Plus get paid within 48 hours by PayPal!
Join Branded Surveys
First Opinion
: Get paid up to $10 per survey and $300 per virtual focus groups!
Join Now!
Swagbucks
: Get paid to watch videos, shop online, take surveys and more.
Join now & get $10 instantly!
I'll show you exactly how, in a moment.
I will also show you a simple way you can get a free $5 on the site.
But first, let's debunk the myth of Swagbucks being a scam.
Is Swagbucks Legit or a Scam?
When it comes to surveys and rewards sites, the very first question people usually ask is whether or not the site is a scam or legitimate way to make money.
The good news is that SB is as legit as it can get.
For a start, it doesn't cost you anything to sign up.
They've been around since 2005, which is a long time in Internet terms.
What's more, if you check them out with the Better Business Bureau you will find that they have an A+ rating, which is about as good as it can get.
And if that's not enough, here are some facts and statistics that show this is a real legitimate company that aims to stick around.
In 2006, Prodege LLC, the California-based company behind Swagbucks, introduced its first product: private label search engines that allowed charities to raise funds by having supporters perform internet searches.
The company has also been on Inc. 500 List of America's Fastest-Growing Companies for 4 years in a row.
They've built up nearly 2 million Facebook fans, which says a lot for how well they are regarded.
They give out over 7000 free gift cards every single day.
So far, they have paid out more than $127,148,285.00
There is much more I can add to this list, but you get the picture.
As for me personally, I have been a member for years and have received tons of free gift cards and PayPal payments over the years.
Of course, like any other legitimate company, there are a few complaints here and there against them. That's to be expected. Let's be real, you can't please everyone, no matter how hard you try!
Even the biggest and most trusted brands out there – Amazon, Apple, Microsoft – have a few unhappy customers. But that doesn't make these companies scam.
Would a scam site spend more than a hundred million dollars paying its users?
I think not!
How Do I Sign up?
So, now that we have established the legitimacy of the site, it's time to get you started in earning cash and free gift cards in your spare time.
Swagbucks makes it easy to join.
You can either sign in through your Facebook account or if you don't like linking your social media, your email address will do.
Now, remember I said something about getting a free $5?
Well, we have worked out a special deal with SB where every MoneyPantry reader who signs up gets a free $5 sign up bonus.
All you have to do is use this link to sign up for Swagbucks to get your free $5 bonus.
Once you confirm your account, your account will be credited with $5.
I am willing to bet that's probably one of the easiest five dollars you'll ever make.
How to Earn Money with Swagbucks Fast
There are some things you should do if you're serious about earning money here.
Start by filling out your profile on the site, downloading the browser extension which gives you a "Swag Button", and switching your searches over to the Swagbucks search bar.
If you need help doing any of these things, you'll find clear instructions on the website.
Once you're all set up, you can start earning points.
Each Swag Buck is worth about a cent, and you get different amounts for doing different tasks. Though it may not sound like much, it adds up over time.
Plus, this company is basically paying you for doing things you already do online, anyway.
Now we are going to show you how to earn even more.
1. Search the Web
Who wouldn't want to get paid to search?
If you use the site as your default search engine and you do a typical amount of searches each day, you'll find you get between 25 and 50 Swag Bucks on a daily basis.
Sometimes they even throw in a bonus.
This is a great way to accumulate points doing what you already online several times a day searching.
It truly is a way to earn money without changing any of your habits.
2. Shop Online
I think everybody knows about eBates, where you get paid to shop online.
Swagbucks has exactly the same type of program where you can earn cash back for shopping from many online retailers including Amazon.com.
The amount of cash back you earn depends on the store, products, and how much money you spend.
For example, with Amazon in some categories, they give you as many as 4 SBs for every dollar you spend.
That's the same as getting a 4% discount.
The shopping portal includes a huge number of online retailers including:
Amazon
Walmart
Target
Macy's
Gap
Best Buy
and many more.
To make it easier and faster, install their little browser add on.
Whenever you visit an online store, it lets you know whether or not that store is a participant of the program and how much SB you can earn.
3. Take Surveys
A great way to earn more points is to take online surveys.
And when I say "survey," I mean real market research studies, like the ones conducted by legit survey sites like GlobalTest Market and MySurvey.
Some of these surveys can pay up to 300 SB points.
Of course, unlike the methods above, now you're doing something that you would not have done before, so it is right that the rewards are greater.
You will find that each survey may take up to 20 minutes, and Swagbucks will use your profile to try and match you to appropriate surveys.
Pro Tip:
If you're thinking of doing many surveys, you're going to want to look at a form filler like LastPass or RoboForm. These are apps that will keep your passwords secure, and do a good job of that, but they will also store your details such as your address and email and use them to fill out forms on screen. This can be a great time-saver if you're filling out lots of surveys.
4. Watch Videos
You probably did watch videos online before, but now you can get paid for watching videos.
You get to choose from a number of categories, including travel, entertainment, home, etc., so you should be able to find videos that interest you.
You could probably get 150 points a day just from videos.
If you want to cheat and get on with some work while the video is playing, you could always turn off the sound and minimize the window!
You can even earn SB points for playing videos on your smartphone.
Just download the app, which allows you to play videos one after another on your phone.
If you're going to do a lot of this, make sure you plug in your charger and you're connected to Wi-Fi to avoid data charges.
5. Print Grocery Store Coupons
Yes, you can get grocery store coupons through the site as well.
Yes, you earn points for even printing grocery coupons.
This works out great because not only do you get the coupon discount, but they give you 10 SB points for every coupon you use.
This is the same as getting another 10 cents off.
6. Play Games
Getting paid to play games is a great excuse for playing a few games!
There are 2 types of games you can play:
Free Games
Paid (casino style) Games where you earn X points per dollars spent.
I wouldn't get into the paid game habit. After all, you're her to earn a few free gift cards or a little extra cash, not to gamble away your money!
But the free games, even though they don't pay that many points are an easy way to kill a few minutes and get some free points.
7. Take the Daily Poll
This is an easy one.
Each day, Swagbucks puts up a different poll.
It's just a simple question that will take you seconds to answer and you get one point for taking part.
8. Perform Tasks
You can find this one under the Earn tab.
Just click on Tasks to go to the page, which tells you what tasks are available.
There's a variety of things to do, and they tell you at the beginning how many minutes they think they will take.
You can earn between 16 and 40 points for each task, which isn't a lot, but if you have nothing to do you could give it a try.
9. Complete Special Offers
Again under the "Earn" tab, just click on Special Offers to see what's available right now.
Most of them are pretty easy.
For example, when I looked I could sign up to get the Dilbert comics and earn 9 SB points.
Signing up for the Sweet Daily Deals newsletter would get 21 SB's.
There are also lots of other similar offers, especially offers with a free trial period. I wouldn't just sign up for free trials to rack up points, especially the ones that ask for your credit card info. If you don't cancel the trial they will charge you after the trial period.
How to Earn More Points
We've covered a lot of ground, but we're still only scratching the surface.
There are tons of ways to earn SBs. A quick search online can reveal blogs and forums where people share their ways of earning more points faster.
You can find them by searching for terms like"Swagbucks Hacks or codes."
But for now, we gathered a list of tips and tricks that you can use to maximize your earning.
10. Follow the Swagbucks Blog
They often announce SB codes on their blog, as well various giveaways and offers that.
You can find the link to their blog on the website footer, under Swagbucks/Home/About Us.
11. Swagbucks Reddit
If you want to keep an eye on only one place related to SB, this is the site you want to go with!
They have a subreddit that is full of tips and tricks for earning more points quickly and easily. Redditors post Swag Codes, hacks, as well as easy offers that can get you a quick 10, 20, 30,… SB points.
You can find it @ Reddit.com/r/SwagBucks
12. Follow on Twitter
And keep your eyes open for Swag codes, which they show from time to time. Follow them @ Twitter.com/Swagbucks.
13. Follow on Facebook
They put out Swag codes on Facebook, too. Follow them @ Facebook.com/Swagbucks
14. Follow on Instagram
Watch for Swag codes here. Follow them @ Instagram.com/Swagbucks Official
15. nCrave Activities
Some people think that nCrave Activities are the best way to earn more points.
There are lots of them to choose from and they're always available.
The activities generally follow the same sort of theme, requiring you to click things after watching a video or reading an article.
16. Install the Swagbucks Toolbar
I recommend installing the toolbar so that you can do direct searches.
If you don't install it, you have to go to the homepage each time you search, or you won't be credited.
You can find all their addons and installation guide on this page.
17. Use the Referral Program
This is a way to multiply your earnings.
Now that you know how good this site is, why wouldn't you want to share it with your friends?
You can share the site through a link on Facebook, using a banner on your website, or just emailing your friends.
Whenever someone signs up through your link you earn 10% of their earnings.
You can find your referral link by logging into your account and clicking on the Refer & Earn tab on the upper right side of your dashboard.
18. Install SwagButton
The other tool I mentioned at the start, the Swag Button, is a browser extension, and just for having it installed you earn one SB every day.
But that's not the best reason for having it…
As I mentioned earlier, having this app installed allows you to get notifications about the current site you are on and whether or not you can earn SBs for using it.
It also lets you watch videos in the corner of your screen so you can do other things.
You can also use it to redeem Swag Codes from wherever you are online.
What are Swag Codes?
So what are Swag Codes?
They are little pieces of code, usually words and numbers, which give you instant SB points.
They come up in the site, and in social media, and they expire within a few hours, so you have to redeem them straight away.
Having the Swag Button installed makes it easy, as it tells you every time there's a new code issued.
The codes are worth up to 5 instant SBs.
You can also cheat a little by going to a site like sbcodez.com because they publish all the codes in one place. Check it out a couple of times a day.
If you don't have the Swag Button, you have to go your account and find the little safe icon at the top. When you click on that, you can enter the code and receive the Swagbucks.
19. Use their Visa Rewards Credit Card
Look, I don't want to encourage you to get another credit card unless you're sure you can handle it and pay it back each month – but the site offers a credit card that comes with reward benefits.
After your application is accepted, you have 3 months to use the card or transfer a balance, then you will be given a bonus of 1000 SBs.
If you're going to use it more than that, you can actually get 2500 extra SBs if you spend at least $1000 in the first 6 months.
There is an introductory APR of 0% which applies for the first 6 months on both purchases and balance transfers; the regular APR will depend on your credit rating, and will usually be somewhere between 11.99% and 18.99%.
20. Use their Secured Credit Card
Again, I am not encouraging you to go out and get credit cards so you can shop and earn points.
However, if are looking to build your credit history and have no credit card, SB offers a secured credit card that you can use to not only build your credit history but also earn points for using it.
You'll earn 1 SB point for each $2 you spend. Plus you can get 500 bonus points when you reach $500 in purchases, or 1,000 points when you reach $1,000 in purchases.
21. Download the Mobile App
You can do almost anything on Swagbucks that you do on your PC, on your phone by installing their Swagbucks Mobile App.
However, there is one awesome advantage that comes with having this app installed. and that is the fact that you can get
You see, Swag Codes are announced randomly. Nobody knows when the next announcement will come, and since they usually expire quickly, if you miss the announcement, you miss out on some free codes.and that is the fact that you can get
Having the app installed will enable you to get notified of any new Swag Code announcement immediately no matter where you are. And you can enter the code right away and get your free points.and that is the fact that you can get
How to Get Paid (Cash out) on Swagbucks
Once you've earned all these points, you may be interested in knowing how you can redeem them for something of value.
The main offer is gift cards for retailers, such as Amazon, iTunes, Target, and Walmart.
You can also get a gift card for PayPal, which is basically the same as cash – you can either buy things with your PayPal account, or you can ask them to send you a check.
I think I said in the beginning, each "Swag Buck" is worth about a penny. When you're buying gift cards, that rate seems to apply no matter how much you redeem or where you redeem it.
So for instance, you could get a $5 Amazon gift card for 500 Swag Bucks, or get $5 into your PayPal account for the same number.
Having said that, sometimes they offer gift cards "on sale", which means they will give you the card for less than the normal number of points.
The best advice is to cash out early and often to make sure you get your money.
Occasionally, Swagbucks will deactivate accounts – they do this to stop people who try and defraud them – and if they thought there was something suspicious about your account, you could find it deactivated and worth nothing.
In any case, you don't get any discounts for larger values, and there is no minimum redemption amount, so there's no reason to wait.
There's a redemption limit of 2 rewards a day, but in the normal course of events, this shouldn't be a problem.
Don't make the mistake of waiting until you need a gift card before you redeem your points. Every time you submit a request, there is a delay before Swagbucks issues the gift card, even though it is usually given in the form of an email.
The delay is about 10 to 14 days.
The email will contain a link, and when you click on that you will go to your account and see your gift card.
The gift card will either be printable or a code you can enter on the retailer site, depending which store it is for.
If you are redeeming for PayPal value, you should make sure that you have used the same email address on both Swagbucks and PayPal so there is no problem.
One of the games you can play on Swagbucks is to gamble with your points on sweepstakes to win a larger value gift card, such as $100.
My advice is to avoid this, as there's not much chance of winning and you will fritter away the points that you have built up.
Better to save them up and spend them on something you really want.
Earn SB Points for a specific thing
One way to be more focused on earning more points and using them effectively is to aim for a specific goal.
The variety of rewards you can get from Swagbucks can be perplexing as you can put them towards Amazon, Lowe's, or even some gas stations.
If you decide to save for something specific, you will be better able to follow through and achieve it.
For instance, you might decide that you want to be able to buy Christmas presents for the family at Amazon and that you'll need $300 by the end of the year. You can then put all your focus and effort into earning enough points that can get you $300 worth of free Amazon gift cards that you can use for your holiday shopping.
It's much easier to stay focused and keep going when you have a specific goal. It keeps you more motivated.
Is Swagbucks Worth It?
When you look at all the different ways you can earn points and all the ways you can spend them, you might wonder if it's worth it.
To be honest, it depends.
For me (and I know for a lot of people) it is worth it.
If you are doing most of this stuff online anyway, you may as well get paid for 'em.
I also have lots of friends who use the site and get a gift card or two each month.
I love that they're enjoying Swagbucks, because as I mentioned above when you refer someone you get a share of the points they earn forever!
Still, even if you don't share with friends, you can build up a decent amount of points by your own activity.
Here's How to Earn an Extra $758,25 a Year…
Just in case you're still wondering about the value of joining Swagbucks, I put together a hypothetical way that you might earn around $758,25 each year, using the different activities noted above.
In many cases, it's just a matter of developing a habit of doing something a particular way, such as searching in the Swagbucks search bar.
Going through it in order:
Relax and play 4 games a day, that's four points or 1460 per year
Searching could get you 50 points a week, which times 52 weeks equals 2600 points
Use the mobile app to view videos, say 50 points per day or 18,250 SBs per year
If you hit 200 bonus swag codes a month (which is doable especially if you keep an eye on Reddit), that amounts to 2400 SBs per year
Log in and do the daily poll for one SB a day, or 365 SBs per year
Do a survey a day, say 60 points times 365 equals 21,900 points per year
Invite 20 friends (you have 20 friends who could use some extra cash, don't you?) who each earn 1000 points, that's 20000 points for you
Use 10 coupons a week, that's 5200 points per year
And watch videos on your desktop, 10 points per day equals 3650 points per year
That gets you to 75,825 SB points.
Redeem that 75,825 SB points and you got yourself roughly $758,25 in cash or gift cards.
Not everyone is going to do so much on Swagbucks as the example above, but I hope you can see that it is well worth the effort to do something.
Even if you do 1/3 of that, that's still $252,75!
Not bad for watching a few videos, playing a few games, taking a survey or two, or searching the web, for just a few minutes a day in your spare time.
Final Thoughts
Not everyone is going to do so much on Swagbucks as the example above, but I hope you can see that it is well worth the effort.
Even if all you do is use their search bar and do your online shopping through them, you will slowly and surely build up your rewards points, without really putting yourself out.
I hope this overall review of Swagbucks and the tips and tricks for earning more points have helped you become more efficient in using this online loyalty and reward program.