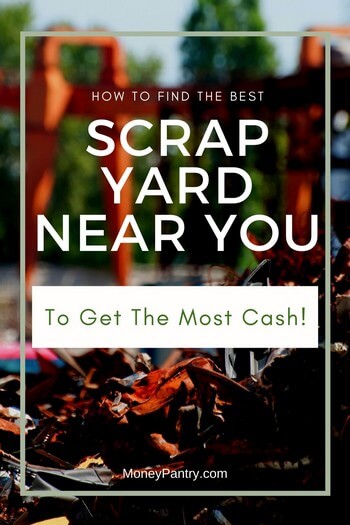 Are you asking, "where can I find a scrap yard near me?"
Well, you're not alone.
The US scrap metal recycling industry was worth $90 billion in 2018!
You could make money from your scrap metals, whether it's an old car or appliance.
In this post, I'll give you tips on selling scrap metal for the most money and how to find a scrap yard near you.
What Kind of Metal Do Scrap Yards Take?
If you are new to recycling metal, you probably don't know what type of metal you can and can not recycle for cash.
Need Easy Extra $300+/Month for Free?
KashKick
: Get paid directly into your PayPal for watching videos, surfing, shopping and more.
Join KashKick Now!
InboxDollars
: Paid over $57 Million to members to watch videos, take surveys, shop and more.
Get $5 instantly!
Branded Surveys
: Get $1 instantly just for joining for free. Plus get paid within 48 hours by PayPal!
Join Branded Surveys
First Opinion
: Get paid up to $10 per survey and $300 per virtual focus groups!
Join Now!
Swagbucks
: Get paid to watch videos, shop online, take surveys and more.
Join now & get $10 instantly!
Before we get onto the list of scrap metal recycling centers, it's important to know what types of items you can sell at the scrap yard.
After all, you don't want to get there and find out the place doesn't pay for the item you have.
Not all scrap yards will buy exactly the same thing – so do check with your local one before you visit – but for the most part, they tend to buy:
Copper
Aluminum
Zinc
Nickel
Lead
Iron
Steel
Stainless Steel
Brass
They tend to purchase metals that are commonly used in industry.
Some places will take appliances and others will take cars to take them apart and sell the scrap metal and other useful parts.
Scrap metal items to look for include:
Electronics: Like computer monitors, desktop computer towers, and TV monitors.
Appliances: Like toasters, refrigerators, dishwashers, microwaves, dryers, AC units, heaters, washers, kitchen range and microwaves.
Wiring: Copper wiring (copper tubing is good too), power cords, or electrical wiring.
Small items: Screws, nuts or bolts.
Bathroom/Kitchen Items and Fixtures: Like faucets, drains, and pipes, cast-iron bathtubs and stainless steel sinks.
Light fixtures: Pieces of metal from light fixtures.
Door items: Like door handles, doorknobs, and doorframes.
Vehicles: Like cars, boats, airplane parts and bicycles.
Look out for items not only around your home, but also at places like yard sales. I'll give you more tips below on how to make the most money from selling scrap metal.
How to Find a Scrap Yard Near You
Here are a few ways to find nearby scrap yards.
Google Search
I'd highly recommend doing a Google search to find nearby wrecking yards. This is honestly the easiest, and most convenient way to find them.
All you need to do is go to Google, type "scrap yard near me" into the search bar, hit search, and you'll get a map appearing at the top of the search engine results, like this: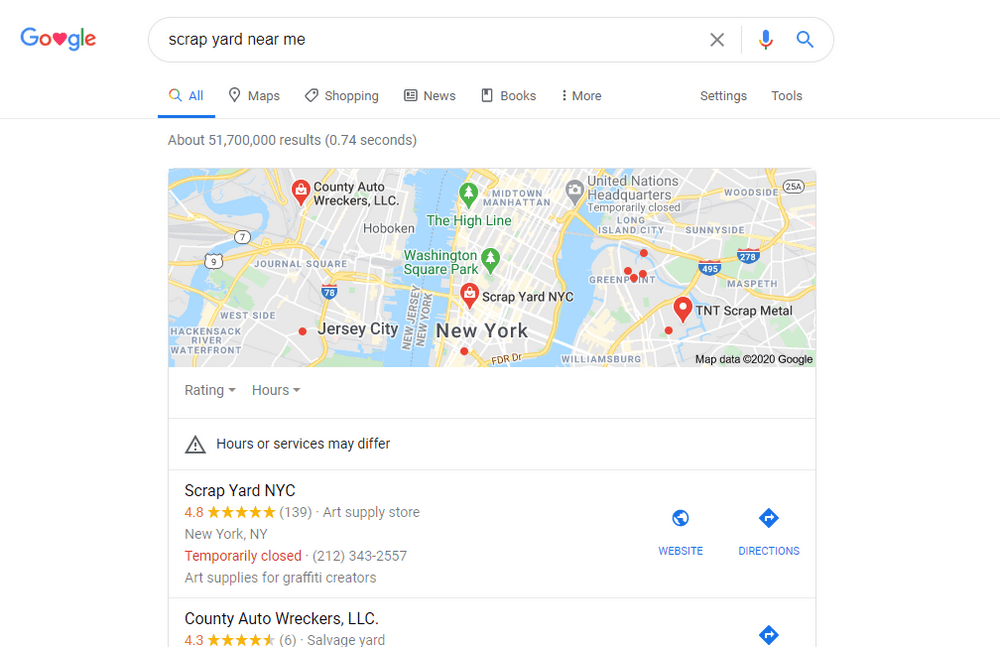 It will give you a list of places on the map. You'll be able to get the yard's phone number, read reviews of it, and even get directions. Easy, right?
YellowPages.com
Use YellowPages.com to find nearby junkyards. It's really easy.
Just enter the words, scrap yard into the search bar and select your city. It will then pull up lots of results, like this: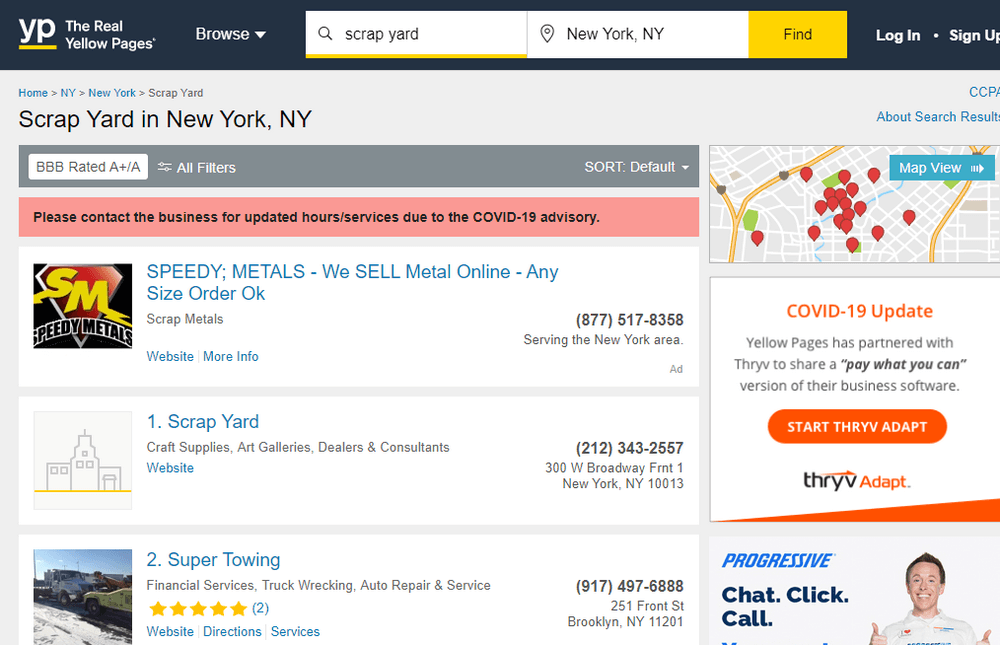 You'll get a list of yards with phone numbers, addresses, reviews and even directions.
Visit YelowPages.com here to start searching for scrap yards.
iScrap App
Next up, we have iScrap App. You can use this app to find local scrap yards. You can also use it to check the current scrap metal prices. It's updated daily with national averages.
It's not any simpler than just using Google or YellowPages.com, but you can find yards right from your phone, so it's super convenient. Also, the fact it also offers prices is an added bonus.
Visit the iScrap App website here.
Download iScrap App for iOS devices here.
Download iScrap App for Android devices here.
Craigslist
Okay so Craigslist can be a place to look for scrap metal services. You can often find ads on there that offer to haul your scrap away for you for free. This is better though if you're just looking to get rid of your scrap metal, rather than make money from it.
Just go to the "services" section on your city's Craigslist, and then enter the term "scrap metal" into the search bar.
Here's what I got when I did this: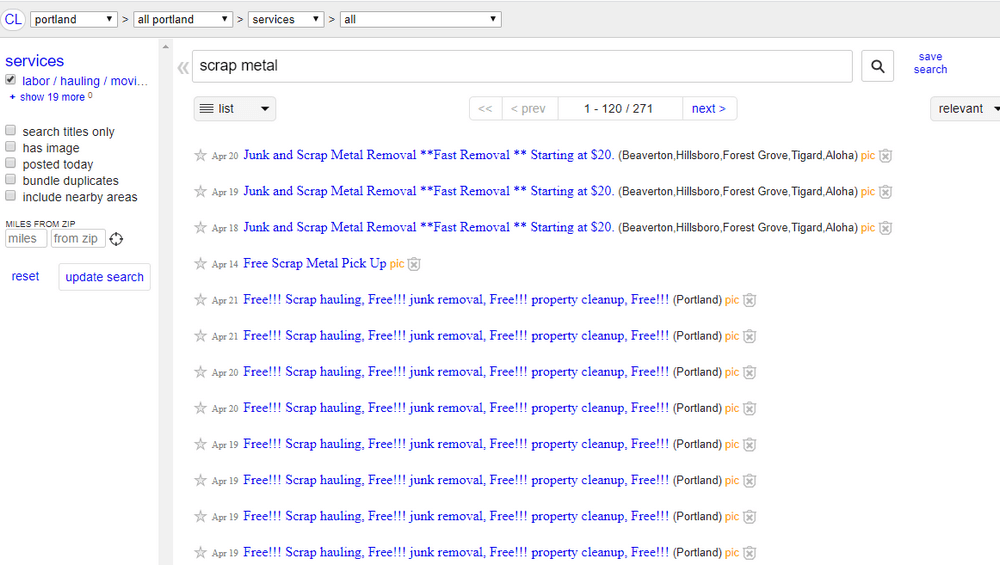 You can also search for similar terms, like "scrap yard" or "scrap removal."
Like I said above, most listings on CL just offer to haul your stuff away for free and won't pay you.
If you're looking to get paid though, you may want to try another option on the list.
You could also list your scrap metal for sale directly on there and see if anyone's willing to buy it from you.
Search for nearby scrap services on Craigslist here.
Online directories
There are lots of directories online that you can use to find nearby yards.
Here are a few examples:
This gives you a pretty easy way to find local places that buy used appliances and scrap metal.
Where to Find Scrap Metal Prices
Okay, so now that you know where to find your nearest scrap yard, you're probably wondering about current scrap metal prices.
After all, knowing the price for metals can help you to decide whether the price you're quoted by the scrap yard is fair.
Handily enough, iScrap App has a list of scrap metal prices.
It shows the current price for lots of different metals and items, from copper tubing to Romex wire.
Find current scrap metal prices here.
Tips on How to Get the Most Cash for Your Scrap Metal
Okay, so above, I've told you where you can find nearby scrap yards and where you can find the best prices.
In this section, I'm going to cover some tips for making money with scrap metal.
1. Be on the lookout for items you can scrap
Look around your home for items that you can scrap. And don't be afraid to think outside of the box.
You'd be surprised what items you can actually scrap. Places will take broken items, so long as they can scrap them for metal. If you have an old washer in the basement that doesn't work – scrap it for cash!
Plus things like Christmas lights can be scrapped for the copper wiring that's inside!
So rather than throwing out those Christmas lights that don't work anymore, take them to your nearest scrap yard and trade them for cash.
As I said above, it's not just your own home where you can find items to scrap – yard sales are also ideal.
You can often find items there that you can scrap for cash.
Also don't be afraid to ask at local businesses, neighborhoods, and of course yard sales if they have metal or broken appliances you can take for free. Some people will just be happy to have someone haul their stuff away for free.
2. Look for most profitable items to scrap
Because junkyards pay little for certain metals, it's ideal if you have higher value ones to scrap.
These items for example have the highest scrap prices, at the time of writing:
Copper (wiring, tubing etc.)
THHN Wire
Romex Wire
Brass
Of course, it won't always be possible to get these items in your collection.
And scrapping lower value metals and items is still worth it. After all, you'd get nothing at all for an item if you were to just throw it out. You may as well get some money from it, even if it is a small amount, rather than nothing for it at all.
3. Know what your items are worth
One of the most important things to know before selling scrap metal and other items is what your stuff is worth. Sometimes, it's not possible to get an exact dollar amount. But you want to at least have a ballpark figure so that you have enough knowledge to know whether you're getting a good offer for your stuff – or if you're getting scammed (don't worry; I'll give you tips below on how to avoid scrap yard scams).
The best way to get an idea of what your scrap metal is worth is to check the prices online. As I said above, you can do this on the iScrap App website.
Now, if you have an item to scrap, like a washing machine for example, rather than a specific metal, like copper wiring, it's best to search online for that specifically.
Just do a search online for the term "washing machine scrap value," and look at a few different results.
By having a general idea of your item's value, you'll be prepared when you go to sell it.
4. Take as much stuff as you can
It's best to take all of your stuff to the scrap yard in one trip, if possible. This is because you may be able to negotiate a better price if you bring a lot of scrap metal to the yard at one time.
This is because many scrap deals prefer to deal in volume when they buy metal, as it means more money for them when they resell it.
And if you plan to bring another load in the future, definitely let the dealer know about it. It could help you to get more money.
The more items and metals you can bring in to scrap, the more negotiating power you will have.
Most yards usually don't have any limit on how much you can bring in at a time.
5. Separate your metals
If the scrap dealer has to take extra time to separate the metals themselves, they might use that as a reason to give you less money.
So if you have a variety of different metals, make sure that you separate them yourself first.
Generally, the more work the scrap dealer has to do – the less money you'll be offered for your metal.
6. Compare prices
Comparing prices is something you should always do whether you're shopping for a new TV or booking a vacation.
And it's no different when you're selling scrap metal.
I'd highly recommend that you call around to check prices. Write down a list of local scrap yards. Then call each one and ask for a quote. Write the quote next to the dealer's name for each place.
Scrap dealers most likely won't be able to give you an exact quote over the phone – they'll want to see your stuff in person. But you still may be able to get a ballpark figure on what that dealer pays per pound for a particular metal or the average price they pay for scrapping an appliance like a washing machine.
Different scrap yards will have different prices, so by checking around, you can find out which one is most likely to give you the best offer.
7. Borrow or rent a truck if you don't have one
Like I said above, having a lot of stuff to take with you to the junkyard at one time can give you more negotiating power. However, how do you get it there?
Well, you'll need a truck of course. Because you can just load it all up and make one trip.
But what if you don't have a truck?
Does it mean you're stuck?
Heck no.
You have a few options.
Firstly, see if a friend or relative has a truck you could borrow. They may be willing to loan it to you for the day.
Just make sure you replace any gas you use – that's just common courtesy.
Another option is to rent a truck. A lot of companies that rent moving trucks also rent regular trucks. And for in-town use, the rental prices are often as low as $20 a day!
8. Negotiate
Don't be afraid to negotiate a little. Instead of just accepting the first price the dealer offers, ask if they can offer a little more. If you have a lot of metal to sell, you should definitely consider negotiating. Of course, there's no guarantee that you will be offered a better price, but you never know unless you try.
Tips for Avoiding Scrap Yard Scams
Sadly, not every single scrap yard dealer you do business with is going to be honest or trustworthy.
Of course, there are lots of honest scrap yard dealers out there.
Unfortunately though, there are also people out there who will try to rip you off.
When you're scrapping a car in particular, you may come across people trying to scam you. It can happen regardless of what you're scrapping though.
To make sure you don't fall victim to any scams, there are a few things you should watch out for:
The yard is operating without a license
While the laws for operating a scrap yard usually vary from state to state, a scrap yard should at the very least have a business license.
This is the same license that's needed by all other businesses. Usually a fee is paid to get the license and to register with the state.
Depending on where you live, a special scrap metal license may be needed to operate as well. Sometimes special licenses are issued for certain types of businesses, like a license to sell and distribute alcohol for example.
If you're unsure if a special license is required for scrap metal dealers where you live, check with your state to learn more.
The scrap dealer tries to rush you and brushes off your questions
Some dealers will brush off your questions and try to rush you, in an attempt to pay you as little as possible.
They just want to give you a low price and then get you out of there.
They might say something like "this is the best I can do," without giving an explanation as to why.
Honest dealers are willing to give you clear answers to any questions you may have and won't try to rush you into making a deal.
They'll explain to you why they're paying you the price they are for your stuff. So, don't let a dealer try to rush you into accepting their offer.
Take your time. If you feel a dealer is trying to rush you into making a decision, go elsewhere.
Tow truck scams
If you're selling your car for scrap, then you may come across scams with tow truck operators.
Some scrap yards pick up vehicles using their own trucks.
But not all scrap yards have their own tow trucks. Instead they partner with independent tow truck operators. They pay these operators a fee for each vehicle they pick up.
Unfortunately, some of these operators can try to scam you.
A common one that some run is when the scrap yard agrees to pay you a certain amount of money over the phone. But when the tow truck operator arrives to pick up your vehicle, they tell you it's worth less than the amount you were quoted over the phone.
This is because the operator is trying to pocket the difference in what you were supposed to be paid.
Another scam you may come across with tow truck operators is when they say that you have to pay to have the vehicle towed, even though the scrap yard dealer told you that they'd cover the charge. The tow truck driver may be trying to earn two fees for one trip.
If you encounter either of these situations or any suspicious activity with a tow truck driver, call the scrap yard dealer right away and tell them what's going on.
Failure to include the towing cost in the quote they give you
Some places won't include the cost of towing your car in the quote they give you.
Make sure to ask what's included in the quote you're given. Ask whether the quote includes the towing fee.
Like I said above, it always a good idea to get multiple quotes to ensure you get the best price.
An honest dealer will be upfront with you about whether the quote they give you includes the towing cost.
No title transfer when you sell a vehicle
You need to transfer the title of a vehicle to a scrap dealer whenever you sell one to a dealer. This is the case even if the vehicle isn't drivable.
Also, you need to get in touch with the DMV to cancel the registration. You could still be liable for a vehicle if the proper documentation is not carried out on the sale of the vehicle.
A dubious scrap dealer may say that they'll handle the paperwork for you. But, this is often a setup for a scam where they take your car and then bill you later for storing the vehicle on their lot. If you don't pay, they send it to a collections agency, which damages your credit score.
So make sure that you take care of all of the paperwork before you scrap your car.
It's not worth taking risks. Also, make sure you remove all of your belongings from the vehicle including the registration and tags.
You are told your stuff is worthless
A scrap dealer may tell you that your item is worthless and act as though they're doing you a favor by taking it off your hands.
This is particularly common with larger items, like cars and appliances.
It might seem like getting rid of your junk for free is a good deal. But, it's not. In most cases, junk cars and broken appliances are still worth something. If you give a vehicle or appliance to a dealer, they're likely to make money off it by selling it for parts.
So, don't just believe a dealer who tells you that your stuff is worthless. Call around multiple dealerships to get quotes, as I said earlier.
If you let the dealer know you'll go elsewhere, they'll likely offer you money.
The dealer tries to pay you less than the agreed price
Some scrap dealers will try to pay you less than the price they quoted you once they have the vehicle in their possession. They might say something like after checking your car out in-person it's not worth as much as they originally quoted.
Now, if your car has already been towed to the lot, it may be too late to do anything about it. So you want to prevent this situation from happening in the first place.
Firstly, you should disclose everything about your car upfront. Doing this means that the dealer knows what to expect and can give you an accurate quote.
The second thing you should do is make sure you get paid before you sign over the title, and if possible before you even have the vehicle towed. Always make sure you get paid right away. Don't give your vehicle to a dealer with the promise of payment at a later date – this likely won't materialize.
Don't worry; there are plenty of honest scrap dealers around. Just watch out for people who want to rip you off. If you encounter any of the above, you may be dealing with a dishonest dealer, so go elsewhere.
What Else Can I recycle for Cash
There are a lot of things that we use in our everyday life that can in fact be recycled and sold for cash We have covered many of them here at MoneyPantry.
Here are a few of them:
These are just a few posts. You can find more by searching for "moneypantry.com recycling" on Google.
Closing Thoughts
If you're wondering, "where can I find a scrap yard near me," give the above options a try. And make sure you keep my tips in mind to make sure you sell your scrap metal for the most cash and avoid being ripped off.
Let us know in the comments section below if you've made money selling stuff to scrap yards.