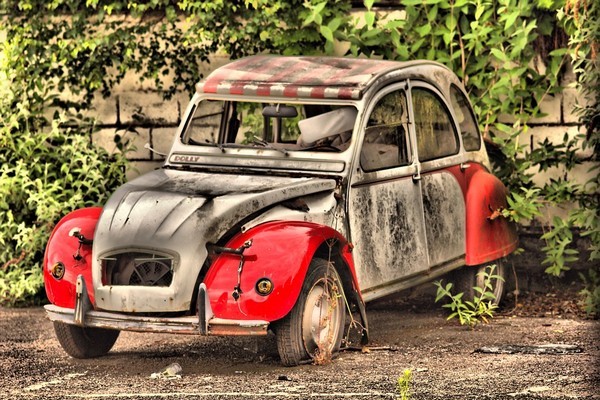 Selling scrap metal is actually one of the most profitable forms of recycling.
One of the main reasons this is the case is the fact that you can sell almost anything containing metal, from broken Christmas lights to old car parts.
Larger pieces of stainless steel (like those you can find on broken grills) can even be sold for up to $100.
Collecting scrap metals and selling them to scrap yard and recycling facilities is a low cost side business with decent profit potential. Which is why a lot of people are trying to get into it. Some make a full-tile business out of it, and some use it in their free time to earn some extra cash.
No matter which group you belong to, here is all you need to know in order to make money scrapping metal.
Know your metal
Before you get started, it is important to know the different kinds of metals.
There are two kind of metals out there:
Ferrous
Non-Ferrous
Ferrous Metals: Most scrap metal that is being recycled belongs to this category. This type of metals contain iron, or alloys of iron like stainless steel.
Non-Ferrous Metals: This type of metal is worth more than the other when it comes to selling it by the pound. Aluminum, nickel, copper, lead, tin, titanium and zinc, and alloys like brass belong to this category.
How much does scrap metal sell for?
Prices differ from place to place and depending on the type of metal you have. But on average, you are looking at around $10 per 100 pounds of metal.
Of course, the worldwide supply and demand plays a huge role in the fluctuations of scrap metal prices.
Average prices for scrap metal
Here are some numbers to give you an idea on the prices:
Bare Copper: $2.85 per pound
Aluminum: $0.50 per pound
Ferrous metal (which is the most common metal): $0.10 per pound or – $10 per 100 pounds
How much can you get for your scrapped appliances?
Here are some numbers to give you an idea of how much you may be able to get for your old (or new) appliances if you were to sell them to scarp yards:
Dryer with an average weight of 100 lbs: $10-$15
Refrigerator with an average weight of 175 lbs: $16-$20
Cast Iron Bathtub with an average weight of 300 lbs: $30-$50
Washing Machine with an average weight of 200 Pound: $18-$25
Ovens/Ranges with an average weight of 125 lbs: $10-$20
Full size Gas BBQ with an average weight of 180 lbs: $15-$20
Where to find scrap metal to sell
You can find scrap metal in a lot of places.
The first place to look is your own home. Check the garage and the basement to see if you have any old appliances, tools, or any item that has metal in it and that you don't need/use it anymore.
Probably the best way to find scrap metal is through Craigslist.
Keep an eye out for ads from people who are trying to get rid of their old appliances.
Or better yet, put an ad on CL advertising your service. Let people know you'll pickup the stuff for free.
Most people want to get rid of their stuff as fast as possible, so they'll be happy to let someone pickup their "trash" for free.
Getting Started
Ok, now that you know the different type of metals and how much you can get for each type, you are ready to start making some money.
Here is a quick step by step guide to get you going.
1. Organize before you start
If you have never before collected scrap metal, our honest advice is to go step by step so that you make sure you'll gain some income selling it. Start from the basics
Find a place to store your metal
If you have a spare room or extra space in your garage, that can work. If you are starting small, you can opt for something already lying around your house (like an old TV set box) or you can buy a plastic container and place it somewhere in your house.
Find a way to transport the metal
This one also depends on your needs and, well, ambition. If you sticking to the smaller amounts, they can probably fit your car, but if you need transport of a larger load you'll need a pick-up truck or even a dump truck.
You need to sell it all somewhere
We'll further discuss that below, in the section on scrap yards.
For those feeling especially meticulous: Tools
If want to, and if you have enough time on your hands to do that, compile tools that will help you disassemble and sort through elements.
2. Collect scrap metal
You'll might feel sorry for every tuna can you've ever thrown away after reading this.
Yes, tuna cans, beer cans, patio furniture, broken pots, old toasters and coffee makers: They could have all been further used. Even the old door handles (which were usually made of brass) and broken golf clubs.
You can basically always find something around that could be sold as scrap metal. It's all about how willing you are to look around.
3. Store 'em
If you have the necessary tools and want to do disassembling and categorizing on your own, you can do that with every piece you collect and then store it.
If you are already categorizing your metal, you can buy or make containers that will help you better keep track.
At the end of the month you can sell everything that would otherwise be thrown away and earn extra cash. Sometimes that could be just $20, but sometimes that could be even several hundreds.
3. Sell 'em
Now to the most important part.
If you want to sell scrap metal, open your phone book and start looking for scrap yards.
However, there are several things you need to know before you head to one. We want you to make as little mistakes as possible. And we are sure you want the same thing.
In order to sell scrap metal, you have to have a valid ID and not be younger than 16;
Each scrap yard has their own categorizing rules, and their own price range. After all, a scrap yard is usually just a go-between connecting you, an average seller, to a larger scrap yard or a metal refinery);
Each scrap yard competes with the others in their surrounding. They will try and do that with you by offering better prices for different categories;
They will only pay you once they have categorized and weighed your metal load.
Ask around: Call your local scrap yards and ask about the prices for different kinds of metal. A simple phone call can also be indicative for the service they offer. But also ask around with the people who have sold scrap metal before. First hand experience can help you a lot as a beginner.
How to find local scrap yards to sell to
There are a few ways to this;
Use Phone books: I mentioned using phone books above.
Use iScrap App: Another easier way is to use an app called iScrap App. It makes it very fast and easy to find local scarp yards near you where you can get cash for your scrap metals.
Search on Google: You can also search on Google for terms like:
scrap yard near me
local scrap yards
scrap yard (followed by your city/zip code)
Can you make a living collecting scrap metal?
Yes, you can. Earning $100-$200 a day is not that unusual for scrap collectors. But it takes a lot of hard work and planning.
That said, recycling (be it metal, paper, glass, books, or even car batteries) is a great way to make some extra cash.
But for most of us who want to just earn some extra cash here and there, earning a few extra hundred dollars a month isn't that hard.
One thing is for sure, scraping metal and earning from it is a real thing. Maybe you won't make a living on it, but the extra money can always come in handy. Stick to the basic steps until you gain more experience in the area and you'll be doing just fine.
And remember, next time you open a can of tuna, don't throw it away!