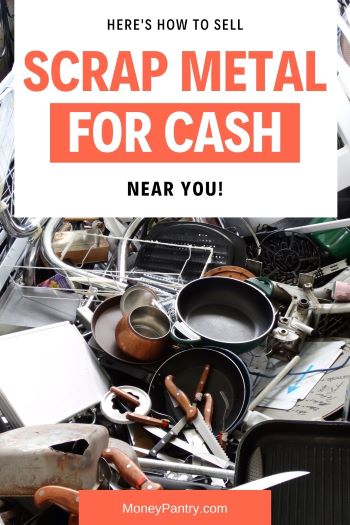 Selling scrap metal is actually one of the most profitable forms of recycling.
One of the main reasons this is the case is the fact that you can sell almost anything containing metal, from broken Christmas lights to old car parts.
Larger pieces of stainless steel (like those you can find on broken grills) can even be sold for up to $100.
Collecting scrap metals and selling them to scrap yards near you is a low cost side business with decent profit potential. This is why a lot of people are trying to get into it. Some make a full-time business out of it, and some use it in their free time to earn some extra cash.
No matter which group you belong to, here is all you need to know in order to make money scrapping metal, including the most profitable scrap metal.
Need Easy Extra $300+/Month for Free?
KashKick
: Get paid directly into your PayPal for watching videos, surfing, shopping and more.
Join KashKick Now!
InboxDollars
: Paid over $57 Million to members to watch videos, take surveys, shop and more.
Get $5 instantly!
Branded Surveys
: Get $1 instantly just for joining for free. Plus get paid within 48 hours by PayPal!
Join Branded Surveys
First Opinion
: Get paid up to $10 per survey and $300 per virtual focus groups!
Join Now!
Swagbucks
: Get paid to watch videos, shop online, take surveys and more.
Join now & get $10 instantly!
Determining the Type of Metal
Find out if your metal is a ferrous or non-ferrous metal, then segregate according to these two types. Determining if it's ferrous or non-ferrous metal is no rocket science. Simply get a magnet. Take note that any magnet, even those found on your ref will do.
Ferrous: If the magnet clings to the metal, then it's a ferrous metal, something common like steel or iron. Ferrous metal, however, does not fetch a high price from scrap yards. But these yards will still get the ferrous metal and recycle them.
Non-Ferrous: It is a non-ferrous metal if the magnet does not stick to the metal. Some common examples of non-ferrous metals are copper, aluminum, brass, stainless steel and bronze. Non-ferrous metal is actually valued more at scrap yards as these are very valuable to recycle.
Know Your Metal
Recognizing the different types of metal, and knowing their worth are considered the most difficult task in metal recycling. Get to know the basic metals and their value, and you won't be wasting your time on scraps that won't make you any money.
1. Copper
If Copper is in good condition, then it will have a reddish color. But if it's a bit worn, then the copper will be of brown color with some green rusted areas.
Copper can be found in your own house as plumbing pipes, roofing materials like gutters. The interior of air conditioners and common electric wires are also made up of copper.
Take note that copper is one of the most valuable metals to recycle. Make sure to collect and set them aside as this metal is guaranteed to be bought for a good price by scrap yards.
2. Aluminum
Aluminum is of whitish, silver color. You can easily bend it if it's thin. These are also usually colored in white paint.
Aluminum cans in bulks are those that are often brought to scrap yards. But be on the lookout as aluminum may be found in some finishing of your home such as the gutters, sidings, window frames, and doors.
3. Brass
Yellowish with an element of red color in it is how you can describe Brass. This metal is a heavy one, too, since it is dense. Brass is composed of combined copper and zinc. This is commonly used in plumbing fixtures and at the end of copper pipings.
You can also find brass in hardware such as keys, door handles, light fixtures, and bathroom fixtures. Scrap yards buy Brass at the mid-level price range.
4. Steel
Magnets easily stick to Steel.
It rusts easily.
And finding Steel within your home should be easy. You can find them in your cars, shelves, and cabinets, among others.
This, however, is priced low at scrap yards. But, nevertheless, collect it and bring it to the yard when you have thousands of pounds of it. Scrap yards for sure will know how to recycle it properly.
Need help in identifying the different types of metal? Check out this site.
How Much is Scrap Metal Actually Worth?
Scrap yards' prices actually change depending on the world supply and demand for the metal. Take note that price may change daily based on factors such as the economy, and even seasons.
Ferrous metal – $0.10/lb
For the most common metal or Ferrous metal you can expect $195/ton, or approximate 10 cents per pound, or $10 per 100 pounds
Bare Copper – $2.85/lb
If the copper still has its shield ( for example a power cord) then yards will pay a percentage of the $2.85/pound or roughly 60% of the weight. Note that bare copper can be found in most power cords, along with copper pipes for plumbing.
Aluminum – $0.50/lb
You can frequently unearth aluminum in old windows and patio furniture. But be warned, that you'll have to take out the glass before you can sell the aluminum.
Where to Find Scrap Metal
There are lots of places and ways you can collect, from your home, and place of work, to roadsides, neighbors, friends, and so on. Just what you sometimes simply discard can be a goldmine of worthy scrap.
For example, lights on that old Christmas tree you are wanting to throw away contain copper. That broken toaster you just dumped in the trash contains copper wiring, and of course has a steel body.
Take a look at these figures for common items found at your homes to guide you on how much these items are selling for in scrap yards.
Washing machine $18-$22 average weight 200 lbs.
Refrigerator with top freezer $16-18 average weight with the compressor taken out 175 lbs.
Ovens and ranges $11-$18 average weight 125 lbs.
Dryer $8-$10 average weight 100 lbs.
Cast iron bathtub $30-$40 average weight over 300 lbs.
How to Sell Scarp Metal for Cash
Ok, now that you know the different types of metals and how much you can get for each type, you are ready to start making some money.
Here is a quick step-by-step guide to get you going.
1. Organize before you start
If you have never before collected scrap metal, our honest advice is to go step by step so that you make sure you'll gain some income selling it. Start from the basics
Find a place to store your metal
If you have a spare room or extra space in your garage, that can work. If you are starting small, you can opt for something already lying around your house (like an old TV set box) or you can buy a plastic container and place it somewhere in your house.
Find a way to transport the metal
This one also depends on your needs and, well, ambition. If you stick to the smaller amounts, they can probably fit your car, but if you need transport of a larger load you'll need a pick-up truck or even a dump truck.
You need to sell it all somewhere
We'll further discuss that below, in the section on scrap yards.
For those feeling especially meticulous: Tools
If you want to and have enough time on your hands to do that, compile tools that will help you disassemble and sort through elements.
2. Collect scrap metal
You'll feel sorry for every tuna can you've ever thrown away after reading this.
Yes, tuna cans, beer cans, patio furniture, broken pots, old toasters and coffee makers: They could have all been further used. Even the old door handles (which were usually made of brass) and broken golf clubs.
You can basically always find something around that could be sold as scrap metal. It's all about how willing you are to look around.
3. Store 'em
If you have the necessary tools and want to do disassembling and categorizing on your own, you can do that with every piece you collect and then store it.
If you are already categorizing your metal, you can buy or make containers that will help you better keep track.
At the end of the month, you can sell everything that would otherwise be thrown away and earn extra cash. Sometimes that could be just $20, but sometimes that could be even several hundred.
3. Sell 'em
Now to the most important part.
If you want to sell scrap metal, open your phone book and start looking for scrap yards.
However, there are several things you need to know before you head to one. We want you to make as few mistakes as possible. And we are sure you want the same thing.
In order to sell scrap metal, you have to have a valid ID and not be younger than 16;
Each scrap yard has its own categorizing rules and its own price range. After all, a scrap yard is usually just a go-between connecting you, an average seller, to a larger scrap yard or a metal refinery);
Each scrap yard competes with the others in their surrounding. They will try and do that with you by offering better prices for different categories;
They will only pay you once they have categorized and weighed your metal load.
Ask around: Call your local scrap yards and ask about the prices for different kinds of metal. A simple phone call can also be indicative of the service they offer. But also ask around with the people who have sold scrap metal before. First hand experience can help you a lot as a beginner.
How to Find Scrap Yards that Buy Metal Near Me
There are a few ways to do this.
Use Phone books: I mentioned using phone books above.
Use iScrap App: Another easier way is to use an app called iScrap App. It makes it very fast and easy to find local scarp yards near you where you can get cash for your scrap metals.
Search on Google: You can also search on Google for terms like:
scrap yard near me
local scrap yards
scrap yard (followed by your city/zip code)
Getting Paid
As for getting paid, depending on your state's rules and regulations you will probably have the following options:
Cash or Check for ferrous metal
Since scrap yards are not technically able to give you cash, they will either give you a check or they will give you a payment slip which you can use the onsite ATM to collect your cash.
Check for non-ferrous metal
On the other hand, most states will only issue a check for non-ferrous metal only after two business days. This practice is being implemented in an effort to stop the prevalent theft of expensive metals all over the country.
Final Thoughts
Selling scrap metal is not only a great way to earn some extra money, it is also a great way to do your part in helping to keep our planet healthier since they get recycled and put back into products we all use.
I would love to hear your comments, especially if you do recycle scrap metal, or perhaps are thinking about making some money by collecting and selling scrap metal. Comment below and let us know if you have ever sold scrap metal for cash?