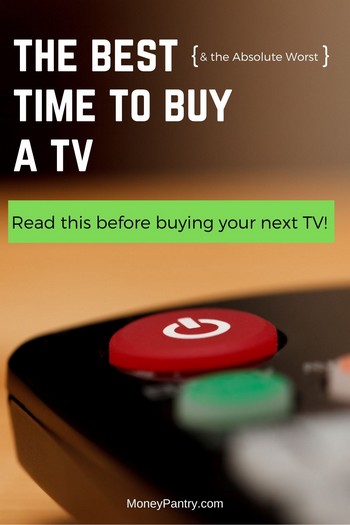 Watching TV is America's favorite pastime, with almost 80% of us watching TV on a given day.
The average American watches more than four hours of TV each day. That's 28 hours a week we spend watching TV! And it works out at two months of nonstop TV-watching a year!
This means that in a 65-year life, a person will have spent about nine years in front of the television.
Crazy, right?
So, if we do spend so much time watching TV, we want a good one!
While TVs have come down in price a lot over the years anyway, a new one is still going to set you back $100s or even $1000s.
Need Easy Extra $300+/Month for Free?
KashKick
: Get paid directly into your PayPal for watching videos, surfing, shopping and more.
Join KashKick Now!
InboxDollars
: Paid over $57 Million to members to watch videos, take surveys, shop and more.
Get $5 instantly!
Branded Surveys
: Get $1 instantly just for joining for free. Plus get paid within 48 hours by PayPal!
Join Branded Surveys
First Opinion
: Get paid up to $10 per survey and $300 per virtual focus groups!
Join Now!
Swagbucks
: Get paid to watch videos, shop online, take surveys and more.
Join now & get $10 instantly!
Fortunately, there are things you can do to save money when buying a TV, and one of the biggest is to simply buy at the right time.
But what is the best time of the year to buy a new TV?
Below, I'll tell you the times of year when you're most likely to find great deals and massive discounts on smart TVs and the latest models.
The Best Times of the Year to Purchase a TV
Here are the best times of year to buy a TV…
1. Super Bowl Season: January and February
As the Super Bowl approaches, many people want to upgrade to a bigger or better TV. Retailers know this so they offer some huge discounts on televisions – particularly ones with large screens!
These deals tend to become available in the week or two leading up to game day.
So, the best time to look out for savings is in late January/early February.
You can get discounts from 10% to 30% off (even more in some cases!) during this time.
Most deals are for bigger TVs, with the best savings being offered on 49-inch to 65-inch sets. So, if you're in the market for something small, try another time of year (more on that below!).
I'd recommend checking with Amazon for awesome deals, but you'll also find them at lots of other retailers.
Paired with additional savings from retailers discounting the previous year's models anyway, consumers can find some huge discounts on TVs leading up to the Super Bowl.
2. Black Friday
Another great time to buy is on Black Friday.
Yes, Black Friday is awesome for saving money on everything and television sets are no different.
You can find some massive discounts on televisions on Black Friday.
To entice customers to shop in-store and online, retailers offer discounts of up to 60% off the retail value.
You'll find awesome deals at places, like:
Amazon
Best Buy
Target
Walmart
The only problem is that retailers have limited quantities of these discounted sets. And since Black Friday is so popular, it means you'll be vying with other customers for the best deals. So, you'll need to be the proverbial early bird in order to beat out other shoppers.
Important tip: Retailers sometimes sell television models that are offered solely for Black Friday sales. These sets are created just for these sales. These models are known as "derivatives."
Generally, they offer limited features compared to the regular retail model.
Make sure you do your research. Search for an advertised model number. If you can't find any user reviews online or don't see it sold anywhere else, then it's likely to be a derivative.
3. Cyber Monday
Cyber Monday is another time to find some great deals. For those who love to do their shopping online (like me!) it's awesome.
Retailers offer tons of products at huge discounts, including television sets, of course!
You can get up to 50% off!
Again, like with Black Friday, retailers only discount certain sets and they tend to have limited quantities. Try to research when deals go live for the retailer you want to shop with. This way you can get online as soon as the deals hit – you may have to set an alarm if your retailer's deals go live in the middle of the night, as some of them do!
Also, make sure all of your payment info is up to date as this can speed things up at the checkout. You could even add the TV that you want to your card ahead of time.
The great deals aren't available for long, so you need to beat out other customers!
4. Spring
Next up, we have springtime. Spring is when manufacturers start releasing the new models that they introduced at trade shows.
The problem is these shiny new models are expensive.
However, because of these newly released TVs, many retailers discount the prices of older models.
If you don't need the latest, cutting-edge model, then consider buying a discounted model from last year.
Retailers want to offload old inventory, so they will offer discounts from 10% to 75% off.
For those who aren't bothered about having a TV with the latest features, buying a discounted TV from last year is a great choice.
5. Amazon Prime Day
Amazon provides great deals to its customers on Amazon Prime Day. And, if you're a Prime Member, you get access to even more deals!
Amazon generally holds Prime Day in July, with deals lasting about 36 hours to 48 hours. You can expect to save 10% to 40% on TVs.
Free shipping for Prime members is available too – so double win!
6. December 26.
You can get some good deals on TVs on the day after Christmas. Some retailers offer sales on many items, including televisions. Most deals are on models that will be discounted next year so retailers can make room for new products to hit the shelves. Plus, since some customers return TVs after the holidays, you could get some "open box" TVs that can save you 25% to 50% over a new model.
7. August
In mid to late August many stores provide back-to-school deals on everything from lunchboxes to pencils. However, you can also find some good deals on TV sets at this time of year.
August is a particularly good time to buy a TV if you're looking for one with a smaller screen size. This is because many retailers focus on TVs that will work well in a dorm room or bedroom – aka ones with smaller screens!
While savings may not be as big as those offered on Black Friday, you can still save up to 30% on many smaller sets.
TV-buying Tips
Above, I've given you the best times of year to buy a TV. Buying at the right time is the best way to save money on a TV. But it's not the only way.
Here are a few more money-saving tips to keep in mind when buying a TV:
Browse social media
Retailers reward customers who follow their social media accounts with notifications about sales. So, scour social media! Then you won't miss out on great deals and savings!
Look for a price match guarantee
Some retailers have a price matching policy. So, if the price of an item drops within a certain window after purchase, some retailers will refund you the difference. Of course, items you buy during sale periods like Black Friday are often excluded from price matching policies.
Use coupon sites
Using coupons is an easy way to save money. You can find coupons online for lots of retailers who sell TVs, like:
Amazon
Best Buy
Walmart
Target
Here are some good coupon sites:
Not all retailers allow you to use coupons on sale items. Many do though, so its always worth checking out a store's coupon policy.
Use Honey or Wikibuy to save money automatically
Browser extensions, like Honey and Wikibuy will automatically find coupons for you.
No more having to try out a bunch of different codes yourself!
These extensions will search for coupons for you and apply them! Wikibuy also compares prices on Amazon – awesome right?
Extensions will also get you cashback.
When you're shopping for a TV online, install Honey or Wikibuy and you'll get awesome savings automatically!
Buy your TV with a discount gift card
On gift card resale sites, you can buy a gift card for less than its value.
For example, you could pay just $80 for a gift card that's worth $100.
So, consider using a discounted gift card when paying for your new TV.
Although discounts vary a lot, you can find some awesome deals.
Here are a few websites where you can buy discounted gift cards:
Use Swagbucks to get your TV at a discount (or even for free!)
If you're willing to wait a little to get your hands on a new TV, consider using Swagbucks for a few months to earn yourself some extra money.
Swagbucks pays you for doing easy tasks, like:
Playing games
Shopping online
Browsing online
Completing offers
Watching videos
Easy, right?
The site gives you points for completing tasks that you can then exchange for gift cards (there are lots of different options available, like Amazon, Target, Best Buy, and Walmart gift cards) or money right to your PayPal account.
You could easily make $30 in a month. Use that money to get $30 off your new TV! In three months, you'd have almost $100 to put towards a TV!
Join Swagbucks here.
Shop for a TV using a cashback website
You can get a percentage of what you spend on your TV back if you shop for it using a cashback website.
Cashback websites (like these) offer anywhere from 1% to 70% or more cashback.
Let's say you buy a TV for $800 and you get 20% cashback. You'd get $160 back!
Awesome, right?
Here are some great cashback websites:
You can use these sites to get cashback from lots of retailers. So, if you buy stuff besides a TV, you could wait for your cashback to build up and then put it towards a new television set. Great, right?
Other Ways to Save Money on TVs
Here are a few tips that'll help you save money on TV (and really other electronic purchases as well).
Buy refurbished
A lot of people shy away from refurbished stuff because of the word "refurbished". But if you think about it, refurbished products usually mean they have been vigorously retested and fixed so they don't have any other issues for the new buyers. You can find refurbished TVs (with 90 to one-year warranties ) for really low prices on Amazon.
Get an open-box deal
Purchasing an open-box item is a great way to save big (sometimes up to 70-80%). There is really nothing wrong with these items, it's just that they were either used in showrooms or a customer changed their mind and returned them. Either way, it's an easy way to save big on your next TV.
Purchase a used one
This is a no brainer, really. These days, people replace their perfectly fine, working TVs just so they can upgrade to the newer version. You can find deals online through websites like Amazon or eBay, as well as local classified sites like Craigslist.
Price match
These days, most stores have some sort of price match guarantee. While shopping for your next TV, keep an eye on the prices and if you see a great deal somewhere but prefer to buy from another retailer, talk with the store manager and see if you can get them to match the better price of the other store.
Get one for free!
Depending on the kind of TV (Smart, Plasma, LCD, LED, OLED… ) you're looking to get, you could potentially get one without paying a penny for it. It's amazing how many good, working TVs people giveaway on Craigslist and other local buying and selling apps and classified sites.
All you have to do is open Craigslist or any other classifieds site or app (like Nextdoor app) and search for "free TV". Once you find a free TV you like, contact the owner an arrange to pick it up.
Even if it turns out it's not as great as you expected it to be or breaks down a few weeks/months later, you lose nothing. In fact, you may gain something. For example, if you find a particular make and model that you want to purchase, you could use the free one you found on CL as a tester to see whether or not you'll actually like that model before purchasing one.
Here's the thing, no matter what time of the year you buy your TV, there are ways you can save. You just have to keep these tips in mind when browsing.
Best Places to Buy a TV
There are a lot of stores and online tech deals sites for buying TVs. But if you wanna get the biggest discounts during the times we mentioned above (or any time of the year), the best places to buy TVs on sale include:
Walmart (huge discounts thanks to rollbacks and restocking)
Best Buy
Amazon
Target
Sam's Club
Costco
Obviously, you always want to check with a few places, including local stores, you never know who has the best deal.
When is the Worst Time to Buy a TV?
While there are best times to buy a TV throughout the calendar year, there are also the worst times to buy.
Here are the times when you shouldn't buy a TV:
October and Early November: With Black Friday or Cyber Monday right around the corner, you'd be crazy to go shopping for a TV in October or early November. Just wait until the big Thanksgiving discount season starts and buy your TV for much much cheaper.
After major events: For example, a lot of places offer great deals leading up to Super Bowl. Don't make the mistake of going in a few days after the Super Bowl thinking you can get the same great deal. Most places will raise the prices back up immediately after the Super Bowl. The same thing applies to Christmas and other holidays and big events.
Buy at the Right Time & Save Big!
Like I said above, what time of year you buy a television can determine how much money you'll save on it.
Buy it during the super bowl, or one of the other times of year that I mentioned above, and you will get much better prices. You'll see plenty of awesome deals that will save you a lot of money!
Let us know in the comments section below what times of year you've seen the best deals on TVs.