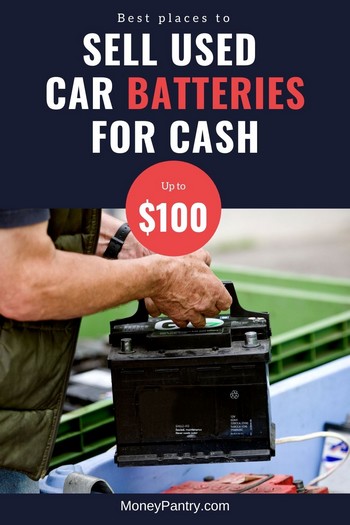 You might have a few old car batteries in your garage that you'd like to get rid of. Now, you might think that recycling them is your only option. But, you could actually sell your used car batteries for cash near you.
Rather than simply throwing out (which you shouldn't really do since it poses environmental hazards) your used car batteries, consider selling them to one of the places below.
Before we get started though…
How Much Can You Get for a Used Car Battery?
There are lots of factors that will determine how much money you'll make selling a battery.
These include things like:
Whether the battery is dead.
How much charge, if any, the battery has.
How much it cost originally
The brand
And where you plan to sell it.
Now, I've included prices for each place below, so you can get a sense of how much money to expect.
Need Easy Extra $300+/Month for Free?
KashKick
: Get paid directly into your PayPal for watching videos, surfing, shopping and more.
Join KashKick Now!
Panel Payday
: Earn up to $75 per survey. They also pay up to $50/hr for mystery shopping.
Join Now!
InboxDollars
: Paid over $57 Million to members to watch videos, take surveys, shop and more.
Get $5 instantly!
Branded Surveys
: Get $1 instantly just for joining for free. Plus get paid within 48 hours by PayPal!
Join Branded Surveys
iPsos iSay:
: If you have to only sign up for one paid survey site, go with Ipsos (high paying survyes)!
Join iPsos Now!
Swagbucks
: Get paid to watch videos, shop online, take surveys and more.
Join now & get $5 instantly!
Who Buys Used Car Batteries Near Me?
Lots of places!
Below, I've included some of the best places to sell used old car batteries for cash near you!
1. Local Auto Parts Stores
How much can you get: $12
Okay, I'll start with an easy one and that's local auto parts stores. Some of them purchase used items, like car batteries.
Now, if you're looking to sell a dead car battery, I would highly recommend going to auto stores.
Why would a store buy a dead battery from you?
Well, it's simple – it's all to do with something called a core charge.
When you purchase a car battery, the store charges you a core charge that's around $12 although it varies by state.
Basically, it's a form of deposit that you pay during purchase, and it's refunded when you return the battery. Core charges are designed to promote battery recycling. The idea is that you will return the battery when it's dead so that you can get your deposit back.
In all 50 states, retailers can charge a battery core charge. And, it's actually required by law in more than 30 states.
So, you can make money from a dead car battery by returning it and getting the core chargeback.
Most auto parts stores will give you a credit to offset the core charge. Depending on where you live, this credit can range from $5 to $12.
Here are a few auto stores that buy used car batteries:
Many locally owned auto parts stores will also accept used batteries. So it can be a good idea to call around to check availability and to get some quotes.
2. Local Scrap Yards
How much can you get: $5 to $8
Another option to consider is local scrap yards. These are a good option if you can't find an auto parts store that will pay you cash, as some will only offer to recycle batteries for free.
So, try scrap yards near you. They're not just great for recycling refrigerators and other appliances, but for used car batteries as well.
Now, in terms of what you can get, most of the time, you'll get around $5 to $8 per used car battery.
If you want to sell a used truck battery, you'll likely get more cash. Because they're bigger, you can usually get $10 to $12 for a truck battery.
Call your local scrap yard to see if they pay for used car batteries. You can often get more cash if you have multiple batteries to sell.
Scrap yards often purchase batteries to sell them. They recharge the battery and then resell it for a profit. But if they are unable to recharge the battery, the scrap yard will often sell it to a metal recycling plant as a scrap battery.
If you'd like to learn more about selling to scrapyards, check out our Scrap Yard Near Me post.
3. Metal Recycling Centers
Talking of metal recycling plants, they're also a great place to sell unwanted car batteries. Many metal cycling centers purchase used car batteries. The rate they pay varies from place to place. And, it's also affected by the metals commodity market.
Some recycling centers may have their rates listed on their site. But, the best way to find out how much money you'll get is to simply call and ask. Just like with scrap yards, you'll likely get more cash if you have several batteries to sell at once.
Now, these plants usually pay per pound. So how much money you will get will depend on the current market rate for car batteries.
According to iScrap App, the price per pound for car/truck batteries is $0.18 (at the time of writing).
Car batteries can weigh anything from 30 to 50 lb. with the average weight being 41 lb. So, for an average size car battery, you could earn $7.38.
The best way to find out how much money you can get is to call local metal recycling centers or plants. To find local centers, simply search for the term "metal cycling centers near me" into Google or whatever search engine you use, and you'll get plenty of results.
4. Craigslist
How much can you get: $1 to $100s
No matter what you're looking to sell, Craigslist is always a good option. From clothes to furniture, you can sell pretty much anything on Craigslist. And, the best part is that you can set your own prices. Of course, you want to set a realistic price that someone would actually pay. But, still, you get to choose how much you want to list the car battery for.
One of the reasons you might want to consider CL over places like auto parts stores and metal recycling centers is that those types of places may not offer you as much.
For example, scrap yards purchase your batteries to resell them. So, in order to make a profit, they buy your battery for a lower price than they sell it for.
Craigslist is a particularly good option if you have a newer car battery or one with a charge still left in it.
How much money you can sell the battery for depends on things like the brand of the battery, and the charge remaining. When I had a look on my local CL, I saw people selling batteries for anywhere from $1 to $100s!
You can list your battery for sale and people nearby can purchase it from you.
You can actually turn this into a side hustle if you know where to find and recharge used car batteries.
5. eBay
How much can you get: $10 to $100s
Another place to sell batteries is on eBay. You can list car batteries for sale on there.
It's a great site for listing car parts because, like with Craigslist, you are able to set your own prices. Now, how much money you can get will depend on the type of car battery you have, and how much charge it has as well.
It's important to note that, unlike Craigslist, eBay does take a commission fee when your item sells. So do factor that in when you are pricing your battery for sale on there.
What's great about eBay is that you can sell all sorts of batteries on there. It doesn't matter if they're new, used, or dead! It's not just car batteries that you can sell on there either. You can also sell ATV, truck, motorcycle, and marine batteries on there!
Now, eBay allows you to list stuff as local pickup only or you can ship items. While shipping costs are fine if you're mailing something like clothing, that's not the case when it comes to car batteries.
Car batteries are pretty heavy – as I said earlier, they weigh 41 lb. on average. This means that it would be pretty expensive to ship one.
So, make sure that you list your auction as a local pickup only. That way, you avoid shipping costs.
6. Local auto repair shops
How much can you get: Varies
You could consider getting in touch with local auto repair shops to sell your used, working batteries. These stores sometimes purchase batteries and recondition them. They then put up these refurbished car batteries for sale at a discount to customers looking for used batteries.
Now, it's important to note that in order to sell a battery to a repair shop, it will need to be defect-free. So it needs to work properly!
Call a few local auto repair shops to see if they'll purchase your used car batteries.
7. Newspaper classifieds
How much can you get: Varies
You could also consider putting an ad in your local paper where you list your car battery for sale. Some people collect batteries to resell – it's like their side hustle. And, they may look out for good deals in the paper that they won't find online.
8. Host a yard sale
How much can you get: Varies
If all else fails, you could consider hosting a yard sale. This can be a more convenient option since you don't have to lug a car battery anywhere and can instead sell right from your own yard.
Many people visit yard sales in order to find items to flip for a profit. While you may not make as much money as you would with some of the options above, it can be a convenient option. And, you can also sell any other unwanted items at the same time!
9. Pawn Shops
How much can you get: Varies
Another option to consider is selling batteries to a local pawn shop. Now, this isn't the best option if you're looking to get the most money.
Since pawn shops resell items for a profit, you won't get as much as you would selling it yourself on Craigslist or eBay.
But, if you're looking to get cash fast, then it's worth considering because these stores will pay you on the day.
If there aren't many pawnshops around you, you can try these online pawn shops.
Wanna Sell Other Car Parts or the Whole Car?
Perhaps it's not just your car battery that you no longer need? Maybe you want to sell your whole car.
If that's the case, then consider selling it to Peddle. The company purchases all types of cars.
Peddle will come to your home, inspect your car, and if everything checks out, you'll get a check! It's worth considering if you're planning to scrap your car anyway.
You can learn more about Peddle here.
Another company that provides a similar service is Pull-A-Part, which you can check out here.
Consider these companies if you want to sell a junk car.
Closing Thoughts
You could get at least $5 for something that you planned to throw out anyway!
But, what's the best place to sell a used car battery?
I think that selling to scrap metal centers is a good idea if your battery is dead. That way, payment is based on how much the metal is selling per pound, rather than the condition of the battery.
For convenience, selling to local scrap yards or repair shops is good because they give you cash right there. However, they are sort of like "middlemen," So they are going to want to resell the battery, which means you could potentially get more for the battery elsewhere.
Getting the core chargeback is another good option because it's easy.
If you're wondering where to sell car batteries for the most money, then I would definitely recommend selling it yourself on a site like Craigslist or eBay. This does entail a little more work on your part though.
Overall, it depends on what it is you're looking for!
So, choose the option that best suits you and let us know in the comments section if you have any tips for selling car batteries locally.