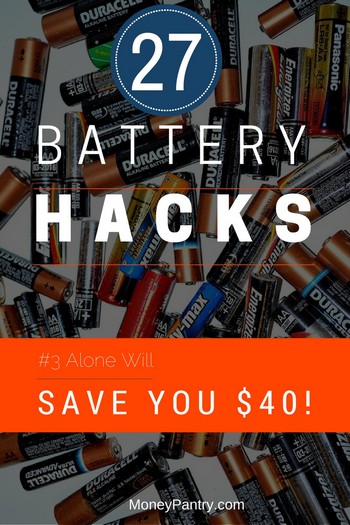 Take a moment and think, how many batteries do you rely on every single day?
From our cell phones to remote controls, technological innovations continue to cause the demand for batteries to surge in our increasingly mobile world.
In 2019, the world battery market will be worth $120 billion, according to the research experts at The Freedonia Group.
That's a lot of money, and a chunk of it is yours.
Let's explore some money saving battery hacks and keep some of that hard earned cash in your pocket.
A Few Emergency Battery Hacks & Tricks
Let's start with a few tips on how to convert batteries in emergency situations:
Need Easy Extra $300+/Month for Free?
KashKick
: Get paid directly into your PayPal for watching videos, surfing, shopping and more.
Join KashKick Now!
InboxDollars
: Paid over $57 Million to members to watch videos, take surveys, shop and more.
Get $5 instantly!
Branded Surveys
: Get $1 instantly just for joining for free. Plus get paid within 48 hours by PayPal!
Join Branded Surveys
First Opinion
: Get paid up to $10 per survey and $300 per virtual focus groups!
Join Now!
Swagbucks
: Get paid to watch videos, shop online, take surveys and more.
Join now & get $10 instantly!
1. Convert AAA into AA batteries
In an emergency situation, you can easily convert AAA batteries into AAs using aluminum foil.
According to Its738PM, a Reddit user, all you have to do is:
Wrap up a ball of foil
Stuff the ball inside the case of your device (on the negative terminal side)
That's it!
This is a great option for emergency situations (if you have access to tin foil!)
2. 9 Volt Battery Hack
Need AAAs but are stuck with a 9 Volt battery?
There is an easy way to convert a 9 Volt battery into AAAs.
All you have to do is cut open the case (of the 9 V battery). Inside, you'll find 6 "AAAA" also known as "quadruple A" batteries.
Each of these hold 1.5 volts.
Yes, that's exactly what AAA batteries are!
For step by step instruction, check out this 9 Volt battery hack guide on Instructables.com

3. 12 Volt battery hack
You can do the exact same thing with a 12 V battery.
This time, instead of 6 AAAAs, you'll get 8!
Check out this Instructables guide on how to to save $40 with this simple 12 Volt battery hack.
Caring for Battery-Powered Devices (TV Remotes, Clocks, Etc.)
We've all heard that knowledge is power.
Well, it is money, too.
Simply knowing more about batteries and how to care for them can save you money.
4. Know what you have!

Did you know there are more than 60 types of batteries out there?
Yes, AA and AAA aren't the only kind!
You can put them all into 3 main categories:
Household (rechargeable and non-rechargeable)
Industrial
Vehicle batteries
I don't want to get into the details of each one and how they work. That calls for a lengthy post that is beyond the point of this post.
But to give you a general idea, here are the type of batteries that exist today:
-Rechargeable-
Which includes:
Lead Acid Gel
Lithium-ion (Li-ion)
Nickel-Cadmium (NiCd)
Nickel Metal Hydride
-Non-Rechargable-
Which includes:
Alkaline & Carbon Zinc
Lithium (Primary)
Mercury
Silver Oxide
Zinc Air
-Vehicle Batteries-
Which includes:
Hybrid Automotive
Lead Acid
VRLA
-Industrial Batteries-
Which includes:
Absolyte
Large Flooded Cell
Nickel Iron
Wet Nickel Cadmium (NiCd)
Steel Case
Un-interruptible Power Supply (UPS)
knowing what kind of battery you have is the first step in making sure you care for it properly.
And knowing what exactly you have makes it easier to search for tips and tricks on extending the life of your battery.
For example, if you have a set of 12 volt batteries, searching on Google for "battery tips" isn't going to be very helpful since you will have to sort through hundreds of thousands of search results to maybe find one post that give you tips for exactly what you are looking for.
But if you search for "12 volt battery hack", the results are going to be vastly better as the search engine will know exactly what kind of posts to bring up.
Se spend a few minutes to learn about the common batteries you use, whether they are the kind we use in most households like AAs and AAAs, or those button sized ones found in watches.
If you want a more in-debt explanation of each kind of battery and how they work, University of Washington has a fascinating and vert through post about batteries and everything you need to know about them, called Materials Science Battery Case Study.
Here is the link to the part where they explain all the different kinds of batteries and how they work.
5. Read the manuals
First, get to know your battery even better by visiting the manufacturer's website for detailed information.
No time for that?
You should at least read the packaging for any special instructions, even though most batteries need similar care and handling.
Here are links to manuals for 2 of the most well-known battery brands:
6. Control the temperature
All batteries should be kept at room temperature.
So, quit leaving your laptop and other mobile devices in your car or other places where the temperature goes unregulated.
Contrary to popular belief, you should not store your batteries in a freezer.
If a battery becomes too cold, condensation can occur, and this can lead to corroded battery ends and other damage.
Both hot and cold temperature extremes can cause batteries to leak, which is very dangerous and can cause a fire.
7. Don't mix old and new batteries
When replacing batteries, don't mix old, drained batteries with new ones. Doing so increases the strain on the new batteries and causes them to drain faster.
You should always use identical batteries of the same type, brand and age with any device.
Otherwise, the batteries could leak or rupture.
8. Remove batteries from devices powered by plug-ins
Always remove the batteries from any household electronics being powered by a plug-in.
Keeping them installed, even when you don't need them, will lead to an unnecessary loss of battery capacity.
9. Power down devices that are not in use
Be sure to turn off battery-powered devices when they are not in use.
This rule applies to remote controls, digital cameras, video game controllers and other electronics.
Leaving the devices on can run your battery through multiple charge cycles and decrease its overall lifespan.
10. Remove batteries when storing devices
If you do not plan on using the device for a month or longer, remove the batteries.
High, moderate or even low-draw energy devices will result in a slow but steady drain on your batteries.
11. Keep your battery compartments clean
You can use a rough clean cloth or a pencil eraser.
When corrosion builds up on the terminals, it weakens the connection and causes the batteries to drain faster.
To clean a spring-based compartment, rub an eraser firmly along all the spring's edges to remove the debris. Blow into the chamber or use comprised air to remove any remaining gunk or eraser shavings.
12. Make smart purchasing choices
Sometimes simply selecting batteries for all your devices can be tricky.
For example, did you know alkaline batteries are good for low-drain devices?
Probably not. Who does?
Thankfully, Consumer Reports put together ratings and reviews as well as a buying guide, so you want to make the best, most cost-effective decisions when choosing your batteries.
Do Rechargeable Batteries Save You Money?
Committing to rechargeable batteries for your home devices can help save money and the environment because when properly cared for, rechargeable batteries can be used thousands of times.
They do cost more at first, but they pay for themselves pretty quickly, depending on the brand you buy and how you care for your batteries.
Because rechargeable batteries are reusable, they end up in the garbage less and properly disposing of batteries and other electronics can be costly and/or time-consuming.
13. Invest in rechargeable batteries
Let's compare the costs of disposable and rechargeable batteries.
Right now, you can purchase a 12-pack of Energizer Max AA Batteries on Amazon for $9.99.
Let's say you use 100 of these batteries a year. That would cost you a little under $90 annually.
On the other hand, you can purchase two 12-packs of AmazonBasics AAA Rechargeable Batteries for $11.99 each and an EBL 8 Bay AA and AAA Battery Charger on sale now for $9.99.
This is a total investment of around $34.
The cost of using your battery charger would probably be less than 25 cents annually.
So, during the first year, you would save around $56.
During the second year, disposable batteries would cost you $90+ again, while rechargeable batteries cost less than a quarter to charge.
As you can see, the longer your rechargeable batteries last, the more savings you rack up.
14. Discharge rechargeable batteries fully before recharging
To make sure you get the most out of your rechargeable batteries, discharge the batteries fully and recharge them again about once a month.
This prevents the battery from forming crystals in the area that has not been drained.
Loss of capacity due to crystal formation is usually permanent.
15. Don't buy in bulk just because it's cheaper
Crystals can also form when your batteries are neither in use or being charged, so be sure to only buy the number of batteries you will need to use and need to have charged for handy rotation.
Anything more than that, and you're wasting your money!
16. Avoid "ultra-fast" chargers
Use normal or fast chargers to charge your batteries, but stay away from "ultra-fast" chargers, which can damage your batteries by continuing to fully charge them even if they are at 100%.
You can learn more about it by reading this ultra-fast charging post on Battery University's official site.
17. Charge similar batteries together
Try to charge batteries with similar charge flows together.
If you don't, more charge will flow into the weak battery, and they will become hot and possibly leak or explode.
Cell Phone Batteries
There's a ton of tips and tricks out there that claim make your smart phone's battery life last longer.
But, some of them are just plain false.
For example, contrary to popular belief, leaving your phone plugged in overnight is NOT bad for the battery. This applies to your laptop as well.
Actually, these devices are powered by lithium-ion batteries, which run better when they're continuously charged now and then.
18. Prevent your cell phone battery from reaching 0% – Most of the time
By preventing a cell phone battery from reaching 0%, you can actually extend its life and make its charging cycles longer.
You should let your phone battery die completely when it is charging too slowly or draining too quickly.
When this happens, you should let your battery completely drain to 0%.
Doing so will calibrate it and adjust the system's life-cycle.
Experts recommend you let your phone completely die about once every three months.
You can think of it as resetting your battery.
19. Don't store your cell phone with a dead battery
If you are going to store a device for an extended period, try to keep the charge around 50%.
If left dead, the batteries can become incapable of holding a charge.
If stored at 100%, they can lose storage capacity.
20. Reduce the impact of power draining apps
If you are still not getting the battery life you want out of your cell phone, you can check which apps are the power draining culprits.
iPhone app check
Here is how to check battery usage on an iPhone or iPad:
Launch Settings from your home screen.
Scroll down and tap on Battery.
Once you land on the battery usage screen, you will see a breakdown of power usage by app.
Facebook is a notorious culprit.
To reduce background app activity and increase your battery life:
Launch Settings again.
Tap on General and then tap on Background App Refresh.
Switch Off any app whose background access you want to minimize.
Doing so may make the app a little less convenient by withholding notifications when the app is not open.
Android app check
Have an Android device?
Here is how you can check the battery usage of your apps:
Pull down the notification bar on your home screens and swipe to display the notification screen.
Tap on the Settings icon and then tap the Battery option.
Then tap the Battery Usage button. You will see the percentage of use for each app.
You can also minimize app usage or delete apps from Settings.
Here's how:
Go to Settings.
Tap Apps, swipe to the left and you'll see a list of apps that are currently running.
You can tap on each one and stop any apps that you don't need running in the background all of the time or delete any you don't use.
If you don't use the app, why not delete it?
21. Operate in Low Power mode
You can also put your phone in Low Power Mode.
iPhone Low Power Mode
Here's how to do it for iOS devices:
Under Settings, tap on Battery.
Once there, swipe the Low Power Mode switch.
When in this mode, background app refreshes, automatic downloads and some visual effects are reduced or turned off.
Android Low Power Mode
To enable Battery Saver mode on an Android device:
Go to the Battery screen in the Settings app.
On the Battery screen, tap the menu button and tap Battery Saver.
22. Keep your phone out of your pants pockets
Your pants pockets can be a very warm place, and the heat you generate can actually cause your phone to overheat.
This could lead to a damaged battery.
Try using belt clips or storing your phone in a coat pocket, purse or another place with more ventilation.
Laptop Batteries
Nothing is worse than having a dead laptop with no way to charge it during a meeting or other crucial moment, and replacing a laptop battery can be difficult and expensive.
There are some things you can do to make your laptop battery perform better and last longer.
23. Keep those vents clear
Of course, you need to keep your laptop at room temperature, but you should also keep the vents clear.
Putting your laptop on a pillow can cover vents and trap heat, which damages your battery.
24. Let your computer rest
Put your computer in sleep mode when you are not using it.
This lets your computer and battery rest and extends the overall life of both.
Modern computers are designed to handle 40,000 on-off cycles before failure, according to Energy Star, the government-backed symbol for energy efficiency.
25. Close unnecessary programs
The more programs you have running, the harder your computer is working.
Close programs you are not using to minimize the battery power required.
26. Turn off Bluetooth
Bluetooth can drain your battery, too.
Be sure to turn it off when you are not connected to a phone or some other source.
27. Use power management tools
You can also try power management tools, like NightWatchman for your PC and Power Manager for your Mac.
Final Word
As you can see, there are a lot of things you can do to extend the life of your batteries, whether they are powering your smartphone, laptop, camera, or even your TV's remote control.
Now you can use the above tips and tricks to stay in charge and save money!