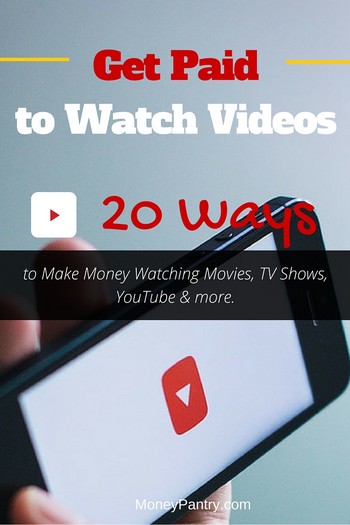 Up until now, you might have thought that the only way to make money from movies or TV is to have a job in the movie or TV industry.
That's not the case, although doing what we suggest here is probably not going to amount to a full-time income, but merely some extra cash.
Yes, you can get paid money for watching movies or TV, and, usually, doing something extra such as reporting on it.
It's not very easy to get one of these positions, but if it's going to pay you to sit in front of a screen (which you're probably doing a lot of the time anyway) then it's worth having a try.
You get paid for doing something that helps someone else out, whether it's for a market research company or for an advertising agency.
The following are some of the opportunities you can find online.
Need Easy Extra $300+/Month for Free?
KashKick
: Get paid directly into your PayPal for watching videos, surfing, shopping and more.
Join KashKick Now!
InboxDollars
: Paid over $57 Million to members to watch videos, take surveys, shop and more.
Get $5 instantly!
Branded Surveys
: Get $1 instantly just for joining for free. Plus get paid within 48 hours by PayPal!
Join Branded Surveys
First Opinion
: Get paid up to $10 per survey and $300 per virtual focus groups!
Join Now!
Swagbucks
: Get paid to watch videos, shop online, take surveys and more.
Join now & get $10 instantly!
1. Get Paid to Watch YouTube Videos
Paid2YouTube is a site that pays you for watching YouTube videos.
The only downside is that you have to be addicted to YouTube videos, as each one you watch only pays half a cent. As an hourly rate, that's not very good, but if you were going to watch the videos anyway, what the heck?
You can earn a bit more by contributing in the ratings, adding comments to the videos, and referring other people.
2. Earn Points with Viggle
Viggle will pay you, in points, to listen to music and to watch TV shows. You can download this as an app on android and Apple devices.
Once you have enough points you can redeem for rewards such as gift cards, music downloads, and more. Viggle users have reportedly earned over $19 million in rewards so far.
3. Watch Netflix For Money
The jobs don't come up very often, but Netflix has openings from time to time for people to watch their movies and shows and make sure they are categorized properly.
Netflix call these people "taggers".
The hours will be long, but watching the shows is in all likelihood what you were going to do in any case.
Look for openings on the Netflix job board.
4. Get Paid to Watch TV Commercials
If you register on HitBliss.com, when you watch TV shows, movies, and ads you earn cash – that is you "earn cash", as the cash you earn can only be spent in the HitBliss store to rent movies, and is not paid out in money.
Nevertheless, it saves you having to spend to rent the latest movies, so it keeps money in your pocket.
5. Get Paid $8/hr to Watch TV as a Professional TV Watcher
You can be paid as a job to watch television.
You have to be more than a couch potato, though.
Professional TV watchers do things like watch different shows and identify clips that can be used in other programs such as "The Daily Show" or in the news programs. These clips must encapsulate the point that is being made.
The amount you get can vary a lot. Jimmy Kimmel's show used to offer $500 – $600 a week back in 2005.
A job posting on EntertainmentCareers said that the starting pay would be $8 per hour, and that those who were employed would need to pay close attention to details. You can read more about it on InvestoPedia.
Another website you can look at is WorkInEntertainment.com, another industry site, or you can look at the general job boards and search for the keywords "TV watcher".
6. Get Paid to Play TV Trivia Games
Update: Unfortunately, RewardTV has shut down after 14 years.
You can watch what you like, and then find questions about it on RewardTV.
The website offers you trivia questions on all manner of programs, and by answering these you can earn rewards points.
As with the other websites, points can be redeemed for gift cards, cash, or other things. And every day you play you get an automatic entry into a $10,000 sweepstakes.
This is a great website to visit with friends, because then you can test each other on your own favorite programs, or all join together to try and get a perfect score. And all the time you are racking up points on your account, while enjoying yourself!
7. Get Paid to Watch Movie Trailers & Commercials
Unlike some of the other programs, in this case they are really interested in your opinions, and not just wanting you to log in hours and hours of viewing.
You can get paid to watch movie trailers, as the research companies help movie companies figure out which trailers work best before they are put out for publicity.
Another type of video is advertising for food and other products. Once again, the market research companies want to find out which adverts will work, and appreciate feedback from the public, for which they will pay.
Some of the market research companies you can check out are:
8. Enter to Win a Scholarship
CableTV.com is currently running a promotion that allows you to win $1000 for school by watching TV.
It is interested in getting photos of you watching TV in your favorite place, and wants you to write an essay describing why you chose that place, as well as detailing what show you're watching and on what device.
These scholarship opportunities are offered at regular intervals, so if you are interested and there's nothing on at the moment make sure you bookmark the site and come back at intervals to check on the next promotion.
9. Become a Part of Nielsen Family
As you probably know, Nielsen is a respected company that tracks the viewing habits and provides ratings for TV programs.
Reportedly Nielsen is increasing the number of families who take part in its surveys, so you might be lucky.
The families get paid for their opinions, and also influence what gets shown on TV.
The trouble is you can't simply apply. Nielsen put it like this, "We cannot ask every home to participate, so we carefully select a sample of homes in your community to represent the entire TV audience. To be statistically accurate, it is essential that our samples be randomly selected. Every household in the US has a chance of being selected, no matter where it is located."
So as long as you're included in "every household", then there's hope.
10. You Cubez
You Cubez, at you-cubez.com, is an advertising agency. They offer advertisers guaranteed views of their websites, for which the advertisers pay. So they need people who will view the websites.
You can sign up with them to view websites, complete online surveys, and watch videos, and you get paid a portion of the fees that they are paid.
If you introduce friends to the website, you will get paid extra.
11. SwagBucks
SwagBucks offers another easy way to earn a little cash.
You can get free gift cards for watching videos, taking surveys, playing games, searching the web, or even for shopping online.
It's free to join and offers gift cards to many popular stores.
There is also an option for you to receive money back through PayPal, and the site has sweepstakes where you can win gift cards, a PlayStation, or other things.
12. QuickRewards
QuickRewards is for UK, US, and Canadian viewers, and by now you probably have a good idea how it works.
Yes, you watch videos, fill out surveys, play games, etc. and earn rewards.
The rewards will be paid out on PayPal or with credits to Amazon, Walmart, or Disney.
13. Earn Cash for Viewing Ads on Successbux
It's probably struck you by now that you have to do a lot before you can receive any reward with these programs.
In which case, let me introduce Successbux.
With this program you can look at videos and adverts for rewards, and you will soon be cashing in. That's because it has the very low threshold of $1.10 before you can get the money sent to your PayPal account – most other programs require you to earn $10 or more before they will pay out.
14. Get Paid to Watch Ads on Your Phone
Slide Joy is an app for your phone, which allows you to earn money with very little effort.
It works by taking over your phone's home screen, littering it with ads and/or news stories. When you want to use your phone, you simply slide to the right and get on with your business.
If you're interested in the ad, then you slide to the left and find out more details.
That's really all there is to it.
Whether you slide to the left or slide to the right, your account still gets credited with points. Build up the number of points, and you can ask for a payout to PayPal.
15. App Nana
App Nana is another rewards program in the form of an app for your phone, this one rewards you with points, or "Nanas" for doing various things, such as trying out new apps, playing games, or looking at advertisements.
Your Nanas can be redeemed for Amazon gift cards, things from the iTunes store, paid apps or paid games.
16. Creations Rewards
Creations Rewards is another site for earning gift cards doing things you probably already do.
In addition to watching videos, you can complete surveys, visit websites, and do online shopping.
At the moment, they even have a $5 sign-up bonus, simply for joining.
You have a selection of videos to watch, including movie trailers, and clips from TV shows, as well as advertisements.
17. AdFun
AdFun is an app with a difference. It encourages social networking.
It's available in the Google play store.
It's a sort of bidding game, where you can bid along with your friends. Of course, you earn points by watching videos too.
There are many aspects to Adfun, far too many to explain here.
18. Earn Cash to Watch Perk TV
Perk TV is similar to Viggle. You watch videos and television and earn points for doing so.
There's a variety of rewards available (Amazon, Target, Walmart, etc). You need 1000 points per dollar value for most gift cards or you can get cash via PayPal; you can donate to charity, or you can even get electronics and Perk merchandise. It is reported that you can earn a few dollars a day. Go to the website for full information.
19. A Nonspecific TV Watching Position: Pet Sitting!
If all you want to do is watch TV and earn money, you might consider becoming a pet sitter.
You can stay overnight, or stay at a house while the owner is on vacation.
Sure, you have to make sure that Fido is fed, let out when necessary, and given regular walks, but that still leaves a lot of time for you to sit around watching the owner's TV.
Fido may even watch it with you, on the couch!
20. Finding Other TV Watching Positions
The general job boards don't have all the possible TV watching vacancies. They are good place to start, but now and then you should also try doing a general search with Google.
Note that under Search Tools, Google allows you to specify the time frame, so you can set this to past week or past month to look only at the latest vacancies.
How Much Money Can You Make Watching Videos?
With few if any exceptions, you are not going to quit your job taking part in the suggested activities.
But depending how much you get into it, you can earn some nice spending money or store credits.
Pick a couple that take your fancy, sign up, and see how you like it.
So, whether you ardently or casually are interested in watching videos, you will find opportunities to earn some money. You don't necessarily have to watch advertisements all the time, but can pick and choose the type of "work" that you want to do from the selection above.